AMD Announces Radeon R7 265 Video Card and Cuts R7 260X Prices
By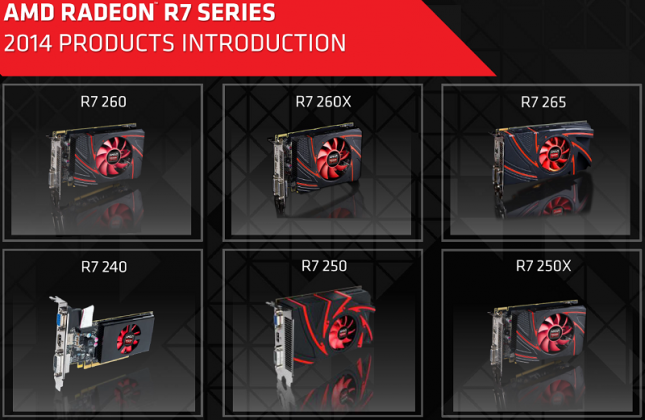 AMD this week beefed up their entry-level and mid-range graphics cards with the introduction of the AMD Radeon R7 250X and the Radeon R7 265. It appears that AMD did this to help fill in both the performance and price between the Radeon 260x and the Radeon R9 270 ahead of NVIDIA's rumored GeForce GTX 750 Ti launch. AMD informed us that these two cards round out the companys R7 series for now. AMD will be cutting the price of the current Radeon R7 260X cards as a result of the AMD Radeon R7 265 coming to market.
AMD Radeon R7 250X – $99
AMD Radeon R7 260X 1GB – $119
AMD Radeon R7 260X 2GB – $129 (AMD says that you might see this card at $119 for a limited time)
AMD Radeon R7 265 2GB – $149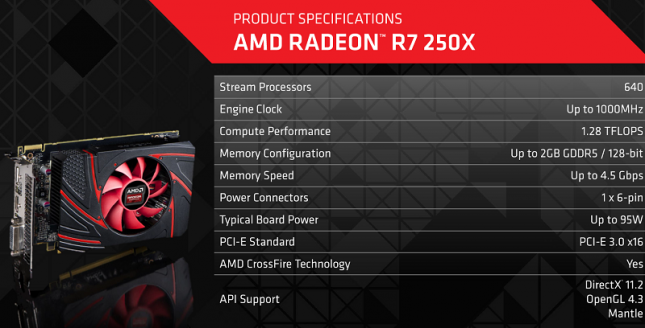 The AMD Radeon R7 250X is AMD's solution for the $99 price point. AMD claims that this card has the same performance and value of the AMD Radeon HD 7770 GHz Edition as it uses the same Cape Verde GPU, which means that it is basically a redesigned or re-badged 7770 GHz edition card at a lower price point. The AMD Radeon R7 250X will compete against the NVIDIA GeForce GTX 650 in the market place. The Radeon R7 250X has 640 Stream processors with a core clock speed of up to 1000MHz and 1 or 2 GB of GDDR5 memory running on a 128-bit bus. The card has a typical board power of 95W and is designed for single monitor 1080P gaming. The AMD Radeon HD 7770 GHz edition card was $159 when it came out, so the big deal here is that you can now get pretty much the same exact thing for $99 or less after rebates and promotions.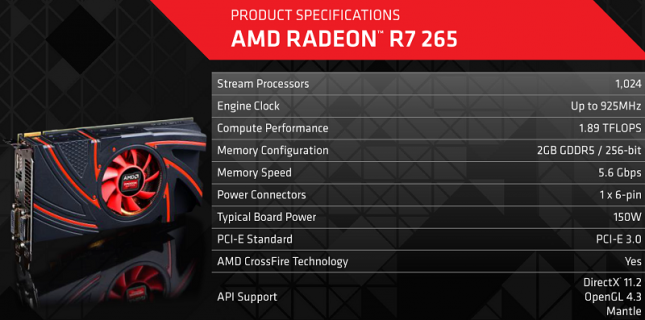 The AMD Radeon R7 265 has 2GB of GDDR5 memory running on a 256-bit bus and uses a scaled back version of the Pitcairn GPU that has been around since the days of the Radeon HD 7870 GHz edition. The Radeon 265 has 1024 Stream processors whereas the previous versions of this GPU used on the 7870Ghz, 270X and 270 all have 1280 Stream processors. This configuration on the Radeon R7 265 will offer up 1.89 TFLOPS of compute performance and a memory speed of 5.6Gbps, making it AMDs best-performing R7 series card. The AMD Radeon R7 265 is just a paper launch (possibly to spoil NVIDIA's rumored launch of their first Maxwell card) as cards will be shipping late February for a suggested MSRP of $149.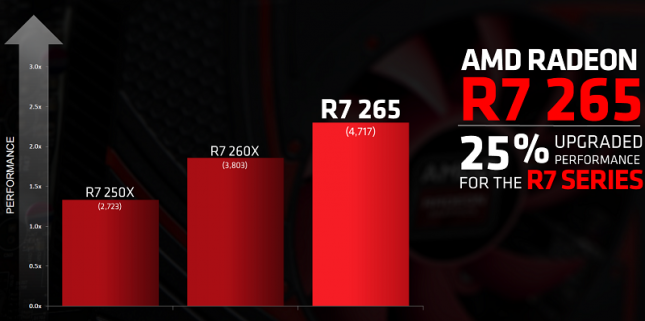 When it comes to performance the AMD Radeon R7 265 is said to offer 25% more performance than the AMD Radeon R7 260X that uses the Bonaire GPU in 3DMark Fire Strike.
We are currently running our own benchmarks and will have a review up shortly!