AMD A10-7870K APU Announced For $137 – Godavari or Kaveri?
By
AMD today announced that the A10-7870K Accelerated Processing Unit (APU) will be the companies flagship FM2+ processor, which helps explain why AMD lowered the pricing on their APUs earlier this month. This processor was codenamed Godavari for some reason, but it's basically just a Kaveri refresh as the microarchitecture is still the same as it was on Kaveri and it's still being by GlobalFoundaries on the 28nm manufacturing process.
On a private phone call with Legit Reviews we learned that the AMD A10-7870K is being positioned at those in the eSports community looking to build a mid-tier gaming rig this summer once Windows 10 is released. The AMD A10-7870K APU has integrated Radeon R7 Graphics (8 GPU Cores running at 866MHz) and is ready for Windows 10 and the DirectX 12 API. It will also support AMD FreeSync displays and Virtual Super Resolution thanks to those features both being enabled in a new driver that also just happened to come out today. AMD believes that this processor will have outstanding gaming performance thanks to these key features and will allow gamers to play popular titles like Dota2, Counter-Strike: Global Offensive and League of Legends without needing to run out and purchase a discrete graphics card.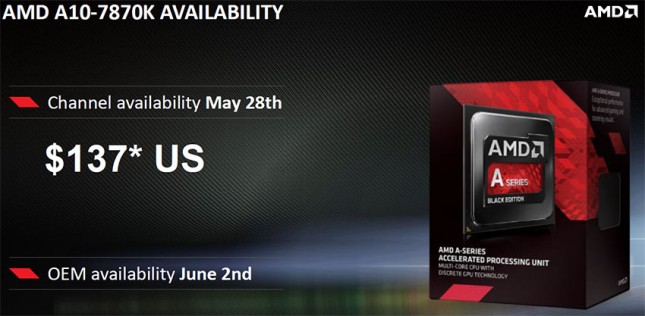 The AMD A10-7870K APU is priced at $137, which is what the suggested price was for the AMD A10-7850K last month. When AMD introduced Kaveri APUs in January 2014 the flagship part was the A10-7850K APU and it was originally $173. Today that 1.5 year old processor has a suggested price of $127 and it can be purchased for $133.95 shipped from Amazon. Since the AMD A10 7870K is the same price as 7850K processor was last month there should be a price change for custom built PCs as they'll just begin using the new flagship Kaveri APU.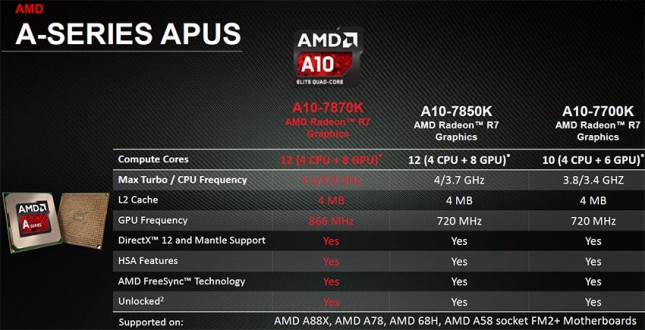 The AMD A10-7870K APU is basically a speed bump of the A10-7850K since the CPU/GPU architecture is exactly the same. So, you have a quad-core x86 'Steamroller' processor with 8 GPU cores that contain 512 GCN stream processor graphics solution. AMD was able to increase the CPU base clock up to 3.9GHz and the max turbo clock is now 4.1GHz. This is a 200MHz increase in the base clock and a 100MHz increase in the turbo clock from the A10-7850K APU! The really big clock increase came on the GPU where AMD was able to increase the GPU clock frequency from 720MHz to 866MHz. This is a 146MHz increase and that comes out to being a 20.3% increase in the GPU clock speed and that means rather significant performance increases in game titles. Not bad when you consider that AMD was able to keep this as a 95W TDP processor!
AMD showed that the A10-7870K is 14.5% faster than the A10-7850K in the synthetic 3DMark benchmark that is popular test to use in the gaming and benchmarking community.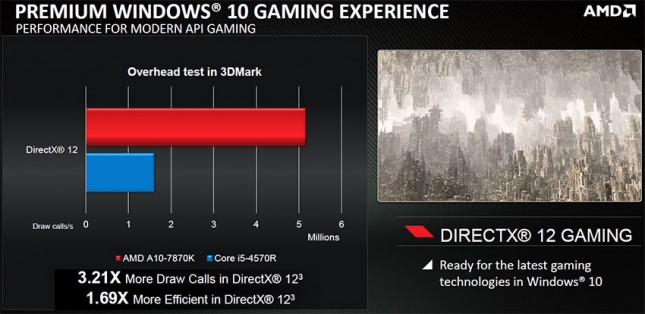 AMD also touted that the A10-7870K APU was able to achieve over 5 million draw calls on the Directx 12 benchmark that 3DMark has for Windows 10. Compared to an Intel Core i5-4570R processor this would be 3.21x more draw calls in DX12 and it makes it 1.69x more efficient.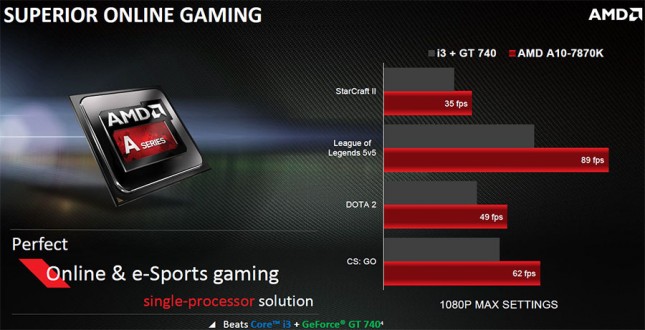 AMD also showed that the AMD A10-7870K would beat an Intel Core i3-4370 processor and NVIDIA GeForce GT 740 discrete graphics card for those looking to build a gaming system for online games on a budget. The AMD Kaveri APU lineup benefits from using fast DDR3 memory, so be sure to invest in 2133MHz or higher memory to get the most from one of these APUs!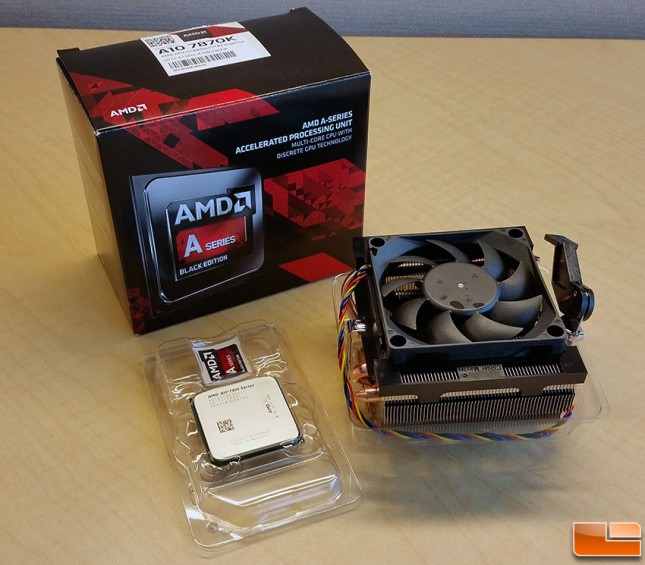 Since the architecture is the same we were very curious how AMD able to increase the clock speeds so much on Kaveri? AMD said that 28nm process refinements on the latest wafers have helped and that they have really dialed in the boost states and power management in the software to get this quad-core processor up to 4.1GHz. AMD also said that they took feedback from the community and system builders and have bundled a better CPU cooler with the AMD A10-7870K APU. This helps the processor run cooler and is the real secret sauce as to how they were able to crank up the clock speeds. AMD is now using the CPU cooler from the FX series of processors on this APU! The other added benefit of this CPU cooler is that the fan runs quieter than the previous cooler.
If you are looking to use a Kaveri APU for your next gaming system be sure to give the AMD A10-7870K APU a closer look! It costs just $10 more than the A10-7850K and comes with higher CPU/GPU clock speeds as well as a much better HSF that keeps things cooler and quieter. If you are looking for AMD's entirely new APU called Carrizo, you'll need to keep waiting as the next-gen APU platform from AMD won't be out until 2016.
AMD will also be launching the A8-7670K APU today as well at the $129 price point. This is a quad-core processor with slightly lower clock speeds (3.6GHz base clock and 4GHz boost clock) with everything else being the same as the A10-7870K from what we have been told.