AMD A10-6800K and A10-6700 Richland APU Reviews
By
AMD Releases Richland APUs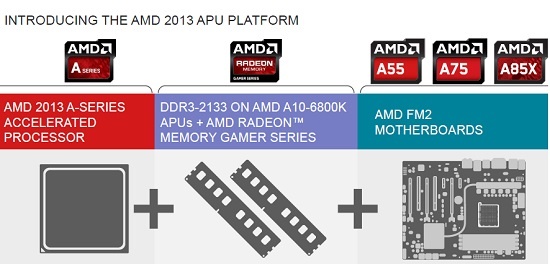 Last week, Intel released 4th Generation Core "Haswell" processors and this week we have AMD releasing the company's 3rd generation of APUs, known as "Richland." AMD "Richland" APUs are said to bring 20-40 percent performance increases over the previous generation of AMD A-Series "Trinity" APUs, so AMD fans have been waiting months for this day to come. The other nice thing about these new APUs is that they don't require a new platform and work in all existing AMD Socket FM2 motherboards after a quick BIOS update.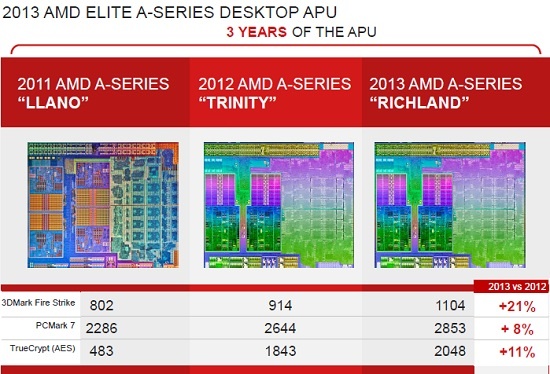 It has been three years since AMD launches the Accelerated Processing Unit (APU) and the they have progressed nicely since a rather bumpy launch. The AMD Llano APU was a nice processor on the FM1 platform, but there was no upgrade path for the platform and the socket was essentially dead from the get go. Last years AMD Trinity APU brought significant performance gains along with the new FM2 platform, which thankfully can support both Trinity and Richland! It's always good when your socket design can last for more than one generation!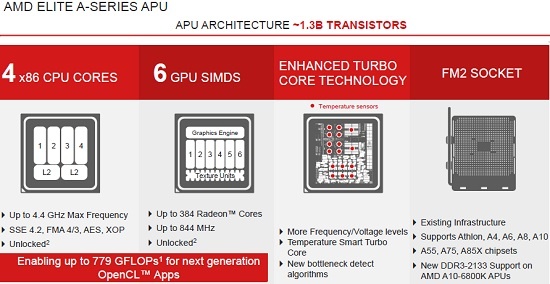 The AMD Richland APU uses "Piledriver" 32nm HKMG process cores (up to 4 cores), up to 128 KB L1 Cache (64 KB Instruction, 64 KB Data), Up to 4 MB L2 and 2 x 128-bit FPUs / compute module. The 32nm processors are available in 65W and 100W configurations and have a die size of 246mm2 with 1.3 billion transistors. AMD Turbo Core 3.0 has taken the increased the boost frequency from 4.2GHz from the last generation Trinity APU to 4.4GHz with Richland. Richland supports the latest ISA instructions including FMA4/3, AVX, AES, XOP. Basically you get the latest Piledriver cores along with VLIW4 GPU architecture. The end result is up to 779 GFLOPS on OpenCL Apps.
2013 AMD A-Series Platform Features:
Turbo Charged x86 architecture featuring "Piledriver" cores

Supports up to 4 cores and support for the latest ISA instructions including FMA4/3, AVX, AES, XOP
Up to 2MB L2 cache per dual-core module (up to 4MB total)
Max Turbo Frequencies up to 4.4 GHz
Configurable via AMD OverDrive

AMD Radeon HD 8000 Series GPU Cores

Featuring VLIW 4 architecture
Up to 384 shaders
Up to 844MHz
Up to 8xAA and 16AF support
Controllable via AMD OverDrive
DirectX11 Support

New DDR3-2133 support on A10 APUs
Enhanced AMD Turbo Core

More Frequency/Voltage levels for CPU and x86 cores
Temperature Smart Turbo Core
New bottleneck detect algorithms
Controllable via AMD OverDrive

UVD and VCE

Video Encode and Decode Hardware to offload CPU
AMD Picture Perfect support with HD Post Processing technologies

Support for latest display technologies

AMD Eyefinity2 technology for 3+1 monitor support
Display Port 1.2 support
FM2 Platform
AMD CrossFire support with AMD A85X motherboards
AMD Memory Profile support (auto select memory timings in select DIMMs)
AMD Dual Graphics support with AMD Radeon HD 6450, 6570, and 6670 graphics cards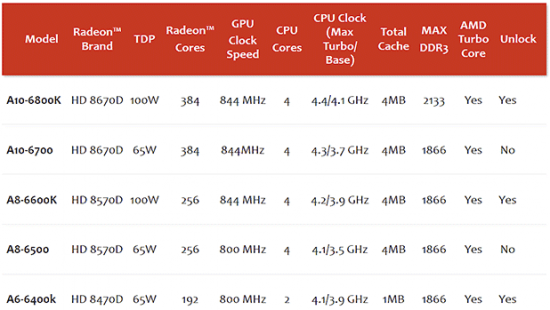 Here are the details of the five Richland APUs that will be available at launch. The AMD A10 series quad-core processors have 384 Radeon cores clocked at 844MHz and 4MB of total cache. Richland has a 44MHz speed bump on the Radeon Cores over the previous Trinity APUs! The AMD A8 series are also quad-core processors with 4MB cache, but have just 256 Radeon cores and the speed on them drops to just 800MHz on the A8-6500. The AMD A6 series consists of the A6-6400K, which is a dual-core part with just 1MB cache and 192 Radeon cores running at 800MHz. Notice that just the AMD A10-6800K, has been validated and certified for use with DDR3-2133MHz memory. The other Richland APUs officially support just 1866MHz memory kits.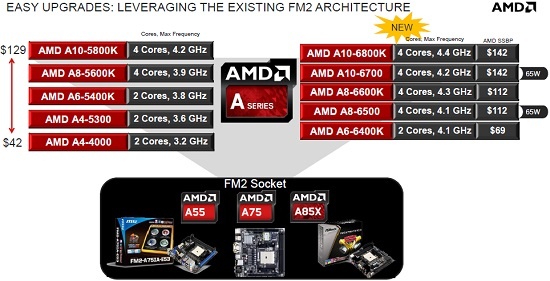 The AMD FM2 platform can now use both Trinity and Richland APUs and there are ten processors to pick from. The AMD A6-6400K is a dual-core part that runs 4.2GHz for $69, the AMD A8-6500 and A8-6600K are quad-core parts that are $112 and the AMD A10-6700 and A10-6800K are $142. AMD is making you pick between lower clocks and a 65W TDP or an unlocked processor with higher clocks and a 100W TDP. Personally, we'd go with the unlocked part and set it up how you want to in your motherboards BIOS!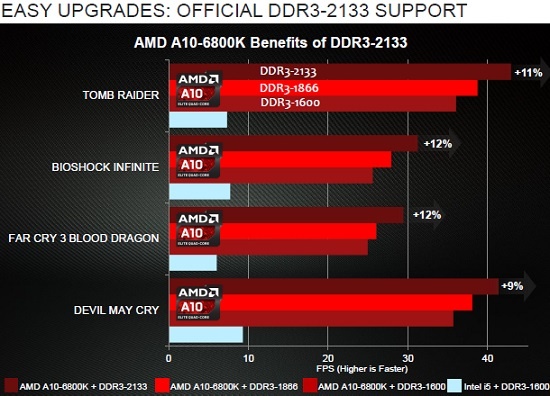 Memory plays a critical role on AMD APU's and can dramatically improve your user experience by using the highest supported memory kit. The AMD A10-6800K Richland APU is the first AMD APU to ever officially support DDR3 2133MHz dual-channel memory. AMD says that you get a 9-12% performance boost in popular game titles when you run 2133MHz versus 1600MHz, so be sure to buy the fastest memory kit possible. For the AMD A10-6800K we recommend 2133-2400MHz. Our AMD A10-6700 Richland APU won't run 2133MHz with full stability, which is odd, so 2133MHz is going to be hit or miss on the A10-6700. It doesn't officially support it, but not every processor is going to be able to run it out of the box.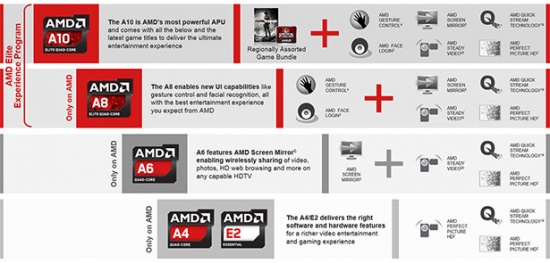 The new AMD APU's also now come with a software bundle thanks to the AMD Elite Experience Program! The AMD A10 APU product line is available with a game title from AMD's Never Settle Game Promotion and a suite of new apps that is being released for the very first time. The game title that will be included with AMD A10 series APU's here in North America is Tomb Raider, so if you spend $142 on the AMD A10-6800K or the A10-6700, you get a game title that normally sells for $40 on Amazon. The other software features are AMD Gesture Control, AMD Screen Mirror, AMD Quick Stream Technology, AMD Face Login, AMD Steady Video and AMD Perfect Picture HD. The summary on those applications are below.
AMD Face Login – Uses facial recognition technology and a webcam to allow for quick log-in to Windows and other browser-based websites that require a log-in, like social networking sites and email services;

AMD Gesture Control – Tracks a user's hand gestures and converts them into commands for basic functions on media players, browsers, e-readers and other popular applications leveraging a webcam, advanced image processing and machine-vision algorithms;

AMD Screen Mirror – Wirelessly shares content like photos, videos, HD media streams and webpages from a PC or tablet based on a 2013 AMD A-Series APU with any supported TV or display with a DLNA receiver, or with other PCs. Available only on select AMD-based devices;

AMD Video Entertainment Features – Make your content look its very best: AMD Steady Video technology gives users push-button control over shaky home video and helps stabilize the images for better viewing; AMD Quick Stream technology enables smooth video streaming and a virtually interruption free streaming experience; and AMD Perfect Picture HD8, creates rich and lifelike color on video entertainment.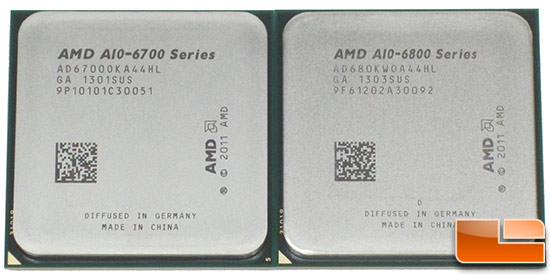 AMD sent over the A10-6700 and A10-6800K "Richland" APUs to try out and those are going to be the processors we will be looking at closer today!