AMD 32-core Threadripper 3970X & 24-core 3960X CPUs Announced – 280W TDP Monsters
By
AMD Ryzen Threadripper 3970X Aims To Dominate All
Today, AMD announced their 3rd Gen AMD Ryzen Threadripper series with by introducing two new processors built on the 7nm "Zen 2" core architecture, with up to 88 PCIe 4.0 lanes and a massive 144MB cache. The two processors would be the 24-core AMD Ryzen Threadripper 3960X at $1,399 and the 32-core AMD Ryzen Threadripper 3970X at $1,999. Both will be launching worldwide November 25, 2019 to the delight of creators, developers, and enthusiasts looking to build a new high-end desktop PC.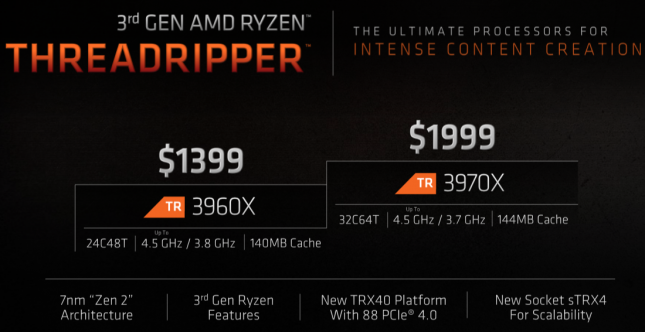 So, the 3rd Gen AMD Ryzen Threadripper starts out with the 3960X 24-core, 48-thread processor with 3.8 GHz base and a 4.5 GHz max boost clock. That is a really high base clock on a part that has so many cores! The 3960X is topped off with 140 MB of cache, which is a colossal amount of cache for the 'entry level' Threadripper part.
The flagship part for this generation right now is the Threadripper 3970X and it has 32-cores and 64-threads. It has a slightly lower base clock of 3.7 GHz, but maintains the same 4.5 GHz max boost clock that the 3960X has. This CPU has 144MB of cache and is aimed at those looking for most cores and cache possible.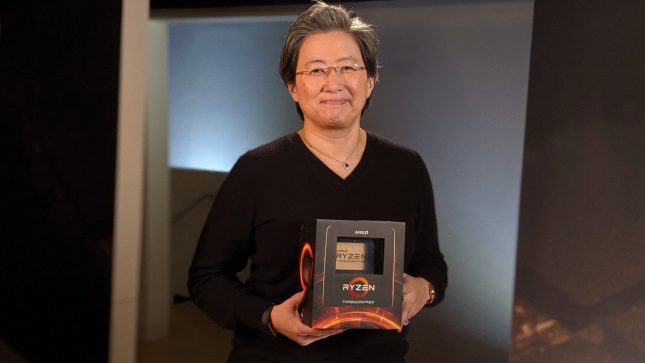 The good or not so good news here is that AMD is introducing a new TRX40 platform for 3rd Gen Ryzen Threadripper. This was because AMD needed a new socket (sTRX4) for scalability as AMD basically doubled number of PCI lanes to the chipset and they are also doubling that bandwidth by moving to PCIe Gen 4.0. So, AMD is actually quadrupling the bandwidth between the chip and the chipset on this new platform by moving from PCIe 3.0 x4 on the X399 chipset to PCIe 4.0 x8 on the TRX40 chipset. That is a massive improvement and Legit Reviews has a feeling that the TRX40 platform is going to be breaking every storage performance record once this platform is released!
Now to be clear, this is not backwards compatible, so 3rd Gen AMD Ryzen Threadripper processors will require the AMD TRX40 chipset. AMD also mentioned that they had to change the pin out for scalability reasons that they will talk about at a later time. The good news is that the CPU mounting system has not changed and the 2nd Gen Ryzen Threadripper CPU coolers will still apply to the new 3rd Gen Ryzen Threadripper processors. Last generation Threadripper 2990WX and 2970X processors all had a TDP of 250 Watts whereas the new 3rd Gen Ryzen Threadripper parts are 280 Watts. The slightly higher TDP is not enough of a difference to negate any of the coolers they have tested. AMD down played the 30 Watt bump in the TDP, but we are starting to get up there and higher TDPs increase motherboard costs as motherboard makers need to change motherboard power delivery solutions. AMD did not mention where they expect TRX40 board prices to begin.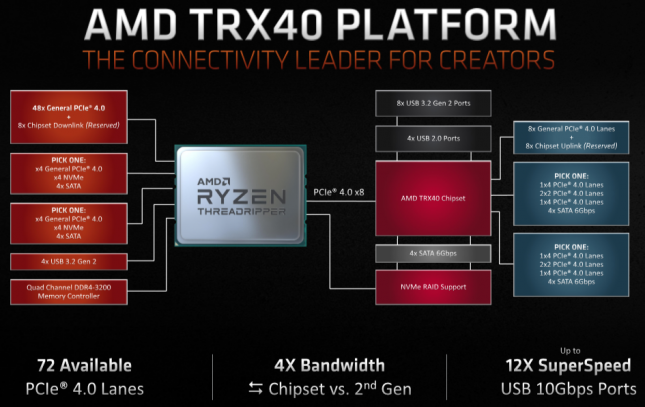 The new TRX40 platform supports 88 PCIe 4.0 lanes, but that is only if you count everything coming off the processor and the chipset. The actual total usable lanes for the consumers would be about 72 PCIe 4.0 lanes. Those are all direct to CPU for the lowest latency and the highest possbile bandwidth. AMD also now offers 12 SuperSpeed USB 10 Gbps ports that directly off the TRX40 chipset, which is great.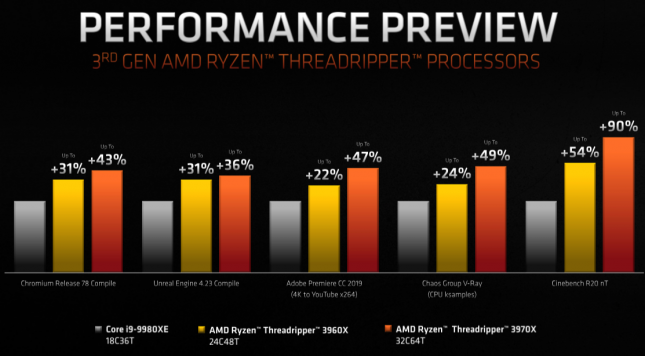 When it comes to performance the only slide that we were given is the one above. It shows off performance on five different applications/benchmarks with the AMD Ryzen Threadripper 3960X and 3970X against the Intel Core i9-9980XE. AMD clearly dominates as they are going up against an Intel part that had just 18-cores and 36-threads, but that is where the core battle is at today.
AMD told Legit Reviews that the new 3rd Gen Ryzen Threadripper CPUs are really fast parts that truly sit on top of what Intel can offer.
On our call with AMD this one quote really stuck in our heads.
"We are in the plus $1,000 market by ourselves now, Intel has nothing that can possibly fight us. It's a really, really fun place to be in 2019 and 2020." Don Woligroski – AMD Desktop Processor Technical Marketing Manager
Let that sink in for a minute! We'll have our review up on these new parts later this month!