Altec Lansing AHS302USB Headset Review
By
Introduction
We at the Legit bunker aren?t that picky, but we know what we want and what we like. We want a headset that can not only sound good playing CDs and other online music, but one that let?s us communicate with others around the office and the world. For our review, we use a variety of programs like Skype, MSN Talk and voice-chat in games to see how good these headsets are and if it something that enthusiasts will find that they need in their arsenal.
Our search for a quality PC Gaming Headset makes a stop at Altec Lansing where we take a look at their AHS302usb. For a street price of under $30, we still consider this an ?entry-level? headset, but for those just getting their feet wet with Skype, this is a comfortable price range. In our last headset review, we checked out Logitech?s entry model, the Precision PC Gaming Headset. Unfortunately, we were quite disappointed with its performance and warned buyers to stay away. Let?s see if the Altec Lansing can excel where the Logitech failed.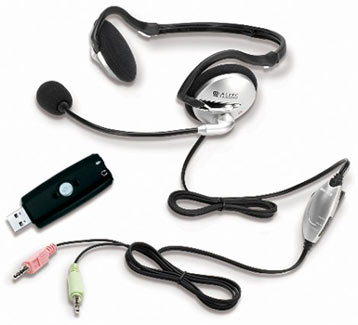 Altec Lansing has designed the AHS302usb?s to be used for music, interactive gaming, voice chatting, and speech recognition. Their claim is that each one of their headsets are built around premium neodymium speakers and ?noise-canceling? and ?noise-rejecting? microphones. Below is a closer look at the headset that we will be reviewing today. Notice the behind-the-neck headband with leatherette ear-pads.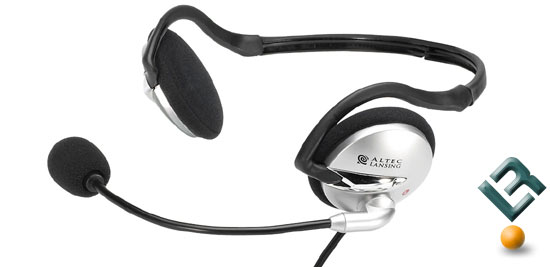 All Altec Lansing headsets feature neodymium speakers, an adjustable noise-canceling/noise-rejecting microphone to minimize background noise (but not your voice), and a handy in-line volume controller to regulate both audio level and microphone volume for maximum communication control. Let's take a close look at the specifications and move on to our using the Altec Lansing AHS302USB headset.
Specifications
? Dual USB & Analog connectivity allows you to quickly and easily connect to any computer or laptop
? Quality 36-mm neodymium ear-phones deliver a full, rich sound
? Discreet, contoured, behind-the-neck headband with leatherette ear-pads
? Noise canceling microphone to help eliminate background noise
? Gold-plated 3.5-mm connector
? Handy in-line volume and microphone volume controller
? Headphone Response: 20 Hz- 20 kHz
? Headphone Impedance: 32 Ohm
? Headphone Driver: 1.4 in
? Microphone Response: 100 Hz- 16 kHz
? Microphone Sensitivity: 40 dBV/Pascal
? Microphone Impedance: 3.32 KOhm