Alienware Announces 4 New Products at E3 2016
By
The Alienware Aurora brand returns for incredible gaming performance and VR-optimized configurations
The new Alienware Alpha desktop continues to defy expectations; now with updated processor, memory and storage options plus more than 60% higher GPU performance in an ultra-small form factor
Full-tower powerhouse Area-51 gets supercharged with latest Intel processors and new NVIDIA GeForce graphics
The worlds first gaming notebook with high-contrast OLED display, the coveted Alienware 13 is now configurable with this panel option

Alienware rolls out a fierce new lineup of powerful, VR-optimized products at this years E3 in Los Angeles. Currently celebrating its 20th anniversary as a pioneer in specialty high-performance PC gaming systems, Alienware offers new solutions targeted at gamers looking for the best experiences in PC gaming and virtual reality.

"With the new standard of 4k gaming and the well-deserved excitement of VR, we want everyone to know we have solutions designed for them, whether its the largest selection of VR-capable systems or 12k gaming solutions," said Frank Azor, General Manager of Alienware and XPS. "Energized by our partnerships and inspired by our community, the same vision that launched this company two decades ago is still driving us to deliver for gamers and VR enthusiasts, no matter how their needs evolve."
Alienware Aurora desktop
The new Alienware Aurora is a mid-tower desktop with full-scale power and performance. Despite a smaller footprint than the previous Aurora, it boasts even more dedicated graphics and overclocking potential, including the latest generation NVIDIA GeForce cards, for 4k gaming or even up to 12k gaming as a dual-graphics capable desktop. Performance improvements also include the latest Intel CPUs, available with liquid cooling, and overclockable memory available with Kingston Fury X running at a blistering 2400 MHz. The Auroras innovation also includes Alienwares first chassis with tool-less access for easy swapping of GPUs and as many as 3 of the 5 potential storage drives. These and other innovations join the solid lineup of Alienware software including custom lighting with AlienFX and total control with Alienware Command Center. Whether gaming at insanely high resolutions or experiencing optimized VR experiences, the new Aurora is the latest in a long line of leading engineering and design innovation specifically tailored for gamers.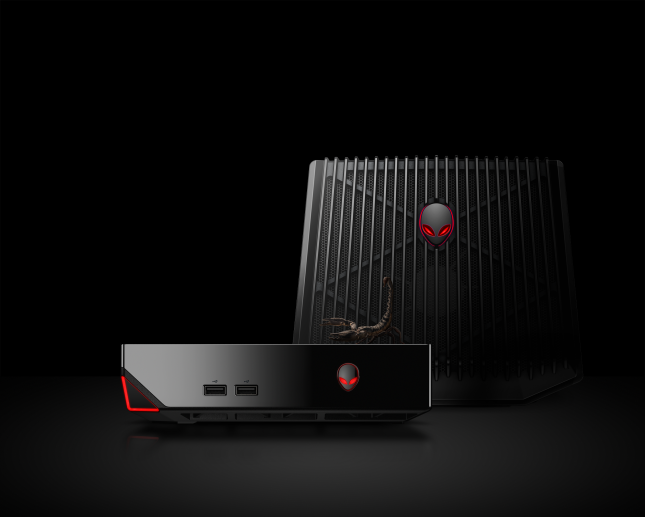 Alienware Alpha compact desktop
The new Alpha is the perfect Windows gaming system for virtually any room, and LAN parties have never been easier with the performance and minimal set up of this accessible ultra-small form factor PC. Its compact design now comes fully upgraded with an NVIDIA GeForce GTX 960 GPU with 4GB of GDDR5 memory for over 60% higher GPU performance than the previous generation.1 Also configurable with a new AMD Radeon graphics option, the new Alpha boasts better frame rates at higher resolutions and higher settings. For future proofing and to push performance to VR and 4k gaming levels, the new Alpha is now compatible with the Alienware Graphics Amplifier.2
Many of these same updates can be found on the new version of the Alienware Steam Machine for users looking to take full advantage of the console experience offered by Valves SteamOS and Steam Controller.
Alienware Area-51 desktop
As one of the most revered performance PCs of all time, the Area-51 ups its game again at E3. The ultimate full-tower gaming desktop is now equipped with the new Intel Core i7 (a.k.a. Broadwell-e) CPUs ranging from 6- to 10-core options, as well as NVIDIAs latest GeForce graphics technology (a.k.a. Pascal). According to Intel, the Core i7 delivers up to 35% faster multi-threaded performance and combined with the new GeForce GTX graphics there is a new standard for multi-tasking and VR.3 The iconic triad design exemplifies Alienware engineering prowess with support for up to three full-length double-wide graphics cards, easily removable side-panels, convenient access to ports and carrying handles, as well as a highly-optimized thermal management system. Its not only ideal for gamers and VR enthusiasts, its the platform of choice for anyone that wants to configure elite performance.

Alienware 13 OLED notebook
Previewed five months ago at CES, the Alienware 13 is the worlds first gaming notebook to offer revolutionary OLED display technology designed in partnership with Samsung. More consumers are embracing OLED graphics in televisions and smartphones, with self-lighting pixels that can switch off completely to achieve perfect black for significantly higher contrast. How much higher? The Alienware 13 OLEDs touchscreen display offers an astronomical contrast ratio of 100,000:1, also delivering better color saturation. With the fastest response time on a notebook, typically 1ms, gamers get a display performance experience never before possible on an LCD. Compatibility with the Alienware Graphics Amplifier allows for boosted graphics performance now, or in the future, and an even better experience with this stunning display.
Visit Alienware at E3 Booth #747, South Exhibit Hall. For more information on Alienware at E3 check out our blog.
Availability
The updated desktop portfolio including the new Alienware Aurora, the new ultra-small form factor Alienware Alpha, Alienware Steam Machine and updated Alienware Area-51 are available starting tomorrow. The much anticipated Alienware 13 with optional OLED display is also available starting tomorrow. These new and updated solutions, as well as other innovative Alienware designs, can all be found on Alienware.com in the United States and in select countries around the world.
These products are also coming soon to Best Buy locations nationwide as well as BestBuy.com.
About Dell
Dell Inc. listens to customers and delivers innovative technology and services that give them the power to do more. For more information, visitwww.dell.com.
Dell and Alienware are trademarks of Dell Inc. Dell disclaims any proprietary interest in the marks and names of others.
1Based on Dell Labs testing in May 2016 using multiple 3DMark benchmarks (3DMark 2011, 3DMark Vantage) comparing the Alienware Alpha with an Intel Core i7-4565T, NVidia GeForce GTX GPU and 4GB memory to the Alienware Alpha R2 with Intel Core i7-6700T, NVidia GeForce GTX 960 GPU and 16GB memory. Actual performance will vary.
2Available only on Alienware Alpha models configured with the NVIDIA GTX 960 GPU
3Based on Intel testing using the CINEBENCH* R11.5 AND R15 benchmark test, versus the previous generation. Actual performance will vary. CINEBENCH* R11.5 and R15 is a benchmark from MAXON Computer that measures the performance of desktop OpenGL* 3D modeling applications.