Addonics M.2 PCIe SSD Adapter X110 Review
By
Addonics Technologies makes some very unique and innovative storage drive adapters and chances are if you've ever built a custom system that had a unique data storage solution you've seen some of their products on the market. Addonics has always been good at developing special IO and connector converters that allow you to install new storage devices into older systems.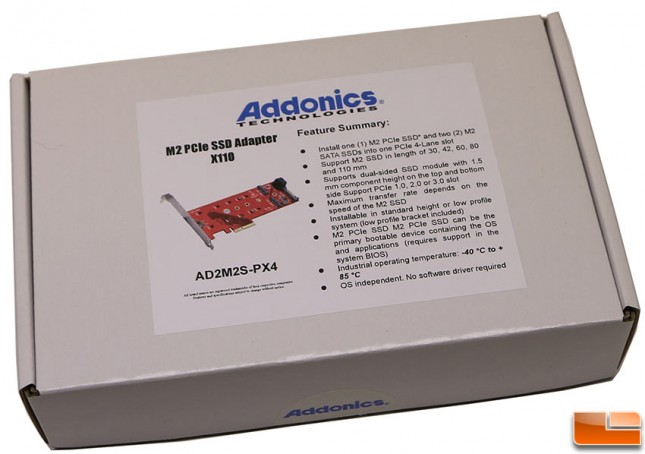 The M.2 adapter that we are looking at today is a great example of a product that allows you to use the latest M.2 (NGFF) SSDs on a PCIe x4 adapter card that can be used in virtually any board that has an open slot. The Addonics M2 PCIe SSD Adapter X110 (AD2M2S-PX4) is the name of that adapter and it supports two M.2 SATA SSDs on the front and one M.2 PCIe SSD on the back of the $29 adapter card.
"The M2 PCIe SSD Adapter (model AD2M2S-PX4) allows you to install a combination of one M2 PCI SSD and two M2 SATA SSDs in size ranging from 32 mm to 110 mm in length. The Adapter fits into a PCIe 4 lane slot of any desktop system or server running any OS and requires no software drivers. It is a simple and economical solution to replace a mechanical hard drive with a low power, shock resistant and high performance Solid State Drive. It is also perfect for adding as many as three high performance M2 SSDs via a single PCIe slot. Once installed, the M2 PCIe and the two M2 SSDs appear as three high-speed solid state drives to the OS." – Addonics Technology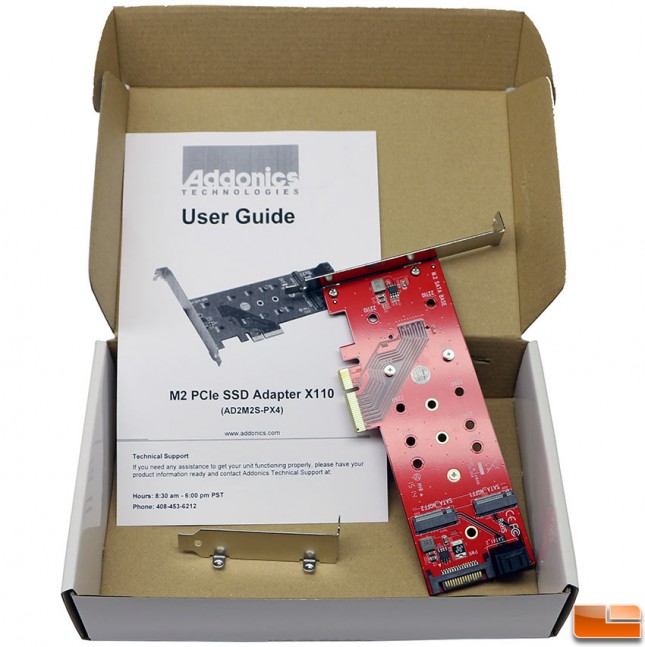 The Addonics M.2 PCIe SSD Adapter X110 comes with the adapter card, a standard height and low profile bracket for proper system installation and an small user guide.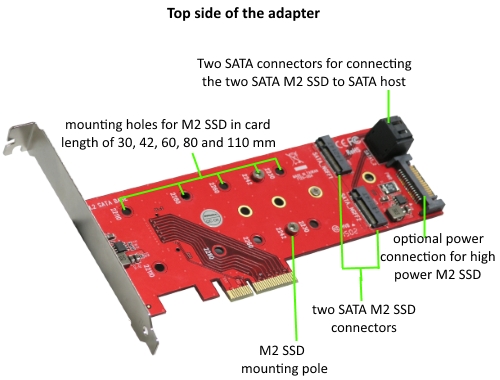 The front of the Addonics M.2 PCIe SSD Adapter X110 adapter features the two M.2 SATA slots. This adapter card uses a basic pass-through design, so you'll plug your SATA M.2 SSDs in and then need to run standard SATA data cables to the SATA III ports on your motherboard.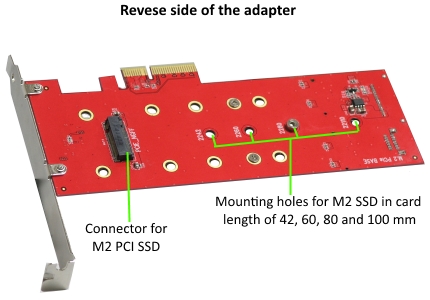 On the back of the card you'll find the single M.2 PCIe SSD slot. The adapter comes with a moveable mounting post that can be interted in various holes in the PCB to support M.2 drivers that have a length of 30, 42, 60, 80 or 110 mm.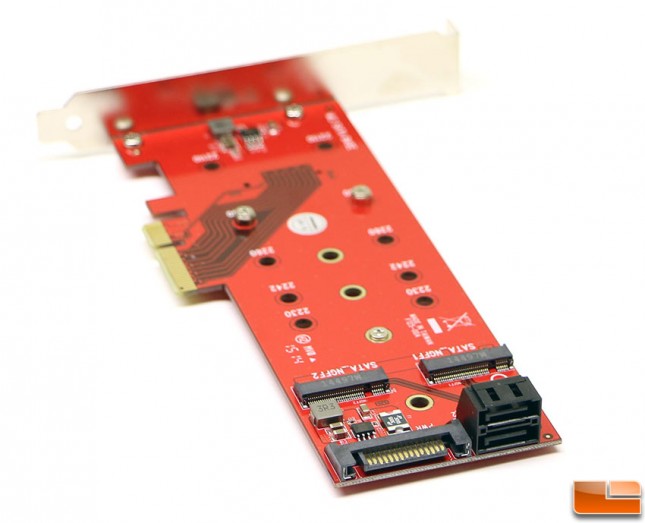 At the end of the M.2 PCIe SSD Adapter X110 you'll find an optional SATA power connector to provide addition power for when high-power M.2 SSDs are being used and the two SATA ports that are needed for the SATA drives. The SATA data cables are not included with the adapter card, so you'll need to provide those cables.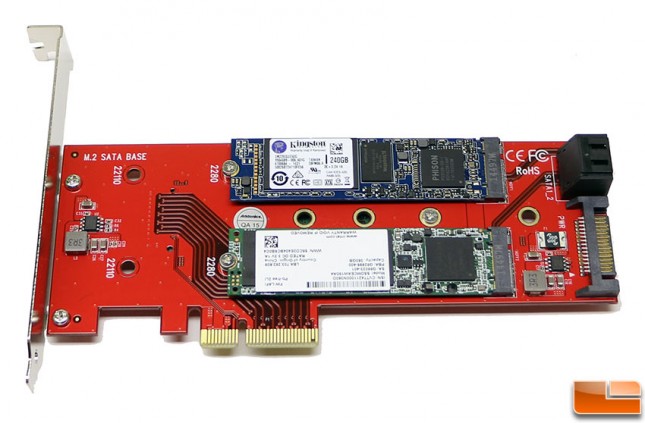 To test out the Addonics technologies M2 PCIe SSD Adapter X110 we used three different M.2 SSDs for testing. On the front we went with the Kingston SSDNow SM2280S3/240G 240GB M.2 SATA SSD ($159.99) and the Intel 530 Series 360GB M.2 SATA SSD ($217.50). On the back of the adapter we went with the fastest M.2 PCIe SSD that we have access to and that is the Samsung SM951 512GB M.2 PCIe SSD ($457.99). The adapter supports dual-sided M.2 SSDs, but before you power it up make sure nothing is touching the red PCB as it could short out the drive and fry it. Addonics said that all modules that are 1.5mm or less on the component height on both sides should be fine. We've never seen a company give that specification, so be sure to eyeball it!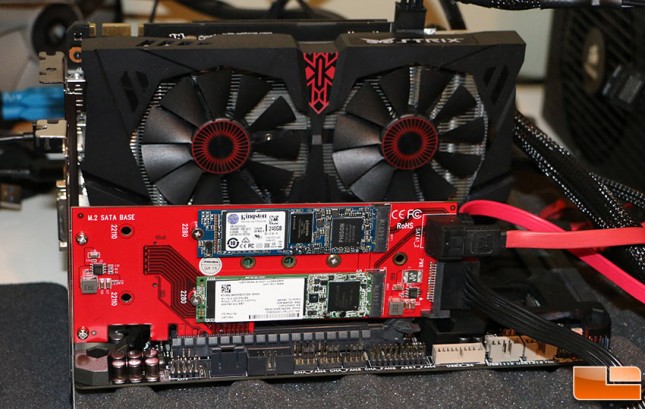 We plugged the card into an open PCI Express x16 slot on our ASUS X99 Sabertooth motherboard and ran a few quick tests.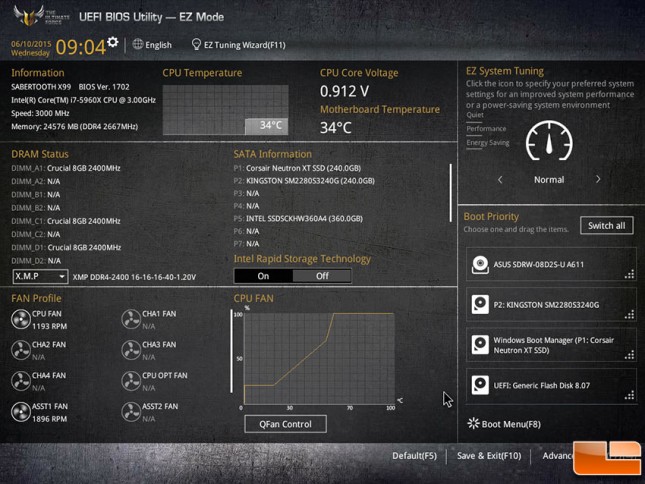 Before we get to the tests it should be noted that all of the SSDs were properly detected by the UEFI/BIOS on our ASUS X99 Sabertooth motherboard and could be bootable. Getting a board to boot off the PCIe SSD is a bit tricky as the UEFI/BIOS has to support that functionalist and then you need to do it. The processor is tricky, but it can be done with some patience and the help of Rufus. The three SSDs that we were using were picked up by Windows 8.1 64-bit just fine as the card is OS independent and no software drivers are required for use.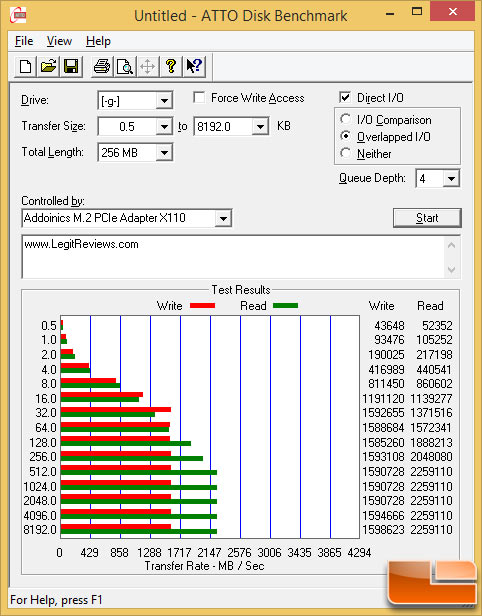 The Samsung SM951 512GB AHCI M.2 PCI SSD ran great on this adapter and we were getting 2260 MB/s read and 1599 MB/s write speeds on the Addonics adapter. The Addonics M.2 PCIe SSD Adapter X110 supports PCIe Gen 1, 2 and 3 devices and slots, but your performance will be limited by the slot in some situations.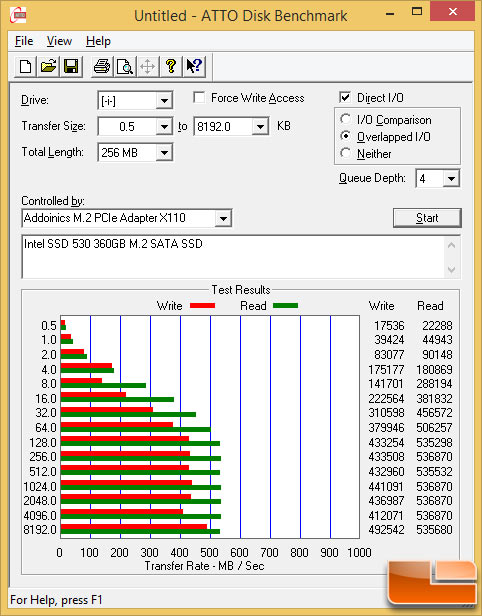 The Intel SSD 530 Series 360GB Drive is rated at 540MB/s read and 490MB/s write and we were hitting 537MB/s write and 493MB/s write, so the scores were spot on even with the adapter in place.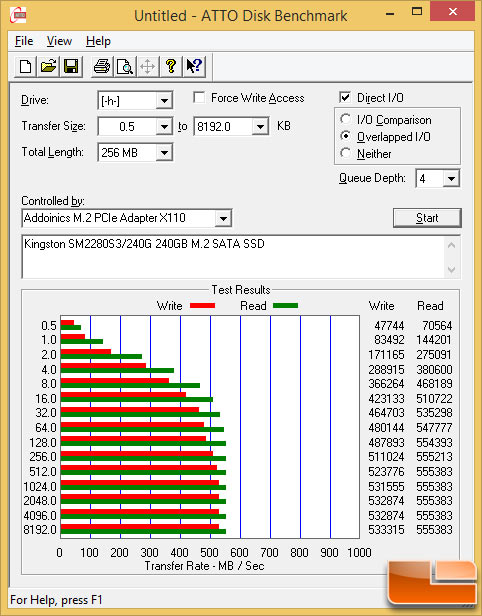 Lastly, we have the Kingston SM2280S3/240G M.2 SATA AHCI SSD and it is rated at up to 550MB/s read and 520MB/s write on ATTO. With the adapter we were hitting 555MB/s read and 533MB/s write, so we are getting the performance the manufactures said we should be despite the fact that we are using the Addonics adapter.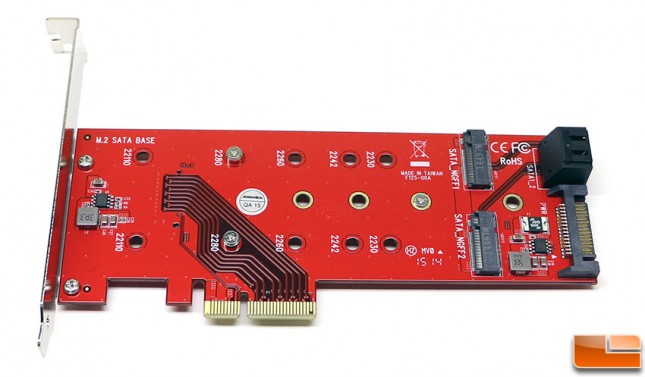 Final Thoughts and Conclusions:
The Addonics Technologies M2 PCIe SSD Adapter X110 was found to work great and we saw no performance loss on the three different M.2 SSDs that we tested on the adapter. If you are looking to purchase a M.2 PCIe SSD adapter we highly suggest giving the Addonics X110 a closer look as the $29 price tag won't break the bank and it gives you the ability to run two M.2 SATA SSDs as well. That gives you some flexibility on your storage configuration and we really like that!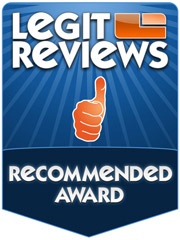 Legit Bottom Line: The Addonics M2 PCIe SSD Adapter X110 helps add M.2 SSD support to older systems that might not have an M.2 slot and gives you M.2 SATA and PCIe SSD support all on one adapter!