Add2PSU Daisy Chain Power Supply Adapter Review
By
Running Multiple Power Supplies in One PC
For as long as I can remember, the need for larger power supplies has always been an issue with the enthusiast community. One of the easiest ways to beef up the power supply in your computer case is to daisy chain two power supplies together in your computer. This solution not unheard of for most of our readers, but how do you go about stuffing two power supplies into your case and make it to where both of them turn on at the same time? The way that I knew about was done using a 24-pin adapter that gives you the ability to two PSUs for those needing more power.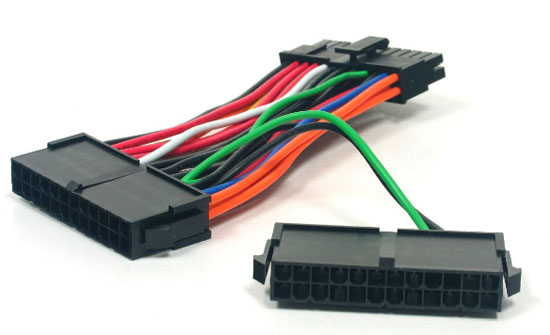 For more than five years you can go out and buy Lian-Li Dual Power Supply Adapter (shown above) to run two power supplies. This solution runs anywhere from $9 to $16 plus shipping and will power up two power supplies when the motherboard is turned on. This cable can be used with both 24 pin and 20 pin ATX motherboard and is fairly versatile. While this solution works, it doesn't look pretty as it isn't sleeved and might be a pain to hide in general.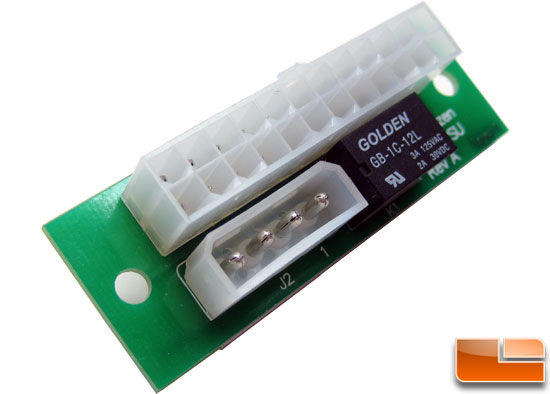 Enter the Add2SU, a solution that uses a small circuit board to wire up as many power supplies together in a daisy chain that your heart desires. This device was designed by David Lorentzen when he couldn't find the solution that he wanted when trying to add a second power supply to his home server. The design of the Add2PSU is rather simple as it has a 24-pin ATX and 4-pin MOLEX power supply connector on it with a lone Golden Telecom Relay (GB-1C12L) that is made by the Shenzhen Golden Electrical Appliances Company over in China. To use the Add2PSU you just plug in the 20 or 24-pin ATX connector from the new power supply onto this board and then a 4-pin Molex connector from the existing power supply. When the relay detects power it allows the second power supply unit to turn on instantly. As simple as the device is, Lorentzen says that he has been awarded a patent pending status for this little creation.
Add2Psu Adapter Features:
Solid State PC board
Non-heat generating
True Plug and Play
Compact design
Multiple mounting options
Virtually unlimited PSUs

The Add2PSU circuit board measures just 73mm x 25mm (2.85″ x 1.00″) and due to it's rather small size, it can be mounted nearly anyplace. The Add 2 PSU comes with a 2″ x 1″ strip of 3M double sided tape on the back that covers up the solder points on the back of the PCB to keep them from shorting out and also allows you to easily mount it to your case. The sides of the PCB also have holes in them, so you could also screw it or zip tie it to something inside your PC case. The ends of the PCB don't contain any trace routes, so if you really wanted to you could cut the ends off the device and shorten to just roughly 2.1″ if you wanted to.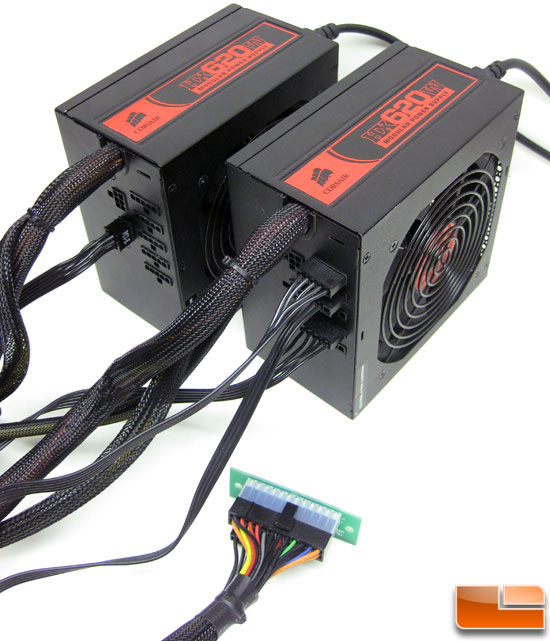 To try out the Add2PSU I pulled two Corsair HX620W power supplies that I retired from the test bench early last year since they were unable to handle the power demands of some of the crazy computer hardware that I benchmark and overclock around here. I hooked the two 620W power supplies together with the Add2PSU adapter and sure enough both power supplies kicked on like there were siamese twins. The Add2PSU worked fine and I ended up with a total of 1240 Watts of power by using this simple device, which is plenty power for most enthusiast PCs that you could build today.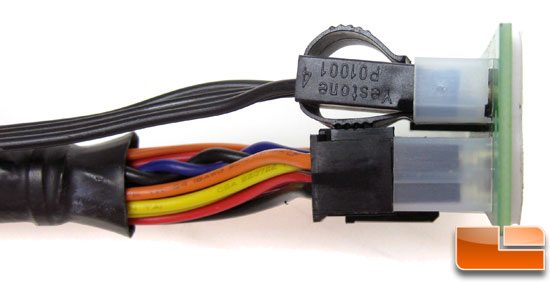 The one thing that I noticed during testing, is that on power supplies with the quick release ends that creates a tight fit in the Add2PSU and slightly tweaks the connectors. I don't think it is enough to stress or fatigue the soldered joints, but something worth pointing out to our readers. The simple way to fix this would be to cut off one side of the 'tab' on the 4-pin Molex connector that is causing the issue.
Add2PSU made a quick video about this device that shows how to you it in a video clip where they link together three power supplies together.
Final Thoughts and Conclusions:
The Add2PSU makes it easier than ever to daisy chain two power supplies together to give your system more power without having to buy a bigger power supply. It's ideal for those that have multiple power supplies sitting around and want a cost effective way to add in another power supply to help power a new video card or something like that. Just make sure your case has enough room inside to fit two power supplies! The Add2PSU is so small it more than likely won't be an issue finding a place for it and is certainly a better solution when it comes to looks and for airflow than the old adapter wires.
The Add2PSU costs $19.95 plus $1.99 shipping, which isn't bad, but also higher than I wish it was. The Add2PSU works great, but for $22 you aren't that far away from a new power supply depending on what your needs are when it comes to Wattage. You'll have to figure out if buying a new power supply or daisy chaining is the proper solution for your needs. If you have power supplies laying around or can get one for free a device like the Add2PSU is right for you.
I am happy that David Lorentzen took his idea and created a product with it as I don't see too many new people entering the market with niche products these days. Maybe down the road he'll make an all black version with a black PCB and connectors on it to better blend in with the blacked out interior on modern cases. That would increase the cost though and when launching a new product you want to keep costs down and move your product!
Legit Bottom Line: The Add2PSU offers a simple way to join two power supplies together to give you more power when your systems power supplies requirements expand beyond what your PSU can offer.