ADATA HD830 4TB Durable Portable Hard Drive Review
By
We've reviewed a ton of portable SSDs this year, so when we got the opportunity to review the ADATA HD830 2.5″ External Hard Disk Drive (HDD) we jumped at the chance. The ADATA HD830 series of durable ultra-tough portable HDDs is available in 2TB, 4TB or 5TB capacities for $107.07 shipped, $149.99 shipped and $179.99, respectively.
ADATA claims that the HD830 is the most rugged external hard drive that they have ever created. We don't review many hard drives or portable hard drives these days since most companies are promoting speed. While hard drives might be the mini van of the storage industry, they are reliable and offer gobs of storage space at affordable prices.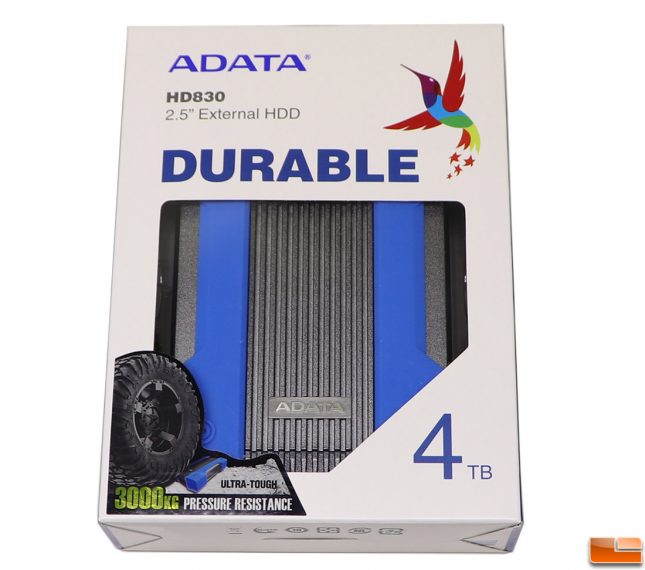 ADATA advertises the HD830 as having an ultra-sturdy aluminum exterior, triple-layer construction, and IP68 rating for the ultimate protection of data. The IP68 rating means that it has been lab tested to dust, dirt and sand, and are resistant to submersion up to a maximum depth of 1.5m underwater for up to thirty minutes. Whats more, the HD830 also comes with a MIL-STD-810G 516.6 rating and has been tested to withstand up to 3000kg or about 6,600 lbs of downward pressure. The image on the box shows on an off road tire driving over the ADATA HD830, so we plan on driving over it as well as part of our review.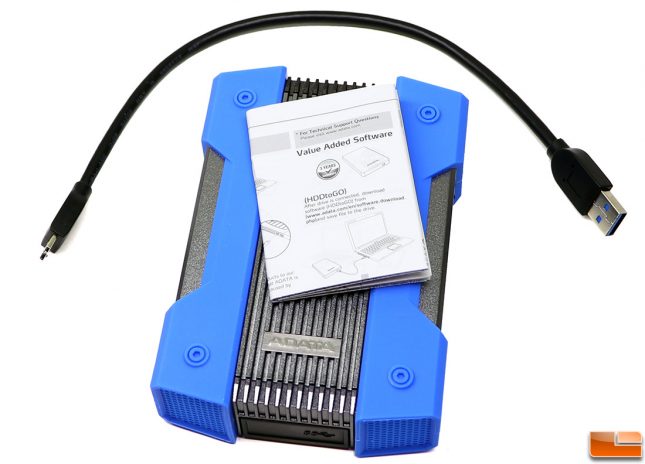 ADATA sent over the HD830 for testing and we received the model that comes with a blue anti-shock silicone sleeve. The sleeve has been glued to the aluminum enclosure and is not meant to be removed. In fact, you aren't supposed to open up this drive at all. Inside the retail box you'll find the HD830 portable hard drive,quick start guide and USB 3.1 data cable. The quick start guide highlights that HDDtoGO software is available to download for free as a value adder for Windows users.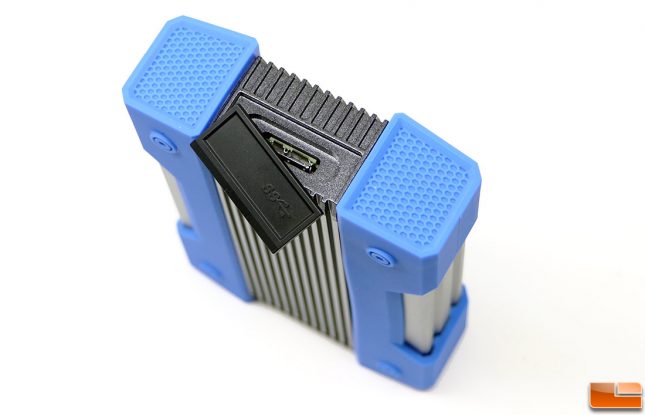 The HD830 is said to be dustproof and waterproof, but that only applies when the USB port cover is properly closed.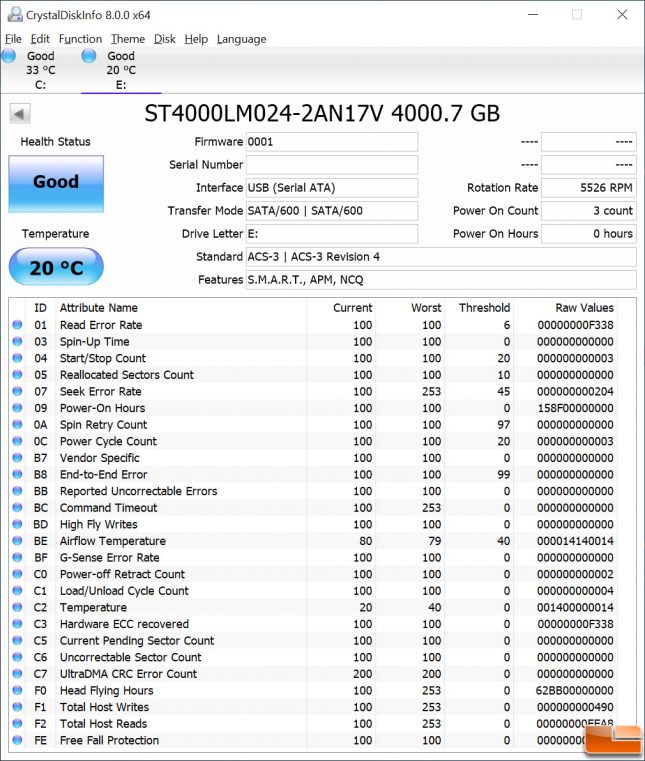 Opening up CrystalDiskInfo reveals that ADATA is using Seagate 4TB BarraCuda 5400 RPM SATA III 2.5″ 15mm Laptop Internal Hard Drive in this enclosure with a part number of ST4000LM024. That drive runs $126.95 shipped on Amazon, so you aren't paying too much extra for this enclosure.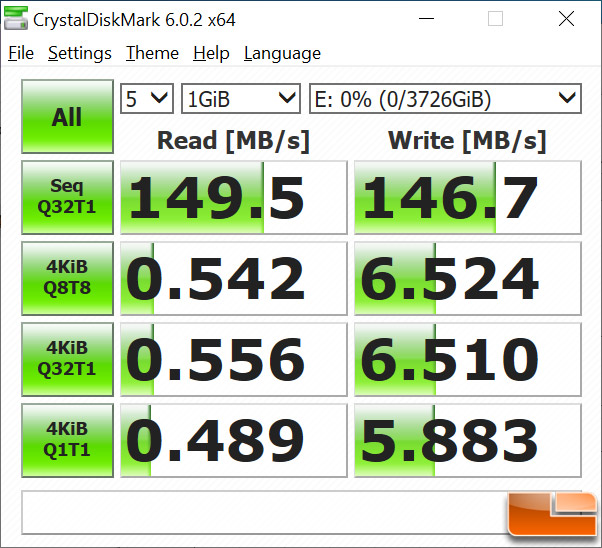 Performance of the ADATA HD830 was solid for a portable hard drive. CrystalDiskMark showed that we were getting just shy of 150 MB/s read and 147 MB/s when it comes to sequential performance.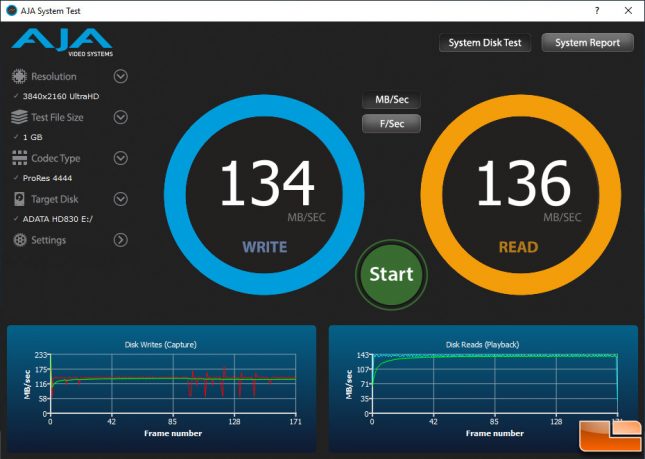 The AJA System Test (1GB 4K ProRes 4444 video test file) showed that we were getting 136 MB/s read and 134 MB/s write speeds, which is very respectable.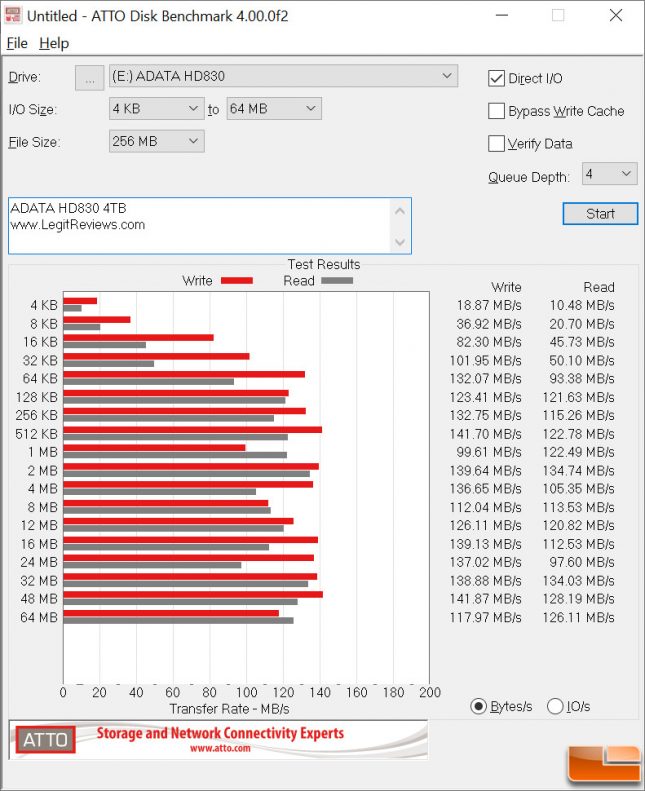 ATTO Disk Benchmark also showed that we were getting right around 100-140 MB/s of performance depending on the file transfer size. Nothing out of the ordinary here as it's a 5400 RPM hard drive after all.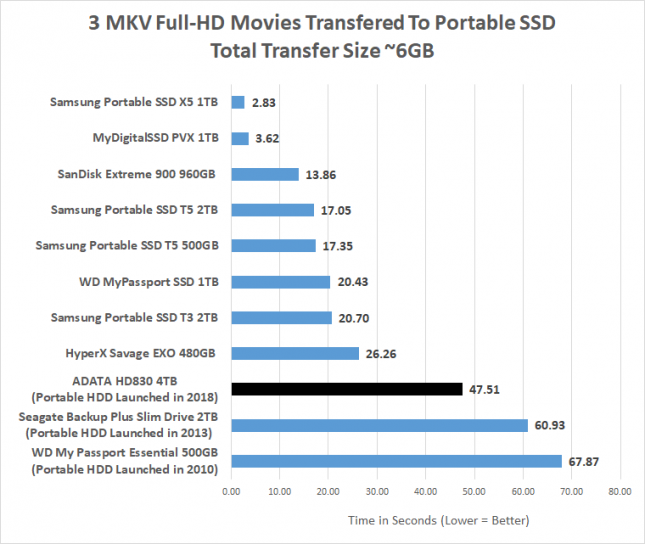 When we timed how long it takes to move a movie folder to the HD830 4TB external HDD, we found that it took about 47.5 seconds to complete the task. This is faster than other older portable hard drives, nearly twice as long as many portable SSDs with SATA drives inside.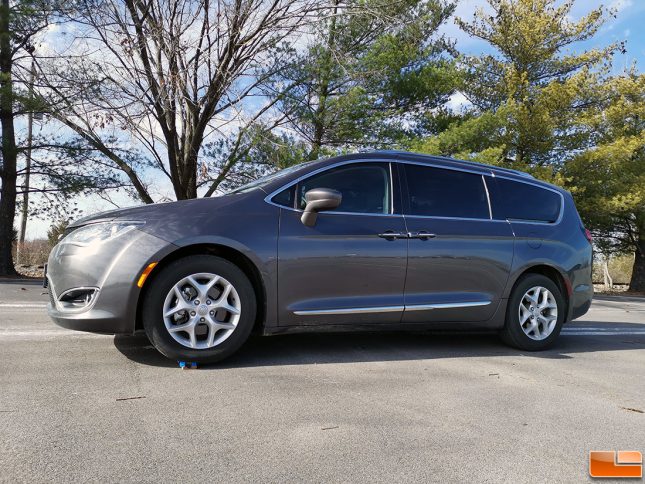 The next test we wanted to do was to run over the ADATA HD830 to test out just how rugged this drive is. The front of the retail packaging shows it being run over by a tire and that it can withstand up to 6,600 lbs of weight. Our 2018 Chrysler Pacifica comes in at just under 4,400 lbs, so we placed the ADATA HD830 on a piece of cedar over asphalt and drove up on it. Not all 4,400 lbs of weight would be on the external HDD since cars have 4 tires, but we wanted to see if it could survive.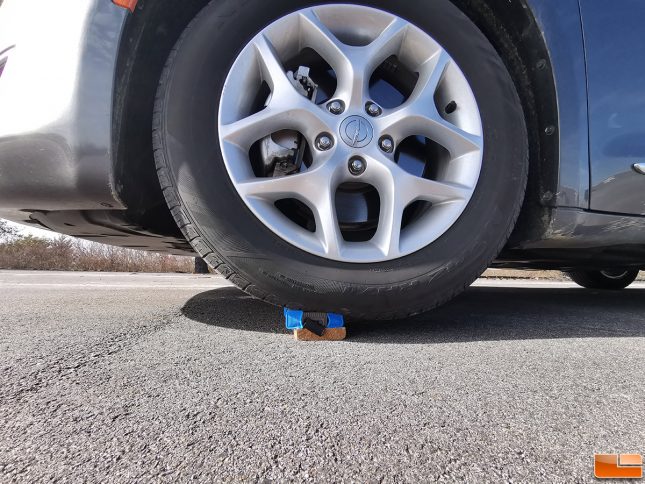 As soon as we drove up on the HD830 and the partial weight of the vehicle was on the drive we heard a pop that didn't sound good over engine of the minivan.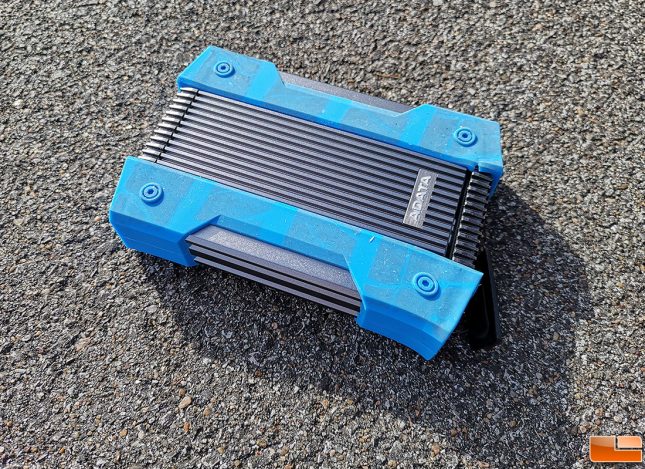 It turns out that the ends of the ADATA HD830 are not made from aluminum, but rather plastic. When we drove over the enclosure the end that has the USB port cracked and popped off the enclosure. That ended this drives IP68 rating, but it looked like it was still functional. We plugged it into our laptop and sure enough it worked just fine.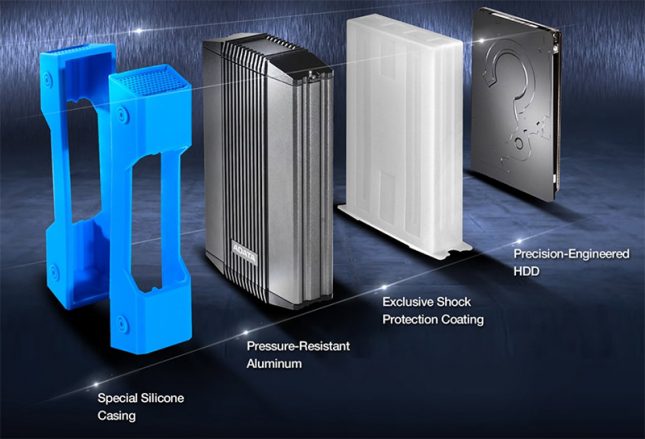 ADATA makes no mention of plastic on the HD830 product page and we feel having aluminum end caps would have added strength to its design.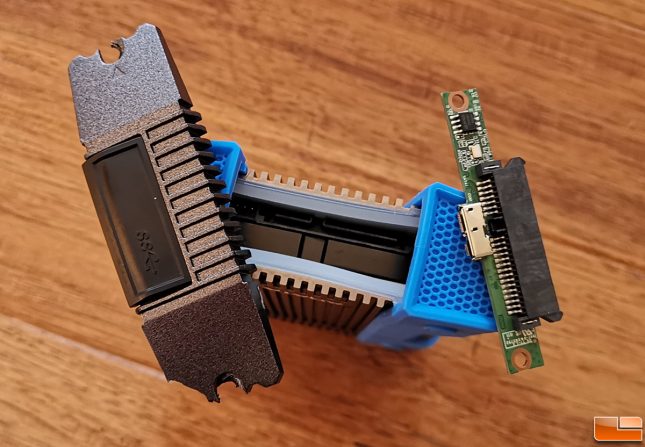 Since we broke the plastic end cap off the HD830 we were able to see the Seagate 4TB 2.5″ drive inside and the super tiny SATA to USB adapter. ADATA is indeed using a silicone sleeve inside the aluminum enclosure that also doubles as the water proofing mechanism.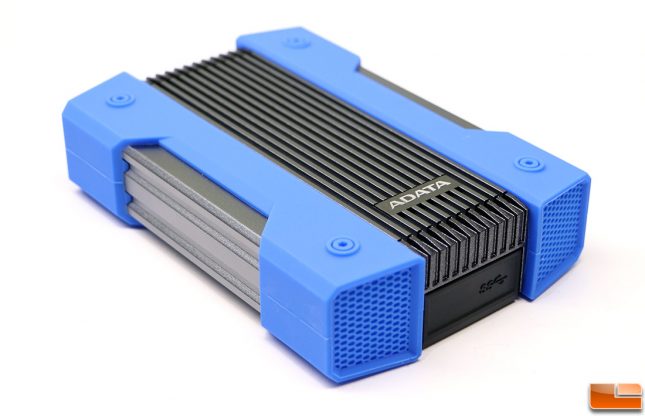 Final Thoughts and Conclusions:
When it comes to performance the ADATA HD830 rugged portable hard drive did well for having a 4TB 5400 RPM drive inside. We hit speeds of up to 150 MB/s read and 147 MB/s write in CrystalDiskMark and that's great. When we copied movies over to the ADATA HD830 4TB external drive we averaged 126 MB/s and that is more telling of real world performance.
ADATA markets the HD830 as being durable and the most rugged drive that they have ever released. We found this drive to be pretty rugged, but driving over it once cracked off one of the drives plastic end caps. We thought this drive used a fully aluminum enclosure, so that was a bit disappointing. The drive still worked, but the enclosure failed. Very few people are going to drive over a portable drive, so we'll let you decide how the drive held up. The only reason we drove over it was because the image on the front of the retail box shows a tire headed straight for the plastic end cap. This is not something we'd recommend doing to your HD830 if you buy one though as the damage is not covered under the products 3-year warranty.
The ADATA HD830 series of durable ultra-tough portable HDDs comes in capacities of 2TB, 4TB and 5TB with pricing of $107.07 shipped, $149.99 and $179.99, respectively. We could only find the 2TB drives on Amazon for sale as the 4TB and 5TB models aren't listed. At $150 for the 4TB model that works out to being $0.037 per GB. Not a bad price to pay and the drive inside runs $126.95 shipped on Amazon when purchased separately.
Legit Bottom Line: The ADATA HD830 might be the most rugged drive ever made by ADATA, but still has some plastic enclosure components on it that may fail if it is really abused.
The HDD is also equipped with shock sensors that prevent errors and bad sectors due to accidental impact and shaking.