ABS Tigas Super Full Tower Chassis
By
The Tigas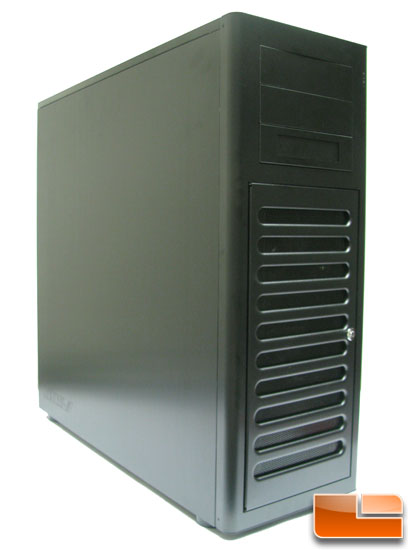 The Tigas is most definitely high end with a price tag of $499 plus shipping, but that is not without reason. The Tigas is a full aluminum all black anodized chassis designed with gaming, multimedia, and storage in mind. For the user that has storage in mind the Tigas has front access to 10 hot-swappable SATA/SAS hard drive bays that have independent power switches to allow the user to have control over what drives power up. The hard drive bays are cooled by 3 front mounted 120mm blue LED 3 speed intake fans, and two 120mm rear exhaust fans. For those with sound issues the Tigas has sound insulation and rubber strips on the side panels to reduce noise. For the gamer with even the most power hungry of components, there is ample space for those components, water cooling tube pass through ports, and even the ability for dual power supply units.
Now before we get too much further lets look at the specifications for the Tigas.
Specifications
Brand: ABS
Model: TIGAS
Type: Super Full Tower
Color: Black
Case Material: Aluminum
With Power Supply: No
Motherboard Compatibility: E-ATX, CEB, ATX, M-ATX
With Side Panel Window: No
Expansion
External: 5.25″ Drive Bays 3, 3.5″ Drive Bays 1
Internal 3.5″ Drive Bays 10 (SATA/SAS Hot-Swappable)+3 (If second PSU NOT needed)
Expansion Slots 8
Front Port : 4 x USB 2.0, 1 x 1394A, 1 x e-SATA, HD+AC97 Audio
Cooling System
3 x Dual- Ball-Bearing 120mm Fan (Intake)
2 x Dual- Ball-Bearing 120mm Fan (Exhaust)
Side Air duct: No
Dimensions: 23.3" x 8.7" x 23.5"
Packaging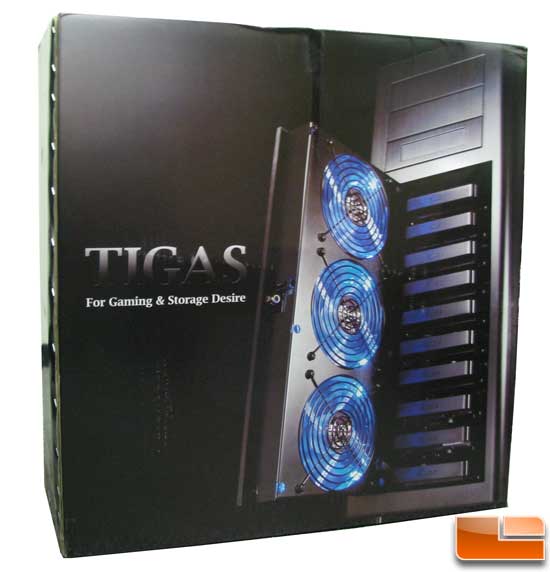 The Tigas comes in a nice sturdy box sporting a nice image of the case powered up. The sides of the case have the features and specifications listed.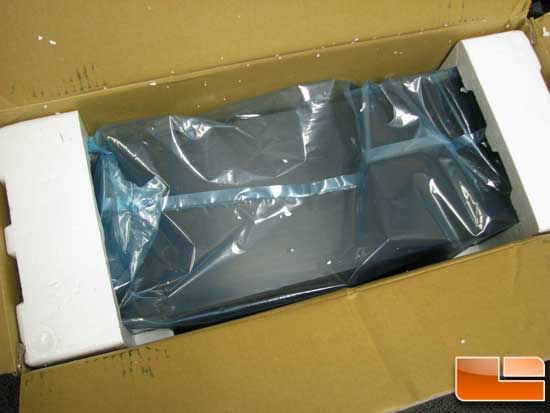 Inside the box we can see the case is packed in the standard way, Styrofoam end caps and plastic wrap.