3DMark Time Spy Benchmark – DX12 Async Compute Performance Tested
By
3DMark Time Spy came out yesterday and it is the latest and greatest DirectX 12 benchmark test for gaming PCs running Windows 10. This DirectX 12 Feature Level 11_0 benchmark utilizes a pure DirectX 12 game engine that supports features like asynchronous compute, explicit multi-adapter, and multi-threading! The developers opted to use DirectX 12 Feature Level 11_0 to ensuring wide compatibility with DirectX 11 hardware through DirectX 12 drivers. There are higher DirectX 12 Feature Levels, take a look at the Direct3D Feature Level table, but it appears many game developers are going this route to get a good performance and compatibility mix.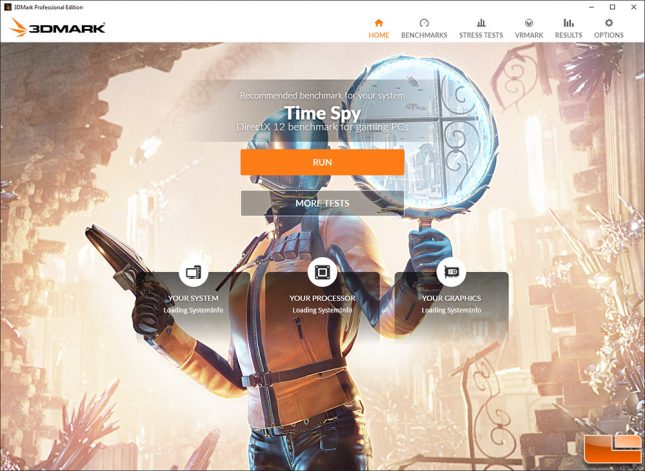 With DirectX 12 on Windows 10, game developers can significantly improve the multi-thread scaling and hardware utilization of their titles to draw more objects, textures and effects for your viewing enjoyment. 3DMark Fire Strike is a great high-end DirectX 11 benchmark test, but doesn't really show off what new graphics cards can do on a DirectX 12 game title that will have much more going on while you are playing.
3DMark Time Spy DX12 Benchmark Full Demo
Take a look at the table below to see just how much processing is taking place in the original 3DMark Fire Strike test versus the new 3DMark Time Spy test.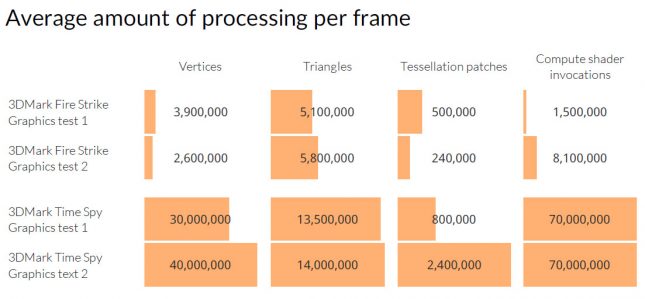 The great news is that in Time Spy, asynchronous compute is used heavily to overlap rendering passes to maximize GPU utilization. The asynchronous compute workload per frame varies between 10-20%. There is also an option in the custom run benchmark settings to disable Async Compute!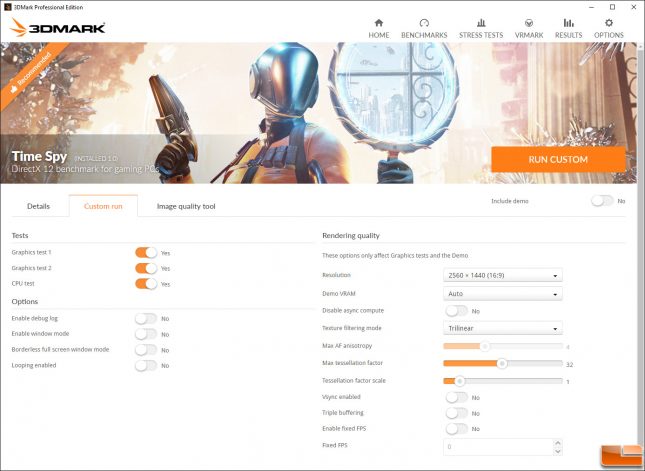 We ran 3DMark Time Spy on our tried and true video card test system and got the following results: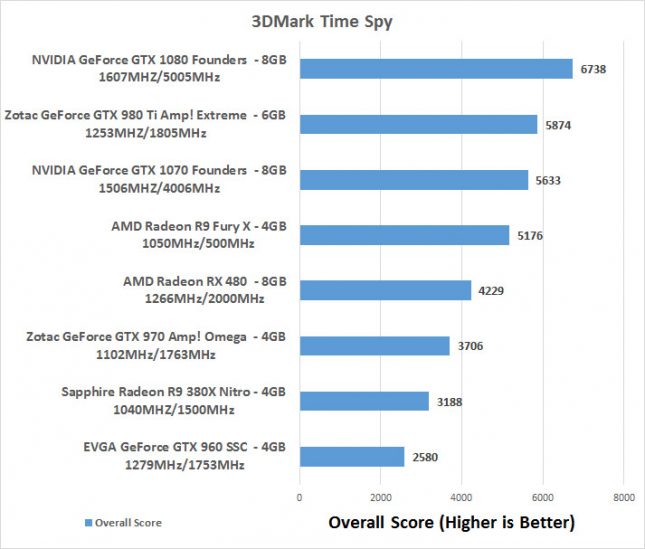 When looking at the overall score you have the scaling like we have seen in the past with 3DMark Fire Strike. The AMD Radeon RX 480 leads the GeForce GTX 970 as expected and the GeForce GTX 1080 easily defeats the AMD Radeon Fury X. No big shock here!
Where things actually start to get interesting is when you look at the GPU score and test with Async Compute enabled and disabled.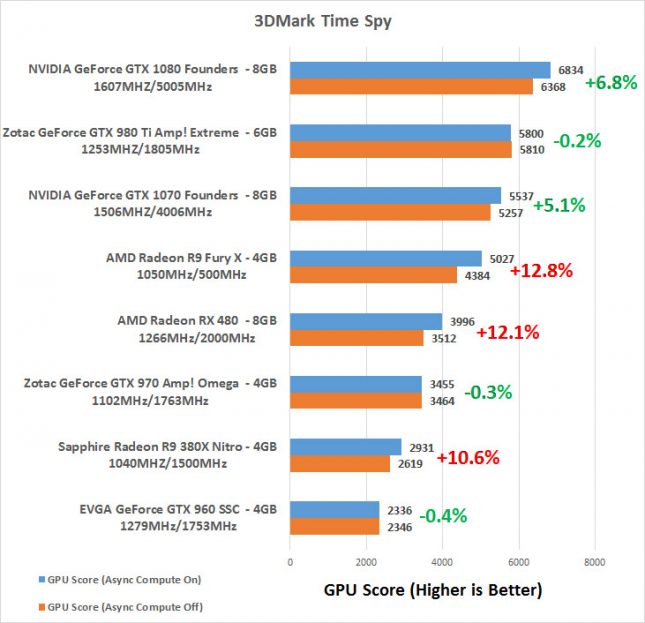 The first thing we see is that on the NVIDIA Maxwell GPU based video cards that we tested there is negative performance scaling when Async Compute is turned on! The Radeon R9 380X uses AMD's Tonga GPU and saw a very nice 10.6% performance gain by having Async Compute enabled! The AMD Radeon R9 Fury X with the Fiji GPU and the AMD Radeon RX 480 with the Polaris GPU both saw over 12% performance gains when Async Compute was turned on. The good news is that the NVIDIA GeForce GTX 1070 and GeForce GTX 1080 with the new Pascal based GPUs saw 5.1% to 6.8% performance gains with Async Compute.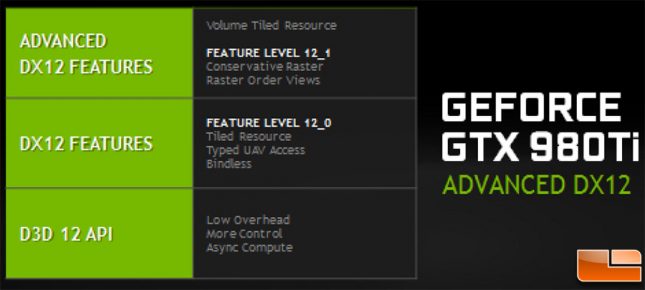 The negative performance scaling on the NVIDIA GeForce GTX 900 series of cards is causing quite the stir right now as NVIDIA touted many of the GM2xx GPU powered cards as supporting advanced DirectX 12 features like Async Compute. We have been speaking with a number of people inside of NVIDIA in recent months and they tell us that the Maxwell GPUs are indeed capable of Async Compute, but it hasn't been enabled since the Maxwell GM2xx GPUs don't have dynamic load balancing.
From what we have gathered by our own observations is that NVIDIA is continually evaluating DirectX 12 content with support for Async Compute to see if it is worth being enabled on their hardware. NVIDIA has always claimed that they will be able to enable Async Compute for an app through a profile that would need to be released with a new driver build. Apparently, the performance advantages they are seeing internally aren't enough to enable their proposed Async Compute design solution. NVIDIA GeForce 900 series owners should cross their fingers and hope that NVIDIA someday delivers on the DX12 promises that they promoted back in the day.
At the end of the day Futuremark's new 3DMark Time Spy benchmark looks to be a good DX12 benchmark and we will be including it in our video card benchmarks moving forward! Gamers need a good benchmark that shows DX12 performance results and we think Ashes of the Singularity and 3DMark Time Spy are two good tests that will show you what is going on!
You can buy 3DMark right now on Steam of $10, which is 60% off the retail price. That offer ends July 23rd and is a promotion for the launch of the new Time Spy DirectX 12 benchmark! If you already own 3DMark you can get the Time Spy upgrade for $4.99, but the upgrade isn't required to run the Time Spy benchmark test as that is a free upgrade. Paying for the Time Spy upgrade will unlock additional features and settings (skip the demo, unlock the stress test and custom benchmark settings like disabling Async Compute). The Time Spy upgrade offer also ends on July 23rd as it will be going back up to the $9.99 retail price.