12 CPUs Tested Using Neat Video Noise Reduction Tool w/ NeatBench 5
By
We've been looking to try out some new benchmarks for Legit Reviews and have been taking a look at a number of them. One of the more interesting real-world benchmarks is NeatBench 5, which is the benchmark application for Neat Video.
Neat Video came out in 2005 and is a video editing plug-in tool for noise reduction that ensures your videos look as clean and crisp as possible. Neat Video has had tens of thousands of customers over the years, so when we learned about it and the fact that it has a benchmark we were intrigued. Neat Video 5 also just happened to come out a few months ago and is the fastest, most powerful and most user-friendly version of Neat Video yet.
NeatBench runs the same code that is used in Neat Video video filter and the speed of NeatBench is the same as the speed of Neat Video itself (without the overhead of the video editing application). So, NeatBench is a test measuring the actual performance of the Neat Video filter on a specific hardware. You can run Neat Video itself and measure those speeds, but the standalone test (NeatBench) was developed to make benchmarking as easy as possible.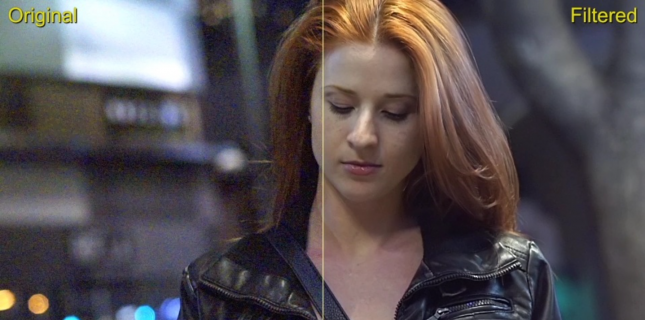 Neat Video has been optimized for use on multi-core and multi-CPU systems and supports GPU acceleration. Legit Reviews contacted ABSoft, NeatLab and asked if they have ever worked with AMD, Intel, NVIDIA, Qualcomm or ARM for CPU optimizations and they do not recall any interactions like that over the years. They did acknowledge that NVIDIA and AMD use NeatBench for GPU testing, but no optimizations have been asked for by either company. That is music to our ears as it looks like we have a benchmark that hasn't been heavily optimized for any one particular company.
"We know that NVIDIA and AMD use NeatBench in their internal GPU testing and benchmarking (although unfortunately their results are very rarely shared with us), not sure about the other vendors. Having said that we were not asked by any CPU/GPU vendors to optimize something specifically for them — the initiative is on our side, we just do what is best for our users. As most of our customers choose a GPU from NVIDIA or AMD, we try our best to make sure Neat Video runs as fast as possible on these GPUs. The same is true for CPUs: we have a range of processors from Intel and AMD in our computers and make sure we use them efficiently when optimizing Neat Video." – Neat Video team, ABSoft
For testing we will be comparing an Intel Z390 desktop platform to an AMD X570 desktop platform with six processors from each company at several different price points. Windows 10 Pro 64-bit v1903 with all updates as of 8/26/2019 was the operating system used and all the drivers were updated. Both systems used Corsair Hydro Series H115i PRO liquid CPU coolers.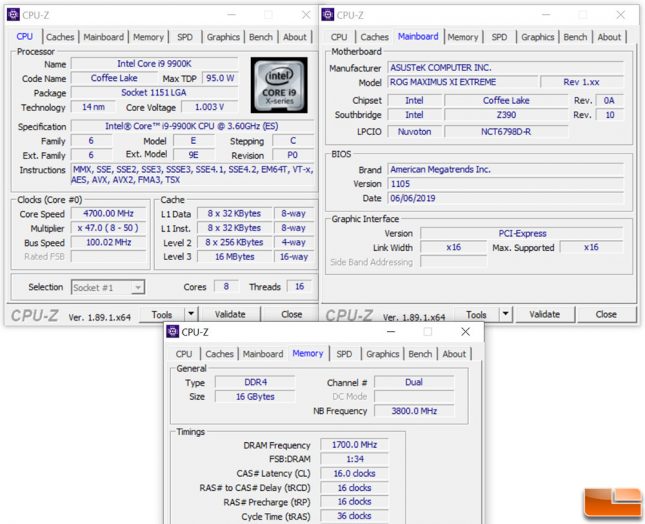 The ASUS ROG Maximus XI Extreme motherboard (pricing) was run with BIOS/UEFI version 1105 and the memory was set to operate at 3400 MHz with CL16 timings. ASUS Multi-Core Enhancement (MCE) was disabled.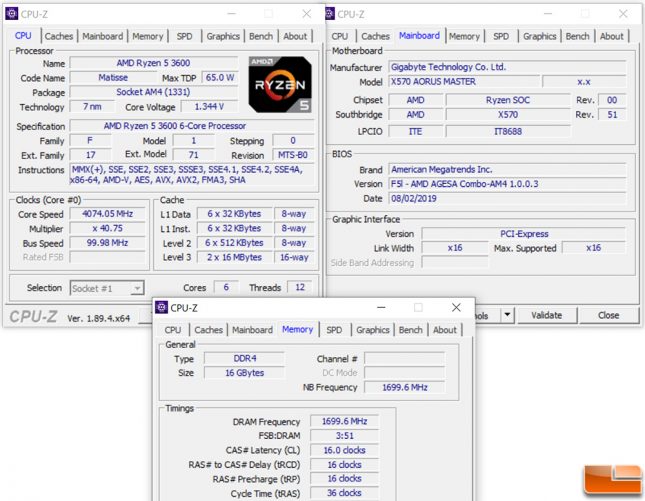 The Gigabyte X570 AORUS Master motherboard (pricing) for AMD Ryzen processors was running BIOS/UEFI version F5l (AGESA 1.0.0.3 ABB) and also had the memory set to operate at 3400 MHz with CL16 timings.
CPUs Tested in NeatBench 5
AMD Ryzen 9 3900X (12-core, 24-thread; 3.8 GHz base, 4.6 GHz boost; $499)
AMD Ryzen 7 3700X

(8-core, 16-thread; 3.6 GHz base, 4.4 GHz boost; $329)

AMD Ryzen 5 3600X

(6-core, 12-thread; 3.8 GHz base, 4.4 GHz boost; $239)

AMD Ryzen 5 3600

(6-core, 12-thread; 3.6 GHz base, 4.2 GHz boost; $198)

AMD Ryzen 7 2700X

(8-core, 16-thread; 3.7 GHz base, 4.3 GHz boost; $239)

AMD Ryzen 5 2600X

(6-core, 12-thread 3.6 GHz base, 4.2 GHz boost; $148)

Intel Core i9-9900K

(8-core, 16-thread; 3.6 GHz base, 5.0 GHz turbo; $489)

Intel Core i5-9600K

(6-core; 3.7 GHz base, 4.6 GHz turbo; $219)

Intel Core i5-9400F

(6-core; 2.9 GHz base, 4.1 GHz turbo; $145)

Intel Core i3-9100

(4-core; 3.6 GHz base, 4.2 GHz turbo; $119)

Intel Core i7-8700K

(6-core, 12-thread; 3.7 GHz base, 4.7 GHz turbo; $345)

Intel Core i5-8400

(6-core; 2.8 GHz base, 4.0 GHz turbo; $199)
Pricing as of 08/27/2019 – Product links in this table are affiliated, and support the website.
Without further ado, here are the benchmark results of NeatBench 5: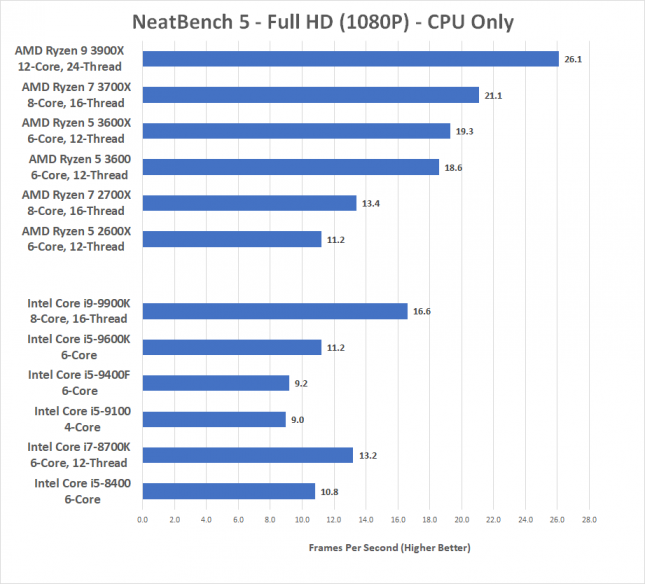 At the end of the day NeatBench 5, the stand-alone benchmark for Neat Video, gave us some very interesting performance results. After testing 12 desktop processors by AMD and Intel we feel that it paints a pretty good picture of how different processors perform.
AMD Ryzen 2000 series and 3000 series processors in general perform better in this benchmark than 8th and 9th Generation Intel Core processors. One of the more interesting results would be the AMD Ryzen 5 3600 6-core, 12-thread CPU ($197.85 shipped) actually managed to perform better than the Intel Core i9-9900K 8-core, 16-thread processor ($489.99 shipped) by nearly 10%.
This of course it just one benchmark application and represents a tiny slice of the overall performance of a compute platform. Our goal with this review was to look at a benchmark application that we have not used before to see how both AMD and Intel processors perform. ABSoft, NeatLab has a blog post up from 2018 about picking out the right CPU for you that is also worth taking a look at. The blog post was written for NeatBench4, however, most key factors affecting Neat Video performance have not changed in version 5.
In closing we'd like to thank ABSoft, NeatLab for openly talking to us about their benchmark.