WD My Passport Ultra 1TB Storage Drive Review
Wed, May 15, 2013 - 12:00 PM
Free Space and Final Thoughts
Taking a look at the capacity of the WD My Passport Ultra 1TB USB 3.0 portable hard drive we see that in Windows, there is 931GB available to the user as reported by Windows. This is with the applications and folders that WD shipped with on the drive. The WD software and users guides take up about 300 MB of space.
Final Thoughts and Conclusions:
The Western Digital My Passport Ultra isn't anything revolutionary when it comes to hardware specs. In recent years we have seen My Passport 1TB drives with similar USB 3.0 performance and right now 1TB is still the largest capacity that you can get. WD has a 2TB version of the My Passport Ultra coming out, but you'll have to wait until Q3 2013 for it to be ready. We see the release of the My Passport Ultra being an evolutionary product update and what the new features are predominately on the software side of things.
Western Digital has been focusing on cloud integration and this is the first My Passport drive to come with new standalone WD SmartWare Pro app that just came out in 2013. Before the WD My Passport and accompanying WD SmartWare software would automatically back up file changes to the My Passport local drive on the fly, but now you can schedule backups to both the drive and a Dropbox account. If you wanted to you could even backup your Dropbox account to the external disk for even more redundancy. This is the major new selling point for the WD My Passport Ultra and shows that WD is fully embracing the cloud movement that is taking place right now worldwide.
The thing is that you can purchase the WD SmartWare Pro app for $30 for a 3-computer license (on sale for $20 right now) and add it to an existing WD My Passport product if you wish. Therein lies our only concern. You can purchase a WD My Passport 1TB USB 3.0 drive for $79.99 shipped. Sure it is the 'old' model, but the new WD My Passport Ultra 1TB that we reviewed for you here has a retail price of $129.99 (MSRP). The street price will likely be lower, but right now there is a $50 price difference between the this drive and the previous model. You can buy the WD SmartWare license right now for $20 since it is on sale, so what will make users go out and spend an extra $30 on this 'Ultra' drive? Sure the WD My Passport Ultra is slightly thinner (depending on the capacity), comes with a carrying pouch and has a 1-year longer warranty than the previous model, but is that enough to justify the price difference?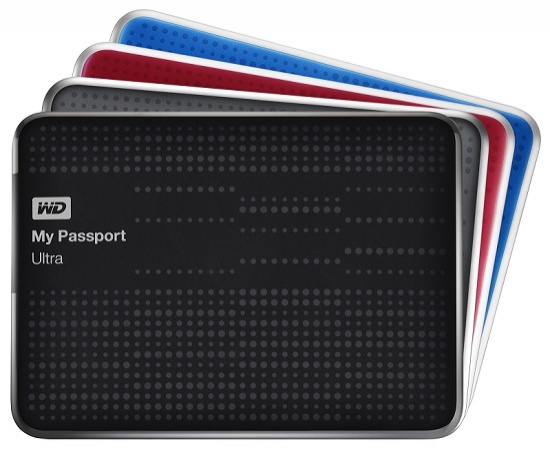 At the end of the day the choice is yours, but by reading this review you know about the price difference and can figure out drive that best suits your backup needs. The WD My Passport Ultra can also be personalized when it comes to colors as you can get the 500GB or 1TB capacities in black, blue, red, and titanium. We had the titanium finish in case you are curious.
The Western Digital My Passport Ultra is an excellent portable drive and we found no flaws with it. WD has been selling portable backup drives in the Passport series for nine years and have an impressive track record with readability and stability over the years.  The WD My Passport Ultra is a solid backup device and you can't go wrong with using one to backup your data!
Legit Bottom Line: The WD My Passport Ultra is an excellent portable hard drive that is easy to setup and quickly backs up files to itself and to the cloud!