Transcend RDF8 USB 3.0 Memory Card Reader Review
Mon, Mar 11, 2013 - 9:00 AM
Speed Testing & Conclusion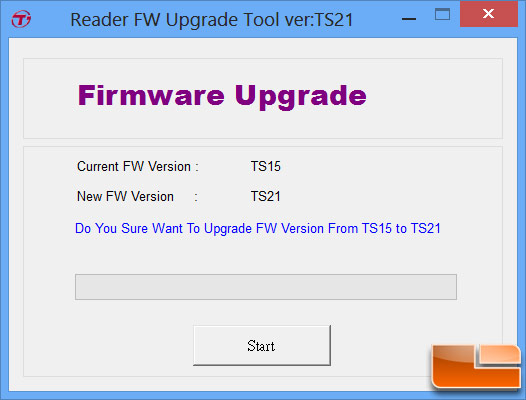 Before we started testing Transcend's USB 3.0 multi-card reader we checked to see if there was any firmware updates for it and sure enough we found that the drive that we were just shipped days ago was running old firmware. We were able to find the firmware update on the Transcend website, but there were no instructions on how to use it or a change log of what it fixes or does. It's highly unlikely the average consumer would look for a firmware update for their memory card reader, so if you are reading this you are ahead of the curve You first need to download the firmware on your computer that has the reader plugged in it. Then you need to extract the folder and run the file called FWUpgradeTool.exe. From there you should see the program popup and it will tell you what the current firmware version is and if you need to update. As you can see our card reader was running firmware TS15 and needed to be updated to TS21.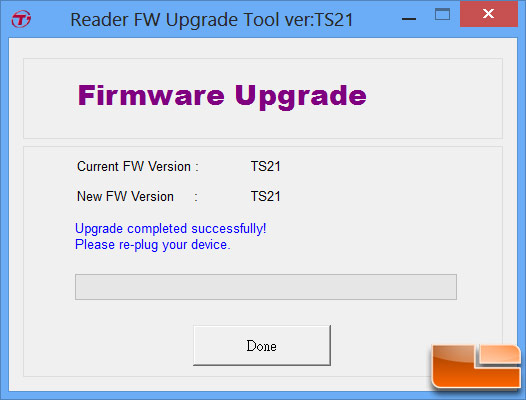 After you click start the firmware upgrade takes under a minute and if all goes well you should see the message above. From what we gather the firmware update improves the stability and speed of the reader, so be sure to update yours as the last thing anyone needs is a corrupted memory card due to running old firmware!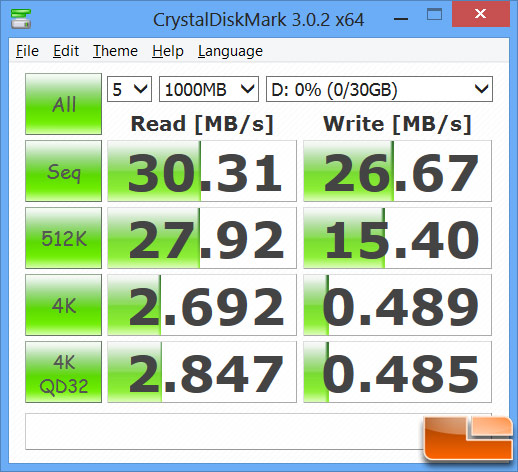 To test out the performance of the Transcend TS-RDF8K USB 3.0 card reader we used an the fastest SD memory card that we have, which is the ADATA Premier Pro 32GB SDHC UHS-1 Memory Card. This USH-I memory card is rated at 95MB/s read and 45MB/s write, so we can't wait to see how it performs on our ASUS UX31A Ultrabook and the integrated factory USB 2.0 card reader. This is one of the latest and greatest Intel Ultrabooks that money can buy, but sadly it features an SD card slot that uses the USB 2.0 interface. As you can see we were getting 30MB/s read and 26MB/s write on the sequential speed test.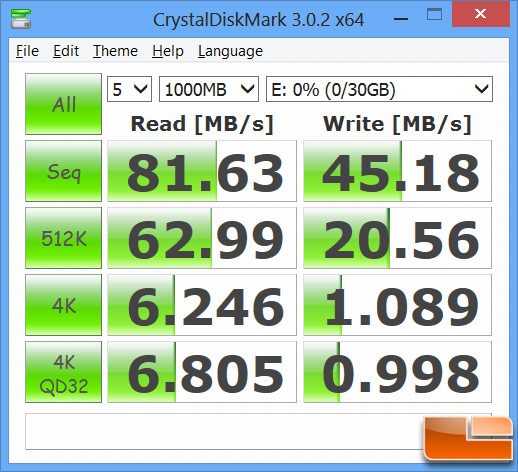 By plugging in the Transcend USB 3.0 Memory Card Reader into one of the available USB 3.0 ports on the ASUS UX31A we found performance increased nicely. The sequential read and write speeds jumped up to 81MB/s and 45MB/s, respectively. The Transcend TS-RDF8K USB 3.0 card reader costs just $15.99 w/ free shipping and improved the read performance by 2.5x! Speed aside it also supports other memory card formats that we previously couldn't do, so you get more than just a speed boost!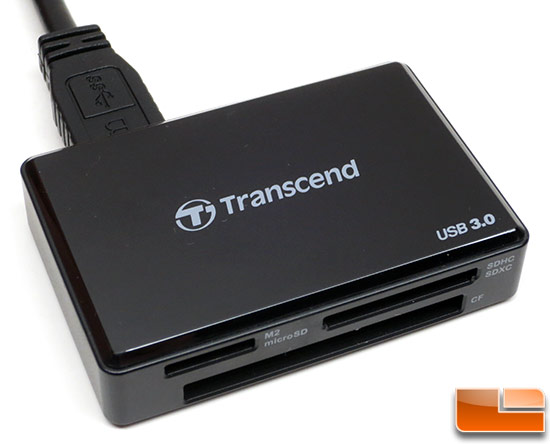 Final Thoughts and Conclusions:
At the end of the day we found the Transcend RDF8 USB 3.0 Memory Card Reader to be extremely fast and very affordable at just $15.99 w/ free shipping. If you transfer a ton of images or videos between your memory card and PC, then a memory card reader like this one is ideal. The performance difference between a USB 2.0 and USB 3.0 reader are night and day as you could see from our testing.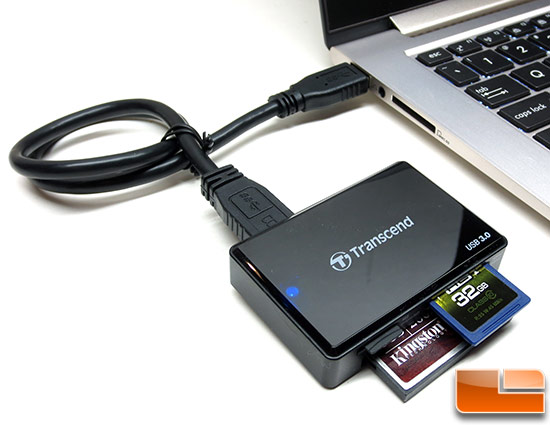 We did run into an odd quirk with the Transcend RDF8 memory card reader that are worth mentioning when we tested out the reader in our labs. When we used CF, SD and microSD cards at the same time we noticed that you can't use both the SD and microSD card slots at the same time. If you are wanting to use both SD and microSD simultaneously, it simply doesn't work. We also noticed that the Transcend RDF8 easily slides around since there are no rubber feet on the bottom, but that is something you can easily fix with a quick run to the hardware store if it bothers you as well.
Even after running into a couple quirks we still really like the Transcend RDF8 USB 3.0 multi-card reader due to the great performance and low price point. Most external USB 3.0 memory multi-card readers are $19.99 and have issues as well. The Transcend RDF8 has been out since 2011, had numerous firmware updates and is now a solid and mature product. It also comes backed by a 2-year warranty should anything go wrong.
Legit Bottom Line: The Transcend RDF8 USB 3.0 Multi-Card Reader quickly transfers data from your memory cards to your PC without breaking the bank!