Thecus N5550 5-Bay Home NAS Review
Fri, Dec 14, 2012 - 12:00 AM
Final Thoughts & Conclusions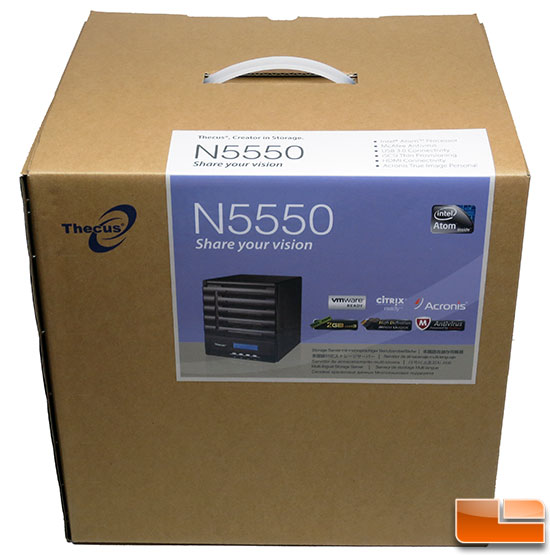 The Thecus N5550 Diskless System NAS Server is available online right now for $439.00 shipped thanks to a holiday promotion. This is a very good price for an Intel Atom powered 5-bay NAS that has 2GB of memory! The QNAP TS-569L ($750) and Synology DS1512+ ($788) are competing 5-Bay devices with the same Intel Atom processor and 1GB of memory, but the cost way more. Thecus is certainly the value play when it comes to network storage these days, but keep in mind you still have to populate the diskless NAS with drives!
WD Red Hard Drive Models & Pricing:
If you went with five WD Red Hard Drives you are looking at $443 for 1TB drives, $575 for 2TB drives and $790 for 3TB drives. Yes, you'll be spending more on drives than the actual NAS! The setup that we benchmarked today used five WD Red 3TB drives, so the total cost of our NAS solution is $1228.50. Not inexpensive by any means, but it gave us 8TB of pretty safe network storage space!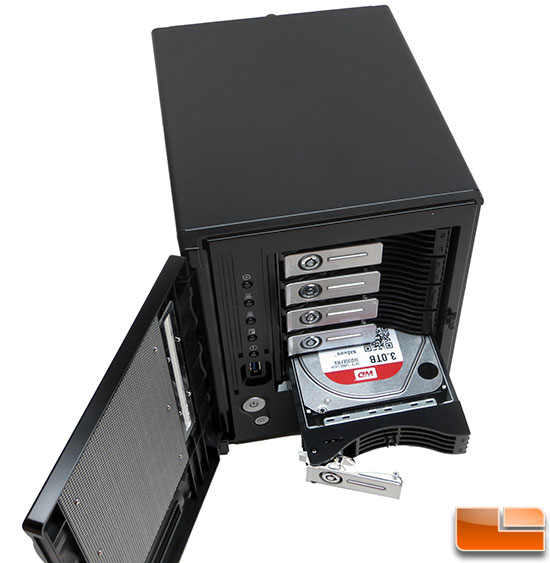 When it comes to performance the Thecus N5550 did not disappoint. The Intel Atom D2700 processor running at 2.13Ghz and 2GB of DDR3 1333MHz memory felt snappy on our setup. In real world use you can expect file transfers to the N5550 come in at ~95MB/s for uploads and~ 50MB/s downloads as this is what we get with most file types on our RAID 6 array. Streaming multiple HD movies was also not a problem, which is great for large households as you don't want to be watching a Blu-Ray movie you have backed up only to have it start stuttering when someone else in another room starts to pull files down.
The ThecusOS user interface was found to be really easy to use and you can tell that Thecus has spent a ton of time updating their GUI. You can actually try out ThecusOS 5.0 online right here for yourself, so you don't have to blindly take our word for it. If you tried a Thecus NAS in the past and didn't like the GUI, you should really try the online demo! The Thecus N5550 has some pretty cool features like the ability to mount ISO images that we weren't able to do on older Thecus products.
At the end of the day the Thecus N5550 is an excellent 5-bay NAS and the price is right at $439.00 shipped. For that price, the Thecus N5550 is hard to pass up as the ability to transfer data about as fast as a Gigabyte Ethernet connection will allow is pretty amazing.
Legit Bottom Line: The Thecus N5550 is fast, easy to use and affordable. That is the perfect recipe for home and small business users that are looking for a reliable NAS solution!