Sony VAIO Tap 20 Hybrid Tablet PC Review
Wed, Apr 10, 2013 - 12:00 AM
Final Thoughts and Conclusions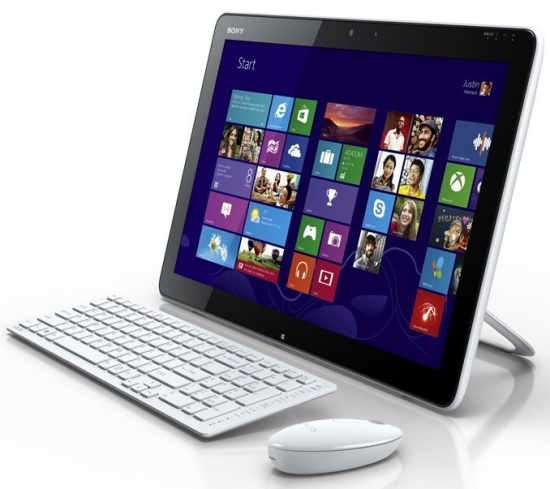 The Sony VAIO Tap 20 is a very interesting Hybrid PC that runs Windows 8 with 10 finger touch capabilities. The internal battery is rated to last 2 hours 45 minutes, which actually isn't bad for a device like this. Having the ability to unplug the PC and move it around the home is actually rather nice and really makes the PC experience group friendly. The Sony VAIO Tap 20 can be used in tablet mode with it lying on the table and you can play touch games on it versus a friend or share photos and videos with a group. The Sony VAIO Tap 20 design is great and we have a feeling that Sony will be sticking with this design for years to come as it is a winner in the family den.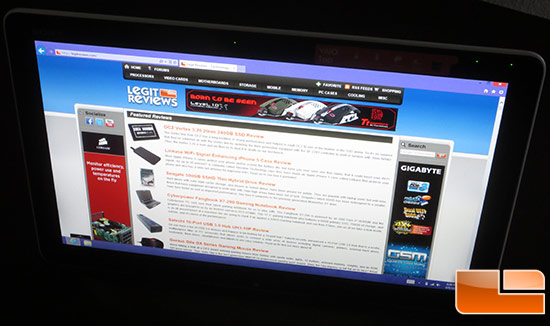 While we loved the design and functionality of the Sony Tap 20 we did have a few issues with the hybrid device. For starters the system just felt sluggish and the touch screen wasn't as responsive as we wanted. We've reviewed many devices that use the Intel Core i5-3317U processor, so we know it isn't the core platform that is causing the sluggish feeling.
The first time we used the VAIO Tap 20 there were 17 Windows 8 updates that needed to be downloaded and installed. It took nearly 1.5 hours to install those 17 updates and then we had to install the Sony VAIO Software Updates where it took another 30 minutes and the NFC software patch failed three times in a row. Having to wait 2 hours for a couple dozen updates to install is frustrating and not the user experience you first want to have with any device. We noticed that the Hitachi Travelstar 750GB 5400RPM hard drive was without a doubt the bottleneck in the Tap 20. This drive was found to have 77MB/s sequential read and 72MB/s sequential write speeds, which isn't all that quick. We also noticed that the 4GB of DDR3 memory was also leaving us wanting more as it was just running in single-channel mode. By switching to a 8GB (2x4GB) DDR3 1600MHz memory kit we were able to double both the performance and amount of memory in the Tap 20.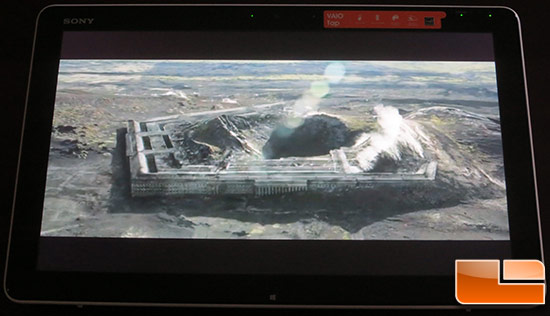 The other thing that we thought was strange is that Sony did not include any video outputs on the Tap 20. Having an HDMI video output on a mobile device like this is ideal as most people connect to a larger HDTV to share images or photos. Not having the ability to do that is a bit of a bummer and we think that ability should be available for a device in this price range. In the image above we were playing the HD trailer for Oblivion an upcoming movie with Tome Cruise and Morgan Freeman.
When it comes to pricing the Sony VAIO Tap 20 SVJ20215CXW that we reviewed today runs $861.49 plus shipping. For those that want more power they can get the Sony VAIO Tap 20 SVJ20217CXW for $1079.99 shipped (Intel Core i7-3517U, 8GB DDR3 memory and 1TB 5400 RPM hard drive). Although, you might be better off buying a 240GB SSD and adding another 4GB memory module to the base model! We expect these prices to continue to decrease in the months ahead as it is likely that Sony will be introducing a new VAIO Tap 20 model when Intel released 4th Generation Core i 'Haswell' processors in June 2013.
Legit Bottom Line: The Sony VAIO Tap 20 is an awesome hybrid mobile device for Windows 8 that brings the touch experience to life, but an old school 5400RPM hard drive that was first released in 2010 makes the Tap 20 sluggish.