Sony VAIO Tap 20 Hybrid Tablet PC Review
Wed, Apr 10, 2013 - 12:00 AM
Windows Experience Index & Test Setup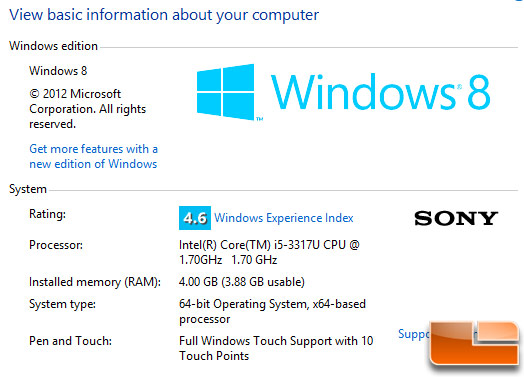 Sony sent over a VAIO Tap 20 All-in-One PC for testing purposes. This portable AIO PC features a 1.7GHz Intel Core i5-3317U processor that has a maximum turbo frequency of 2.6Ghz. Other highlights include 4GB of DDR3 1600 MHz memory (RAM), and a 750GB hard drive. The Intel HD Graphics 4000 graphics are built-in the Intel 'Ivy Bridge' processor, so they are integrated and not discrete. The Intel HD Graphics 4000 graphics processor is dynamic and runs between 350MHz to 1.05Ghz depending on the load. This graphics processor should be plenty for regular use and very light gaming.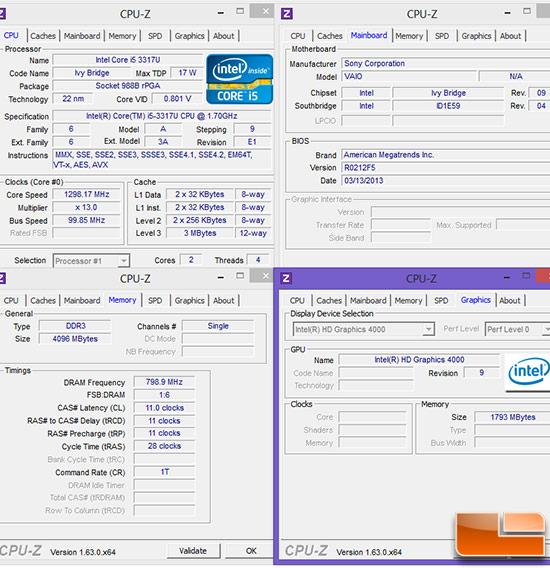 Here are the CPU-Z screenshots for our test rig in case you are wondering what the system settings were. As you can see the 4GB of DDR3 memory was running at 1600MHz with 11-11-11-28 1T memory.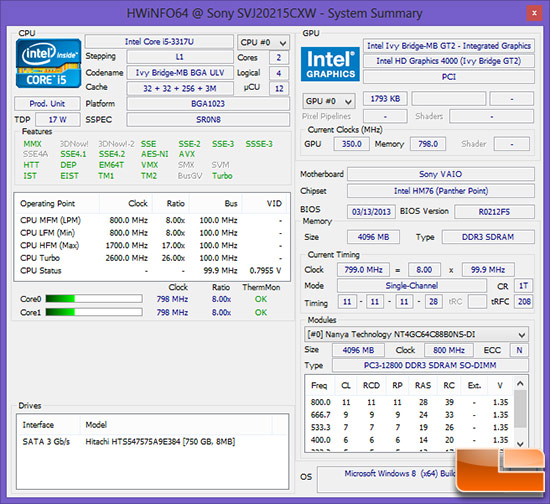 HWiNFO64 shows that the Sony Tap 20 uses a Hitachi Travelstar HTS54757A9E384 hard drive (750GB, 5400RPM, 8MB Cache) that first came out in 2010. We are a bit shocked to see such an old hard drive in a system that was released in 2012, but Sony must have gotten a good deal on these older drives. This drive once ran over $300 back in 2010, but not in 2013 you can purchase it for $65.99 plus shipping online. HWiNFO64 also shows that 4GB 1600MHz DDR3 memory module is made by Nanya Technology and features CL11 timings.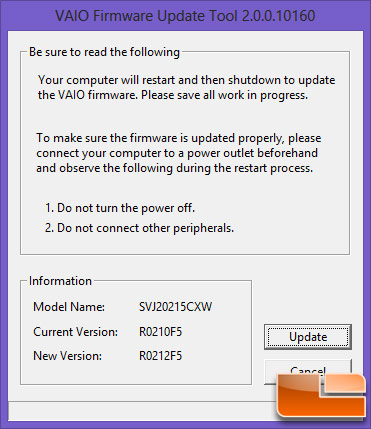 Updating the BIOS on the Sony Tap 20 was very easy thanks to the Sony VAIO Firmware Update Tool that allows you to update the BIOS from the Windows 8 desktop. The BIOS update takes just a couple minutes an was painless! We updated the BIOS to version R0212F5 that just came out in the past 30 days.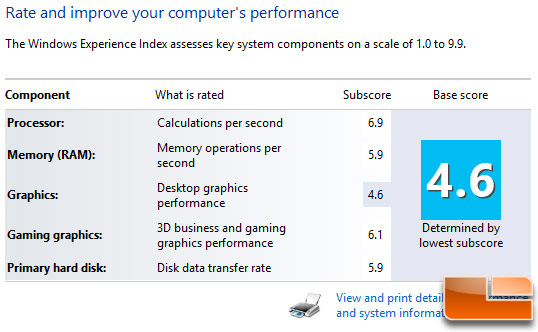 As you can see our Sony VAIO Tap 20 has a Windows 8 Index base score of 4.6 and the lowest scoring componentbeing the Intel HD 4000 graphics that is inside the Intel Core i5-3317U 'Ivy Bridge' Processor.