Pepcom Digital Experience 2013 Show Coverage
Tue, Jan 08, 2013 - 11:30 PM
Seagate Wireless Plus, LEGO Mindstorms EV3, and Arrayent Connect
Seagate's On-The-Go Wireless Plus Portable HDD and Central Storage
Seagate had two new products to show us at this year's Pepcom. The two products in question are the Wireless Plus mobile device storage and the Central shared storage unit.
The Wireless Plus device is a very cool idea! It has a 1TB HDD inside, and allows you to use it wirelessly to share media and content. It does not work off of Bluetooth like some may expect, but it works off of standard WiFi. The Wireless Plus creates its own WiFi network, so there is no need to be connected to the internet to use it. It is just a simple load up what you want on it, throw it in your backpack, briefcase, purse, or pocket, and connect your devices to it via Android or iOS software.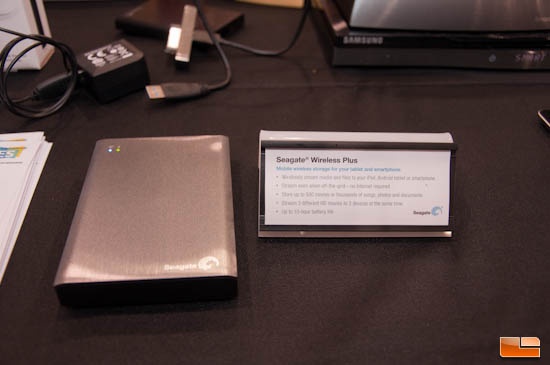 The Wireless Plus will be shipping in 1-2 weeks, with a suggested retail of $199.99.
Seagate also has another great product available, called Seagate Central. This device is the first storage device to feature a smart TV app, to access your files on the big screen. This app will work on either Android or iOS. You'll be able to access your movies and music from home networked devices, or even on-the-go out on the road. Seagate Central can even be a central (pun not intended?) hub to back up your PC or Mac to.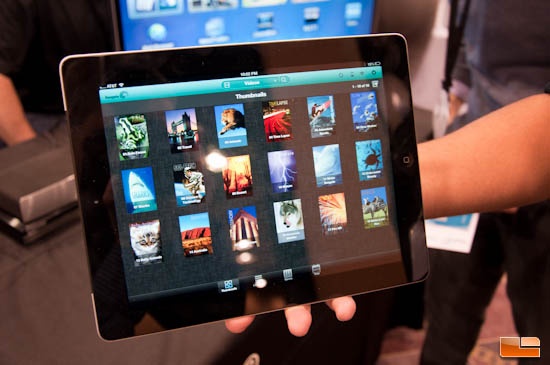 Seagate Central will be available in 2TB, 3TB, and 4TB sizes. They will carry an MSRP of $189.99, $219.99, and $259.99 respectively, and will be available in March 2013.
LEGO Mindstorms Education EV3 – For Fun, Or For Education?
Taking a break from all of the serious gadgets out there, we take a look at the LEGO Minstorms Education EV3. Wait a minute; didn't I just say we are going to take a break from the serious stuff? Well, yes and no. These gadgets are definitely meant to be a serious learning tool, but you can still have a lot of fun with them.
LEGO Mindstorms is the third generation of LEGO education products, which is designed for classroom use. The devices you construct are going to be connected via Bluetooth. The gentleman that I spoke with at LEGO showed me a color sensor in reflective light mode, and the data that it displays on the screen. He also showed me a few motion activated constructs, which had ultrasonic sensors to detect movement and they can react from there.
LEGO MINDSTORMS Education EV3 kit is now available for preorder for £269.99 to £323.99 and will ship Fall 2013.
Check out the video below for a demo of their products.
Never Be Left Wondering About Your Home, With Arrayent Connect Platform
With today's smart phones doing just about everything but your laundry, comes the desire to control your home while on the go. Home automation is becoming very large, as people would like to be able to do just everything with a smart phone. Arrayent said they have teamed up with many major brands, including First Alert, LiftMaster, Chamberlain, and Whirlpool, to connect your home to your smart phone.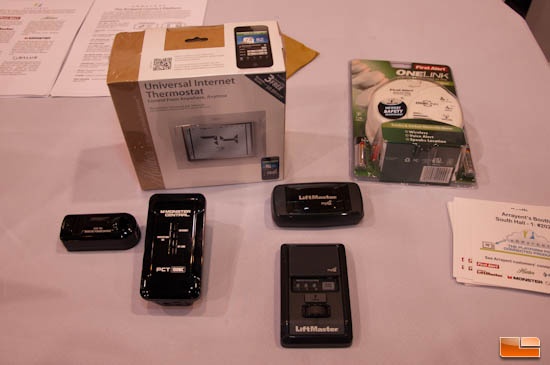 Speaking with the Arrayent reps, they demonstrated some very practical uses for their products. There is the First Alert smoke alarm, that when triggered, can send you a text message alerting you of such. Then there is a power strip that lets you control whether the power strip is on or off, all while controlling it from your smart phone. Of course you've got the internet connected thermostat, for a cool $99. They've even integrated themselves into a garage door opener, to tell if the door was left open or not. This kit can even tell you when the last time the garage door was opened or closed last. LiftMaster has a kit available with purchase of a new opener, or you can even add on the kit to an existing opener.