Patriot Supersonic Magnum 256GB USB 3.0 Flash Drive Review
Fri, Mar 08, 2013 - 9:00 AM
Synthetic & Real World Benchmarks
CrystalDiskMark 3.0.2e x64:
CrystalDiskMark is a small benchmark utility for drives and enables rapid measurement of sequential and random read/write speeds. Note that CDM only supports Native Command Queuing (NCQ) with a queue depth of 32 (as noted) for the last listed benchmark score. This can skew some results in favor of controllers that also do not support NCQ.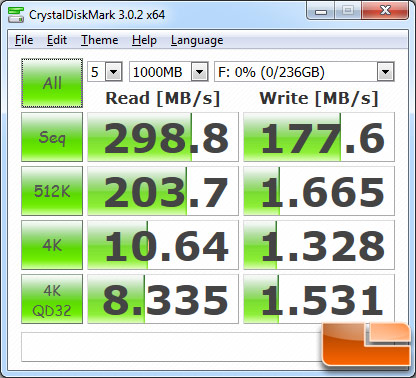 Benchmark Results: CrystalDiskMark showed that we hitting 298MB/s read and 177MB/s write on the sequential test! Not bad considering that the drive is rated at 250MB/s read and 160MB/s write! The 512K and 4K write speeds aren't that impressive, but this is a USB Flash Drive and not a storage drive!

ATTO v2.47:
ATTO is one of the oldest drive benchmarks still being used today and is still very relevant.. ATTO measures transfers across a specific volume length. It measures raw transfer rates for both reads and writes and places the data into graphs that can be very easily interpreted. The test was run with the default runs of 0.5kb through 8192kb transfer sizes with the total length being 256mb.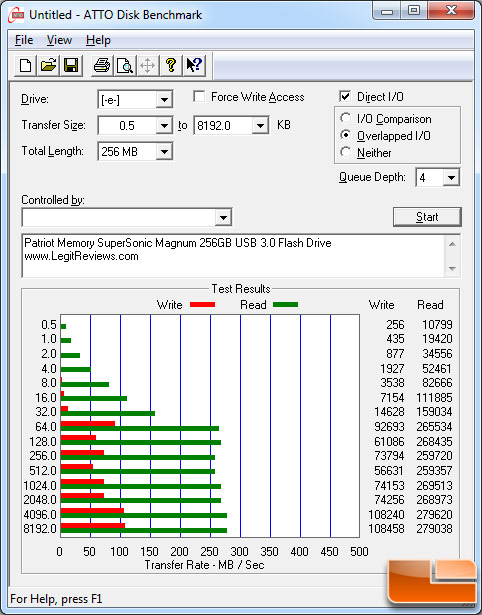 Benchmark Results: The Patriot Supersonic Magnum 256GB USB 3.0 Flash drive was able to hit 279MB/s read and 108MB/ write speeds in ATTO with the default benchmark settings. The write speeds weren't that impressive in this benchmark and were below the advertised rating, but are still pretty fast!

Check Flash v1.16.2:
Check Flash is a multi-purpose flash drive testing and maintenance tool. This utility allows for error checking, speed tests, and much more.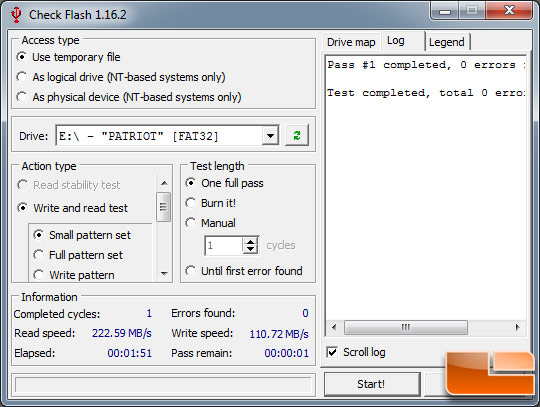 Benchmark Results: Check Flash showed that we averaged 222.59MB/s read and 110.72MB/s write on the speed test. It also didn't find any errors on the 512GB drive, which is expected on a brand new product.
Real World File Transfer Tests
TeraCopy is a compact program designed to copy and move files at the maximum possible speed and features a timer that works great for review purposes as we can easily show you time differences between different file transfer scenarios. TeraCopy also uses dynamically adjusted buffers to reduce seek times and has asynchronous copy speeds up file transfer between two physical hard drives. Let's see what the Patriot Supersonic Magnum 256GB Flash drive can do when moving around a 551MB folder containing 170 screenshots and images taken on some Android cameras and tablets.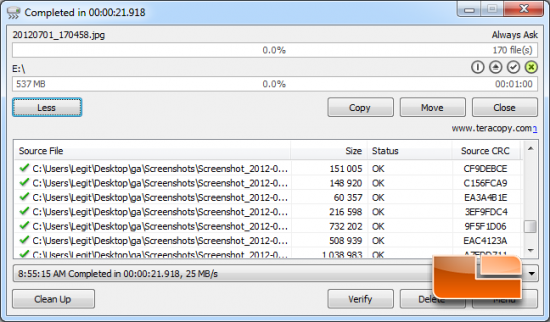 The very first test that we ran was to see how long it took to move the 537MB file directory from the SSD on our system to the Patriot Supersonic Magnum Flash Drive. The file transfer took 21.9 seconds to complete and averaged 25MB/s transfer speeds writing from the system to the Patriot Supersonic Magnum Flash Drive. ATTO showed 55MB/s write speeds at a number of file sizes, so this real world test confirms those synthetic benchmark results!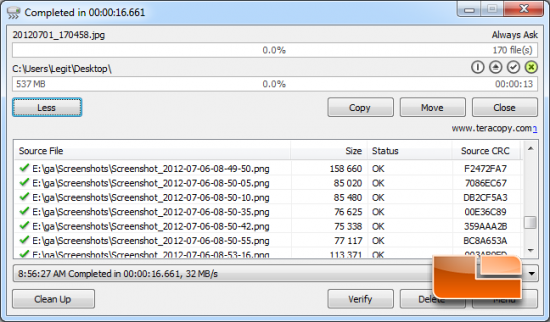 The next test we ran was to copy the 537MB directory from the Flash Drive to the desktop of our test machine. This is a test of the read speeds and we noticed that the performance increased 32MB/s and that it took just 16.6 seconds to move the files over. We were hoping to see some higher real-world results, so we switched test systems and test folders to see if that would change the performance.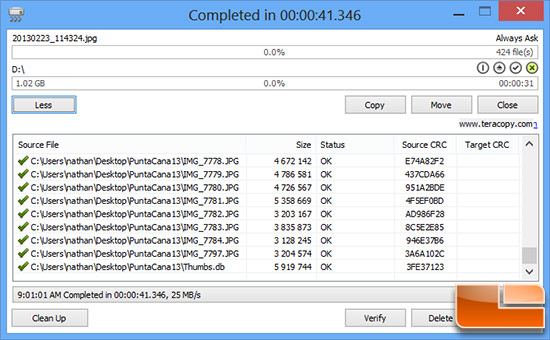 On our ASUS Zenbook Prime Ultrabook that is running Windows 8, we moved a folder of vacation photos and movies taken on our Canon PowerShot Elph 320HS digital camera to the Flash Drive! When moving the 424 files (1.02GB) from the Ultrabook to the Patriot Supersonic Magnum we again observed 25MB/s write speeds.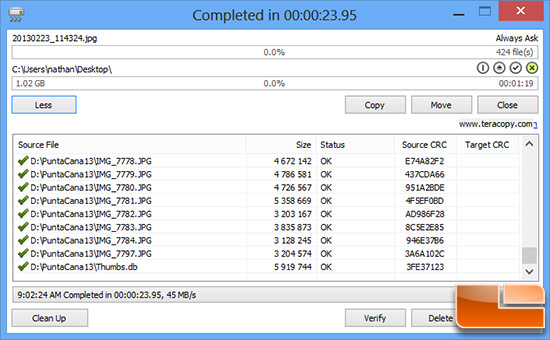 When moving the folder back we noticed that the performance jumped up to 45MB/s read speeds, but we were a little disappointed in the performance results. In the synthetic tests we were getting nearly 300MB/s read and 180MB/s write, but the best we could do with some folder transfers was 45MB/s read and 25MB/s write. Most people transfer camera pictures and HD movie clips that they have shot, so this is an example of what you can really expect from this USB 3.0 Flash drive.