NVIDIA GeForce GTX 780 Video Card Review
Tue, May 28, 2013 - 12:00 PM
NVIDIA GeForce GTX 780 Overclocking
We installed the EVGA Precision X 4.2.0 software utility to see how the NVIDIA GeForce GTX 780 3GB video card could overclocked!
EVGA Precision X v4.2.0 includes a few new features that are unique to this card. Not only can you adjust the power target, GPU and Memory clock offsets within a certain range, but you can now also adjust the temperature target.  By default the power and temp targets are linked together, but you can unlink them and adjust them independently.
In case you forgot.  The NVIDIA GeForce GTX 780 has a base clock of 863MHz with a boost clock of 902MHz! We often saw the GeForce GTX 780 hitting 1006MHz though in game titles as there was enough overhead to run that high. To see how much higher we could get we increased the power target to 105% and set the GPU clock offset to +175MHz and the mem clock offset to +125MHz.  We found this overclock to be rock solid and we saw the GeForce GTX 780 running at 1176MHz on the core and 1566MHz memory (6464MHz effective). This is not a bad overclock and we were very happy with the performance gains it gave us.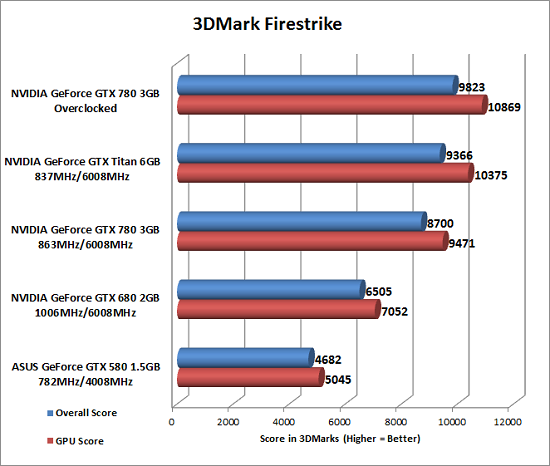 For example in 3DMark Fire Strike we saw performance go from 8700 to 9823 by overclocking the GeForce GTX 780.  This is a performance gain of 13% and enough extra power to outperform a stock GeForce GTX Titan! So, can you overclock an NVIDIA GeForce GTX 780 to perform as fast or slightly faster than a GeForce GTX Titan? Yes, if you are willing to sacrifice some power efficiency!