MSI GeForce GTX 770 Gaming and ASUS GeForce GTX 770 DirectCU II Review
Thu, May 30, 2013 - 8:00 AM
ASUS GeForce GTX 770 DirectCU II OC
The first GeForce GTX 770 that we will be looking at today is the ASUS GeForce GTX 770 DirectCU II OC that will be sold under part number GTX770-DC2OC-2GD5.
| | |
| --- | --- |
| ASUS GTX770 Graphics Card | DirectCU II OC |
| Model | GTX770-DC2OC-2GD5 |
| GPU boost clock | 1111MHz |
| GPU base clock | 1059MHz |
| Memory clock | 1753MHz (7012MHz) |
| Memory interface | 256-bit |
| Price | $409.99 |
ASUS informed us that the DirectCU II OC card that we'll be looking at today will be the only card available at launch and that it will run $409.99, which is $10 higher than the suggested retail price on the reference card. The card has a 1059 base clock with a boost clock of 1111MHz along with 2GB of GDDR5 memory running at 1753MHz (7021MHz effective), so it is factory overclocked. The default clock speeds of the NVIDIA reference card are 1049MHz base clock and 1085MHz boost clock. The ASUS OC version steps up the game a bit, so you are getting 10MHz more on the base clock and an extra 26MHz on the boost clock.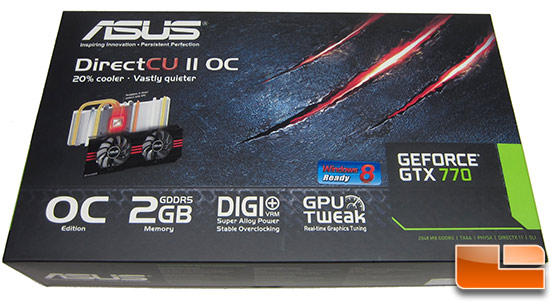 The ASUS part number of the card that we are looking at today is GTX770-DC2OC-2GD5 and it comes in a retail box that looks very familiar as ASUS didn't change the design for the GeForce 700 series.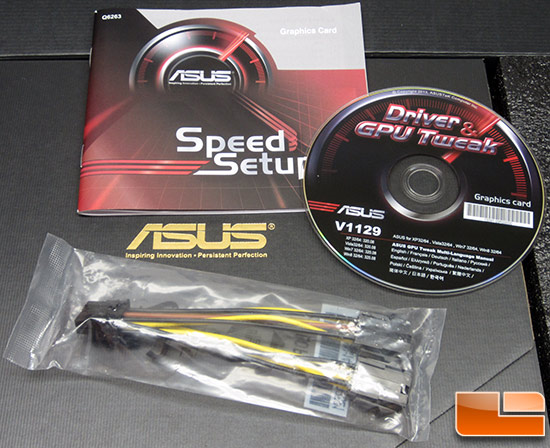 The ASUS GeForce GTX 770 DirectCU II OC Edition card bundle is pretty sparse. It comes with a 8-pin PCIe power adapter, setup guide and the driver disc. There is no game bundle or promotion included by ASUS or currently active on the GeForce 700 series cards right now.
The ASUS GeForce GTX 770 DirectCU II OC is 10.5″ in length and is a dual-slot card. As you can see the GPU cooler is offset to the right, but does not hang over past the right side of the PCB.
The ASUS GeForce GTX 770 DirectCU II OC 2GB GDDR5 graphics card has a total of four display connectors. You have a dual-link DVI-I, dual-link DVI-D, HDMI and DisplayPort outputs. All of the video outputs are standard size, so no adapters are needed, which is nice. The only downside to using full size connectors is that the exhaust fan outlet is small, but ASUS went with fairly large exhaust slots.
ASUS went with their custom DirectCU II GPU cooling system to help keep this Kepler based video card nice and cool. This DirectCU II cooler uses three copper heat pipes that are in direct contact with the GPU to speed up heat dissipation for over 20% cooler performance. The ASUS GeForce GTX 770 DirectCU II OC has two 80mm cooling fans for doubled airflow. These fans are pretty quiet and can be easily controlled with the ASUS GPU Tweak utility if you'd like to manually adjust the pair of fans. The Kepler GK104 GPU is the heart of the NVIDIA GeForce GTX 770, so keeping it cool is critical and will improve the cards Boost capabilities.
ASUS also uses what they call a dust-proof fan that is better sealed to prevent dust from getting into the housing assembly and ruining the fan bearing. ASUS says the fans on this card should last 50,000 hours due to the dust-proof technology versus the 40,000 hours of a standard cooling fan. This is something you can't see by just looking at the card, so we've included the ASUS marketing slide that highlights this technology.
The NVIDIA GeForce GTX 770 supports triple-SLI and has a pair of SLI connectors along the top of the PCB for multi-GPU systems.
ASUS used a 6-pin and 8-pin PCIe power connectors on the ASUS GeForce GTX 670 DirectCU II OC video card and recommends at least a 600 Watt power supply with a minimum +12V current rating of 42A. ASUS has a pair of LED lights under each PCIe power connector that are the Power Diagnostic LED's. These two LED lights are a form of quick diagnostic for issues when connecting power to the video card. Depending on the presence or lack of presence of power connections ( or secure fitting ) the card will display an LED – RED or Green. Green meaning power connections are correct and Red meaning power connections are not.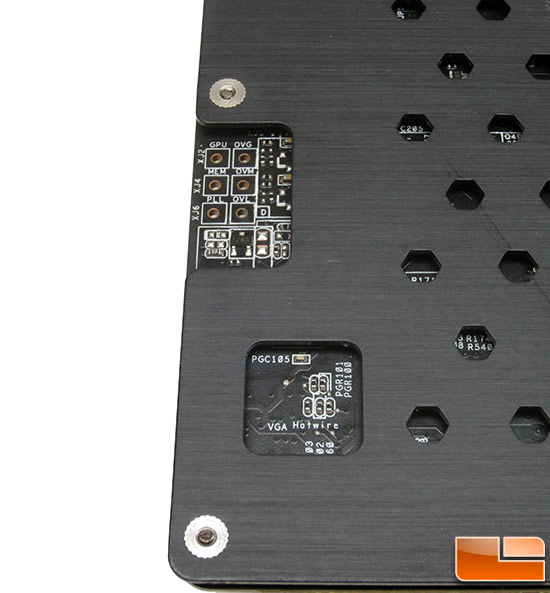 On the back of the card you'll see a couple holes in the backplate for ASUS Hotwire. In this area overclockers can hardwire to the core, memory and PLL voltage points on the card to a supporting ASUS ROG Extreme series motherboard. You also get three measurements points: GPU voltage (GPU OVG), memory voltage (MEM OVL) and PLL voltage (PLL OVL). Two wires are needed for each one and female plugs are needed at the other end for the Extreme PCB pins. Once the wiring is complete, one can do hardware-level voltage changes and accurate monitoring.
We took apart the ASUS GeForce GTX 770 DirectCU II OC card to show you the bare PCB and heatsink assembly. This is really simple as just four screws hold the GPU cooler to the board. As you can see ASUS went with an entirely non-reference solution as the GPU cooler, PCB, Power Topology and components are all their design. ASUS uses a Digi+VRM power design (Digital Controller with SAP Super Alloy Power components) 5K Capacitors, SAP Mosfets and SAP Chokes. Additionally the card feature SAP Cap Power Design implementation (high performance capacitors placed on the back of the card). ASUS claims that Super Alloy Power (SAP) gives you a 15% performance boost, 2.5 times longer lifespan, 35°C cooler operation. The NVIDIA GeForce GTX 660 Ti reference design has a 4 phase GPU PWM design that is analog. ASUS uses a 10-phase Digi+VRM power design.
ASUS also uses a VRM Heatsink for the mosfets, which is nice as they are the hottest part of the VRM and it can really only be seen with the GPU cooler removed.
The ASUS GeForce GTX 770 DirectCU II video card uses 2GB of Samsung GDDR5 memory. The exact part number is K4G20325FD-FC28. The final two digits are the speed of the graphics memory and in this case they are rated at 0.28ns or 7000Mbps according to the Samsung website. Samsung has 0.25ns or 8000Mbps memory available as well, so expect video card memory clock frequencies to continue increasing!
Now that we have covered the ASUS GeForce GTX 770 DirectCU II OC Edition, let's move along and take a quick look at what MSI has done with their card.