Linkase WiFi Signal Enhancing iPhone 5 Case Review
Fri, Apr 05, 2013 - 12:00 AM
WiFi Performance Testing & Conclusion
To test out the Linkase WiFi Signal Enhancing iPhone 5 Case we tested it out on our office network. We are currently running the Netgear N900 WNDR4500 Dual-Band wireless router and it has proven to be a very good router over the years.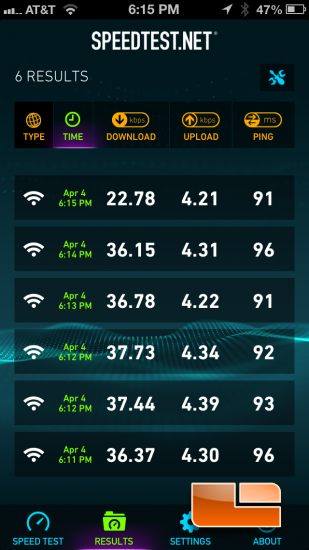 For the first test, we connected to the router on the 2.4Ghz band, moved about 25 feet away and went up a level. With this test setup we found that we had 2-3 bar WiFi service. We then used the SpeedTest.net App and did three speed tests with the case off and then three tests with the Linkase on and the EMW Element extended. Dropping the low and high scores from each run we see we have 37.44 MB/s down, 4.34 MB/s up and 93 ms ping without the case. With the Linkase we are seeing 36.15 MB/s down, 4.22 MB/s up and 91 ms ping times. Overall it looks like the WiFi performance went down a little bit with the Linkase installed on our iPhone 5. WTF!?! This is not what you want to see from a product that claims to improve WiFi service and costs ~$62.
At this point in time we contacted the maker of Linkase, Absolute Technology, and told them of our findings and if they had any suggestions for us.
"Well, 2.4GHZ is what LINKASE was designed for as that is the most popular channel for Wi-Fi. I asked as I know they will recommend using 2.4." - Absolute Technology
They first came back to ensure we were testing on the 2.4GHz band as that is what the Linkase was designed for. That is an interesting bit of information as most enthusiasts and high-end users are moving over to the 5GHz band. Once they knew what band we were running on they had this to say.
"LINKASE is designed to enhance Wi-Fi speeds in areas that have weak signal. So, if you are in an area with strong signal, such as your home, then LINKASE will likely not show an enhancement in signal – signal will cap. This would also be the case if you were in, let's say a coffee shop, where each user is only allotted a certain "amount" of signal – here the signal also caps so you may not notice enhanced signal with LINAKSE. With that said, I would suggest trying LINKASE in areas where people often have poor signal because this is where LINKASE is designed to enhance Wi-Fi signal." – Absolute Technology
So, having 2 bars and being 25 feet away from your wireless router that is on a different level of the building isn't good enough! Let's go outside about 75 feet away from the wireless router and see what happens when we have one bar of service.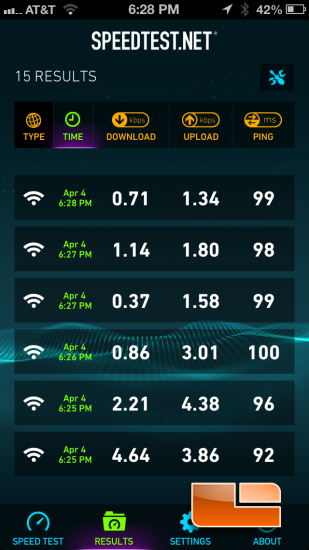 For this test we started out doing the first three runs with the Linkase installed and then removed it and did three more tests. Dropping the low and high scores from each run we see we have 0.71 MB/s down, 1.58 MB/s up and 99 ms ping without the case. With the Linkase we are seeing 2.21 MB/s down, 3.86 MB/s up and 96 ms ping times. Here we see performance more than doubling, which is rather impressive. The upload speeds were night and day better! We were able to stream standard definition video much better as well, so it looks like the case was doing its job!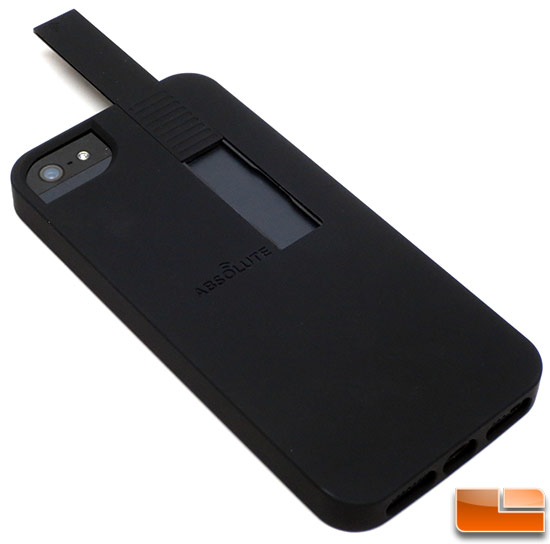 Final Thoughts and Conclusions:
Having a smartphone case that can boost WiFi performance is nice if it works. If you travel or use WiFi often you know that at times you find yourself in a room or location that doesn't get good service. It's a problem that can be frustrating, so the Linkase was developed to solve a real world issue that does exist. Our testing shows that in areas with good WiFi signals (2-3 bars), that there were no real performance gains to be had and at times we saw performance decreases. In areas of poor WiFi signal strength (1 bar), we did see rather impressive performance gains that were measurable and repeatable.
The Linkase WiFi Signal Enhancing iPhone 5 case can be found on Amazon for $49.95 plus $11.98 shipping. That puts this case at $61.93 shipped. That is a pretty aggressive price to ask for any smartphone case, but if you have poor WiFi signal strength this case might just be your saving grace. Then that ~$62 price tag might not seem so high after all.
At the end of the day we would recommend those that are having WiFi performance issues to give the Linkase a shot. Overall it was found to be a decent protective case, but the performance gains weren't found across the board. The good news is that we actually found some performance gains at the end of the day and this case wasn't just a gimmick!
Legit Bottom Line: The Linkase WiFi Signal Enhancing iPhone 5 case was able to measurably boost WiFi performance in areas with one bar, but didn't do much in areas with good WiFi signals.