Kingston DataTraveler Ultimate 3.0 G3 32GB Flash Drive Review
Thu, May 09, 2013 - 12:00 AM
Real World File Transfer Tests
TeraCopy 2.3 Beta 2 is a compact program designed to copy and move files at the maximum possible speed and features a timer that works great for review purposes as we can easily show you time differences between different file transfer scenarios. TeraCopy also uses dynamically adjusted buffers to reduce seek times and has asynchronous copy speeds up file transfer between two physical hard drives.
We recently changed from Windows 7 to Windows 8 on the ASUS UX31A Zenbook, so we have a 23.15GB folder full of all of the data that we wanted to save. There are 5851 files in this folder and include thousands of pictures, movies, our music and a handful of driver/application installation files. This is a very real usage scenario, so we can't wait to see how the drive performs!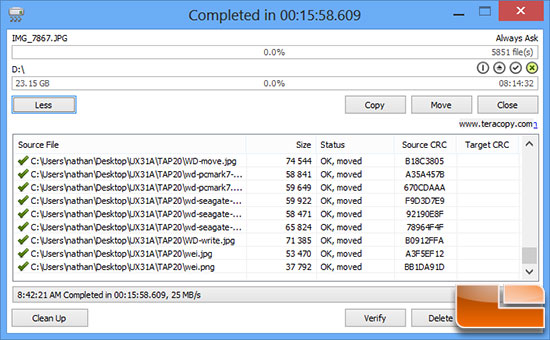 The very first test that we ran was to see how long it took to move the 23.15GB file directory from the ASUS UX13A Zenbook to the Kingston DataTraveler Ultimate 3.0 G3 32GB Flash drive. As you can see it took just shy of 16 minutes and averaged 25MB/s.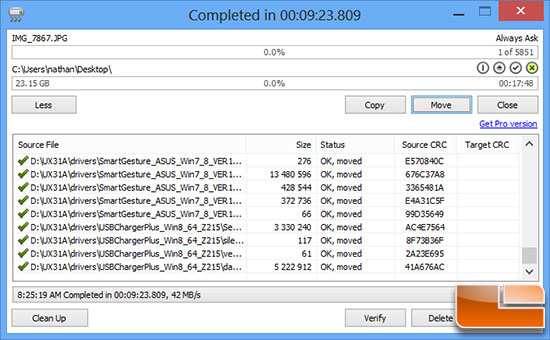 The next test we ran was to copy the 23.15GB game file directory from Kingston DataTraveler Ultimate 3.0 G3 32GB drive to the ASUS UX31A's internal SSD. Here we see that it took 9 minutes 24 seconds to complete that data move and we had an average speed of 42MB/s. This is a pretty big difference from the synthetic benchmarks, but an example of what to expect when you get one of these drives in your hand. It really depends on the files that you are moving and if they are compressed or uncompressed. We often saw the drive flying through images at 70MB/s, but the large .MOV files we had were tough on the drive and dropped to under 20MB/s.