Kingston DataTraveler Ultimate 3.0 G3 32GB Flash Drive Review
Thu, May 09, 2013 - 12:00 AM
SuperSpeed USB 3.0 Testing
Testing The Kingston DT Ultimate 3.0 G3 w/ USB 3.0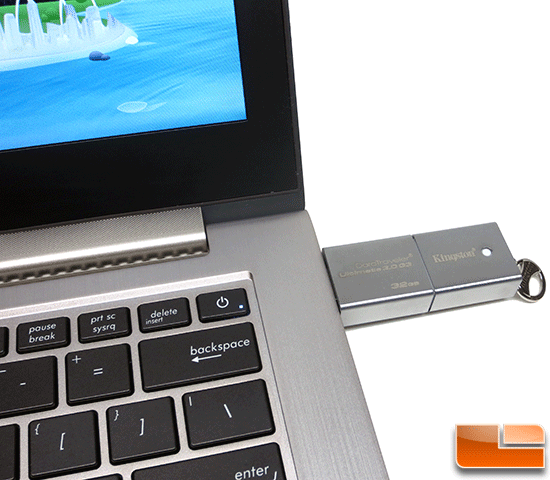 To try out the Kingston DataTraveler Ultimate 3.0 G3 32GB Flash Drive we will us using the SuperSpeed USB 3.0 interface on the ASUS Zenbook UX31A Ultrabook.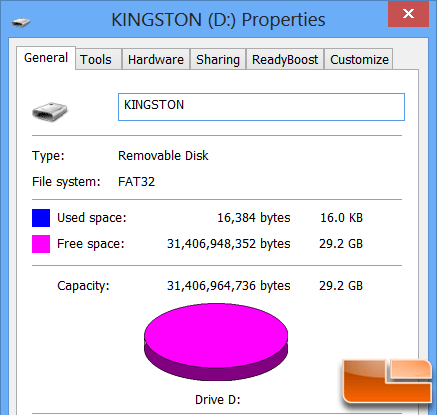 The total useable capacity of this 32GB Flash drive shows up at 29.2GB in Windows due to the conversion from physical GB to the virtual GiB. (1 GB=1,000,000,000 Bytes. Within a computer operating system, this number will be displayed as: 1,000,000,000Bytes/1024/1024/1024 = 0.93GB) You can see that the Kingston DataTraveler 3.0 G3 32GB uses the FAT32 file system.
CrystalDiskMark 3.0.23 x64:
CrystalDiskMark is a small benchmark utility for drives and enables rapid measurement of sequential and random read/write speeds. Note that CDM only supports Native Command Queuing (NCQ) with a queue depth of 32 (as noted) for the last listed benchmark score.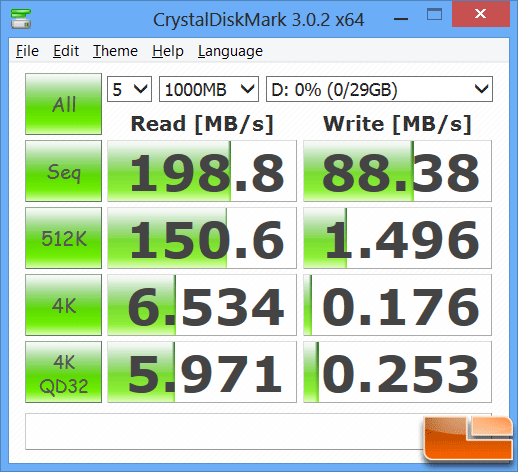 Benchmark Results: CrystalDiskMark showed that we hitting 198.8MB/s read and 88.38MB/s write on the sequential test! The Kingston DataTraveler Ultimate 3.0 G3 32GB Flash drive is speed rated at up to 150MB/s read and 70MB/s write, so we are seeing that is very conservative.

ATTO v2.47:
ATTO is one of the oldest drive benchmarks still being used today and is still very relevant.. ATTO measures transfers across a specific volume length. It measures raw transfer rates for both reads and writes and places the data into graphs that can be very easily interpreted. The test was run with the default runs of 0.5kb through 8192kb transfer sizes with the total length being 256mb.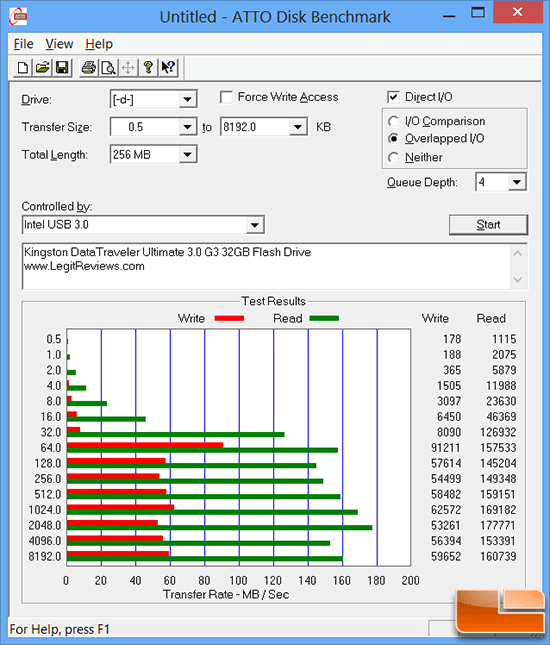 Benchmark Results: The DT Ultimate 3.0 G3 32GB drive was hitting 178MB/s read and 91MB/ write speeds in ATTO with the default benchmark settings. Notice that the write speeds are under 60MB/s though at the vast majority of the file sizes, which is likely one of the reasons that Kingston might have went with lower ratings on this drive.

Flask Memory Toolkit v2.01:
Flash Memory Toolkit is a multi-purpose flash drive testing and maintenance tool. This utility allows for error checking, speed tests, and much more. We will be using the low-level benchmark that measures the raw performance of the Flash drive and then the file benchmark that measures the real-world performance of the drive by checking how long it takes to read and write files with different lengths.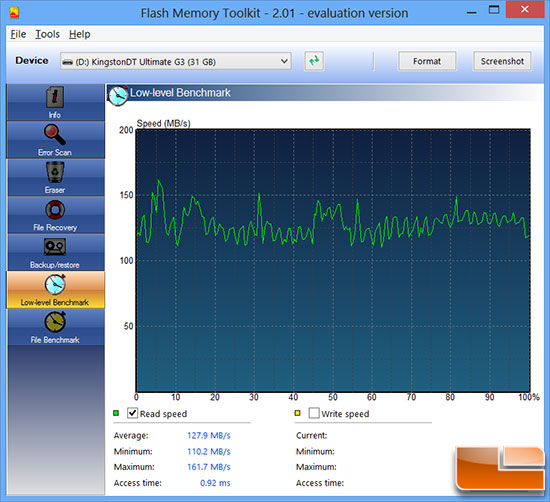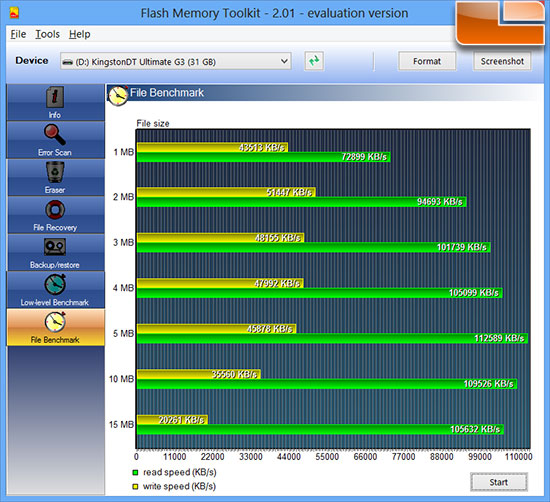 Benchmark Results: Flash Memory Toolkit found the average read speed to be 128MB/s on the raw performance test and that it ranged from 73MB/s to 113MB/s on the read speed in various file benchmarks.


As you can see the performance of the Kingston DataTraveler Ultimate 3.0 G3 Flash Drive are all over the place, so let's do some real world testing to see how it does.