EVGA GeForce GTX 780 Superclocked ACX Cooling Video Card Review
Mon, Jun 03, 2013 - 12:00 AM
Final Thoughts and Conclusions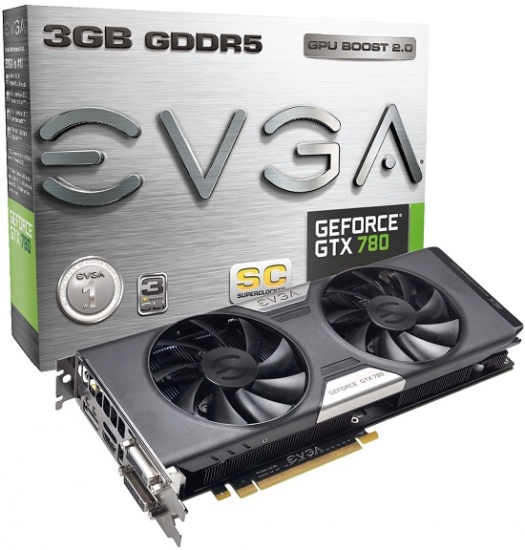 We haven't been impressed by an add-in board partners card in some time, but that quickly changed after we spent some time with the EVGA GeForce GTX 780 Superclocked with ACX Cooling video card (part number 03G-P4-2784-KR). What you get for an extra $10 over the cost of the NVIDIA GeForce GTX 780 reference design is downright amazing. You get a video card that performs right around 9% faster than the NVIDIA GeForce GTX 780 with stock speeds and is faster than NVIDIA GeForce GTX Titan video card more often than not. This is something that is hard to believe since the GTX 780 has fewer cores and texture units than Titan, but the numbers don't lie. Also keep in mind that at $659.99 shipped, the EVGA GeForce GTX 780 Superclocked is $340 less than the GeForce GTX Titan. That is a steal! This will likely make NVIDIA GeForce GTX Titan owners a tad angry as you got a card that came out a few months later than can perform the same and do so at a lower cost.
Overclocking performance on the EVGA GeForce GTX Superclocked with ACX Cooling was also very impressive. We were able to get another 100MHz out of the core, which put us up to 1215MHz when GPU Boost kicked in thanks to our aggressive power target settings. With the card overclocked we were able to break the 10,000 point mark on 3DMark Fire Strike and reach a score that was 7.6% higher than a stock clocked NVIDIA GeForce GTX Titan. Hard not to be impressed by overclocking results like that!
If you are looking for a high-end gaming graphics card and game at high resolutions the GeForce GTX 780 is a very nice card that clearly performs better than an AMD Radeon HD 7970 GHz edition graphics card. The only real competition for this card is the AMD Radeon HD 7990 and NVIDIA GeForce GTX 690, which are dual-GPU cards that are right around the $1000 mark. We haven't had a chance to run those cards on our new test setup, but they'll likely perform better. The best bang for the buck though is a card like the EVGA GeForce GTX Superclocked with ACX cooling though as at $659 it is a price versus performance winner. Who cares how EVGA is able to sell this card for only $10 more than the reference design as it great news for consumers and this card is a force to be reckoned with. If you have $650 to spend right now for a video card, this is the card that we would get and we wouldn't hesitate. Don't forget you have the peace of mind from the EVGA 90 day step-up program and the card itself is backed by a 3-year warranty if you register it within 14 days of purchase.
Legit Bottom Line: The EVGA GeForce GTX 780 Superclocked with ACX Cooling is a great looking card that is able to compete with a GeForce GTX Titan and costs $340 less. What is there not to like?