Cooler Master N400 Case Review – Lots of Features For $50
Fri, Aug 02, 2013 - 10:00 AM
N400 Internal Impressions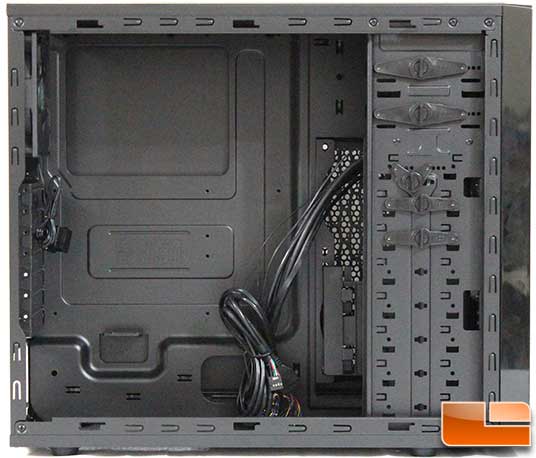 Taking the side panel off, and taking a look at the painted interior, a few things immediately jumped out.  The motherboard tray is sunken in, with the standoffs the motherboard will be at the same height as the rest of the motherboard tray.  For each of the drive bays, which could be used tool-lessly, however Cooler Master includes tool-less brackets for the 5.25", external 3.5" and two of the 3.5" drive bays.  This leaves a potential for 5 other 3.5" hard drives to be installed with screws.  A large hole in the motherboard tray provides ample access to the back of the motherboard, easing installation of CPU coolers.  There is also one additional hole for cable routing.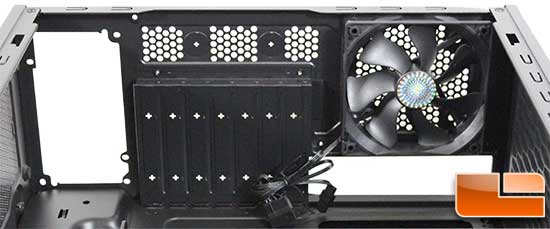 The back panel of the case, we find the usual suspects, an exhaust fan, motherboard I/O key, seven expansion slots, two external water cooling holes and a power supply slot.  The included exhaust fan has a standard fan power cable, along with a Molex power adapter.  The expansion port covers are attached to the case, once these are removed there are no additional covers to replace them.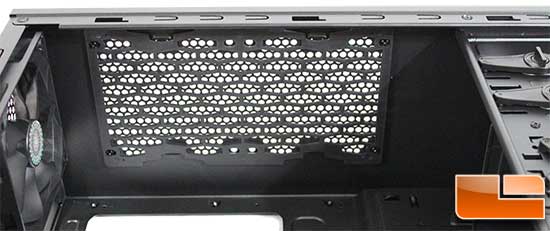 Looking at the top panel, we find the included filter.  It is not easily removed for cleaning or even allows for easy installation of a water cooling radiator or two 120mm fans.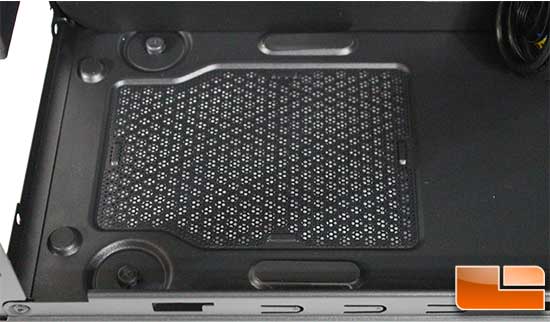 The view of the power supply area, shows the metal mesh Integrated filter, like the top filter, it can't be easily removed to be cleaned; the power supply will need to be removed to fully clean the filter.  Cooler Master did take into account the vibration a power supply creates and installed some rubber anti-vibration feet to help with that.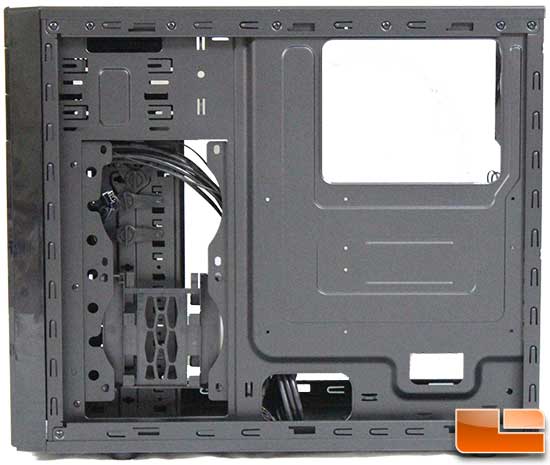 Normally, the back side the motherboard tray has nothing too exciting to see.  However, as Cooler Master has decided to use the space behind the 3.5" drive chassis to install two additional 120mm fans, or water cooling radiator, it's an important side to see.  In addition, there is the tool-less 2.5" drive chassis which is removable.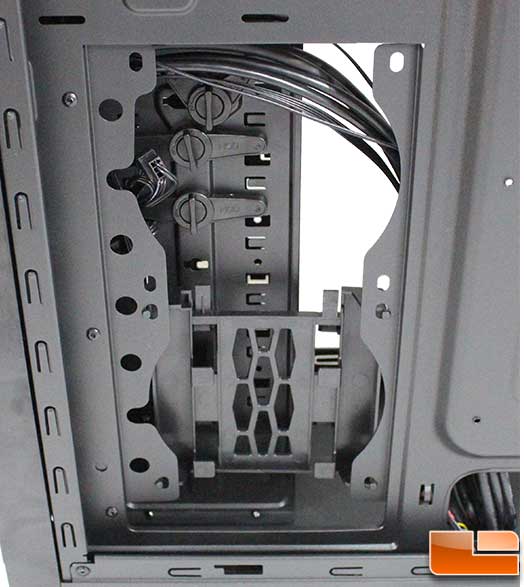 A close-up view of the rear cooling options shows the tight quarters.  Unfortunately, the 2.5" drive chassis uses the fan mounting screw holes.  It appears that only one fan can be installed if you want to use the 2.5" drive chassis.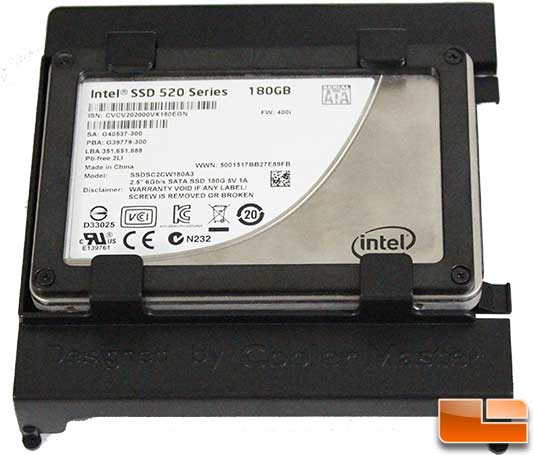 The tool-less 2.5" tray can be removed for installation.  Each of the drives can slide into the bracket and is held in place by a simple lock.  While the drives can be installed in either direction, depending on the drive the locking mechanism might not work properly unless installed with the data connections towards the middle of the chassis.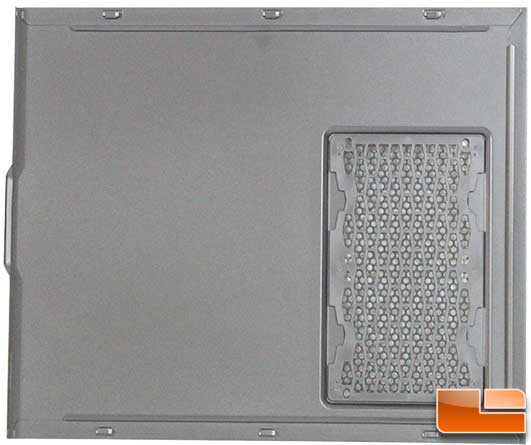 Since fans can be installed in the back side of the chassis, Cooler Master has once again included a filter try keeping your case dust free.  Like the other filters, it is not easily removed without taking the back panel off.