AMD A10-6800K and A10-6700 Richland APU Reviews
Wed, Jun 05, 2013 - 12:00 AM
Final Thoughts and Conclusions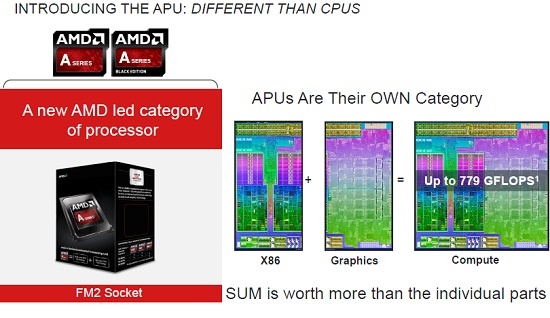 AMD's Richland APU's left us with mixed emotions. The latest AMD Elite A-Series APUs do bring small performance gains and slight power savings to the table, but the gains weren't as large as we were expecting to see. We were expecting to see double digit performance gains across the board, but we were left looking at single digit gains in the vast majority of the benchmarks. Sure, Richland is basically just a refresh of Trinity, but we were hoping to see AMD close the gap between them and Intel on the CPU side. AMD clearly still leads when it comes to graphics.
We contacted AMD about our performance numbers and they said that we did not see huge performance gains since we ran the old AMD A10-5800K APU with 2133MHz memory and not 1866MHz, which is the highest memory clock speeds officially supports on it. We ran both the 5800K and 6800K at 2133MHz to keep the test systems as close as possible and hoped to run it on the A10-6700. Hoped is the key word as we were unable to get the A10-6700 stable with the Corsair Dominator Platinum 2133MHz CL9 1.65V memory kit. AMD specifies that the A10-6800K officially supports 2133MHz memory with 1.50V, so maybe our kit requires too much voltage. Just a heads up to anyone looking to run 2133MHz memory with a Richland APU. Our experience with Richland is that you should run 2133MHz memory to get the most performance out of it, but the A10-6800K seems more receptive to it and we suggest a 1.50V kit.
At the end of the day the AMD FM2 platform is a solid mainstream platform. The boards have been around for a bit and most are rock solid with mature BIOS revisions. The AMD Richland APU feels just as snappy on the desktop as any other and when paired with an SSD and 2133MHz memory kit we had no issues with the platform. It was nice to be able to jump into a game like Bioshock Infinite at 1920×1080 and play it without needing a discrete graphics card. Sure, it would be ideal as a number crunching PC, but for the vast majority of consumers this platform would work perfectly.
When it comes to pricing the AMD A10-6700 and AMD A10-6800K both run $142. That is a very reasonable price for what you get. The AMD FM2 platform is also reasonably priced as you can pick up a quality brand name AMD A85X chipset powered ATX motherboard like the Gigabyte GA-F2A85X-D3H for $76.49 shipped. The last key ingredient is the 8GB (2x4GB) DDR3 2133MHz 1.5V memory kit and that runs as low as $68.99 shipped. So, to build a system like this you are looking at $287.48 shipped without messing with any rebates. The Intel Core i7-4770K processor runs $349.99 shipped before motherboard and memory costs. AMD continues to excel at price versus performance! Here you have a processor that can run games faster than Intel and it costs far less.
Legit Bottom Line: The AMD Richland APUs offer small improvements over the previous version, but continue to excel in GPU workloads and are available at a compelling price.