ADATA Premier Pro 32GB SDHC UHS-1 Memory Card Review
Mon, Jan 21, 2013 - 12:00 AM
Testing The ADATA SDHC UHS-I Card w/ USB 3.0
Testing The SDHC UHS-I Card w/ USB 3.0
To try out the ADATA Premier Pro 32GB memory card we will us using an Intel Z77 platform with a UHS-I memory card reader using the SuperSpeed USB 3.0 interface. If you would like to know more about this mini-ITX test system you can read an article on how to build it yourself here. We used Intel USB 3.0 driver version 1.0.5.235 for testing.
Legit Reviews Intel Z77 Test System Parts List:
Intel Core i7-3770K Ivy Bridge Processor – $349.99
ASUS P8Z77-I Deluxe mini-ITX Z77 Motherboard – $199.99
EVGA GeForce GTX 670 SuperClocked – $419.99
Cubitek Mini ICE ITX Case – $169.99
Kingston HyperX 480GB SSD – $669.99
Western Digital Caviar Black 2TB Hard Drive – $214.00
CoolIT Eco II 140 Liquid Cooler (thanks to Maingear)
Samsung Slimline 8x DVD Burner – $23.99
StarTech Slim Optical 5.25″ Drive Bay Adapter – $26.99
StarTech Slimline SATA to SATA Adapter Cable – $8.99
2 x 140mm High Static Pressure Fans – $30
AFT PRO-37U USB 3.0 3.5″ Media Card Reader – $54.99
Corsair AX 650W Gold PSU – $149.99
Windows 7 Ultimate 64-Bit – $189.99
There are not that many 3.5″ internal USB 3.0 media card readers on the market, but the Atech Flash Technology (AFT) PRO-37U looks like it fits the bill. This media card reader costs $46.95 Shipped and supports pretty much every memory card format that is popular on the market today without the need of an adapter. The retail box for this reader also shows that this product supports the UHS-1 standard.
The AFT Pro-37U comes with the media card reader, two USB 3.0 cables, mounting screws and a USB 3.0 20-pin adapter. The adapter converts two regular USB 3.0 ports to USB 3.0 20-pin internal headers. This is a high-end memory card reader and perfect for testing out this card.
CrystalDiskMark 3.0.2d x64:
CrystalDiskMark is a small benchmark utility for drives and enables rapid measurement of sequential and random read/write speeds. Note that CDM only supports Native Command Queuing (NCQ) with a queue depth of 32 (as noted) for the last listed benchmark score.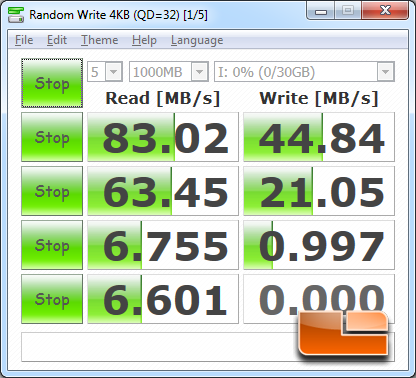 Benchmark Results: CrystalDiskMark showed that we hitting 83MB/s read and 45MB/s write on the sequential test!

ATTO v2.47:
ATTO is one of the oldest drive benchmarks still being used today and is still very relevant.. ATTO measures transfers across a specific volume length. It measures raw transfer rates for both reads and writes and places the data into graphs that can be very easily interpreted. The test was run with the default runs of 0.5kb through 8192kb transfer sizes with the total length being 256mb.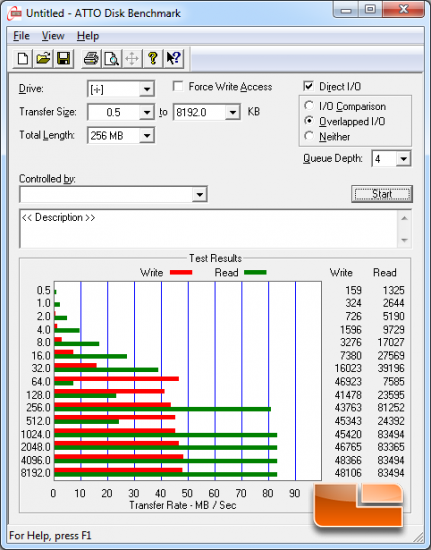 Benchmark Results: The ADATA Premier Pro was able to reach 83MB/s read and 48MB/ write speeds in ATTO with the default benchmark settings. The write speeds were a tad faster than the advertised speed rating, but the read speeds were about 13% lower than advertised. This could be a limitation of our USB 3.0 card reader or the card itself.

Check Flash v1.16.2:
Check Flash is a multi-purpose flash drive testing and maintenance tool. This utility allows for error checking, speed tests, and much more.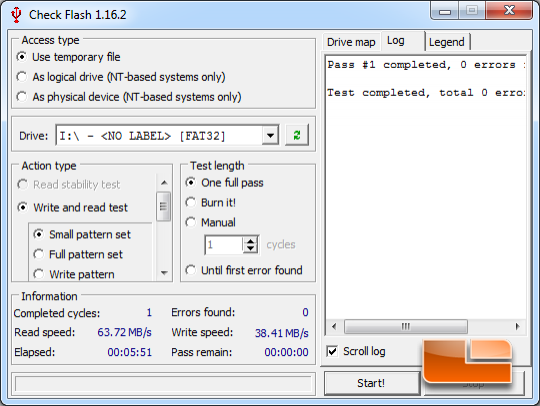 Benchmark Results: Check Flash showed that we averaged 63.72MB/s read and 38.41MB/s write on the speed test.

These are pretty fast speeds, but keep in mind that this testing was done on a USB 3.0 memory card reader. What happens when you try out the card in something different? Let's find out!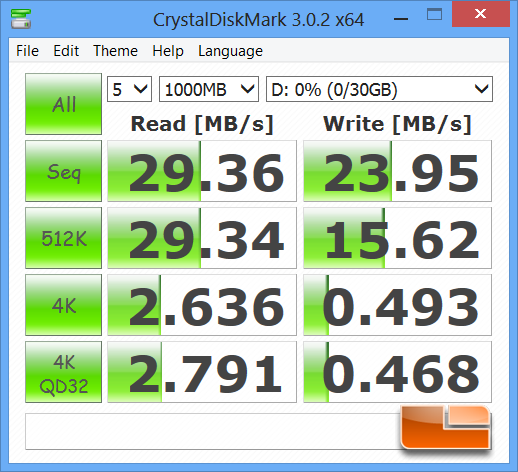 Benchmark Results: On the ASUS UX31A Ultrabooks built in memory card reader we see much lower speeds, just 29MB/s read and 24MB/s write on the sequential test. If you want to get close to the rated speeds be sure to use a USB 3.0 card reader and not one that relies on the slower USB 2.0 interface!