ADATA DashDrive Air AE400 Review
Tue, Apr 30, 2013 - 12:00 AM
AE400's Performance
Here's the section that many of you are probably looking forward to. I will take a closer look at the performance of AE400, in terms of the wireless transfer rate when using it as an internet bridge, uploading and downloading files via the wireless interfaces, and also how quickly it will grab that same data from the unit when plugged in via USB. You also cannot forget the battery charging performance, which I will touch on a bit.
I have 18Mbps AT&T U-verse DSL internet that I am going to use to test my devices on, as well as checking out the numbers I get when connected to the AE400. All of my tests were performed with the AE400 sitting approximately 1 foot away from my router, and my devices were no more than 2 feet away from the AE400.
I started off by benching each of my devices on speedtest.net. I have my Samsung Galaxy S3, ASUS Transformer Prime, Apple iPhone 4S, and a Windows 7 Professional laptop, each connected to my AT&T U-verse router. Each test was consistent at around 17.5Mbps.
Now here's where the interesting part comes in. When I connected each of these devices to the ADATA AE400 and ran the same test, the numbers changed a fair amount. I received approximately 11.5Mbps on each device, which is still a far cry from my 18Mbps connection. This yielded approximately a 33% reduction in bandwidth from my initial test without the AE400.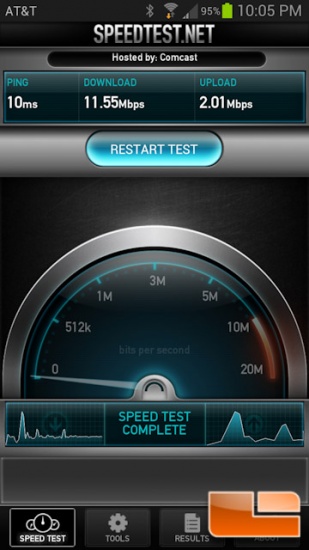 Moving over to wireless uploading, streaming, and downloading, I saw some interesting things here. I uploaded several different sized videos to my SDHC card via the built-in card reader, and a card reader plugged into the USB port.
My first test, I tested out the SD card reader with my SanDisk Extreme Class 10 45Mbps 32GB card.
I tested out three different files sizes: 1136KB, 10MB, and 209MB.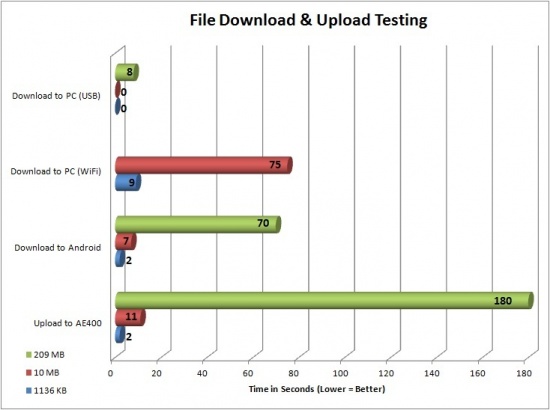 The files for downloading to my PC were transferring at approximately 150KB/s, which is awfully slow. My laptop has a b/g wireless card in it, and it was connected at a solid 54Mbps the entire time. I purposely had to leave off the 209MB file because it took well over 22 minutes to download. I'm not quite sure what the deal is there, but it was rather frustrating.
Everything else was pretty reasonable. Using the AE400 as a regular card reader yielded speedy results, which is exactly what I expected. Downloading the files to my mobile devices was pretty snappy, though I know I wish it were even quicker yet.
Video Playback
Video playback may not what it was all up to be, but it does have potential. Remember that ADATA says 3 users can simultaneously stream 1080p videos, while you can have 5 users streaming 720p content. I couldn't even stream a 568×320 video that was shot on my phone without it stuttering. They seem to play fine for a brief moment – read: buffer – but when that buffer was run through, the video would either stutter or pause and try to rebuffer again. If I were to stream a trailer from Apple's website or a video that I created on my computer, all using MP4 containers, they would stream just fine. During my testing, I did not have any 1080p content handy, since I do not have multiple devices with 1080p capable screens. When I had 3 users test out 720p streaming with content that my phone did not create, it worked absolutely flawlessly.
Battery Recharging
Finally, the battery charge rate was a fairly pleasant experience. With the AE400 fully charged and never turned on, I was able to charge my fully depleted Galaxy S3 battery, which is rated at 2,100mAh, in 2 hours and 35 minutes. The battery LED indicator turned orange (meaning 25-50% power left) after my phone was only 20% charged the first time. Thinking this was a fluke, I tried it again on a fully depleted Galaxy S3 battery, and the next time around my phone got to 39% before the orange LED came on. When the S3 was finished charging, I then went ahead and charged my original Galaxy S (Captivate), which has a 1500mAh battery, and that got to 49% before the AE400 shut down. All in all, I have to say this was not bad!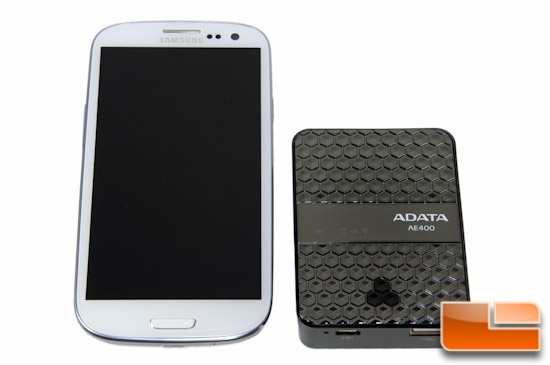 Just to retouch on charging the AE400, it took approximately 6 hours out of the box to a full charge, when charged via my PC's USB port. It took over 7 hours from fully depleted to fully charged, when using my Galaxy S3 charger, which is rated at 1 amp output. These are crazy recharge times for the AE400 unit, but you do have to remember that it is a huge 5,000mAh battery.