The Battle of Mini-ITX Platforms
The Intel Atom and VIA Nano processors have been making a ton of noise in the market place as they are inexpensive, energy efficient and fit into sleek and sexy devices that consumers are looking for today. The day the VIA Nano processor was announced I was actually at Centaur Technologies down in Austin, Texas meeting with Gleen Henry where I got to see some Nano processors being produced right before my eyes. I had to wait nearly a month to get a VIA reference board in my hands with a VIA Nano processor, but it has been worth the wait. Since I have already covered the basics and introduced the Nano processor in my Centaur Technologies Tour article we will jump straight into things.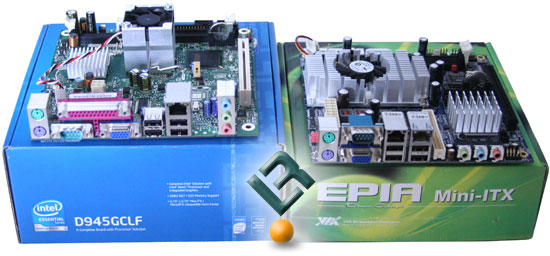 Armed with the VIA Nano processor and the Intel Atom processor, I can now do a direct performance comparison against two of the most talked about processors for 2008. The VIA Nano reference platform we were sent isn't a retail product, so keep that in mind while reading the rest of the article. The Intel Atom was tested on the D945GCLF, which is a retail product you can purchase today for $66 plus shipping.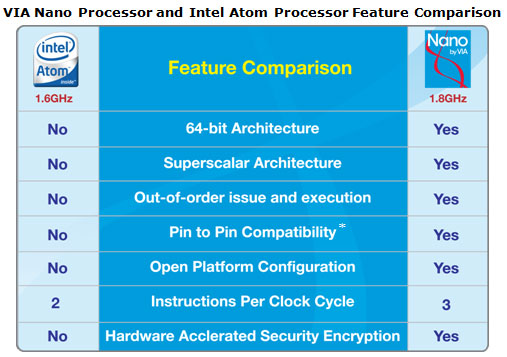 These two platforms might both be using Mini-ITX motherboards, but the features do differ between the very different processors. The VIA Nano processor is built using 65nm process technology (the Atom uses 45nm) and it's major claim to fame is the 64-bit Superscalar Speculative Out-Of-Order MicroArchitecture. Will this be enough to keep the Intel Atom processor at bay? Let's take a look a closer look at the test systems and find out which one is faster in the benchmarks!
Intel BOXD945GCLF Motherboard
The Intel BOXD945GCLF motherboard comes with a 1.6GHz Atom 230 processor soldered to the board and is the system that everyone is talking about when it comes to the Intel Atom processor. The BOXD945GCLF features an Intel 945GC Northbridge with an ICH7 Southbridge and integrated GMA950 graphics, so it is built using tried and true chipsets that were once nearly flagship parts for Intel's desktop platforms. This motherboard comes complete with a soldered-on Atom 230 processor for just $66.00 plus shipping, which is a great price considering the Intel Atom 230 processor costs $29 alone.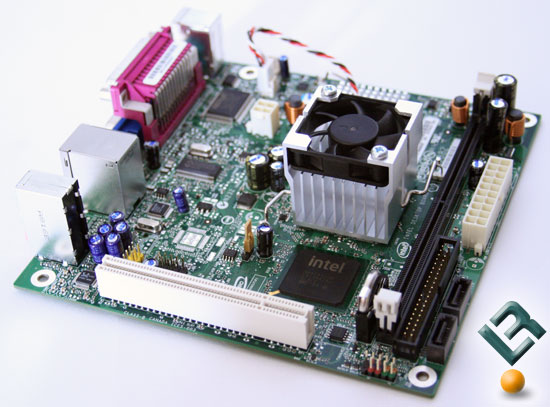 The Intel BOXD945GCLF motherboard is a mini-ITX board and doesn't have too many bells and whistles to be honest. The board has just a single DDR2 memory slot for up to 2GB of 533MHz memory and a legacy PCI slot as the lone upgrade slot. Many might not like the fact that the Intel board doesn't support a x16 PCI Express slot, but for this price point it shouldn't be a deal breaker. Those that want better graphics can still get DirectX 10 based PCI graphics cards as companies like Albatron offer GeForce 8600 GT graphics cards with a PCI interface. The Intel D945GCLF motherboard requires both the 20-pin ATX power connector and a 4-pin ATX power header for proper operation. The board has two SATA headers (the VIA Nano reference system has four) and that might be an issue for those wanting to run multiple hard drives and an optical drive for example. One PATA (IDE) header is found on the board, which gives you the ability to run up to four devices of your choice.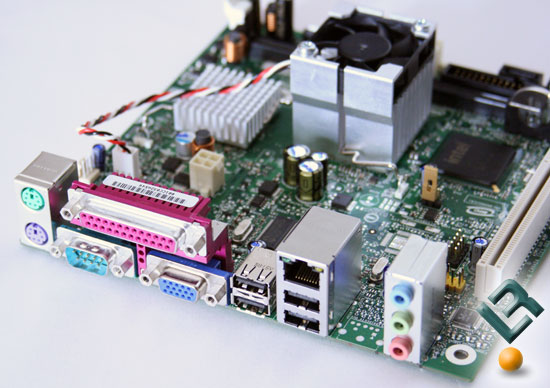 The rear I/O panel sports a pair of PS/2 connectors, four USB 2.0 connectors, a serial and parallel header, a single 10/100 NIC, 2+2 channel HD audio and a VGA output.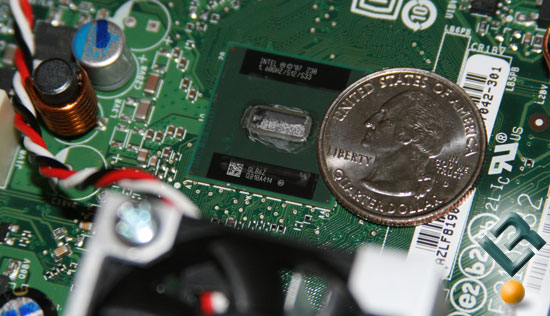 I've seen tiny processors, but the Intel Atom processor takes this to a new level. The Intel Atom 230 processor is the smallest desktop processor I have seen. The processor model that comes on this motherboard is the Atom 230 that runs at 1.6 GHz on a 533MHz FSB. The chip includes a 32KB L1 instruction cache, 24KB L1 data cache, and a 512KB L2 cache. Intel manufactures this processor on its high-k 45nm fab process and the Atom has roughly 47 million transistors jammed into a die that's only 24.2 mm².
Those of you with a sharp eye will notice that the Intel Atom 230 is passive cooled and the chipset heat sink with a fan on it is for the Intel 945G Express north bridge chipset. The Intel chipset that is located on the board without a heat sink is the Intel ICH7-M south bridge. At first glance we thought the Intel Atom 230 was being cooled by the fan, but it is actually the chipset and not the processor!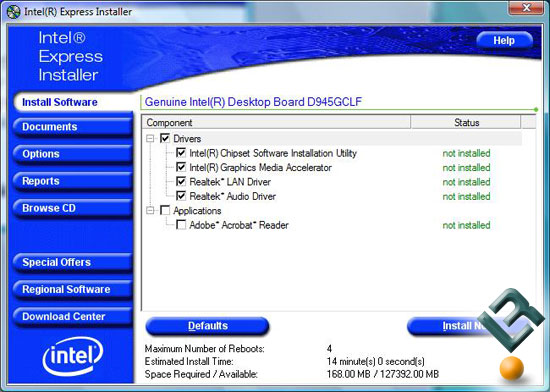 One of the nice things about the Intel BOXD945GCLF motherboard is that it is retail and is shipping with the Intel Express Installer, so all you have to do is click install now and all the platform drivers will be installed for you in the proper order. The Intel D945GCLF motherboard is rock solid thanks to the latest BIOS update and the driver installation is quick and easy. Let's take a look at the BIOS on the Intel D945GCLF motherboard.
Intel BOXD945GCLF BIOS
The BIOS on the Intel D945GCLF motherboard is now on its third revision and a ton of changes have been made. The original release was version 038, followed by 067 and now 095. If you purchased or plan on purchasing one of these motherboards I highly suggest that you update the BIOS as ours came with version 038 and updating to version 095 fixes a ton of issues we had when we worked on this review.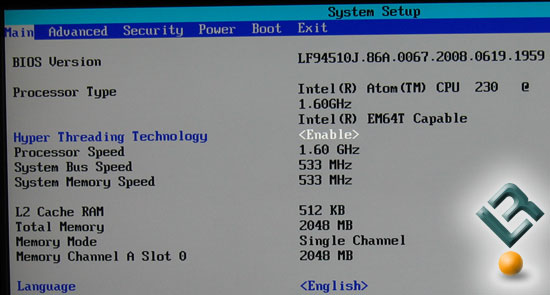 This is the main menu of the Intel D945GCLF motherboard BIOS and as you can see the version pictured above is 067, which is the second version for this board. The BIOS found on the D945GCLF motherboard is very basic as you can't change the processor. Intel doesn't even allow any voltage adjustments or overclocking settings, so this will be a quick glance.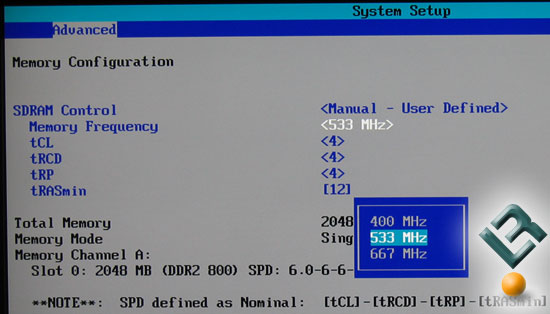 Our biggest complaint with the version 067 BIOS is that the motherboard has the option to run at 667MHz on the memory, but the system would fail to boot with this setting enabled. We ran all the testing in the article at 533MHz at 4-4-4-12 timings as a result. It is nice to be able to adjust the memory timings, but remember the board has no Voltage adjustment for the memory. We were unable to get any of our kits to run at 533MHz with CL3 timings at the default voltage of 1.8V. I contacted Intel about the 667MHz memory setting and how the board wouldn't post and they responded with this:
The 667 MHz memory option was in the bios because it is the same bios core used in 945GC platforms which includes other motherboards that support regular 775 socket processors which could support 667. The Atom processor only has a 533 FSB so 667 MHz memory won't really get you anything extra. That 667 option in the bios was not meant for this specific 945GCLF board model and will be removed in the next bios release for the board.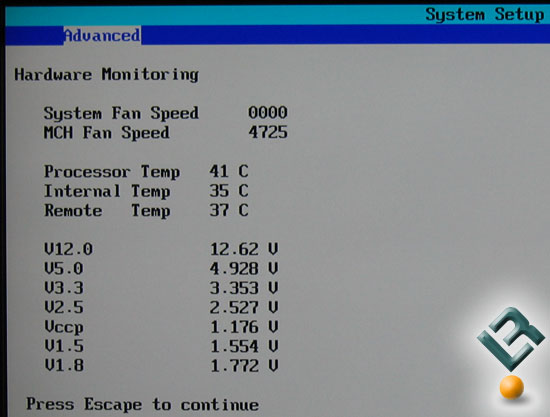 The hardware monitoring menu shows critical things like temperaturs and a number of voltages on the motherboard. Our motherboard had a really high +12V reading, but the Corsair HX620W power supply is known to have a really strong +12V rail and this board harldy consumes any of it.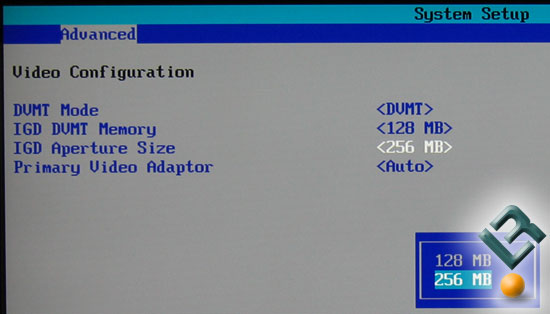 Under the Advanced menu you can set the integrated video aperature size and you have the ability to go up to 256MB, which is what setting we used for this article.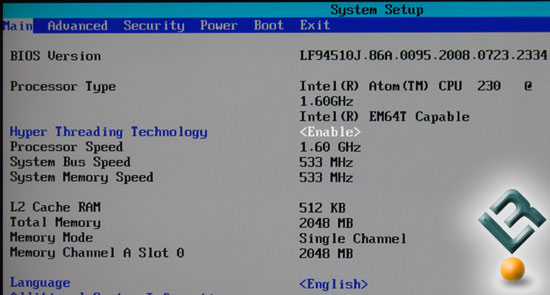 It should be noted that just before we began testing for this article BIOS version 095 was released and it fixes a ton of issues users were having with version 067. We updated our board to this version for testing and the changes can be seen below. Grab the latest BIOS version for the D945GCLF motherboard if you need it.
New Fixes/Features:
Removed support for the PNP DMI interface.
Fixed SMBios data mismatched.
Fixed issue where front panel LED remains yellow instead of green after system wake from S1 with USB devices.
Fixed issue where "Memory Size Decrease" event has incorrect event count.
Fixed S3 resume time more than 2 seconds when accessing verb table 2.
Fixed issue with Wake on LAN.
Hid 667MHz option in Memory Configuration page.
Fixed issue where keys pressed in POST are visible after boot in the BIOS Data Area (BDA) keyboard buffer.
Updated processor support.
Added workaround for issue where "Power surge on hub port" message appears intermittently.
Updated Chassis Type SMBIOS structure.
Fixed issue where Express BIOS Update allowed custom BIOS to be loaded over standard BIOS and vice versa.
Fixed an issue where an error would occur when running Express BIOS Update after running iflashwin.
Fixed issue where language display in BIOS setup does not change as per language selected.
Added 800x480 video resolution support.
Updated Realtek* PXE ROM for 8111C Gigabit LAN support.
Fixed BIOS setup page showing wrong LAN MAC address.
Changed BIOS to check the first 12 characters of the old and new BIOS ID in recovery path instead of 8 characters.
The Via Nano Reference Motherboard
To test the new VIA Nano processor, we received a mini-ITX reference platform from the folks at VIA Technologies that was originally designed for the C7 core. The board is pin-compatible with the C7 and the Nano, so VIA was able to update the BIOS and use the existing board. The motherboard says EPIA-SN on it, but VIA told us to ignore that and just refer to it as a reference platform so no one gets confused down the road.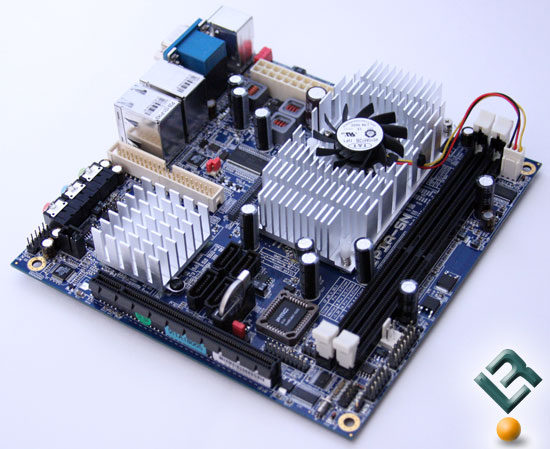 Unlike the Intel BOXD945GCLF motherboard there is only one power connection on the VIA Nano reference motherboard - a 20-pin ATX power connector. I used a 24-pin power supply connector on this board as well and it worked with no problems at all, so you don't have to have a 20-pin power supply to get it running. The large active cooled heatsink is used to cool both the VIA CN896 north bridge chip and the VIA Nano processor. Our test system uses the Nano L2100 processor which operates at 1.8 GHz on an 800 MHz front-side bus with a max TDP of 25 watts. The board features two 667MHz DDR2 DIMM slots, but they are only operate in single channel.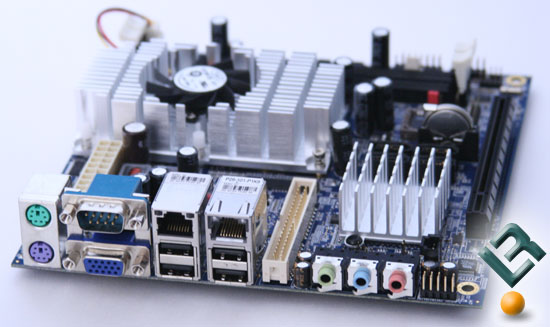 The rear I/O connections on the VIA reference board include the standard PS/2 connections, four USB 2.0 ports, serial output, dual NICs and VGA output to use in conjunction with the integrated S3 graphics core on the north bridge. The audio connections are further down to the right and supports 6-channels thanks to the VIA Vinyl software.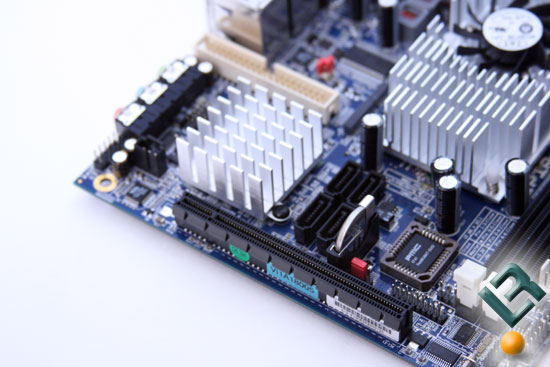 For a mini-ITX motherboard this reference board packs some serious muscle that the Intel BOXD945GCLF can't come close to touching. For starters there are two 667MHz DDR2 DIMM slots and four SATA headers, which is double the number that the Intel BOXD945GCLF motherboard has to offer. The board also features a single PCI Express x16 slot for graphics or any other add-in PCIe based card. This is nice and will allow for discrete graphics to easily be added if one wants to go that route. Just to the right of the four SATA headers is the CMOS battery, CMOS clear jumper and a removable CMOS chip. The small passive heatsink to the left of the SATA headers is for the VIA 82375 south bridge that is located underneath.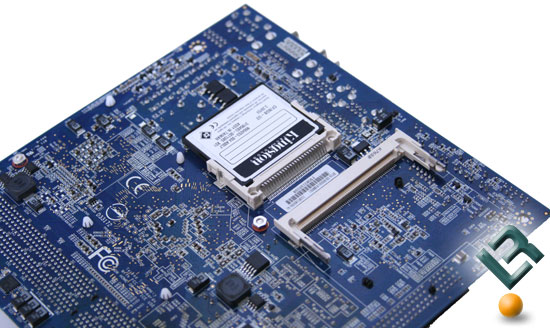 Flipping the motherboard over we have some interesting integrated slots that are worth talking about. One slot is a mini-PC slot and the other is for a CompactFlash memory card. As you can see from the image above I placed a Kingston Ultimate 8GB CompactFlash module in the integrated CompactFlash slot. This CompactFlash slot can be used like a solid-state drive of sorts and is bootable. With CompactFlash cards with densities of 32GB for under $100 this is something that will appeal to many.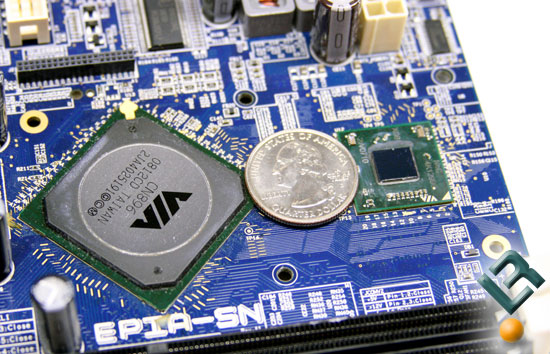 Here is the money shot with the VIA CN896 north bridge chip and the VIA Nano L2100 processor sitting next to a US Quarter to give you an idea how big they are. As you can see the VIA Nano L2100 processor has a much larger die than the Intel Atom 230 processor that we saw next to a quarter on the previous page. The VIA CN896 chipset is the largest chipset on the board and handles the integrated graphics since it contains the Chrome9 HC graphics, which supports the Microsoft DX9 feature set.
The current VIA EPIA SN Mini-ITX board with VIA Nano processor will never be commercially available as it is a reference platform, which is only being made available to media for testing purposes. For this reason we will not be taking a look at the BIOS.
The Test Systems
Both test systems were running identical hardware with only the motherboards being different. Windows Vista Ultimate 32-bit with SP1 and all available Microsoft updates was the operating system of choice. Both test systems used a 2GB moudle of OCZ PC2-6400 Reaper memory running at 533MHz on the Intel Atom board with 4-4-4-12 timings and 667MHz on the VIA Nano board with SPD settings with CL5 timings.
Intel Test Platform

Component

Brand/Model

Live Pricing

Processor

Atom 230/Nano L2100

Motherboard

See Above

Memory

2GB OCZ Reaper PC2-6400

Video Cards

Integrated

Hard Drive

Western Digital SATA 150GB Raptor

Cooling

Retail Box

Power Supply

Corsair HX620W

Operating System

Windows Vista Ultimate 32-Bit
The VIA Nano Test System: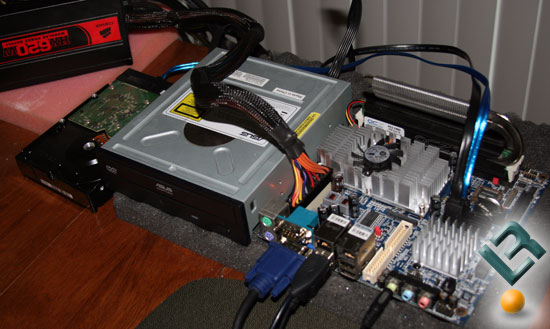 VIA Nano Platform CPU-Z 1.46 Details: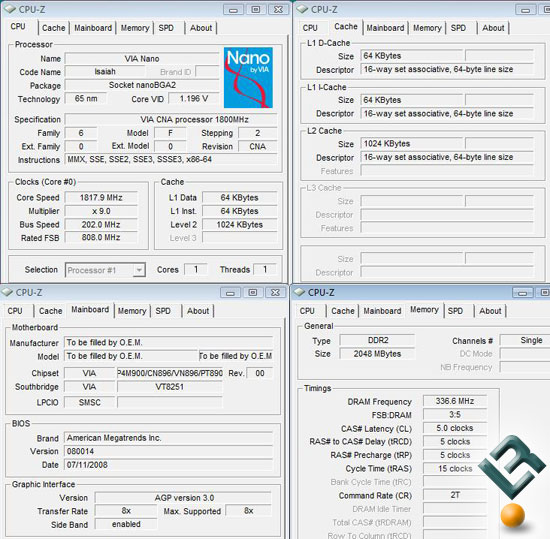 The Intel Atom Test System: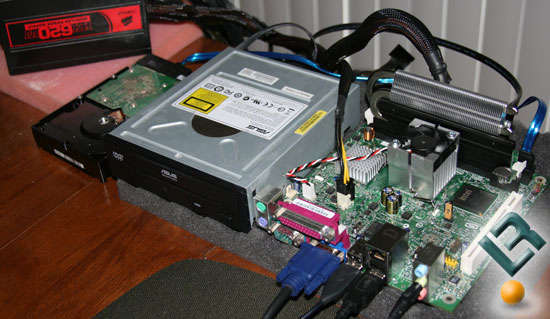 Intel Atom Platform CPU-Z 1.46 Details: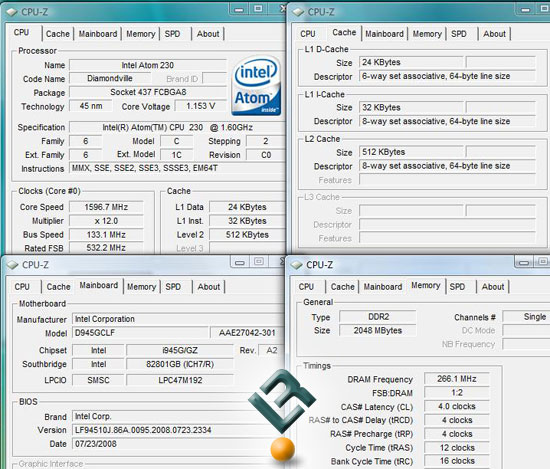 HD Tune v3.10
HD Tune Pro 3.10 is an extended version of HD Tune which includes many new features such as: write benchmark, secure erasing, AAM setting, folder usage view, disk monitor, command line parameters and file benchmark.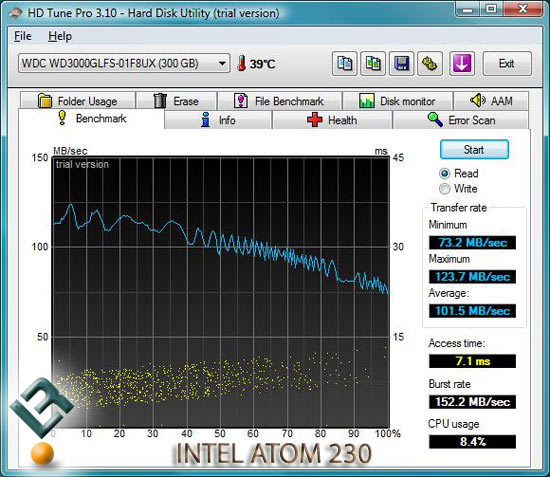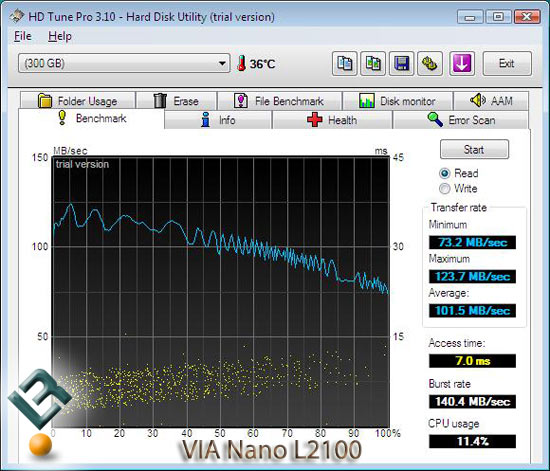 Benchmark Results: The Western Digital VelociRaptor was used as a secondary drive on both systems and the results were nearly identical other than the burst rate and CPU usage! Both boards averaged 101.5MB/Sec when it came to the transfer rate and had ~7ms access times. The burst rate on the Intel Atom 230 based board was ~12MB/Sec higher and the CPU usage was lower, which is a good thing. The VIA reference board with the Nano L2100 processor running at 1.8GHz was used more for this benchmark. The same hard drive on a ATX platform with current chipsets had a burst speed of 179.4 MB/s, so these mini-ITX boards do take a performance hit since they are using older chipsets. The VelociRaptor hard drive is still impressive on these boards though.
Sandra XII SP2C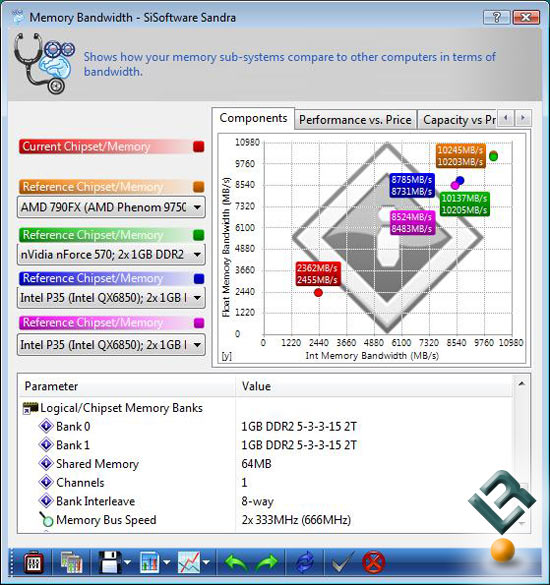 With Sandra XII SP2 you can now easily compare the performance of the tested device with its speed and its (published) power (TDP)! Sandra XII SP2 also has SSE4 (Intel) and SSE4A (AMD) benchmark code-paths, which is great for those of you testing next-generation AMD & Intel chips.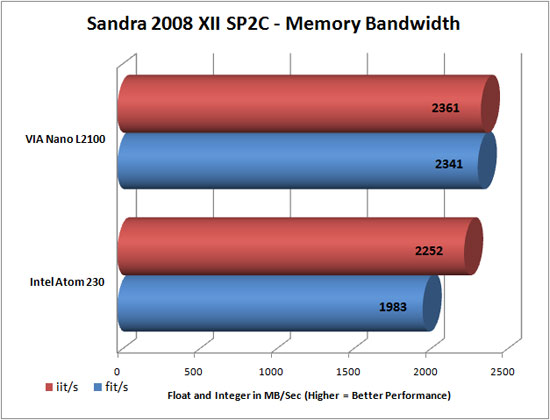 Results: The Intel Atom can only do 533MHz on the memory and doesn't have any adjustment for timings, so it was bound to run slower than the VIA Nano platform. The VIA Nano L2100 had the memory running at 667MHz with CL5 timings (versus CL4 timings on the Intel platform since you can manually set them) and had the best memory bandwidth thanks to the faster frequency.
Sandra Multimedia
This benchmark generates a picture (640x480) of the well-known Mandelbrot fractal, using 255 iterations for each data pixel, in 32 colours. It is a real-life benchmark rather than a synthetic benchmark, designed to show the improvements MMX/Enhanced, 3DNow!/Enhanced, SSE(2) bring to such an algorithm. The benchmark is multi-threaded for up to 64 CPUs maximum on SMP systems. The benchmark contains many versions (ALU, MMX, (Wireless) MMX, SSE, SSE2, SSSE3) that use integers to simulate floating point numbers, as well as many versions that use floating point numbers (FPU, SSE, SSE2, SSSE3). This illustrates the difference between ALU and FPU power.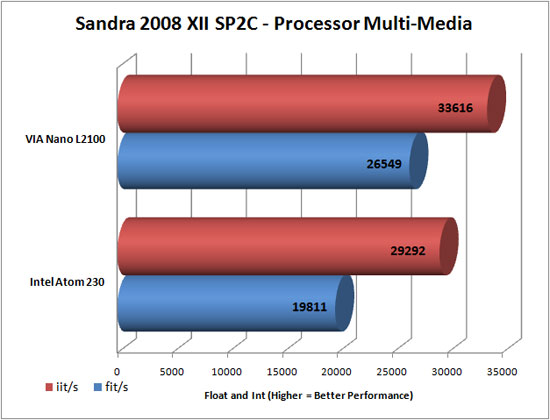 Results: Taking a look at the Processor Multi-Media test in the SiSoftware Sandra benchmark suite we see the VIA Nano L2100 processor taking the performance crown by a good margin.
PCMark Vantage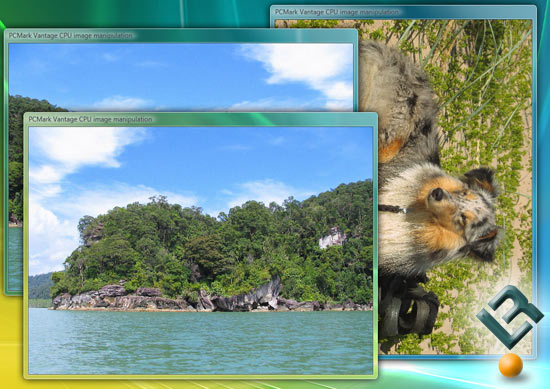 PCMark Vantage is the first objective hardware performance benchmark for PCs running 32 and 64 bit versions of Microsoft Windows Vista. PCMark Vantage is perfectly suited for benchmarking any type of Microsoft Windows Vista PC from multimedia home entertainment systems and laptops to dedicated workstations and hi-end gaming rigs. Regardless of whether the benchmarker is an artist or an IT Professional, PCMark Vantage shows the user where their system soars or falls flat, and how to get the most performance possible out of their hardware.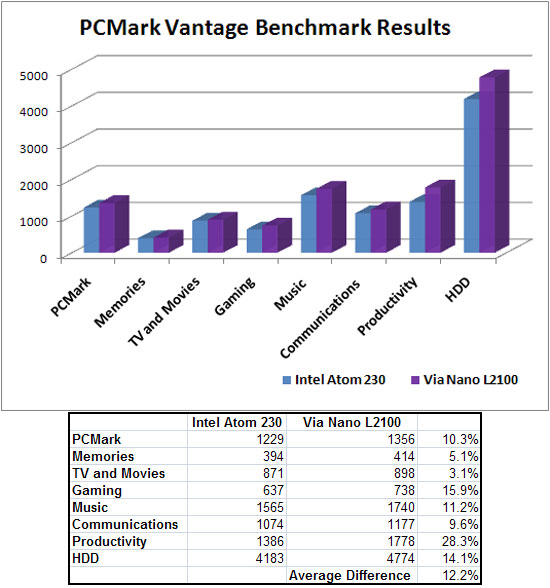 Benchmark Results: The VIA Nano L2100 was significantly faster than the Intel Atom 230 once again in this great benchmark that tests a number of different areas on a computer platform.
Photodex ProShow Gold 3.2
ProShow Gold allows the user to combine photos, videos and music to create spectacular slide shows. The software provides the capability to share memories with friends and family on DVD, PC and the Web. ProShow Gold brings still photos to life by adding motion effects like pan, zoom, and rotate. The user can also add captions to a photo or video and choose from over 280 transition effects.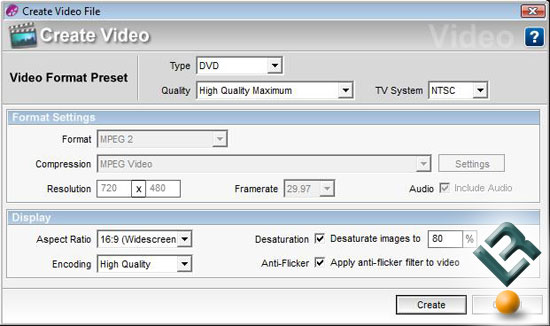 The workload we are using takes 29 high resolution jpeg photos and converts them to an mpeg2, widescreen DVD quality, 3min 9sec slideshow video file. The input photos are in 3872x2592 resolution and total about 170MB in size.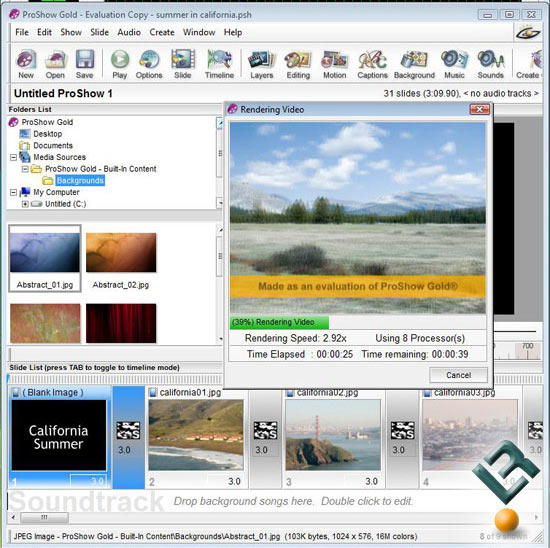 ProShow Gold 3.2 lets you share your slide shows in virtually any format and on any device. You can upload your shows directly to YouTube or choose from over 20 devices to directly output to including the iPod, Blackberry, ZuneTM and more. Not bad for software that runs under $70 and is optimized for eight-cores! Our benchmark testing wasn't at 100% load the entire time, but averaged around 95% during the testing period.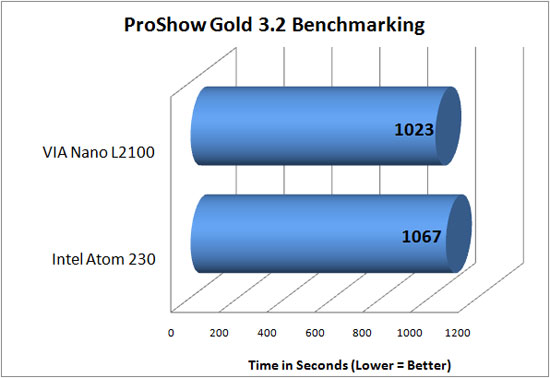 Benchmark Results: Photodex Proshow software showed a slight difference between the two Mini-ITX platforms, but the difference was not significant. Both processors completed the task in over 17 minutes, which is a fair amount of time.
POV-Ray 3.7 Beta 25
Processor Performance on Pov-Ray 3.7 Beta 25:
The Persistence of Vision Ray-Tracer was developed from DKBTrace 2.12 (written by David K. Buck and Aaron A. Collins) by a bunch of people (called the POV-Team) in their spare time. It is an high-quality, totally free tool for creating stunning three-dimensional graphics. It is available in official versions for Windows, Mac OS/Mac OS X and i86 Linux. The POV-Ray package includes detailed instructions on using the ray-tracer and creating scenes. Many stunning scenes are included with POV-Ray so you can start creating images immediately when you get the package. These scenes can be modified so you do not have to start from scratch. In addition to the pre-defined scenes, a large library of pre-defined shapes and materials is provided. You can include these shapes and materials in your own scenes by just including the library file name at the top of your scene file, and by using the shape or material name in your scene. Since this is free software feel free to download this version and try it out on your own.
The most significant change from the end-user point of view between versions 3.6 and 3.7 is the addition of SMP (symmetric multiprocessing) support, which, in a nutshell, allows the renderer to run on as many CPU's as you have installed on your computer. This will be particularly useful for those users who intend on purchasing a dual-core CPU or who already have a two (or more) processor machine. On a two-CPU system the rendering speed in some scenes almost doubles. For our benchmarking we used version 3.7 beta 25, which is the most recent version available. The benchmark used all available cores to complete the render.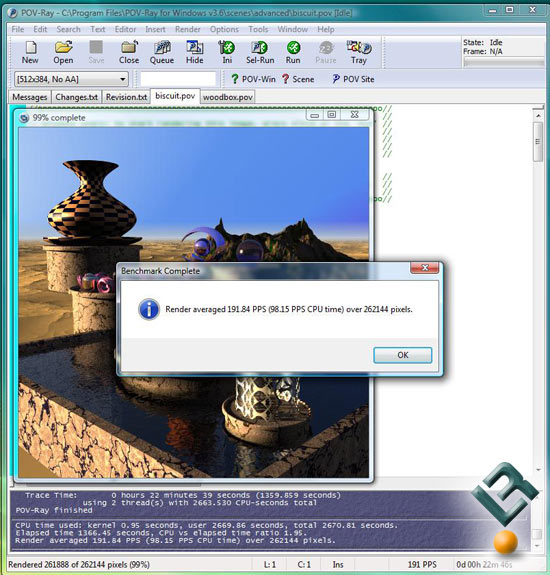 Once rendering on the object we selected was completed, we took the score from dialog box, which indicates the average PPS for the benchmark. A higher PPS indicates faster system performance.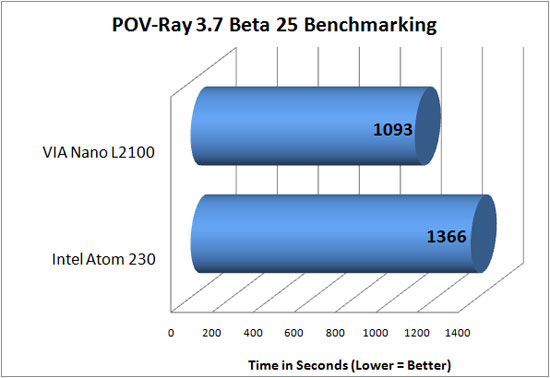 Benchmark Results: Looking at POV-Ray 3.7 Beta 25, the VIA Nano L2100 smoked the Intel Atom 230! The VIA Nano L2100 was ~25% quicker than the Intel Atom 230.
Cinebench R9.5
MAXON; CINEBENCH 9.5:
CINEBENCH is the free benchmarking tool for Windows and Mac OS based on the powerful 3D software CINEMA 4D. Consequently, the results of tests conducted using CINEBENCH 9.5 carry significant weight when analyzing a computer's performance in everyday use. Especially a system's CPU and the OpenGL capabilities of its graphics card are put through their paces (even multiprocessor systems with up to 16 dedicated CPUs or processor cores). During the testing procedure, all relevant data is ascertained with which the performance of different computers can subsequently be compared, regardless of operating system. Again, higher Frames/Second and lower rendering time in seconds equal better performance.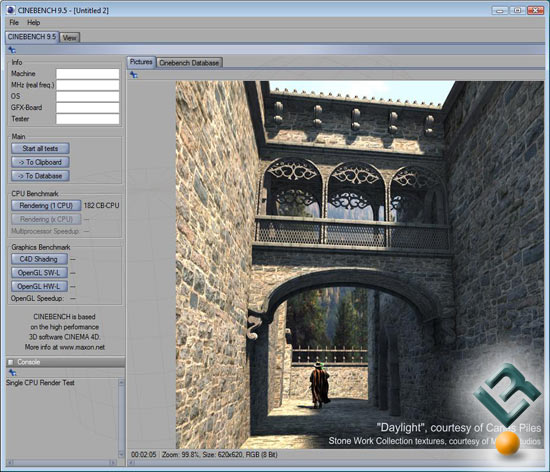 Cinebench 9.5 was able to put a 100% load across all the cores, which makes this a great benchmark to look at multi-core platforms.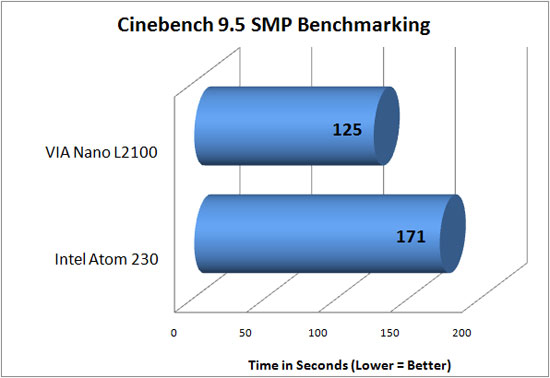 Benchmark Results: The VIA Nano L2100 was 37% faster than the Intel Atom 230 processor in Cinebench. This is significant as there is only a 12.5% clock frequency difference in favor of the VIA Nano processor.
Futuremark 3DMark06 - CPU

3DMark06
Futuremark's 3DMark06 has a built-in CPU test is a multi-threaded DirectX gaming metric that's useful for comparing relative performance between similarly equipped systems. This test consists of two different 3D scenes that are processed with a software renderer that is dependent on the host CPU's performance. Calculations that are normally reserved for your 3D accelerator are instead sent to the CPU for processing and rendering. The frame-rate generated in each test is used to determine the final score.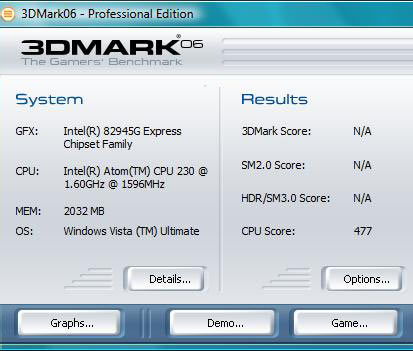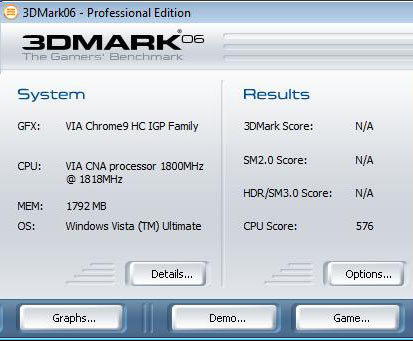 Benchmark Results: The CPU test in 3DMark06 showed that the VIA Nano L2100 processor at 1.8GHZ easily beat the Intel Atom 230 processor at 1.6GHz. The 99 point difference in the CPU score was enough to make the VIA Nano L2100 nearly 21% faster than the Intel Atom 230 processor. A score of 576 isn't anything out of this world, but for sub $70 platforms it's nothing to laugh at.
Playing HD Media Content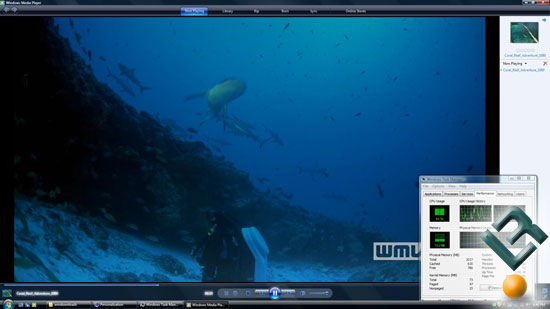 With VIA claiming these boards can playback HD content I thought it would be fun to try it out and see how each platform does using 720P and 1080P video content. I used Microsoft's WMV HD Content Showcase and grabbed the 720p and 1080p versions of the Coral Reef Adventure (IMAX) clip that can be seen above. Both the VIA Nano and Intel Atom systems would play the 720p video, but small stutters were observed from time to time with the Intel Atom system missing more frames. When it came to the 1080p version of the clip neither of the systems could play it at all. I gave our Microsoft XBox 360 HD-DVD player a shot along with our LG Blu-Ray player and neither were able to play 1080P content with the players. When I recently visited Centuar Technologies they showed me a demo with HD video being played, but it was on a 2GHz VIA Nano processor, so 1.8GHz just doesn't cut it.
Looks like the marketing slide below didn't hold true from what I was seeing. I wouldn't call any 1080P playback 'smooth' on either system.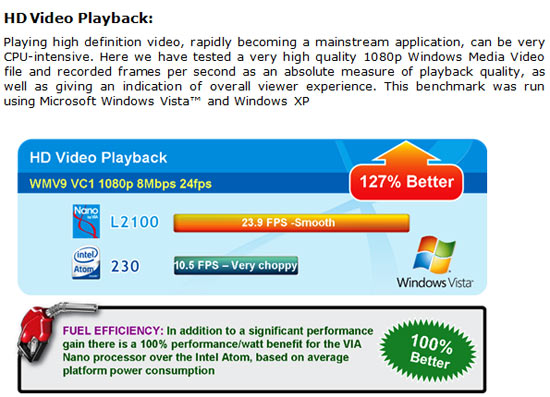 Power Consumption and Final Thoughs
Since power consumption is a big deal these days, we ran some simple power consumption tests on our test beds. The systems ran with the power supplies, case fan, video card and hard drive model. To measure idle usage, we ran the system at idle for one hour on the desktop with no screen saver and took the measurement. For load measurements Cinebench R9.5 was run on all cores to make sure each and every processor was at 100% load. All of the systems used identical hardware minus the motherboard and processor.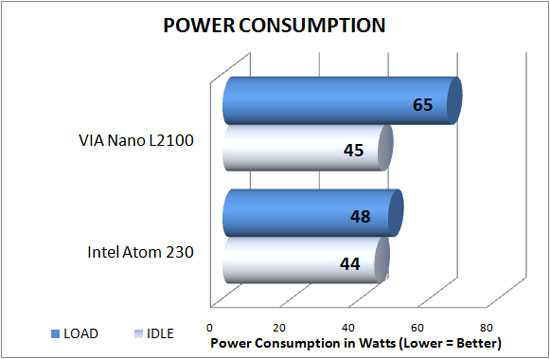 Power Consumption Results: For testing power consumption I took our test system and plugged it into a Seasonic Power Angel and the results showed both systems consumed roughly the same about of power at idle. The VIA Nano L2100 processor consumes way more power than the Intel Atom 230 under full CPU load as seen in the chart above. Remember the Nano L2100 has a TDP of 25W and the Atom 230 has a TDP of 4W, so these results are about what I expected.
Final Thoughts and Conclusions
I'm sure a fair number of you expected the VIA Nano L2100 to come out ahead because it operates at 1.8GHz, while the Intel Atom 230 runs at just 1.6Ghz, but there is more to it than the 12.5% difference in clock frequency. The VIA Nano processor is based on superior superscalar out of order architecture, which is why it performs better than the Intel Atom processor. The VIA Nano processor beat the Intel Atom processor in every single performance benchmark we ran and that says a ton for the engineers (Centaur Technologies) who designed the Nano processor. The only area the VIA Nano didn't excel at was power consumption testing, which Intel clearly has a lead thanks in part to their advanced 45nm technology process.
The overall performance of both platforms is lower than what many of you might expect from a desktop computer, but keep in mind these are super low-cost PC's here! I spent well over a week with each system running Windows Vista 32-bit and noticed that they did well for internet surfing and general Microsoft Office usage, but for the most part were slow compared to the systems I usually run for gaming or office work. When using each system on the desktop the VIA Nano platform had a quicker feel to it even though the Intel Atom had Hyperthreading enabled.
In the end all that matters is what you can buy today and when it comes to that Intel has far more availability with the Atom platform. If you wanted to buy an Intel Atom Mini-ITX motherboard you could follow this link right here and for $66 plus shipping you can have an Atom platform as fast as they can ship it. The VIA Nano Mini-ITX platform is still a reference design and you can't purchase anything right now. VIA plans on having the Nano processor in a variety of systems, so over time you'll see them pop up in devices like the HP Mini-Note 2133. The HP Mini-Note 2133 is one of those uber sexy and sleek Netbooks that people envy in case you didn't know. Basically what we have here is a superior processor, but a lack of platforms and chipsets to take advantage of it. Once VIA gets some systems using this processor they will be sitting pretty till the next Nano and Atom battle, which from what we have been hearing will be these processors in a dual-core configuration.
Legit Bottom Line: The VIA Nano L2100 straight up owns the Intel Atom 230 when it comes to the benchmarks, but good luck trying to find a platform today if you want to purchase something right now.