Introduction and Specs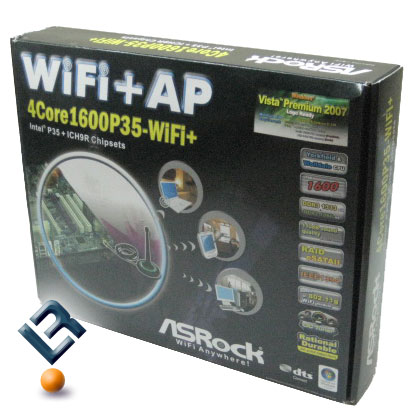 ASRock certainly keeps us guessing as to what they are going to put out next. They always seem to taking a chipset that is mature and adding something to it to make it attractive and they usually do it at a very attractive price as well. Today is no different as we look at the ASRock 4Core1600P25-WiFi+ motherboard. As you can tell from its name, this board is built around a mature P35 chipset. While other manufacturers are busy trying to shove the latest and most hyped solutions out the door (anyone ever feel like a beta tester?) ASRock is building solid performing motherboards that may not have the latest chipset on them, but they are either nearly or just as good as what we are seeing come hot off the press. So, can they keep up the good work with this latest board? That is what we plan to find out today as we take a look at the ASRock 4Core1600P35-WiFi+. Let's take a look at the specs first...

Alright, with that taken care of, let's take a closer look at what ASRock has done with this board.
Board Layout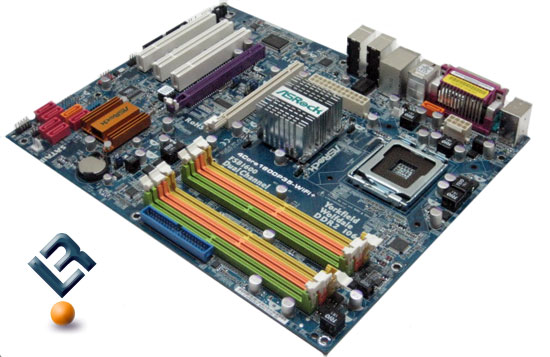 First glance at the ASRock 4Core1600P35-WiFi motherboard shows us a typical ASRock layout. ASRock does not do a lot of changing to their boards when it comes to layout. Some of the things that we have mentioned in the past about ASRock motherboards are still true today, including a couple of minor, yet annoying things which we will see as we take a closer look at the board.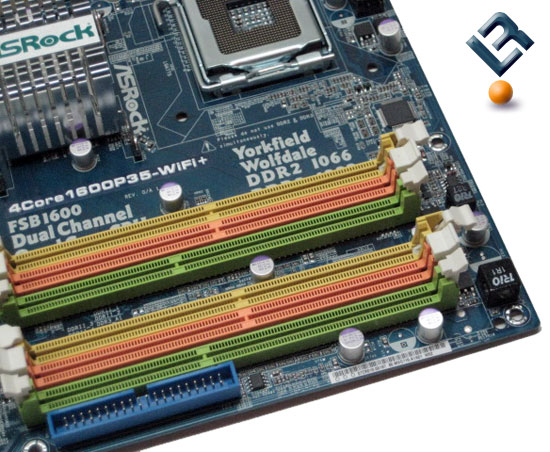 The top right of the board is where we find our lone IDE connector It is smartly placed at the edge of the board, which helps to keep the cable clutter out of the way. One interesting aspect of the board also happens to be located here with the dimm slots.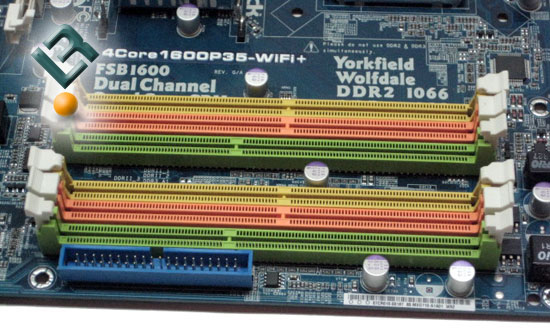 This ASRock board supports both DDR2 and DDR3 memory dimms. There are four DDR2 dimm slots which support up to 8GB at speeds of 1066/800/667. DDR3 support includes up to 4GB in the two dimm slots that are available. DDR3 support is for speeds of 1333/1066 and 800. Just as a note, you cannot use both DDR2 and DDR3 at the same time. This is a pretty nice feature of this board, and makes for a nice upgrade path once the price of DDR3 memory comes down to a reasonable price. Until then, you will have no issues using the DDR2 slots.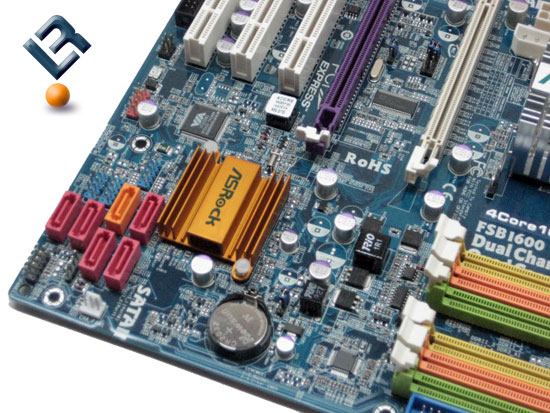 At the bottom right of the board, we find the Intel ICH9R Southbridge. This Southbridge is passively cooled by an aluminum heatsink. We had no heat issues during testing, so we can only assume that this heatsink is adequate for the cooling needs of the Southbridge.
Underneath the Southbridge, we find our six SATA connectors. These are SATAII compliant, and support RAID in 0, 1, 10, 5 and Intel Matrix Storage. This board also supports NCQ, AHCI and Hot Plug functions.
Just under the SATA ports we find out front panel pin connections. There is no color coding or anything to aid in setup, so make sure you have your manual handy as you set the board up.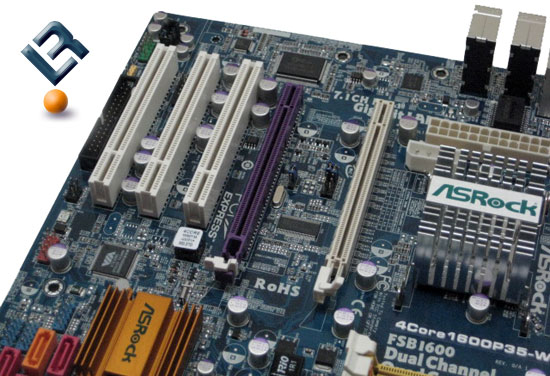 The bottom left of the board is where we find the home of out floppy connector at the bottom edge of the board. Just above that we have our 3 Legacy PCI slots. Right next to the top PCI slot we have our BIOS chip. Just above the PCI slots we have our two PCI-E slots. The ASRock 4Core1600P35-WiFi is capable of running a Crossfire setup with two capable ATI video cards. The white PCI-E slot is x16 capable, while the purple PCI-E slot is x4 capable.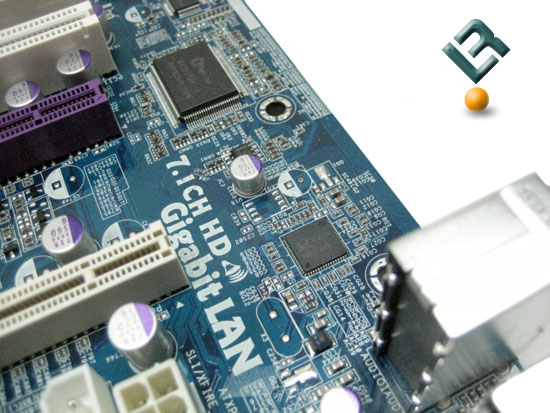 ASRock has fit the board with the Realtek ALC890 audio chip, which provides 7.1 channel HD sound and has DTS support.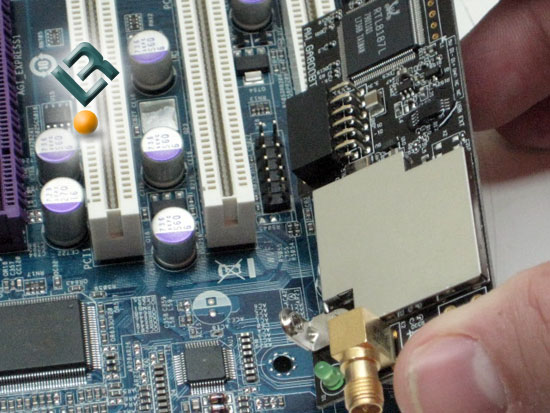 Obviously, with a name like 4Core1600P35-WiFi, there is some type of wireless capability on the board. ASRock has packaged a nice little add-on card that allows for the end user to have wireless capability without having to go out and buy an adaptor. This wireless card is based on a Realtek RTL 8187L chip, and is 802.11g capable. In the above picture, you can see that the wireless card fits right in between the bottom two PCI slots on the board.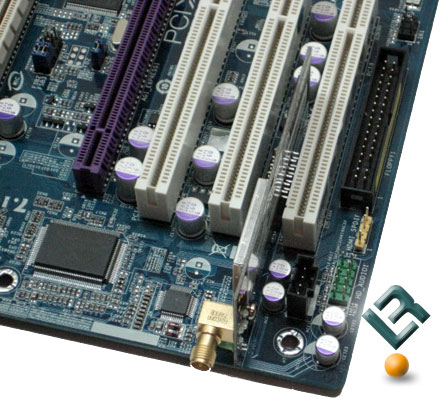 Once installed, you can see that there still seems to be room to fill both PCI slots that the wireless card sits between. This wireless device was easy to set up and easy to use! The connector on the card is for the antennae that is needed for operation.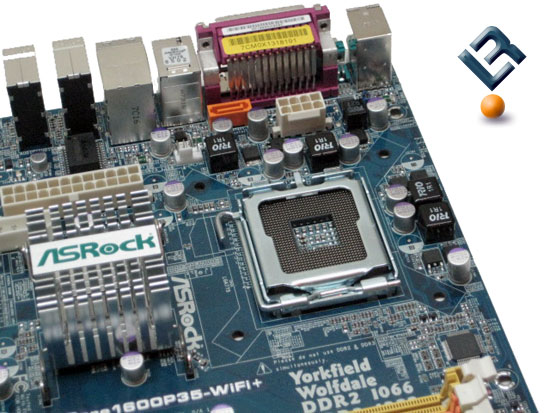 The top left of the board houses our CPU socket, which has plenty of room around it for larger heatsink and fan setups. We can also see the large aluminum heatsink that covers the P35 Northbridge.
To the left of the heatsink, we have the 24-pin power connector and another 4-pin molex connector that is used for a little extra power when running Crossfire. Both of these connectors are poorly placed. ASRock has consistently placed their 24-pin power connector in awkward positions. This makes for a mess when running wiring and trying to keep things neat and not block air flow in the case.
The 8-pin 12v power connector is located just behind the back I/O panel, which is not terrible. It could be a little closer to the edge, but we can live with it here. Under that is another SATA connector which actually is te eSATA connector that is found on the back I/O panel, which we will see shortly.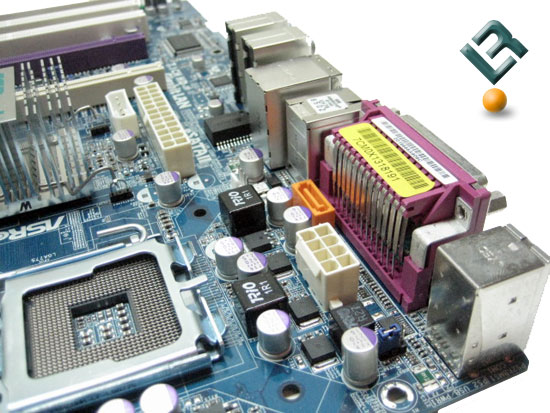 This picture just gives you a little better view of how crowded this area of the board is. ASRock really has packed a lot of things on to this board, so a little awkwardness should be expected.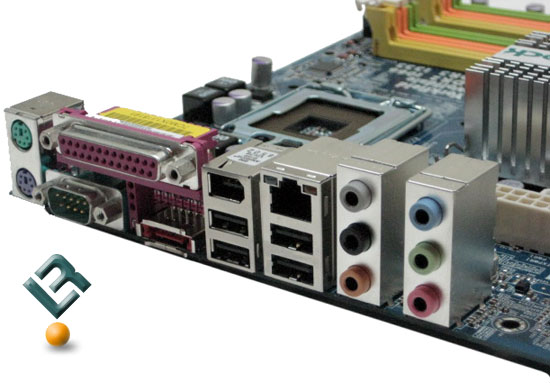 The back I/O panel is quite a site to see, with a great mixture of old and new. We have our old tried and true ps/2 connectors for keyboard and mouse as well as the old serial and parrallel connectors. We also have the eSATA port that we talked about, as well as four USB2 connectors, firewire, Lan and our six audio jacks.
Let's take a look at the bundle and BIOS!
Bundle And BIOS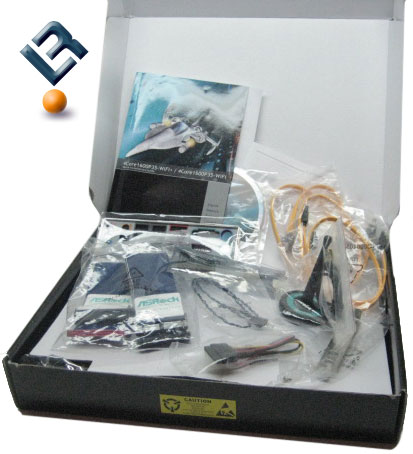 The bundle that comes with the ASRock 4Core1600P35-WiFi is actually pretty ho-hum. Nothing really stands out. The bundle includes your typical install guide, support CD and backplate, as well as floppy, IDE, and four SATA cables. You also get an HDMI_SPDIF cable, as well as the 802.11g wireless module and the antenna and bracket that are necessary for its use. The whole WiFi think is a very nice addition to this board, so where it may lack in a few other items you might have wanted, the WiFi more than makes up for it. Let's take a look at what the BIOS has for us.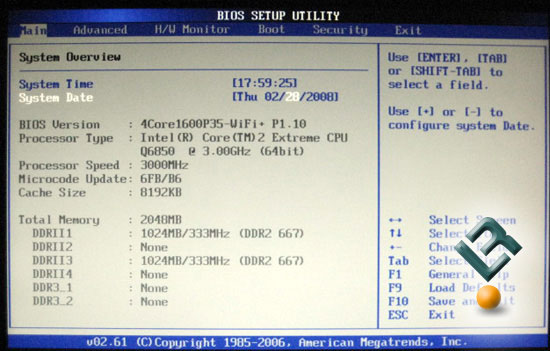 As you can see, the BIOS that is included with the ASRock 4Core1600P35 - WiFi is a customized AMI BIOS.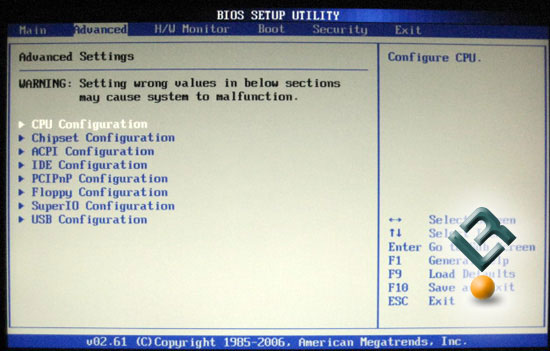 The Advanced page is where a tweaker will find most of his time is spent while in the BIOS. Although, as you will see, there will not need to be too much time spent even on this page.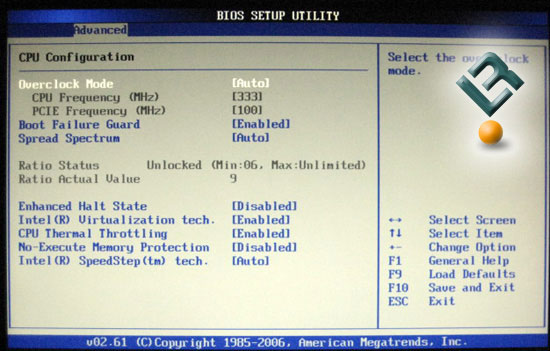 The CPU configuration page is where we have our front side bus adjustments, as well as all the other CPU specific switches like Virtualization Technology, Thermal Throttling and a few other things that most will not mess with. Overclock mode has to be turned from Auto to Manual in order to make any adjustments on the CPU Configuration page.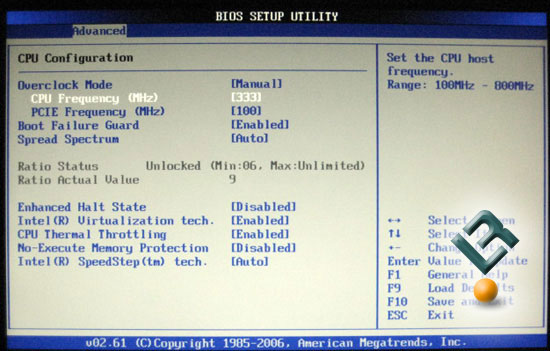 The fsb is able to be adjusted all the way to 800fsb (yeah right). Of course, we were not even able to use half of that in our overclocking.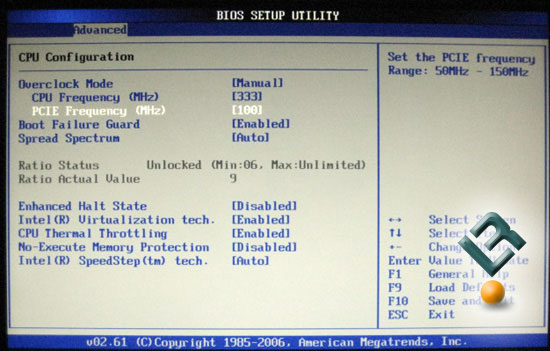 PCIE frequency is also set here. It is adjustable all the way to 150.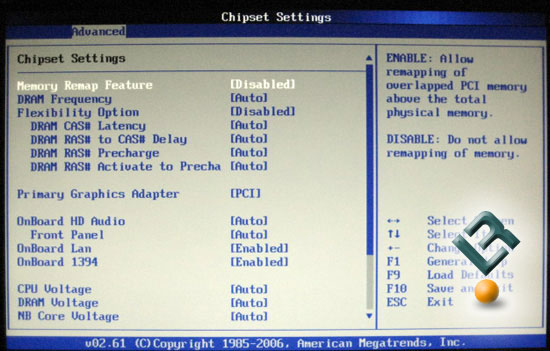 Underneath the Chipset Settings on the advanced page is where we find all of our DDR options.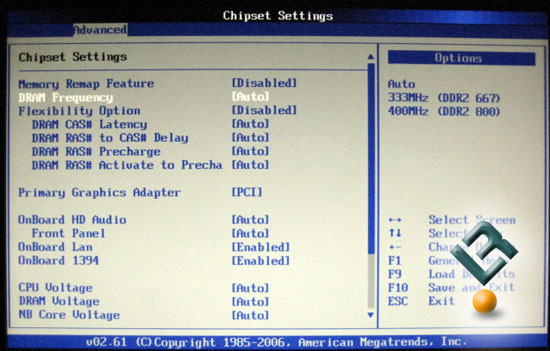 DDR2 Frequency can be set at either 667 or 800DDR2.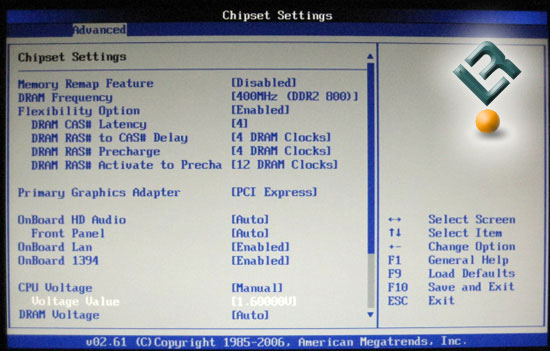 Max voltage that is available for the CPU is 1.6v, which should be more than enough for most overclocking.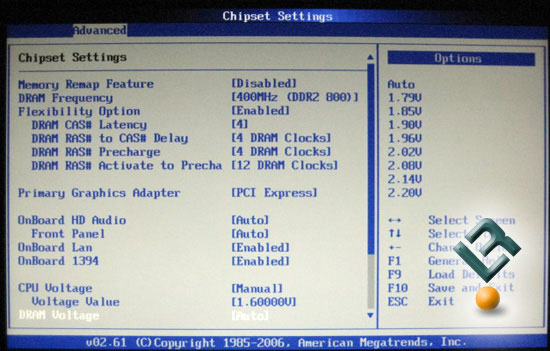 Vdimm is adjustable to 2.2v, which is not extreme, but also not too bad for most.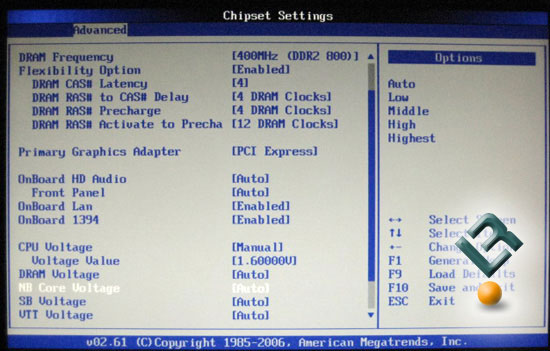 Instead of using actual voltage numbers for the Northbridge, ASRock decided to go with five different presets. As you can see, they are labeled Auto, Low, Middle, High and Highest.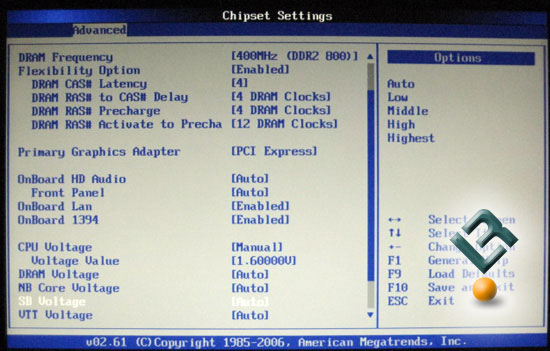 We see the same for the Southbridge...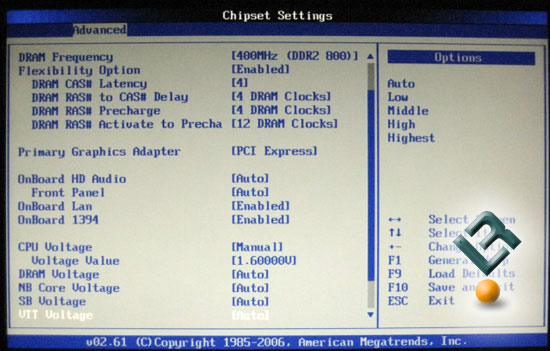 ...and the VTT voltage.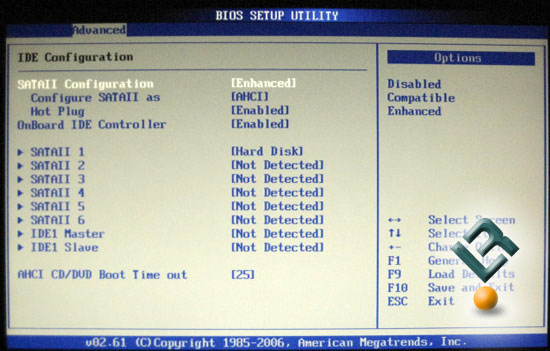 The IDE Configuration place is also on the ADvanced tab in the BIOS. This page gives you all the options that help you to set your drives up.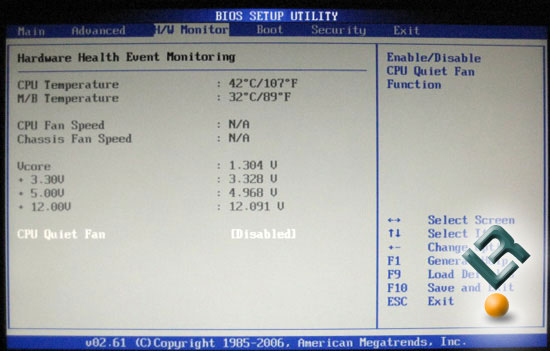 The Hardware Health Event Monitor (Fancy name for Health monitor) is not real deep. We get the basics and that is it. Not that you would need much more for this board anyways.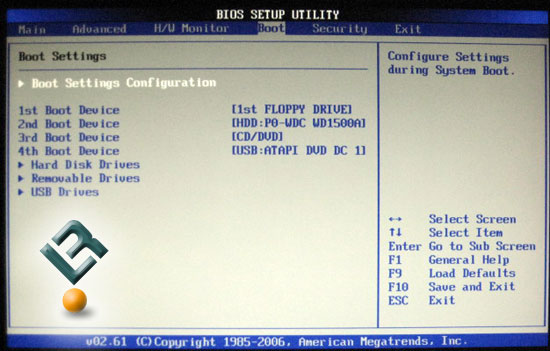 One last uninteresting page is the Boot Settings page. Not too exciting, but hey, I took the pic so here it is.
Test Setup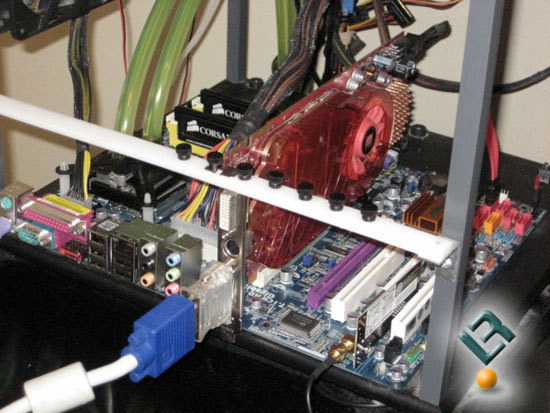 Test Platform:

Test Platform

Component

Brand/Model

Live Pricing

Processor

Intel QX6850

Motherboard

Video Card

ATI 3850

Memory

Corsair C6400C4 2 GB kit

Hard Drive

Western Digital Raptor 150GB

Cooling

Corsair Nautilus

Power Supply

PC Power & Cooling 750

Operating System

Windows Vista Ultimate 64Bit
All tests were run using a clean install of Windows Vista Ultimate 64 Bit. For our stock speed tests, we ran everything at default timings for the CPU. Our stock speed testing used Corsair DDR2 C6400C4 2 GB kit at 1.9 vDimm at DDR2 800, and timings of 4-4-4-12 and 1T if available. The ASRock did not have a 1T setting, and as confirmed with CPU-Z, was running at a 2T timing.
Testing Results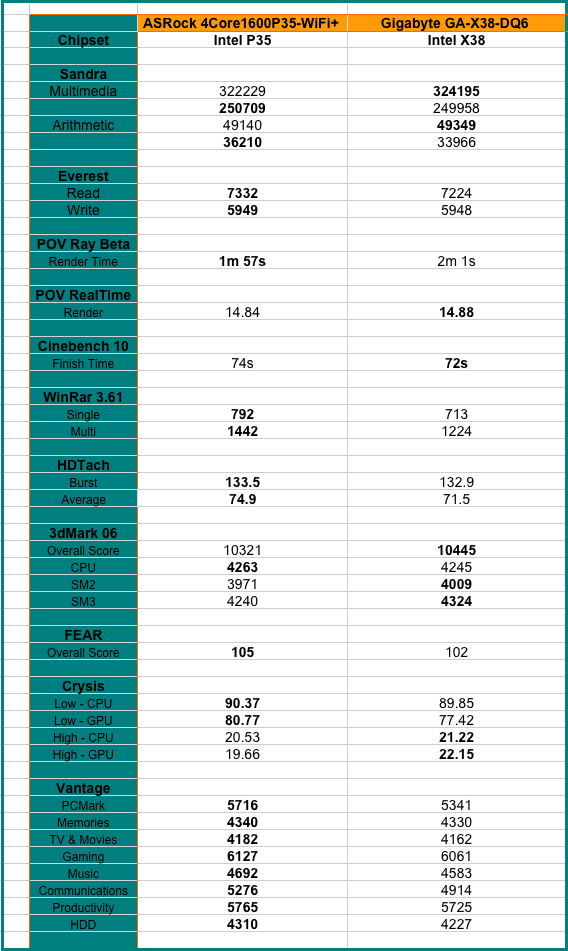 When it came to the testing of the board, the results we got were, well, let's just say shocking! Not that we expected the ASRock P35 equipped board to be bad, we didn't. The P35 chipset it a very good chipset that provides excellent performance. We just did not expect it to do better than a board that has the X38 chipset on it! After all, isn't newer always better? Obviously not as ASRock decided to use the P35 for this board, and it pulled absolutely fantastic numbers.

Taking a closer look at the numbers shows us that the two boards were comparable when running our Multimedia and Arithmetic benchmarks from Sandra. They traded blows there. Everest gives us surprising results as we see the ASRock actually have better bandwidth, though only by a slim margin.

Our POV scores also show us just how close these two boards are. These boards pretty much are even in the real time ray tracing and in the rendering time in the Beta test.

HDTach showed that the ASRock 4Core1600P35-WiFi+ board does slightly better in disk performance. But when you move on to the 3dMark 06 results, the X38 board slightly beats out the ASRock.

The gaming results are where things get really interesting. In FEAR, the ASRock board scored the best score that we have gotten in this benchmark. it beats out the X38 board by 3fps. In Crysis, the ASRock board does very good and beats the Gigabyte X38 board when the settings are in low, but once we cranked it up to High settings, the X38 had just enough horsepower to edge out the ASRock board. Both boards would have been unplayable at the high settings though.

Vantage is a total sweep for the ASRock board. It was incredible to see this board do so well. I mean, after all, it is an older chipset.

I think this just proves what we discussed in our article on the Spider platform, that upgrades are not always upgrades. Sometimes they are just bragging rights.

The performance is there on the ASRock 4Core1600P35-WiFi, no question about that. So let's see how it does in the overclocking area.

Overclocking Results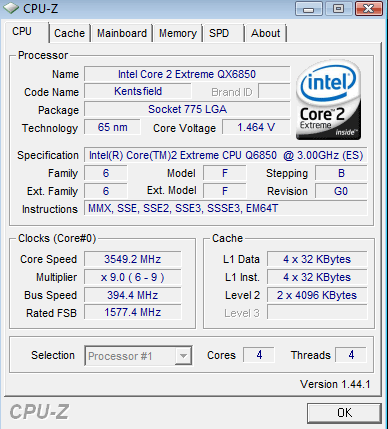 Our overclocking adventures on the board were very short lived. With there being no settings to adjust the multiplier, all we could do was use the default mutiplier on our QX6850 and see how far we could push the fsb. So, we did that, and the best stable overclock that we could get was a fsb of 394, which is actually very good for a board in this price range. That gave us a 550Mhz overclock. ASRock could sweeten the appeal of this board by allowing for multiplier adjustments. This certainly is something that can be easily fixed with a BIOS update, and it is something that has mentioned numerous times before.
With the performance of the board as good as it is, if ASRock... well, never mind, if I say it then I will have nothing to say in the conclusion. So let's just move on to the conclusion.

Update: March 25th - ASRock has informed us that the way to get the multipliers with this board is to disable Intel Speedstep in the BIOS. We are not sure why that needs to be done, but we did it and Hocus Pocus! We had multiplier adjustment! With this available to us, we took a quick stab at overclocking again using a 7x divider, and this is what we came up with...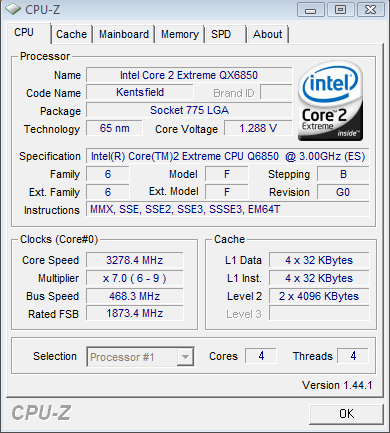 Things are still a little odd with this overclock. Though the screenshot shows 468fsb, we actually had it set to 473 fsb in the BIOS. Either way, we are glad to see the option to use the dividers in the BIOS. We are not sure why they are hidden the way they are, but now at least you know.

Final Thoughts And Conclusion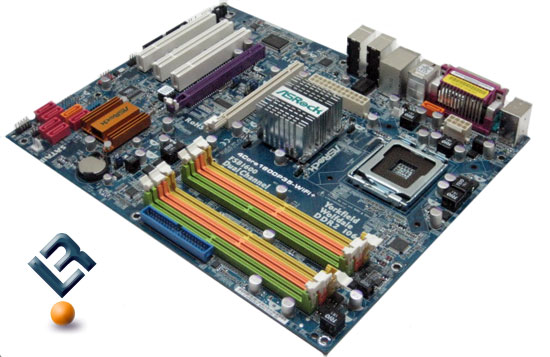 Ok, so here we are at the end of the review. ASRock has sent us a lot of boards in the last year, and they have all done pretty well for themselves. There are not usually huge changes to the boards, as they add a feature here or there, give it a new name, and then send it out. In fact, I even made a joke to Nate about this once that all they had to do was mass produce one box for their boards and use a Sharpee to write the new name as it was getting shipped out.

ASRock seems to have done something different with the 4Core1600P35 WiFi+ though. ASRock has a reall winner on their hands here. Not that there is no room for improvement, there always is. We will mention just a couple things as we finish this one up.

As far as performance goes, ASRock is to be commended on their ability to take a chipset that everyone else is dumping and making a solid performing board with it. the P35 is a great chipset, and ASRock has taken that greatness and shown that the P35 can compete with anything new that is out there.

The layout of the board is one area that I think ASRock should take a close look at. We have said it before, but the 24-pin power connector has no business being basically in the middle of the board. it is out of place and is just plain in the way. ASRock needs to pay attention to these little details, as it does make a difference to the end user. They could also dump some of the legacy stuff on the I/O panel, which would give them some room to add a couple other things that may also give the board a broader appeal to the market. The addition of the WiFi card is a nice touch.

Overclocking was pretty good for a board of its nature. A fsb of 394 is very respectable. This board likely could be a lot more of a temptation to some if it included the ability to adjust the multiplier. (See update on the overclocking page! The multiplier is available after all!) This is a little thing that can quickly be fixed by ASRock. Enthusiasts are not always about getting the most expensive and latest board out there. Many are concerned about bang for the buck, and this board could fit that very easily if this small change would be made.

Price is always a good area for ASRock boards. At the time of writing, the ASRock 4Core1600P35-WiFi+ motherboard is running right at $130. With the included WiFi and eSATA on the board, this is not a terribly bad price when compared to other P35 boards that are similarly equipped.

Legit Bottom Line: ASRock has a winner here! This board, even with its shortcomings, has awesome potential. If ASRock can address these few things as they continue to develop their boards, they will become known not just for cheap priced and older boards, but they will be known for their ability to get the most out of mature chipsets. If you are looking for a board that is fast, has decent overclocking ability without the option of adjusting the multiplier and is reasonably priced, the ASRock 4Core1600P35-WiFi+ should be on your short list.