Introducing The Targus Voice Recording Presenter with Laser Pointer
With school firmly back in for those of us in academia as well as the holiday blues farther behind those that do the 9-to-5 thing, today we look at a tool that makes life much easier for those of us who speak and present on a regular basis. Whether you are the student giving presentations to your speech class, or the professor who tries to keep his students awake with interesting content, or the businessman trying to land that big contract, you will find a use for a device such as the Targus AMP05US Presenter.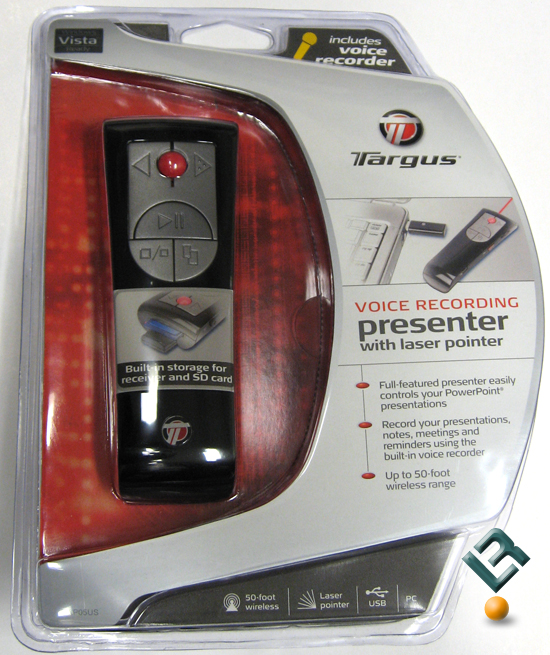 The device that Targus presents to us is a way to remotely control a computer that is using presentation software such as Microsoft PowerPoint. Targus, best known as one of the world's leaders in providing computer carrying cases, has a fairly large cadre of computer hardware accessories that makes life much easier for the person who is constantly on-the-go. A good example of that is the AMP05US which is touted as a "4-in-1 Pointing Device"; A PowerPoint presenter, laser pointer, integrated voice recorder and a built-in SD memory card reader.
For a list price of $69.99, Targus has placed this pointer firmly in the middle of the road when it comes to price-point. There are a lot of cheaper pointers on the market that do much less. Likewise, there a tons of other pointers and presentation mice that have fancier features. It looks like Targus made a conscious effort where to place this product. The question I had when looking at the device though was, "did they take too much away?" Let's look closer: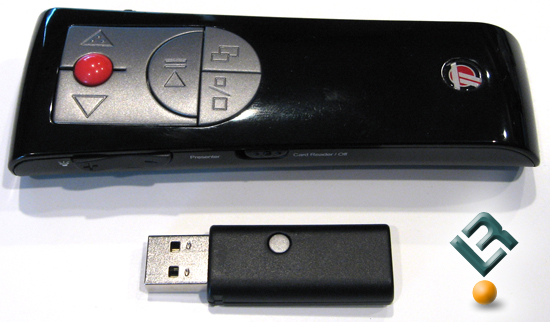 Nothing fancy about the packaging or the box contents. Targus gives you enough to get you going in less than 5 minutes including AAA batteries, a carrying case, and a USB-to-"USB mini" cable. The USB transceiver is very cool and is stored in a built-in slot on the AMP05US. In my opinion, this makes it very difficult to forget the USB transceiver in the host computer.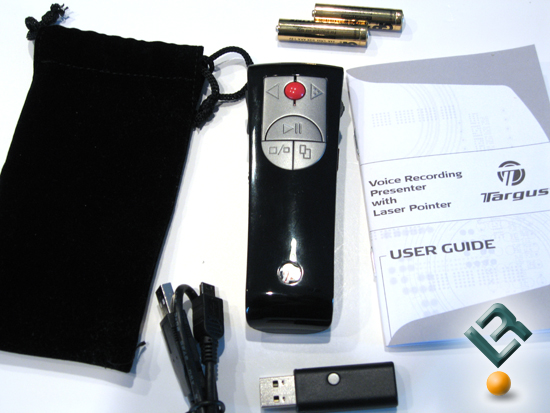 Key Features:
3-in-1 Functionality: PowerPoint Presenter, Laser Pointer, Voice Recorder, SD Memory Card Reader
Wireless: 2.4GHz, with 50-foot range
Easily record any presentation questions with the click of a button
Scroll wheel provides easy navigation
Weight: Less than 2 oz
Targus AMP05US Performance
Targus makes the AMP05US very simple to install and use under Windows XP and Windows Vista. Just plug in the USB adapter and go. This is especially nice for when you are giving a presentation in an unfamiliar location and you don't want to worry about installing drivers and such. After plugging in the USB transceiver, Windows, will locate the new hardware and have you up and running in no time. You then turn on the power the handset and you are good to go.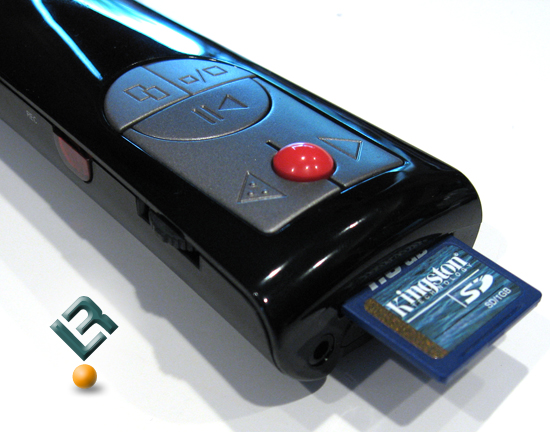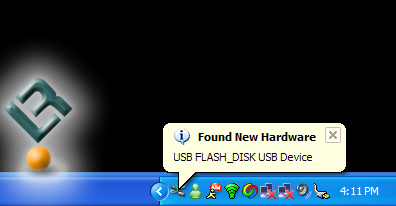 In PowerPoint, the AMP05US gives you the basic ability to go forward and backwards throughout your presentation. This, of course is the minimum that a presentation device should do. Targus also includes the ability to "quick-swap" between applications and documents a la when a user hits "Alt-Tab". There is a button to "play" or "pause" the multimedia that you are presenting, as well as button to instantly darken the presentation. This is the same feature that is found on most projectors with the advantage being that you have the power to do it at the touch of your fingers.
On the sides you will find a volume control toggle and scroll button. The scroll button is great for scrolling quickly through PowerPoint or if you are showing another document on your computer, you can use it to scroll up and down for instance if you showing a Word or Excel document.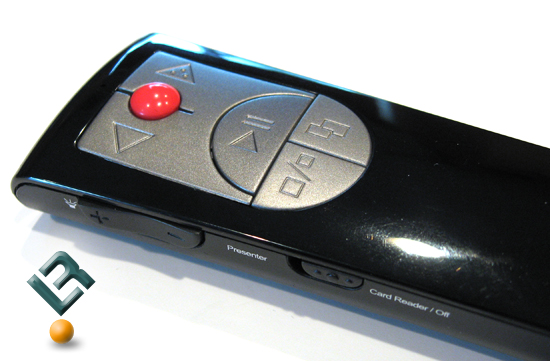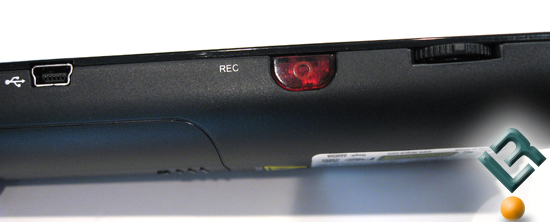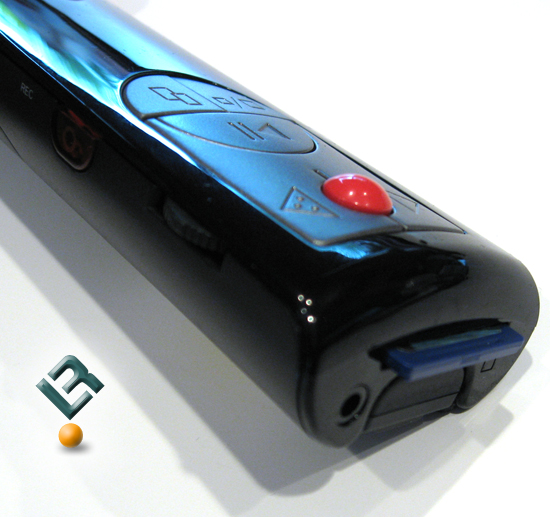 For the past few weeks I've been using the AMP05US in a variety of situations. Mostly in front of a hostile crowd of 60+ students at the University I teach at. Every night I bring in my laptop and set up PowerPoint presentations and view media clips. The Targus AMP05US is a necessity for me. I am able to roam the entire hall (mainly to make sure the students are still awake) to engage the audience in what is being discussed. While we are watching videos, I am easily able to adjust the sound and even blank the screen when it is time to discuss what was just presented. All of this without having to approach the podium, projector, or computer.
I have also used the Targus pointer and USB in the board room. The card reader really comes in handy when you want to transport your presentation or files. The SD card reader on the AMP05US doesn't require any drivers for Windows XP or Windows Vista, so after initially plugging it into a computer, the drivers load very quickly and file transfer is ready to go in less than 15 seconds!
The AMP05US records natively in mono WAV format which is universal across many platforms. The recordings are 32 kbps so you wont be releasing a CD of tunes any time soon, but it is perfect for recording lectures or long presentations – even your own! We estimate that at this bit rate, you can get over 7 hours of recorded material per 1 GB SD card. The Targus AMP05US automatically creates a folder called "RECORDER" and unique filenames for each voice recording. The recordings work quite well and is very easy to use.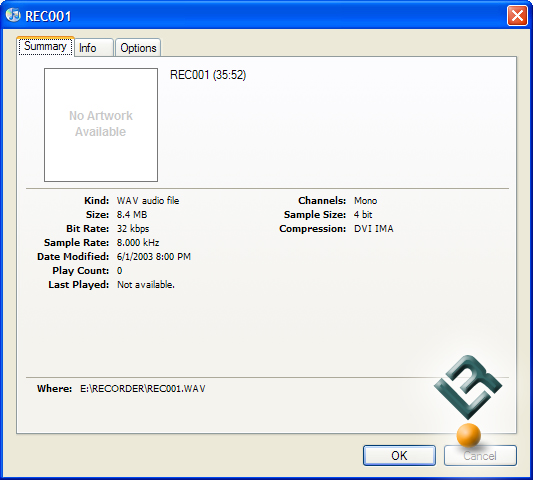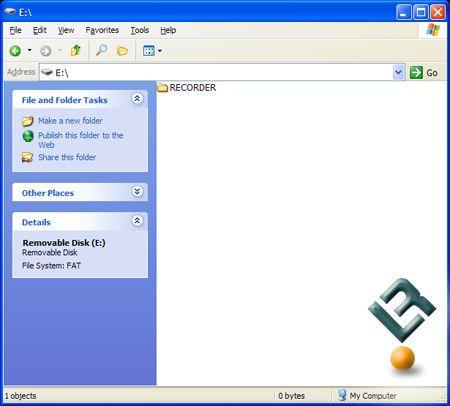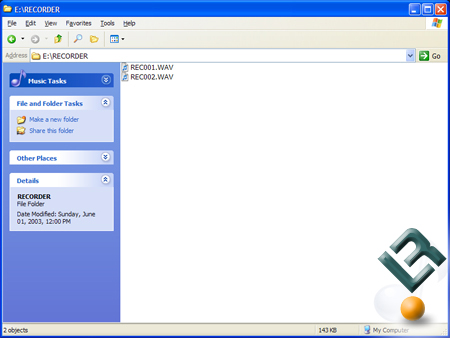 Conclusions & Final Thoughts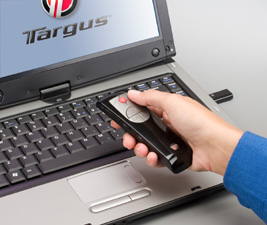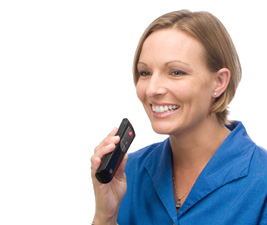 For the person who makes presentations in a variety of environments, the 2.4Ghz Targus Voice Recording Presenter AMP05US is one of the best, feature-packed presentation devices on the market. It may not have every bell and whistle that you can find, but Targus finds a balance and does an excellent job of giving the user a very professional looking and functional device. The layout of the buttons, both on the top and on the sides, are ergonomically comfortable for left- and right-handed users. The laser pointer is not the strongest or brightest that I've used, but is good enough to highlight text and materials from across a lecture hall and board room. It would have also been nice to have the ability to change the shape (ie larger, smaller, underline, flashing) on the laser's spot but we are very happy with the performance overall.
Targus did a very good job of choosing what buttons to leave off as well. For instance, for $50 more, you could get a presentation mouse with trackball, or one that looks like something out of Star Trek, but for the majority of users who need a presentation device, there is no need for a trackball (or anything else Mr. Spock would have handed you). Rather, the functions of the AMP05US are designed well for what it does: Giving the user the ability to present PowerPoint presentations and multimedia. The goal is simple, and the Targus AMP05US gets the job done without the fluff.

Legit Bottom Line:
For a street price of around $65, we highly recommend the Targus Voice Recording Presenter with Laser Pointer. Along with its voice recorder and built-in SD card reader, the AMP05US fits nicely in your hand and has every major feature one needs in a presentation device. It is an extremely solid presentation device designed especially for those who use Microsoft's PowerPoint on a regular basis.