Peaking Into The Future Of PC Gaming
While entering in the doors of The World Series of Video Games we walked right into the booths of ATI and Intel, two of the events biggest sponsors. With all the buzz about Conroe we thought we would swing by the Intel booth and take a look at one of these processors in person. We last saw Conroe at the Intel E3 booth, but we were on the search for more Conroe news. After asking the Intel representatives if they had any Conroe processors on display we were told no. Disappointed, but still determined to find something worthy to write about we went over to the ATI booth to get our first look at ATI Physics. ATI has recently introduced 'Boundless Gaming' to the World with their physics and since The World Series of Video Games is a gaming show ATI was sure to have their Physics on display. Again I was left disappointed as ATI didn't have any systems running physics in their booth At this point I was getting ready to leave the sponsor booths when I saw a sign that caught my eye.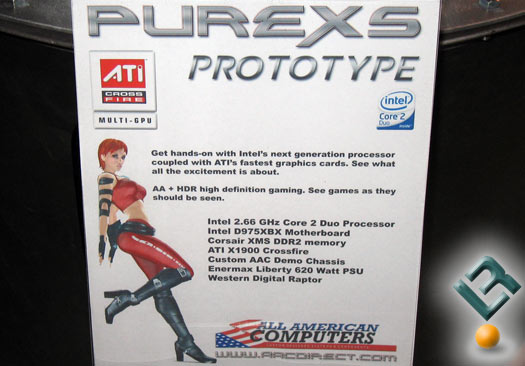 Two of the computer systems in the ATI booth were built by All American Computers and featured Intel E6700 (2.66 GHz / FSB 1066/ 4 MB shared L2 cache) processors. Shocked that the ATI booth had Intel Conroe processors on display we then found that the Gateway system also had an upcoming Core 2 Duo processor inside. We were able to fire up Oblivion and Far Cry on the system and check out what the next generation Intel processors feel like in real life. Here is the system that we were able to game on.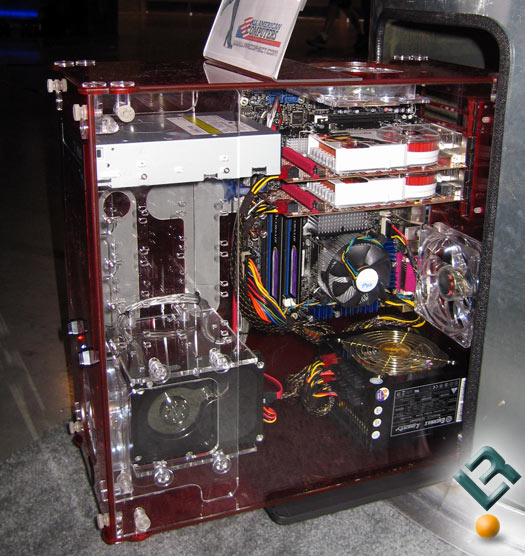 After hanging around the ATI booth trying to keep a low profile it didn't last long as Kyle Felstien from All American Computers (AAC) walked up and talked our ear off for the next several hours. Not only can AAC build a computer they can chat your ear off! In-between gaming and looking at his systems I managed to get a quick interview with the man over at AAC and got his thoughts this upcoming Intel Conroe system.
The Interview

Legit Reviews -- While walking through the ATI booth the stand out system is your PureXS prototype desktop gaming system. I see these systems are running 2.66GHz Conroe processors with a pair of ATI Crossfire X1900 video cards. How are these prototype systems turning out?
All American Computers -- They turned our really well! Some of the smoothest system work-ups we have had in a long time.
LR -- What on the PureXS systems is prototype for AAC?
AAC -- The Conroe processor, motherboard is a D975 XBX but a new revision and chassis is a custom made case. The main new feature is the laser cut inlayed logo on the back. We are considering using this technology on this chassis as well as our already launched LiquidXS. One thing we are trying to figure out is how much it is going to cost to offer it. What we would love to offer is the ability for the customer to provide any graphic they want and be able to have is cut into the chassis. If we can get things worked out we hope to offer this feature for the same price as the laser etching we already have on our LiquidXS cases.
LR -- Looking at the cooling solution it looks familiar, is it?
AAC -- The cooling we are using is the Intel Retail box HSF from a 630 CPU (3 GHz). Keeps the conroe nice and cool. The lower thermal output of this cpu is very exciting. As everything in a system has increased in power and heat it really is a nice change.
LR -- All of your high end gaming systems (LiquidXS) are water cooled. Will we see water cooling in the production versions of the PureXS? If yes, will you be overclocking these systems right out of the box?
AAC -- PureXS will continue to be air-cooled. Our intention with this product is to produce a high quality custom system with more of a value price. All options that are available with LiquidXS can be found in PureXS except water-cooling and overclocking. On LiquidXS I am very interested to get our engineering mule running with Conroe as this processor looks like it could be an overclocking monster with good cooling.
LR -- Since you mentioned pricing, what do you expect the price point for the PureXS 'Conroe' systems to start at?
AAC -- I expect these systems to price very similarly to existing Intel systems both PureXS and LiquidXS.
LR -- So what can you tell us about the system performance?
AAC -- HAHA Can't give exact numbers but it is very good. It is going to give Intel fans something to talk about. One a high-end system like these X1900 Crossfire systems they really do see a major boost with this CPU.
LR -- Your systems are in the ATI booth, yet none of the systems here are running ATI Physics. With ATI's recent announcement of "boundless gaming" I'm surprised you are not running one of their cards in your demo system.
AAC -- I personally don't know why they did not get a physics demo for this event. I really want to see it too.
LR -- When are these prototype systems going to be available for purchase?
AAC -- We are still looking into the chassis design. It is very important that the case is durable enough to survive shipping and daily use. If there is interest and we can get it to customer we will deliver it ASAP. As for the Conroe we plan to offer it in our existing PureXS and LiquidXS gaming systems at launch.
LR -- With Intel's next generation processor coming out, Core 2 Duo, what are your thoughts on the gaming industry? Should we expecting a busy summer or should buyers wait for Vista to launch in 2007.
AAC -- That is a hard question to answer. Conroe is going to be something special. Between it and AM2 there will be many new products available. If I was buying now I would definitely make sure the system I build is ready for Vista. But I am expecting this to be pretty busy once people see the new processor (Core 2 Duo).
LR -- In closing what are you looking forward to in the gaming industry when it comes to hardware?
AAC -- Now that I have seen what processors are about to launch. I have to say I am most excited about the new DX10 cards. With unified shaders and capable of much more detail I think DX10 is going to be a major leap when it comes to gaming hardware.
Final Thoughts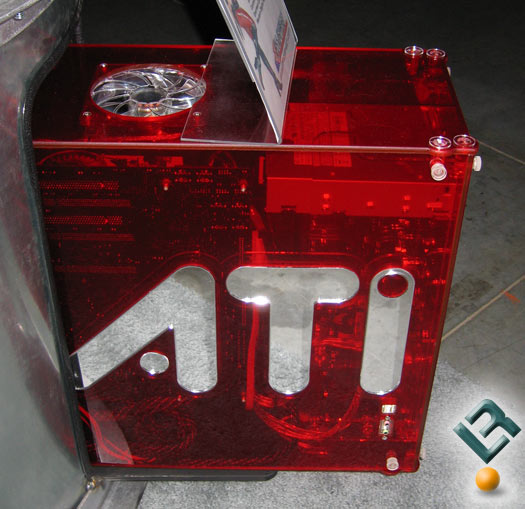 My Final Thoughts:
It's insteresting to see how Intel and ATI came to one of the major LAN parties in America and didn't bring the latest and greatest gaming hardware. With ATI and Intel already showing their upcoming product series at other events it seems silly that they wouldn't show them to their consumers. The World Series of Video Games is not without cutting edge technology thanks to AAC and Gateway with their Conroe displays in the ATI booth.
Now it's time to get back to gaming and seeing old friends that are in town for the event. With no date or location set in stone for Quakecon I'm glad that I was able to make it down to Louisville, Kentucky for the opening of the WSVG 2006 series. In closing here is a shot of the competition area at the LAN!