The XFX 7900GTX XXX Edition Video Card Arrives
It?s now been nine months since Nvidia released the 7800GTX and shortly after, the 7900GT. With 24 pipelines and 8 vertex shaders it was the undisputed king until the ATI X1800XT came along. At about the same time Nvidia released the 7800GTX 512 which kept Nvidia in the top spot. The card was great and for a couple of weeks they sold very well but the problem was that supply quickly dried up and the price went through the roof. The few that can still be found are selling for over $900. Faced with the pressures of few GTX 512?s actually shipping and competing with the new king of the hill X1900XTX, Nvidia is refreshing two new boards based off the same 24/8 architecture that they released in the original 7800GTX back in June.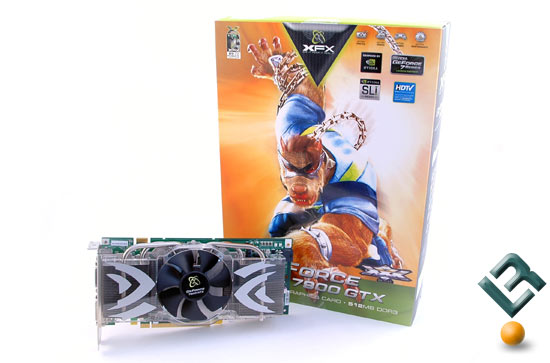 With the introduction of the 7900GTX Nvidia has set their sights on besting ATI?s X1900XTX, expecting wins in a majority of the benchmarks. Can the shrink from 110nm to 90nm give Nvidia enough to compete?
Today Legit Reviews takes a look at the XFX GeForce 7900GTX 512MB DDR3 XXX Edition. This card is the fastest of FIVE GeForce 7900 GTX models that XFX is selling. The test card is shown below and is massive just like the 7800 GTX 512 series.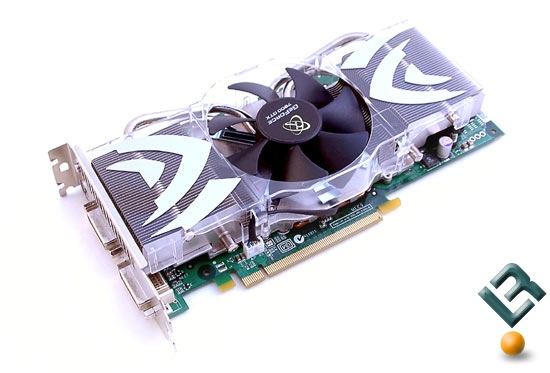 NVIDIA is not sending out reference cards this time around they have cards in the market and sent out partner cards for us to review. NVIDIA also went one step futher and sent us photos of their retailers showing that their cards are in stock on the launch. It looks like the GeForce 7900 GTX will be out in force unlike the 7800 GTX 512's that NVIDIA was unable to produce with good yields.
What's New With The 7900GTX
Now that we know the NVIDIA GeForce 7900 has launched let's take a look and see what has changed versus the NVIDIA GeForce 7800 video card series. To make things easy let's take a look at the specification chart.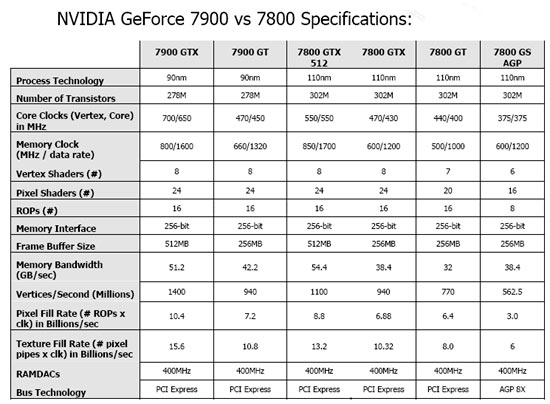 It turns out that the NVIDIA 7900 is based on the architecture of the NVIDIA GeForce 7800 GPU launched in mid-2005, but is now implemented in a 90nm manufacturing process. NVIDIA is calling this one of their most architecturally efficient GPU's ever made. Thanks to the die shrink the GeForce 7900 has a 196sqmm die size where the ATI X1900XTX is 352sqmm. In terms of size the 7900 core is nearly half the size of the ATI X1900 core. How does this impact you? The GPU should consume less power and generate less heat. Expect an article in the near future looking into power consumption on these high end cards.
The number of transistors is actually 24 million transistors lower thanks to the die shrink and some tweaks to the die. NVIDIA was able to increase the core clock to 700/650MHz (Vertex, Core) from 550/550MHz in the 7800GTX 512. While they increased the core they backed off the memory clocks by 50MHz, which we believe was done to increase yields and decrease costs. It is obvious that NVIDIA knows they pushed the envelope on the 7800GTX 512 and after not being able to get good yields have re-thought their approach to their flagship card.
The 7900 GT?s internal architecture is similar to the 7900 GTX and only differes with reduced clock speeds.
To sum up the features it is clear to us that the 7900 is indeed more efficient architecturally, and if things play out like NVIDIA plans this should also translate to lower street pricing.
Now that we know the specifications of the GeForce 7900 series let's take a look at the features.
NVIDIA 7900 GTX and 7900 GT Features and Benefits
Features and Benefits
The following is a list of features and benefits that NVIDIA provided us for the Geforce 7900 GTX and 7900 GT and we thought it would be best to include it for you to take a look at.
Full Microsoft DirectX 9.0 Shader Model 3.0 Support: The standard for today?s PCs and next-generation consoles enables stunning and complex effects for cinematic realism. NVIDIA GPUs offer the most complete implementation of the Shader Model 3.0 feature set?including vertex texture fetch (VTF)?to ensure top-notch compatibility and performance for all DirectX 9 applications.
Built for Microsoft Windows Vista?: NVIDIA?s third-generation GPU architecture built for Windows Vista gives users the best possible experience with the 3D graphical user interface in the upcoming operating system (OS) from Microsoft. The GeForce 7900 GTX and 7900 GT GPUs are fully compatible with Microsoft Vista?s DirectX 9.0L and Longhorn Display Driver Model (LDDM).
NVIDIA SLI Technology*: Delivers up to 2x the performance of a single GPU configuration for unparalleled gaming experiences by allowing two graphics cards to run in parallel. The must-have feature for performance PCI Express graphics, SLI dramatically scales performance on today?s hottest games.
NVIDIA CineFX? 4.0 Engine - Delivers advanced visual effects at unimaginable speeds. Full support for Microsoft DirectX 9.0 Shader Model 3.0 enabling stunning and complex special effects. Next-generation shader architecture with new texture unit design streamlines texture processing for faster and smoother gameplay.
Full-Speed 128-Bit Studio-Precision Computation - 128-bit studio-precision computation (32-bit per component) through the entire pipeline delivers increased image quality with no performance compromise by preventing image defects due to low precision and thereby ensures the best image quality for even the most demanding applications.
Transparency Antialiasing - Supports transparency supersampling and multisampling to dramatically improve the quality of objects modeled in alpha-tested textures (typically environmental details like chain link fences, grass, leaves, or other vegetation).
NVIDIA Intellisample? 4.0 Technology - The industry?s fastest antialiasing delivers ultra-realistic visuals, with no jagged edges, at super-fast speeds. Visual quality is taken to new heights through a rotated grid sampling pattern, advanced 128 Tap sample coverage, 16x anisotropic filtering, and support for transparency supersampling and multisampling.
True High Dynamic-Range (HDR) Rendering Support: The ultimate lighting effects bring environments to life for a truly immersive, ultra-realistic experience. Based on the OpenEXR technology from Industrial Light & Magic (http://www.openexr.com/), NVIDIA?s 64-bit texture implementation delivers state-of-the-art high dynamic-range (HDR) visual effects through floating point capabilities in shading, filtering, texturing, and blending.
90nm Process Technology: Delivers higher performance through blazing clock rates.
256-Bit High-Speed GDDR3 Memory Interface: Support for fast GDDR3 memory with high bandwidth delivers fluid frame rates for even the most advanced games and applications.
NVIDIA PureVideo Features
Adaptable Programmable Video Processor - NVIDIA PureVideo is a programmable technology that can adapt to new video encoding formats as they are developed, providing a future-proof video solution.
MPEG-2 Decode Acceleration - Allows smooth playback of all MPEG-2 videos with minimal CPU usage ? freeing the PC to do other work. Requires MPEG-2 decoder.
H.264 Decode Acceleration - Enables the delivery of Hollywood movies stored on Blu-Ray or HD-DVD disks by decoding H.264 content and significantly reducing CPU utilization.
WMV Decode Acceleration - Playback videos in Microsoft?s Windows Media Video High Definition (WMV HD) format without skipping frames or losing video detail.
Inverse Telecine (3:2 & 2:2 Pulldown Correction) - Recovers original film format data to provide more accurate video playback and superior picture quality for both SD and HD interlaced content. Requires supported video software.
Bad Edit Correction - Detects disruption of the normal 3:2 or 2:2 cadence resulting from poor edits made after a film has been converted from 24 frames to 25 or 30 frames per second video format. Uses advanced processing techniques to recover the original film content and display smooth, natural looking video.
Spatial-Temporal De-Interlacing ? Smoothes SD and HD video playback on progressive displays to deliver a crisp, clear picture that rivals high-end home theater systems. Requires supported video software.
High-Quality Scaling - Allows for upscaling of a low-resolution video to HDTV resolutions (up to 1080p), while maintaining a clear, clean image. Also allows for downscaling videos, including high-definition, without experiencing any annoying flicker, while preserving image detail.
Video Color Correction - Corrects differences in color characteristics of RGB monitors and TV monitors through NVIDIA PureVideo?s ProcAmp Color Controls settings, such as Brightness and Contrast. The display gamma correction ensures videos are not too dark, overly bright, or washed out regardless of the video format or display.
Integrated SD and HD TV Output - Connects to your standard definition or high-definition TV via Composite, S-Video, Component, DVI, or HDMI connections. Supports resolutions up to 1080p depending on connection type and TV capability.
UltraShadow II Technology - Enhances the performance of bleeding-edge games, featuring complex scenes with multiple light sources and objects.
Normal Map Compression normal maps can be compressed 2:1 using the V8U8 compression technology, and applications using 3DC compression format will transparently work on the GeForce 7900 GTX/7900 GT.
NVIDIA ForceWare Unified Driver Architecture (UDA) - Delivers a proven record of compatibility, reliability, and stability with the widest range of games and applications. ForceWare ensures the best out-of-box experience for every user and delivers continuous performance and feature updates over the life of NVIDIA GeForce GPUs.
OpenGL 2.0 Optimizations and Support - Ensures the best performance and application compatibility for all OpenGL applications.
Dual Dual-link DVI Support: Able to drive two of the industry?s largest and highest resolution flat-panel displays up to 2560x1600.
Dual 400MHz RAMDACs - Blazing-fast RAMDACs support dual QXGA analog displays with high, ergonomic refresh rates up to 2048x1536 @ 85Hz.
Well that wraps up the specifications and features of the NVIDIA GeForce 7900 series. Let's take a look at our XFX GeForce 7900 GTX video card!
The XFX GeForce 7900 GTX
Taking the XFX GeForce 7900 GTX out of the box we noticed it looks nearly identical to our GeForce 7800 GTX 512 with the exception of the sticker on the cooling fan. Other than a couple capacitors and transistors on the PCB being different the 7800 and 7900 series of cards are hard to tell apart.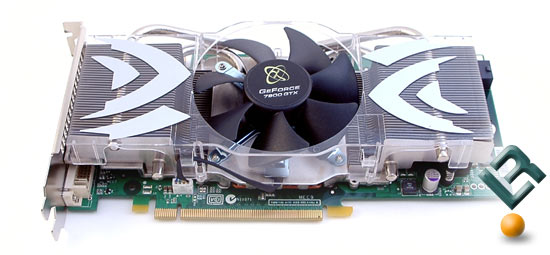 The XFX 7900 GTX retains the reference heatpipe heat sink and PCB color. Taking off the heat sink we found the core had a nice coating of thermal compound applied and each memory IC had thermal tape on them. The cooler on the XFX 7900 GTX card did a great job of keeping the card cool and it actually runs quietly. Load temps seldom went over 52 Celcius on our test system with idle temps sitting in the mid-high 30's.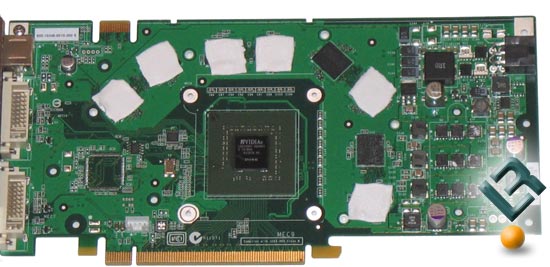 With the cooling solution removed one can see how truly small the 196mm squared core is on the card. The NVIDIA G71 core is roughly the same size as the Samsung GDDR3 memory IC's used on the card. The XFX 7900 GTX has 512MB of RAM clocked at 1.8 GHz (reference was 1.6GHz). With the die shrink XFX has been able to overclock the core clock to 700MHz, up 150 MHz from the 7800GTX 512, and 270 MHz from the 7800GTX 256. Memory clocks are actually up 100 MHz to 1.8GHz from 1.7 GHz found on the GTX 512.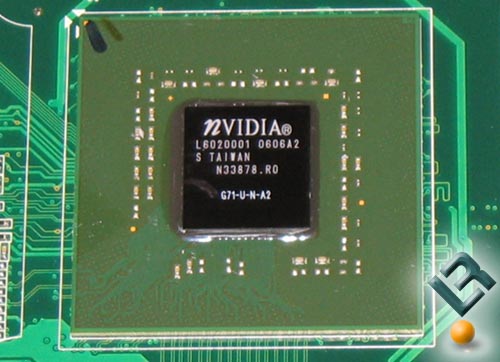 Taking a closer look at the core (see the image above) we find that it is an A2 revision of silicon made on the sixth week of 2006. The core on out test card is not even one month old!

Pictured above is our 7900GTX and as you can tell it is a dual-slot design with dual dual-link DVI connectors. The 7900 GT has a single slot cooling solution, but still offers a dual dual-link DVI connector. Note the new 7-pin HDTV-out mini-din connector. With the 7-pin HDTV-out mini-din, a user can plug an S-video cable directly into the connector, or use a dongle for YPrPb (component) or composite outputs. Our prior 9-pin HDTV-out mini-din connector required a dongle to use S-video, YPrPb, and composite outputs. This is something we have wanted for a long time and it has finally arrived. Kudos to NVIDIA for taking the time to upgrade the mini-din connector.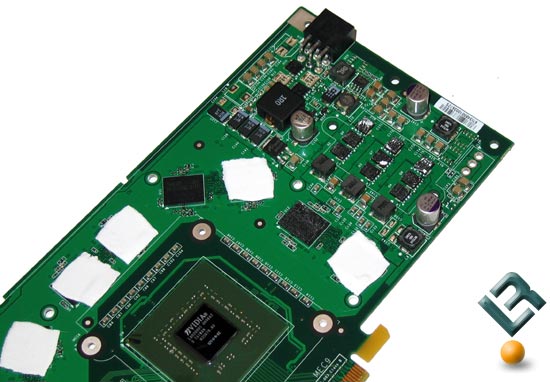 We thought it would be fun to see our 7900GTX naked, so we stripped down all the heat sinks and took some photos. The 7900 GTX requires the 6-pin PCI Express power header still as seen above.
Test system
As you can see there really is no visual difference between the 7800GTX 512 and 7900GTX.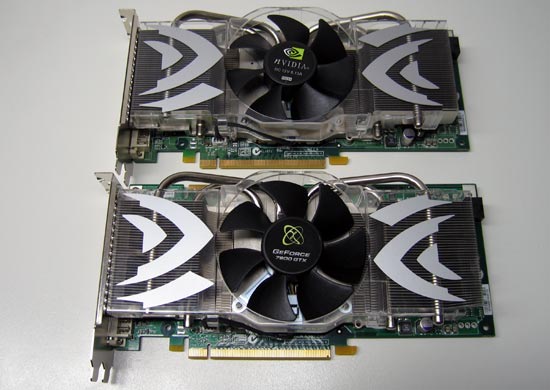 Here are the video card clock speeds that we tested at.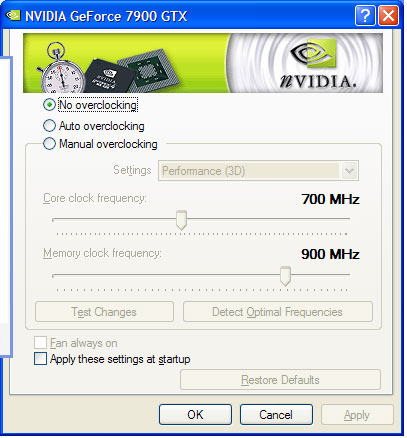 For testing purposes I used the following system:
Test System:
Video Card Test Platform

Component

Brand/Model

Live Pricing

Processor

AMD Athlon 64 4800+

Motherboard

DFI NF4 SLI-DR

Memory

2GB Crucial PC-4000

Hard Drive

Western Digital Raptor 74GB

Cooling

Vapochill Micro

Power Supply

OCZ PowerStream 600W

Operating System

Windows XP Professional
Please note that for all tests, excluding 3D Mark 2006, Nvidia image quality settings were set from "Quality" to "High Quality." ATI image quality settings were left at "High Quality" with "High Quality Anisotropic Filtering" enabled in Catalyst Control Panel.
Cards Tested:
XFX 7900GTX
Nvidia 7800GTX 512
ATI X1900XTX
ATI X1900XT
ATI X1800XT
Video Drivers:
NVIDIA Forceware 84.17 BETA
ATI Catalyst 6.3
Platform Drivers:
Quake 4
Quake 4 is a very relevant test as this is obviously a very popular multiplayer game. Having a low framerate while competing in a local LAN is only going to hurt your chances of winning.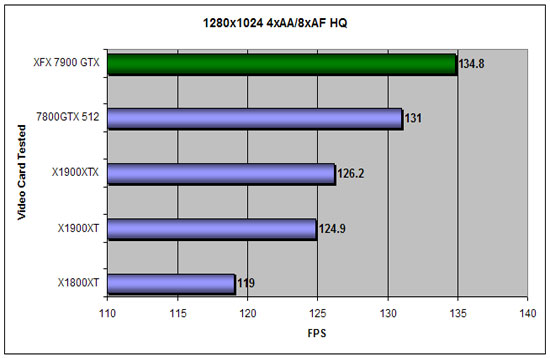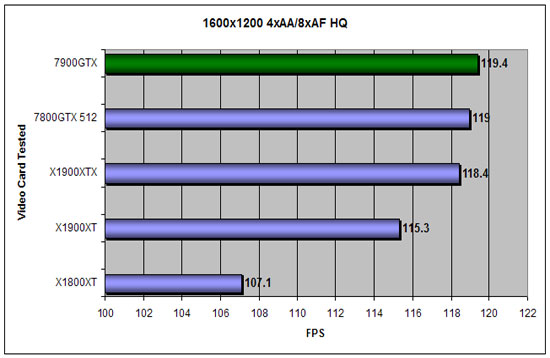 Not too much of a surprise here, the 7900GTX further extends the lead for Nvidia. There are some strange results at 1600x1200, even after running the benchmark several times the results were consistent. We are using the 1.04 patch.
Serious Sam 2
Ok, let's get Serious! This game offers HDR, tons of impressive scenery and enough enemies to make your trigger finger tired. We've provided results below with HDR and no AA, and results with standard Anti-Aliasing without HDR. HDR is the next big thing for games coming out today and on the horizon. Although the ATI X1000 series support the use of Anti-Aliasing with HDR enabled in Serious Sam 2, the Nvidia 7000 series does not. No HDR+AA results were included in the review for this reason.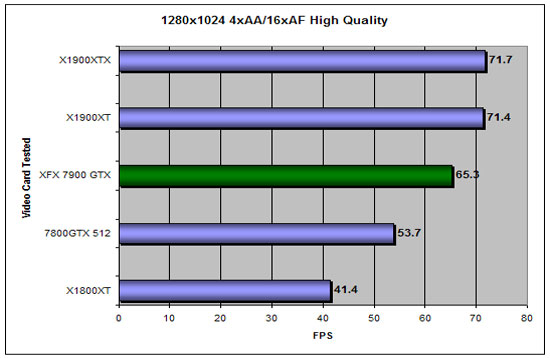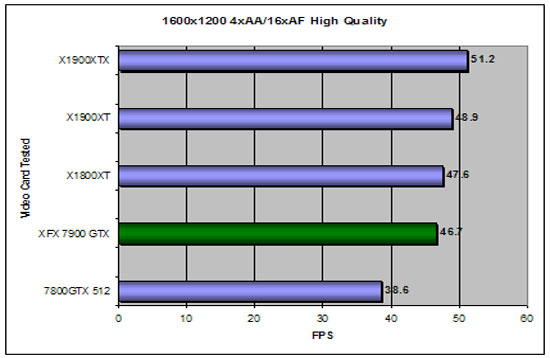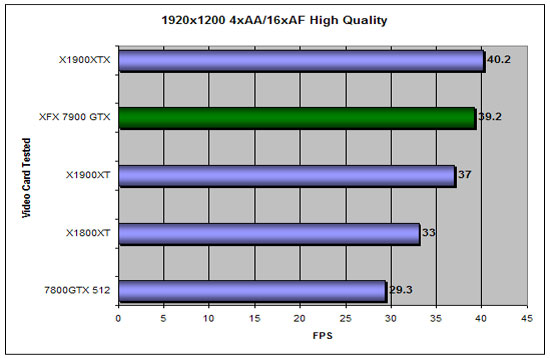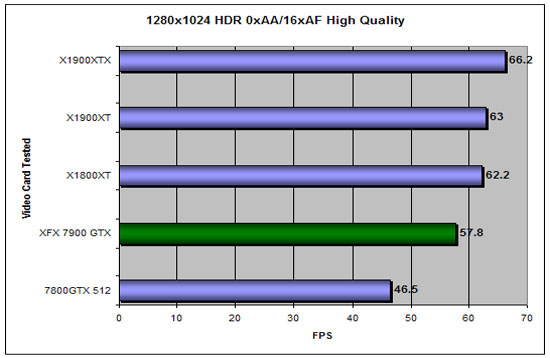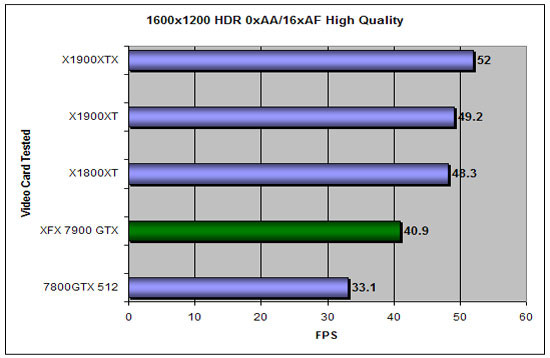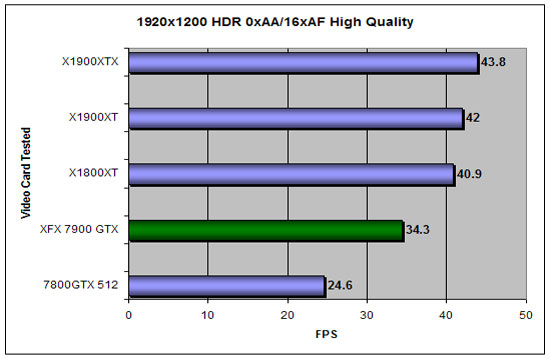 In Serious Sam 2 the 7900GTX is quite an improvement over the old 7800GTX 512. With standard rendering and Anti-Aliasing the new Nvidia part nearly takes the down the X1900XTX at the highest resolution. However, once HDR is enabled all three of the ATI cards are ahead of the pair from Nvidia.
One problem that we have seen in the past is poor performance by the X1800 line of cards in Serious Sam 2. It seems that the problem has been sorted out and the X1800XT performs very well, showing up even the 7900GTX in 4 of the 6 tests.
F.E.A.R
First Encounter Assault Recon or F.E.A.R. Anyone who has played this game knows that it brings any computer to it's knees. Fantastic visuals, this is one of the most advanced graphic engines we have seen. If you haven't played this game you should really check it out. Both graphics and machine settings were on "Maximum" in the F.E.A.R. performance menu. Soft Shadows were turned OFF.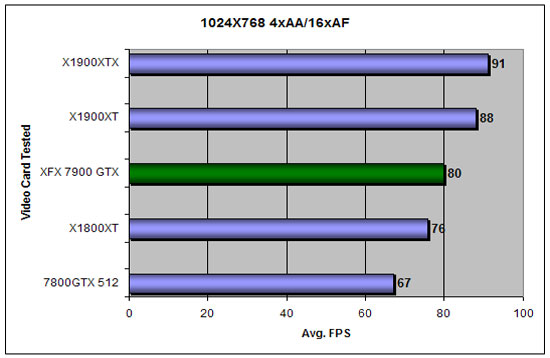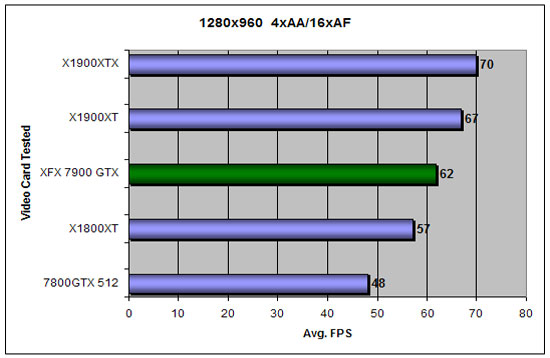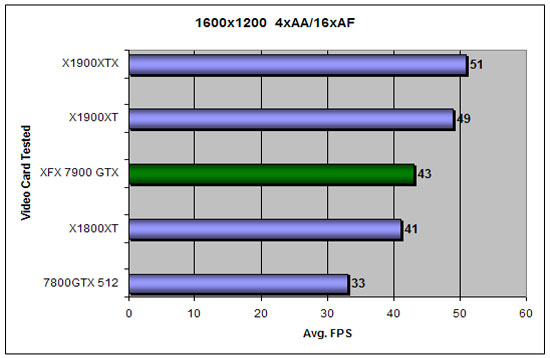 In FEAR we see a great showing for the 7900GTX. Nvidia latest is outperforming the X1800XT but it's still behind both of the X1900 cards. The 7800GTX 512 is well behind the rest of the group in FEAR.
X3: Reunion
This new game is starting to get a lot of attention and rightfully so. It offers some of the best visuals that we've ever seen in a PC game. Visit the gang at Egosoft and download the demo. We tested with the resolution set to 1280x1024, High Quality with 4xAA/16xAF and everything enabled.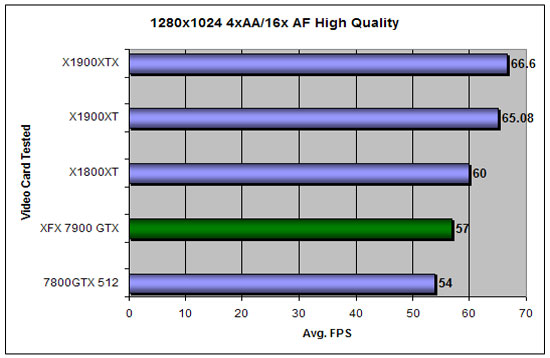 The 7900GTX performance in X3 is improved somewhat over the older Nvidia card and is closing in on the X1800XT but still not enough to keep up with the ATI X1900 cards.
Call Of Duty 2
Call of Duty 2 was tested with a custom multi-player demo. Quality Settings were set to max, DX9 rendering, and Anisotropic filtering. Optimize for SLI was enabled for all cards.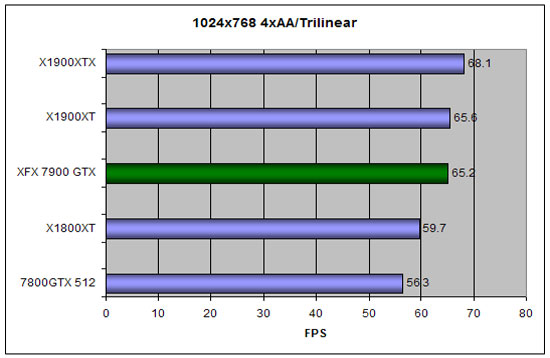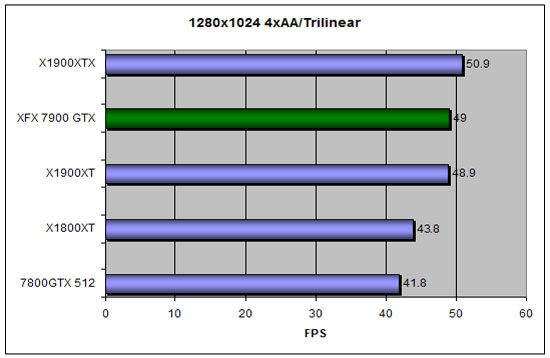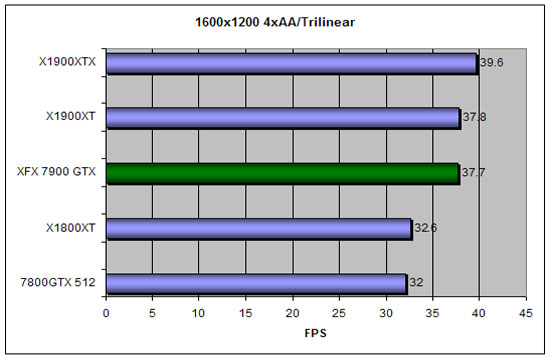 In Call of Duty 2 we see that the 7900GTX has nearly caught up with the performance of both X1900 cards. Playing a game you would not be able to detect the difference between the three of them.
3DMark 2006
Futuremark has overhauled "The Gamers' Benchmark" with the introduction of 3DMark 06. The benchmark includes improved Shader Model 2 tests, new CPU tests and HDR Shader Model 3 tests for system-wide gaming performance measurement. Final scores are now impacted very directly by the CPU used so we are including the Shader Model 2.0 and Shader Model 3.0 results as this will tell us just how well our video card performs in this benchmark.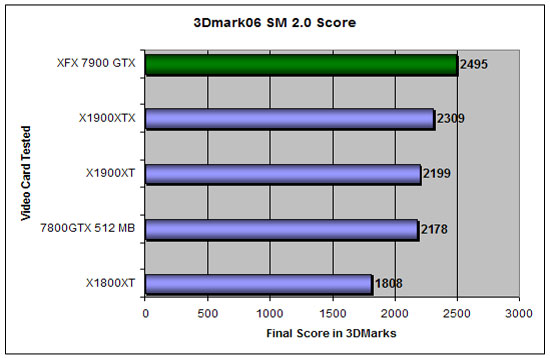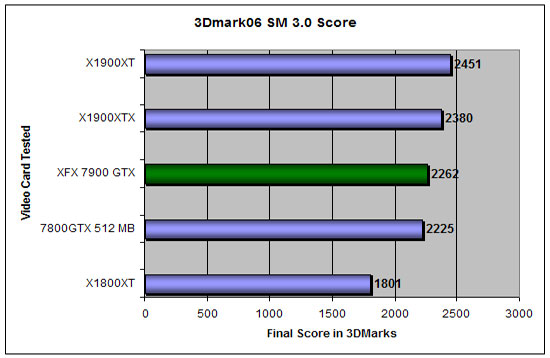 It looks like we have a new 3D Mark 2006 leader, by the slimmest of margins. Looking at SM 2.0 scores we see that the 7900GTX now has a firm lead here. SM 3.0 is a different story though with ATI X1900XTX still with a nearly 200 point advantage.
Toughts and Conclusions
There is no doubt that the 7900 GTX is one fast card, easily the fastest card available from Nvidia. The introduction of the 7900 GTX has put Nvidia back in contention for fastest video card available, but according to our testing, can?t quite make the claim of the fastest. Even with the core speed of our XFX card clocked to 700 MHz the 7900 GTX just doesn?t have enough to pull it off, but is very close.
The up side of this is that we the enthusiasts win as the pricing of 7900GTX is suggested to be at $500, bringing some sanity back to the world of high end video cards. ATI has also recently dropped prices on the X1900?s in anticipation of the 7900 GTX. Another great thing about competition is that just like the 7800 GTX and 7800 GTX 512 Nvidia is hard launching this card today! You will be able to order your own XFX 7900 GTX (or other brand for that matter) after reading this article. It?s something that is quickly becoming the norm, but should never be forgotten or taken for granted. Trying to decide between an X1900 series and a 7900 GTX is a tough call and will largely depend on what things you prefer. The X1900?s have superior Anisotropic Filtering, while the 7900 GTX are more mature when it comes to multi-GPU systems.
The XFX GeForce 7900 GTX XXX Edition (model number PV-T71F-YDD) performed well and comes backed with the double lifetime warranty from XFX. A double lifetime warranty means that XFX will repair and service your 6-Series or 7-Series Graphics Card for as long as you own it. All you have to do is register the card with them. And, should you sell or transfer the card, XFX will honor the warranty for the card's second owner, too, as long as they register it online. Not a bad deal for a warranty!
It should also be noted that XFX is currently selling five different models of the 7900 GTX on their site.
I tired to find the XFX GeForce 7900 GTX XXX Edition that we reviewed for sale on at launch, but couldn't find one. Newegg has the PV-T71F-YDE9 on sale for $549 and the PV-T71F-YDP9 for $599. Right now it looks like the 650MHz cards will run around $499 with the 700MHz cards selling for over $600 at the launch.

Brian?s thoughts :
The thing to take home about this article is that all of the cards in this review will play any game available today with no problems. The differences between the X1900XTX and 7900 GTX are so small that price will likely be the deciding factor. You will not go wrong with either card. In my opinion the X1900XT is the bleeding edge card to buy as it gives you 95% of the X1900XTX performance and can be found under $500.
Legit Bottom Line: The XFX 7900GTX is the fastest card you can get from Nvidia. The overclocked speed gives you the power to play any game you can get your hands on today at high resolutions with the settings maxed out.