Fractal Define XL R2 Case Review
Full tower PC cases are quite abundant in the PC enthusiast market; each manufacturer trying to make that perfect case with not only features and functionality, but also style. Sweden based Fractal Design is no stranger with making good looking cases that are easy to work with, so today we are going to take a look at the Define XL R2 Full Tower Chassis.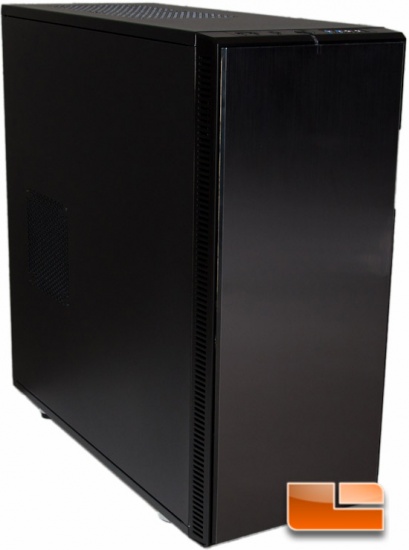 The Define XL R2 is a great looking full tower case that comes in either Black Pearl (FD-CA-DEF-XL-R2-BL) or Titanium Grey (FD-CA-DEF-XL-R2-TI). Sporting a price tag of $129.99 shipped on Amazon for Black Pearl, and $124.76 shipped for the Titanium, it puts this full tower case at a very reasonable cost. The case that we're going to look at today is the Titanium Grey version. We'll take a look and see if this case has what it takes to be successful!
Fractal Design Define XL R2 Specifications:
ATX, Micro ATX, mini-ITX, E-ATX and XL-ATX motherboard compatibility
4 - 5.25" bays
8 - 3.5" HDD trays - all compatible with SSDs
A total of 9 expansion slots
3 - ModuVent plates – two in the top and one in the side
7 - Fan positions (3x Silent Series R2 fans included)
Filtered fan slots in front and bottom
CPU coolers up to 170 mm tall (when no fan is installed in the side panel)
PSU compatibility: ATX PSUs up to 190 mm deep when using the bottom fan location; when not using this fan location longer PSUs (up to 345 mm deep) can be used
Graphics card compatibility: Graphics cards up to 330mm in length with the top HDD cage installed - With the top cage removed, graphics cards up to 480mm in length may be installed
26 mm of space for cable routing behind the motherboard plate
Thick rubber grommets on all holes on the motherboard plate
Colors available: Black Pearl (FD-CA-DEF-XL-R2-BL) & Titanium Grey (FD-CA-DEF-XL-R2-TI)
Case dimensions (WxHxD): 232 x 559 x 560 mm (9.13 x 22 x 22.05 in)
Net weight: 16.4 kg (36.15 lbs)
Warranty: 1 year
This case takes a ton of design cues from its smaller sibling, the Define R4 mid-tower case, as well as others from their latest Define line. You can see our review of the Define R4 here. Built around being silent, this case will be in the eyes of anyone who dislikes a noisy computer room. Fractal doesn't hold you to keeping it completely silent, as you can always put your own fans in by removing the ModuVent plates. You do get three Silent Series R2 fans included with the case, and from experience, these fans are very quiet, even on their highest setting.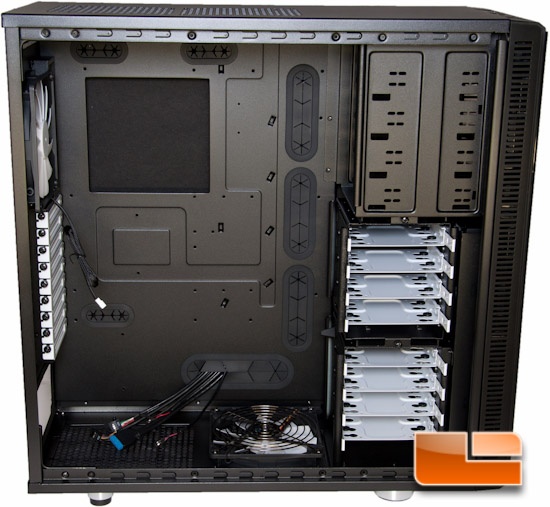 Giving you a piece of mind, Fractal Design provides a 1 year parts and labor warranty on the Define XL R2 chassis.
Up next, we will take a look at how Fractal Design boxes this case and if it can take the punishment from shippers when you buy online.
Fractal Design Define XL R2 Packaging & Unboxing
Shippers can sometimes beat up packages, so hopefully this case has plenty of protection around it. I know I was quite concerned with how squished the box was when I received it. Before we crack the top, let's take a quick look at the outside.
The packaging is a plan cardboard box, which will help cut their costs, and inevitably your cost. The first side here is nothing more than a drawing of the Define XL R2.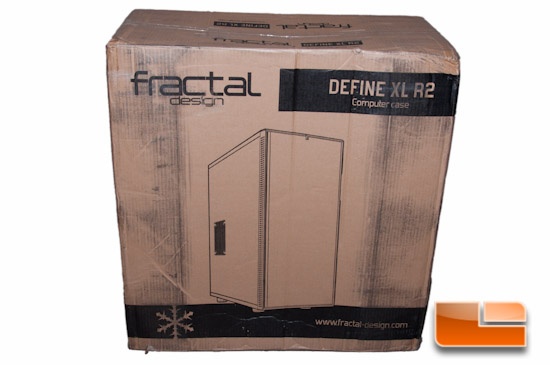 Rotating 90 degrees, we have a drawing of what the interior looks like, as well as a marking of what model (color) that you have. Again, we're looking at the Titanium Grey today.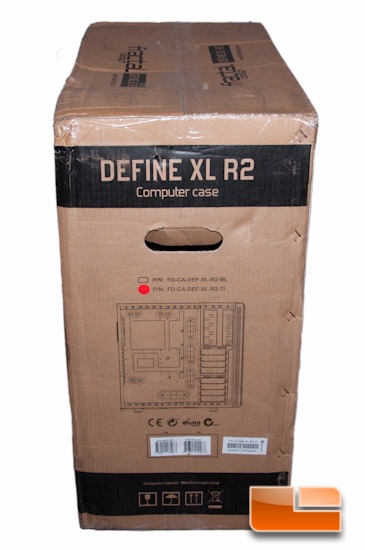 Another 90 degree turn and we have an exploded diagram with nice list of the features found inside the case.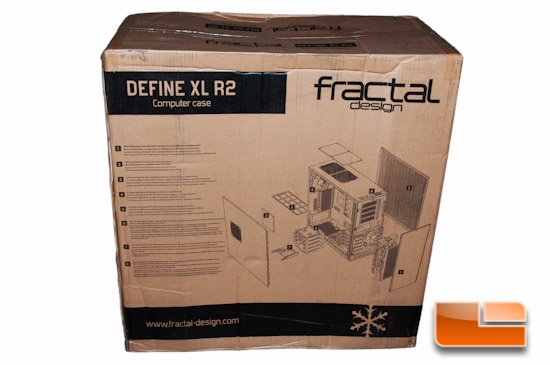 The last side gives you the specifications and a breakdown of the cooling system.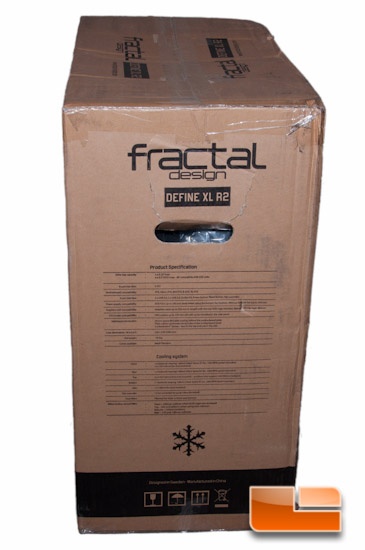 Finally, getting to something a bit more exciting, we pop the top and are greeted by the Define XL R2 wrapped in plastic with two nice thick Styrofoam blocks on the ends. There looks to be plenty of space and padding in here that everything looks like it should be fine.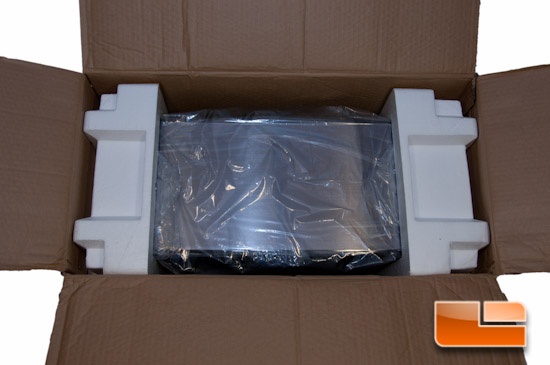 Pulling the case out of the box and pulling the plastic off, we're happy to see the front door has plastic protecting its slick brushed aluminum-like finish.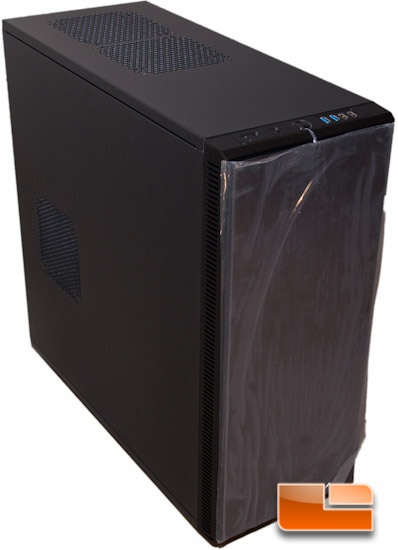 Upon further examination while out of the box, the case definitely did not get damaged, which always brings a sigh of relief and smile to my face!
Last but not least, we do find the user's manual and inside the case was the box that contains your standoffs, HDD, SSD, anti-vibration, thumb, and PSU screws, and some zip ties.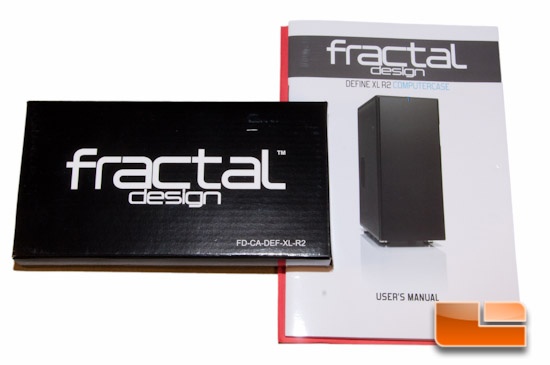 Next up, we will take a closer look at the exterior of the Define XL R2!
Fractal Design Define XL R2 Exterior Impressions
Fractal Design has gone the way of being simplistic on the exterior, while at the same time making the case pleasing to the eyes. The Define XL R2 does not disappoint with either of these qualities. Starting with the front door, we see a nice brushed aluminum finish.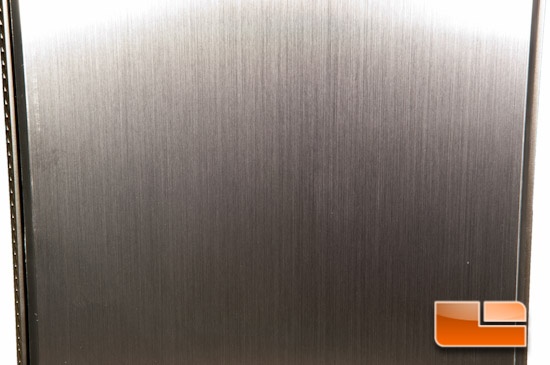 To pop open the door, you'll see a notch out on the right hand side. This absolutely makes opening the door quite a bit more convenient. There is a little force when trying to open it, as the door is held closed with a magnet.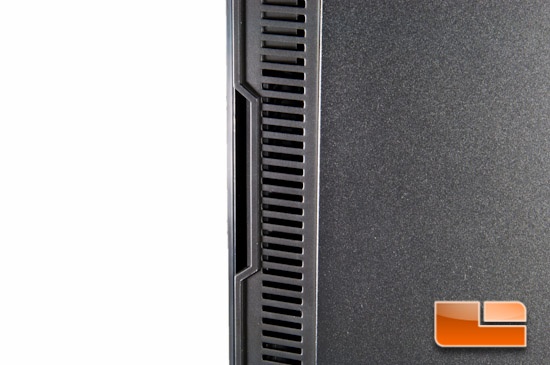 The door unfortunately only hinges to the left, which may be bothersome to a few. For me, with one of my other cases, I found myself needing to flip the door around due to the placement of my rig, which is where I find this a flaw. The hinge quality itself is nice and solid. On the back side of the door, there is a nice piece of foam padding to assist with sound dampening.
Concealed behind the door, are four 5.25" drive bays up top, the fan controller, and access to the fans in front.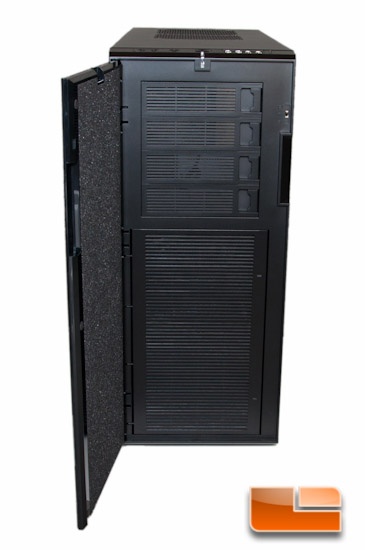 These 5.25" bays have fillers that are nice and easy to remove, though they can be a little tricky to get back in, should you need to.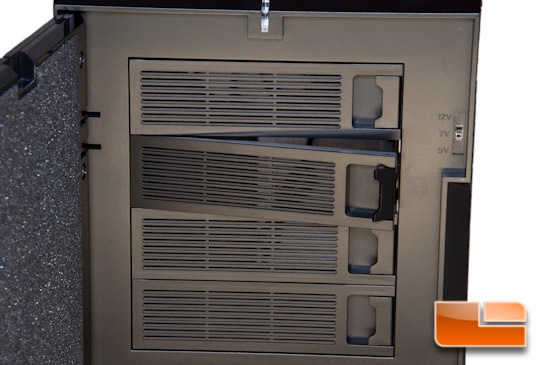 Just to the right of the 5.25" drive bays, lies the built-in fan controller. With this switch, you can switch the voltage of the fans from 5, 7, or 12 volts.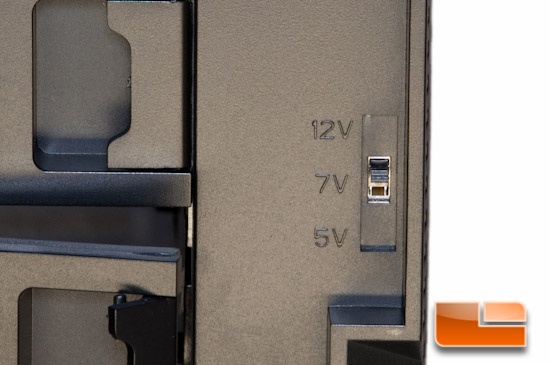 Just below the drive bays are places for two 140mm or 120mm fans. You simply push on the two marked spots where you see an arrow pointing up (bottom right of photo), and the door will open up to the left.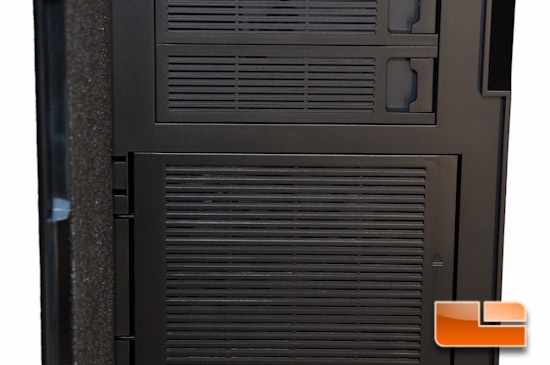 Behind that door is one of the included and pre-installed intake fans, which conveniently has a dust filter in front of it.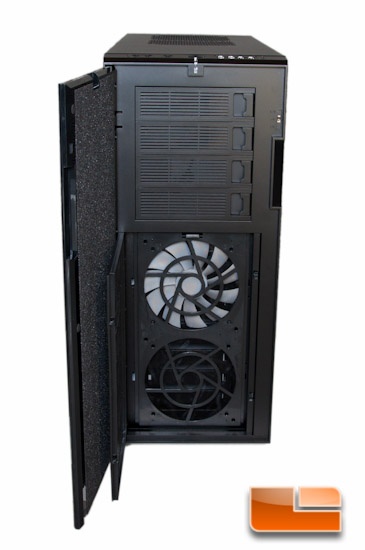 Pulling the fan cage out is a breeze (pun intended), as you just press down on the tab on top holding it in, and it'll just come right out. Unlike the Define R4, which has a filter that can be removed, this filter is integrated into the fan cage and is not removable. I would have liked to see the filter have the ability to be removed, as I do not always want to just vacuum them off, but rather I'd like to wash them, too. Fortunately removing the fans from their holder is simple.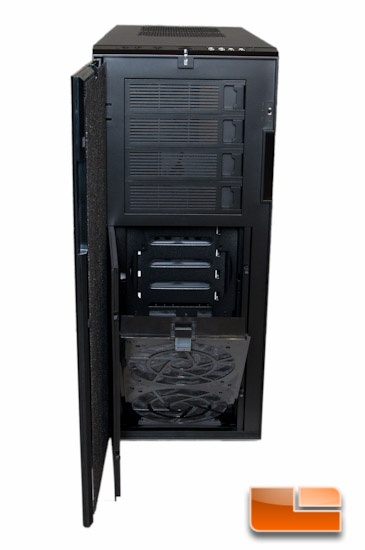 Moving to the very top of the face, and placed on the very edge, are all of your I/O connectors. Moving left to right, there is the microphone in, headphones out, reset button, power button, 2x USB 3.0 ports, and 2x USB 2.0 ports. There is also a blue LED for the power, just below the power button itself.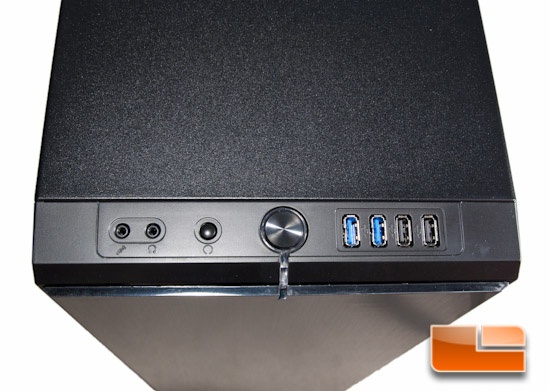 On the top of the case are two spots for either 120mm or 140mm fans, both which have nothing more than sound deadening material in place.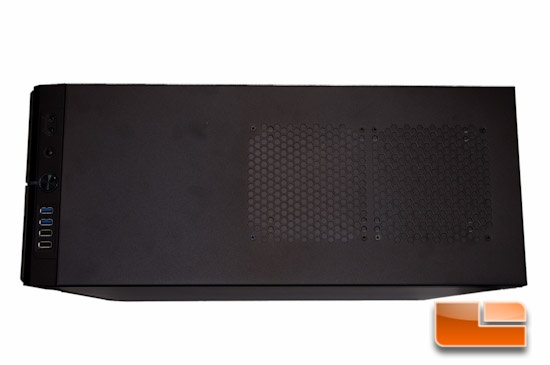 Sliding back down to the left hand side of the case, there is a spot for a 140mm fan to be mounted to the door. On the very right hand side is a long vent, which will help your intake fans pull in air.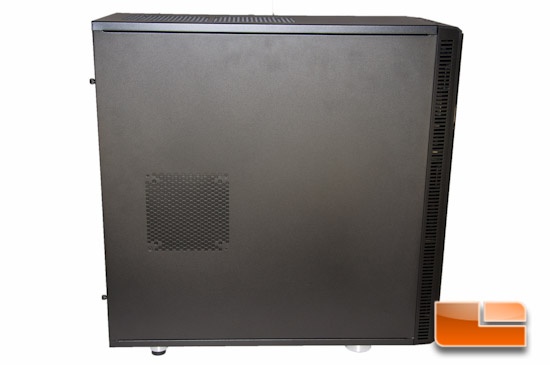 Removing the side panel is sort of easy, as on the rear are two thumb screws per panel. You will simply slide the panel back a bit and it "hinges" at the front of the case. This hinging method may be inconvenient for those who have this case in a tighter space. What would make this easier to remove, is if Fractal Design actually had a bump out on the rear of the panel, so you can actually get some grip on the panel with your fingers. Instead, you're left to use the friction between your hand and the panel, and then pull back with some force. If you can manage to get your fingernails behind the door, you may not find this much of an issue.
I do also have to note that when I popped this panel off, and due to the difficulty with removing the side panel, it plopped down on a harder surface that I was working on, which caused the paint to chip on the corner. I was not at all thrilled with this and felt it completely necessary to point out!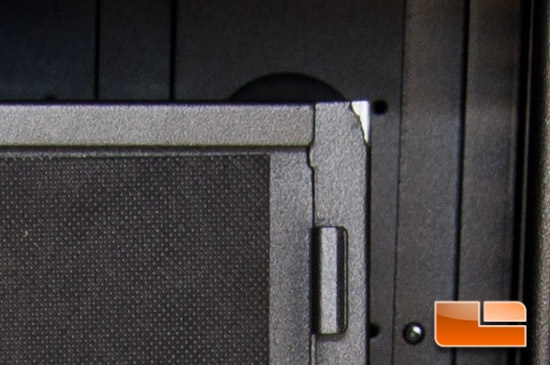 On the rear of the case, working our way top down is another one of the pre-installed 140mm exhaust fans. There are 9 expansion slots in this case, which the fillers are painted a cool white. On the bottom is where your PSU will mount.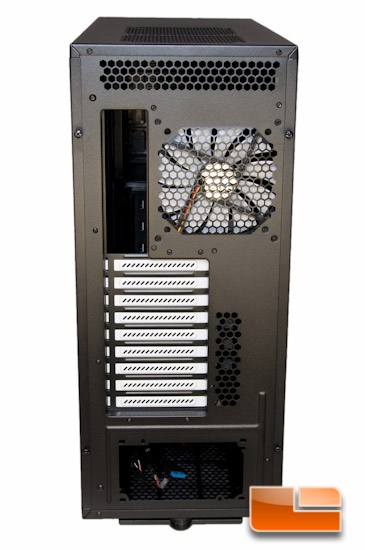 Also on the rear are the thumb screws that hold the side panels in place; four in total. I've seen much easier tool-less options for removing the side panels, but I'll take thumb screws over nothing!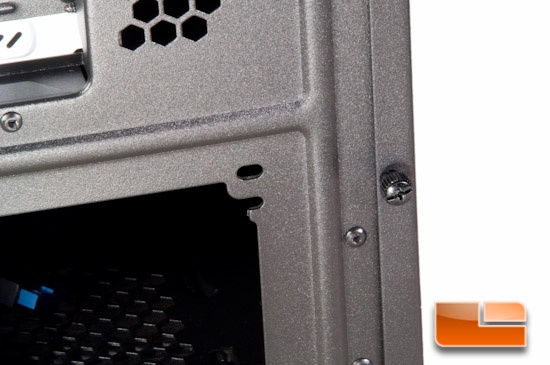 At the very very bottom lies the filter for the bottom. It can be removed from the case, sliding to the rear. I greatly appreciate the fact that this filter can be removed, though it is quite long and again, can only be removed from the rear. Depending on your placement of your case, this may be difficult to remove. In the picture below I have it slightly removed so you can identify it. The feet are also quite nice, in that they are chrome with rubber on the bottom.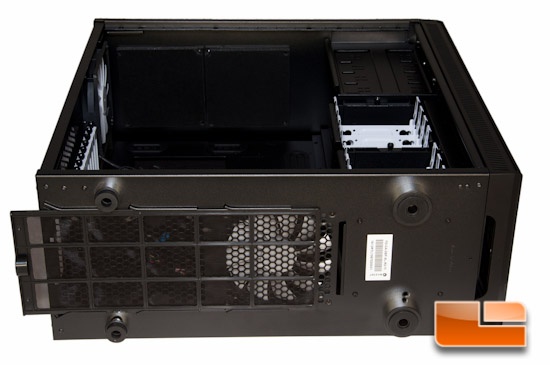 Finally, on the right side of the case is a whole lot of nothing. On the very left is the vent that helps your intake fans pull in air. You can also see where the notch is placed to open the front door.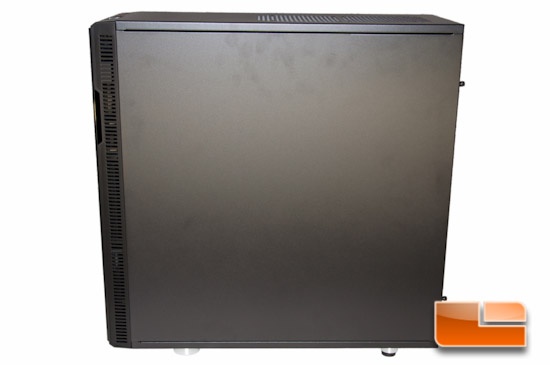 Next up, I will pop open the case and check out what it has to offer inside!
Fractal Design Define XL R2 Interior Impressions
Popping the cover off on this left first, you can't help but notice the weight. The covers have a nice dense sound deadening material attached to them. In place of where a fan could go is a ModuVent plate. Should you want to add additional cooling, or even ventilation, you are free to remove it.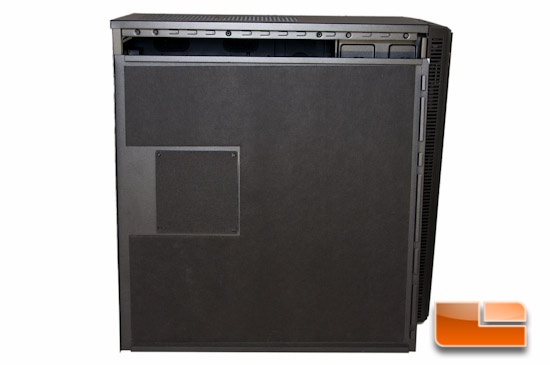 One thing to note about all of this sound deadening material in place, is while you gain the sound suppressing properties with it in place, you trade off airflow and ventilation. With that said, your case may get a little warmer with these ModuVent pieces in place.
You can't help but notice the vast amount of grommets for wire management here! I love it! These look to be well thought out.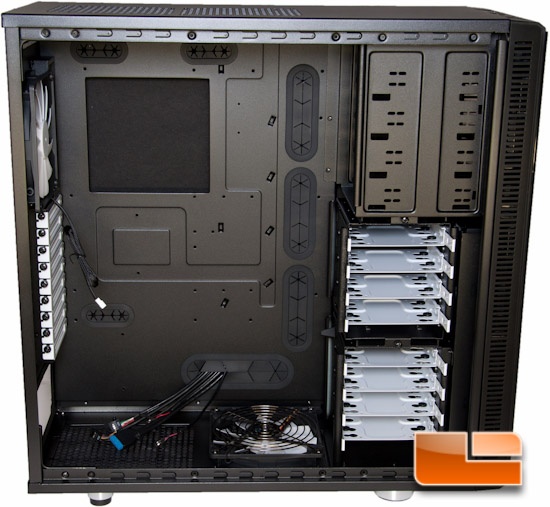 Starting with the HDD cages, you see Fractal Design's white cages. These are easily removed by the thumb screw placed above them. They also have a nice rubber bumper at the HDD mounting points to reduce vibration. You'll end up hooking up your connections on the opposite side, which will make for a very clean look inside the case. Should you want to add a radiator in the front of the case for water cooling, you can re-position the HDD cages.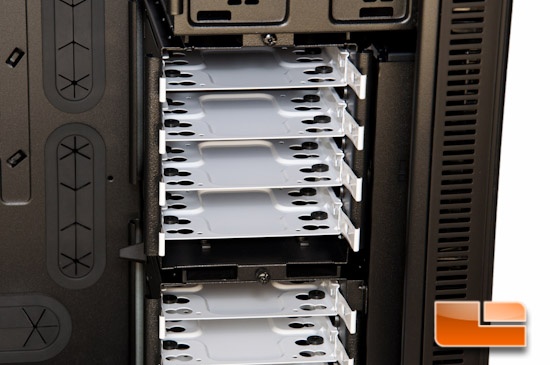 Sticking on the lines of water cooling, Fractal Design says there is plenty of room for various sized radiators throughout. On the top you could mount a 240 or 280mm slim radiator, the front can take a 240mm, the bottom will accept a 120mm, and the rear can handle a 120 or 140mm radiator. That's a ton of water cooling potential.
The mounting points for your 5.25" drives/devices are not at all tool-less, so you're left with having to screw them in place. One thing that I've always liked on cases, if you are left to screw the drive in, is when one of the mounting holes is only as wide as the screw itself. This helps you get a fully even appearance out front.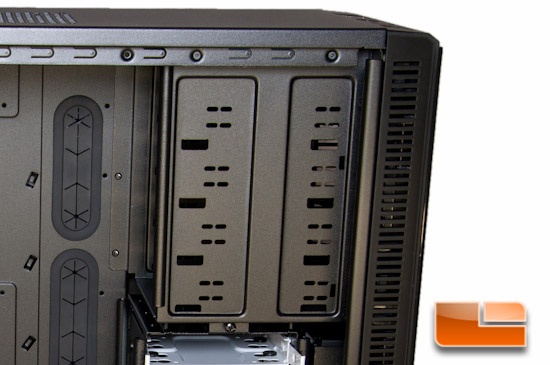 On the bottom of the case is a pre-installed Silent Series R2 140mm fan and enough room to mount a 190mm PSU. Should you need more room to mount a larger PSU, you can remove the fan and mount up to a 345mm long PSU.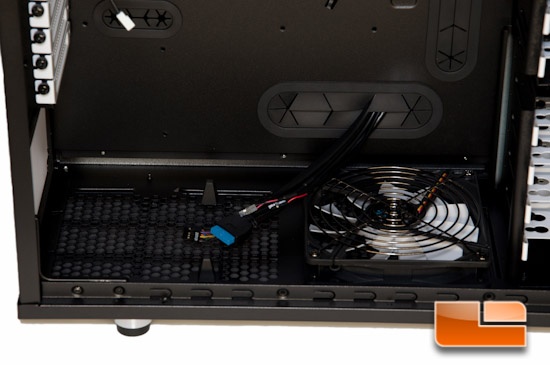 Moving back up the case are the mounting holes for ATX, mATX, Mini ITX, E-ATX, XL-ATX. Unfortunately no standoffs are pre-installed, nor are the holes labeled. I guess it's up to memory for those who are very familiar with the mounting locations, or one would have to consult instructions.
There is also a nice sized hole for adding a backing plate to the CPU socket, should you want to install a heavier cooler or water cooling without disassembling your system.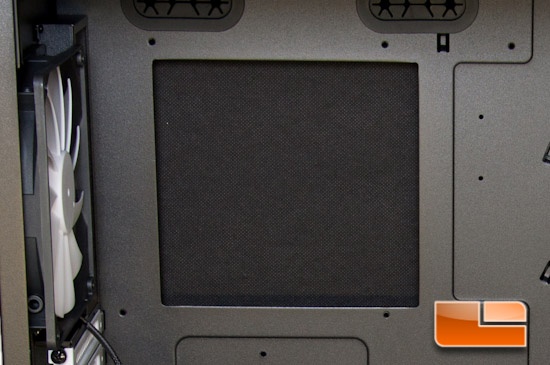 At the very top of the case are two more ModuVent plates. Here you can install two 120mm or 140mm fans of your choice, or you can install a 240mm radiator.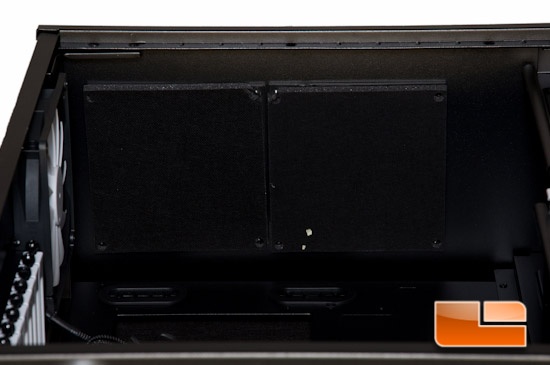 On the very back of the case is another pre-installed Silent Series R2 140mm fan. Below that is the mounting location for up to 9 expansion cards, each plate using a thumb screw.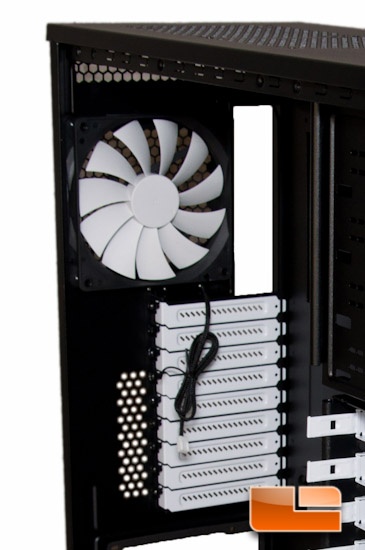 On the back side of the motherboard tray, you have roughly 1" (26mm) of space to work with, which is a nice and generous amount.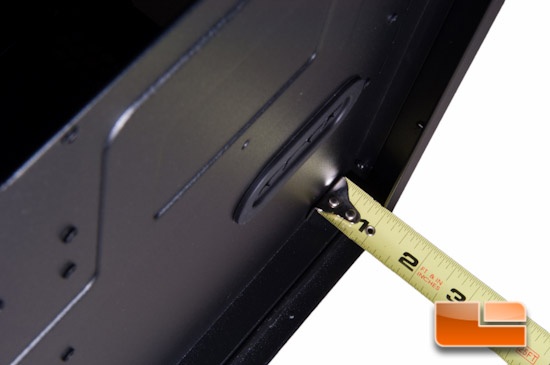 Up next I will install a motherboard and some components inside, and will let you know how easy this case is to work with. It sure looks plenty easy with all of that room inside, but only testing it out can tell!
Hardware Installation Inside the Define XL R2
The ease of hardware installation is quite important when it comes to a case. I will take a quick look and provide my impression on how easy or difficult it was to install the various components inside the Define XL R2.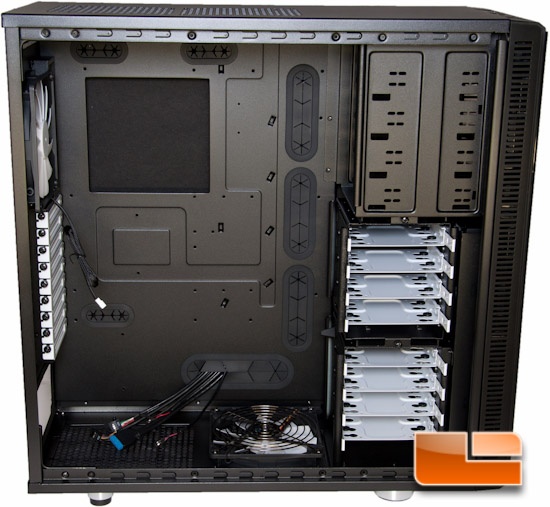 Mounting the ATX standoffs was easy as always, but Fractal Design makes it much easier. Included with the standoffs is a thumb "screw" that you just slide over the standoffs and twist away with ease.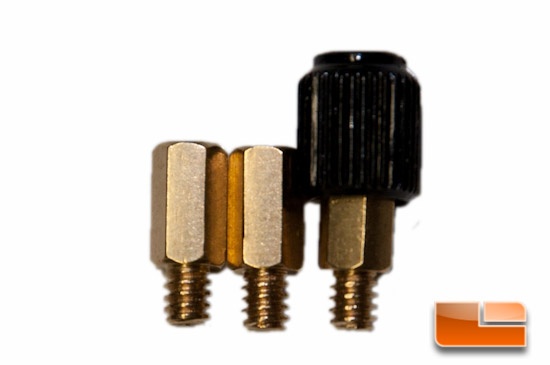 Fortunately I know where these standoffs will go from memory, but not everyone will, which is where the labeling would be nice. Sure you can consult your manual, but who reads those!? You can see the thumb screw in the lower left.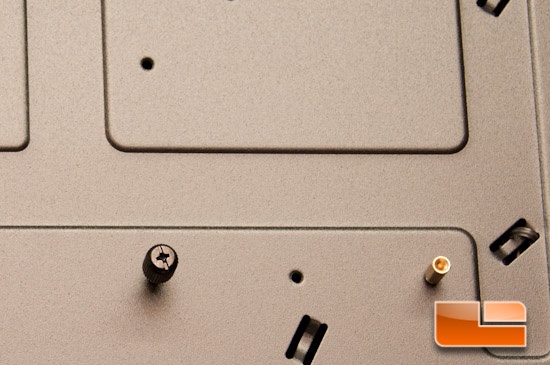 Installing the motherboard, CPU, and video card were plenty easy, as you have a ton of room. There is even room enough to mount a 330mm video card with the top HDD cage in place, or 480mm with it removed. The thumb screws for the expansion cards are a nice touch, but a completely tool-less option would have been even nicer yet. You can also see in my picture below that you can choose to turn the HDD cages if you wish, though I personally prefer how they came from the factory.
When popping in my ODD and HDD, I found everything to be simple enough. As previously mentioned, the 5.25" bays would have been a little nicer to work with, should they have had a screw hole that was only screw size, which would help ensure a completely even installation of your 5.25" drives or devices. Here is another spot where a completely tool-less option would be nice to have for ease of installation, but it isn't the end of the world either. I was very happy to see that included with the case, were plenty of thumb screws to make it nearly tool-less.
HDD mounting itself was made simple enough, as you just squeeze the tray that the drive will mount to and it slides right out. You can then mount your screws to the underside of the drive and you're good to go. Should you want to remove a tray or flip them around, you can do that by removing the thumb screw.
I had no issue installing my power supply. Unfortunately the one that I had available to me was not really designed with a full ATX chassis in mind, but I made do with it. You will see that I had to make the wires work via means that I would prefer to have not done, but oh well.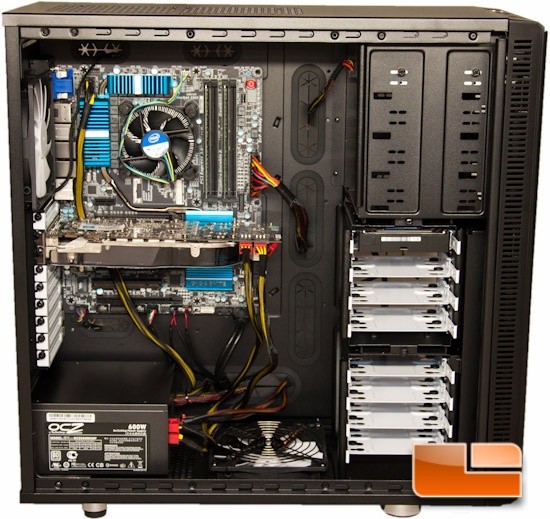 On the rear of the motherboard tray, you again have 26mm (approx 1 inch) of space to work with. You can be as messy or as neat as you'd like. I usually try to keep everything a little more on the neat side, but that doesn't always happen.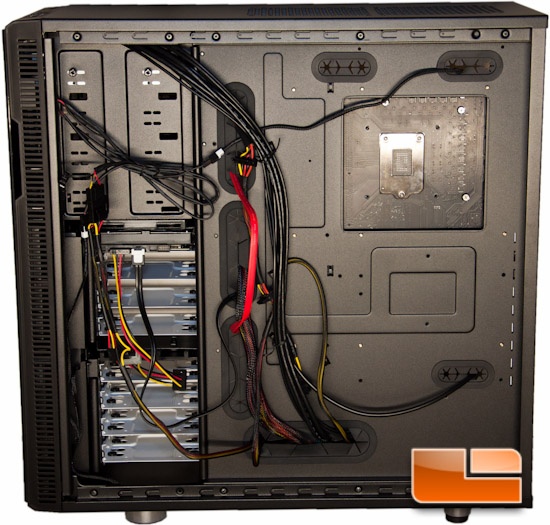 The cutout behind the CPU socket is quite nice and plenty large enough to pop your brackets on with ease.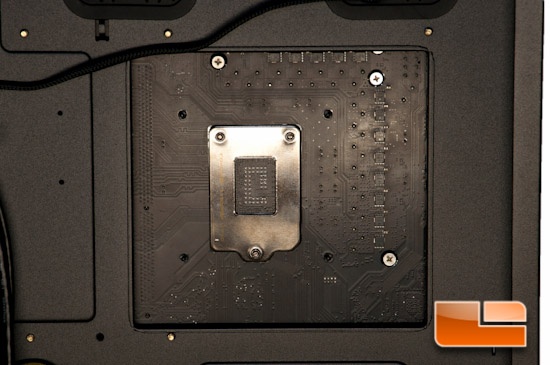 One last shot of what it all looked like assembled: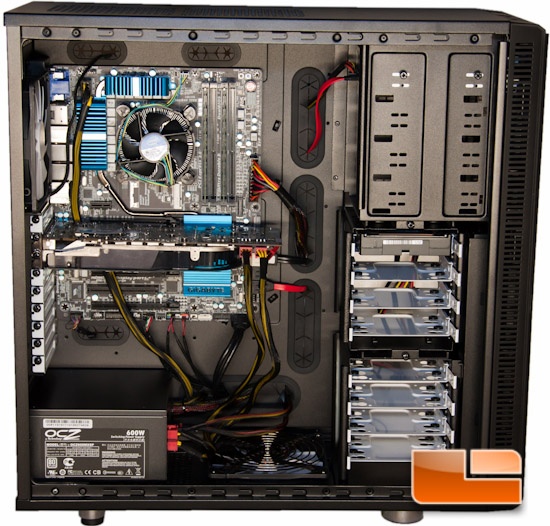 Overall I must say everything was very easy to work with, which is what I've found as a pattern with Fractal Design's cases. The included fans are very quiet, even when at the full 12v setting.
I'm going to wrap up this review and provide my final thoughts and conclusion next.
Define XL R2 Final Thoughts & Conclusion
Fractal Design's Define XL R2 definitely did not let us down in the style department. It's so simplistic and sleek that it's very pleasing to the eye. I was also happy to see very little plastic in this case, but the trade-off of that is a heavier case. I don't know how many of you would be transporting or constantly moving a full ATX case, so weight probably won't be an issue.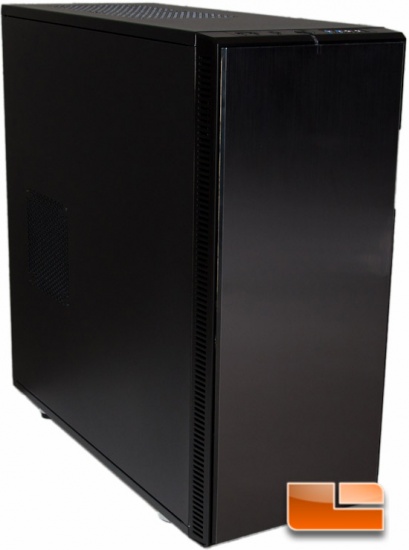 Another thing that shouldn't be an issue with most, is the cost of the Define XL R2. With a retail of $124.76 shipped for the Titanium version that we reviewed today, this full tower case should be in the price range for pretty much all enthusiasts. Fractal Design also provides a little piece of mind by providing a 1 year warranty for the Define XL R2.
I have very little complaints in regards to build quality, as being a mostly steel case I found it to be very solid. The only issue that I had was the finish came off on the corner when I was trying to take the side panel off. Word of advise: Take your time pulling the side panels off if you're working over a harder surface! This happened to me due to a slightly poor design with how the panels come off. If Fractal Design implemented a grip point on the rear of the side panel, like I've seen on other cases, it would have made removing it much easier.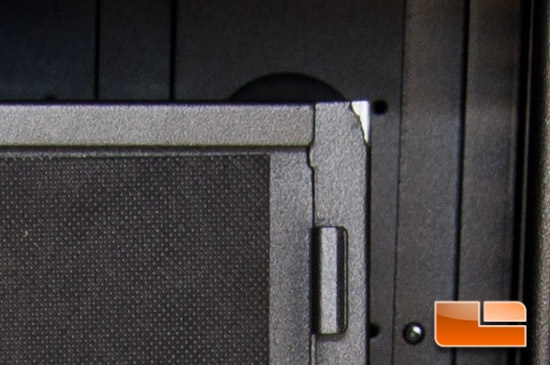 Working inside the Define XL R2 was nothing short of awesome. When you purchase a full tower chassis, you get the best benefit of them all: tons of room. Fractal Design placed the grommet holes in plenty of good locations, which made wire routing and hiding your wires a breeze. Having the ability to remove the HDD cages completely or spin them around if you don't like the way they mount.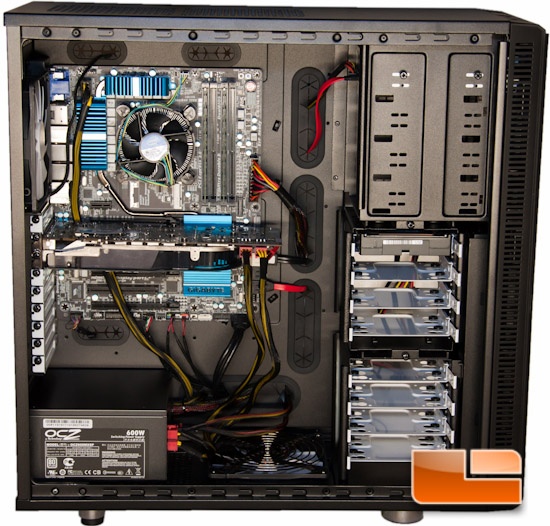 The water cooling abilities of this case I feel should be pretty good. You will have the ability to mount several radiators inside the case, with the top accepting 240mm or 280mm slim radiator, the front can handle a 240mm, bottom can take a 120mm, and the rear can also take a 120 or 140mm. That's a lot of water cooling potential, should you want to purchase smaller kits. Should you water cool the CPU and need to mount a backing plate, you will also find a nice cutout on the motherboard tray to easily access the back of your motherboard.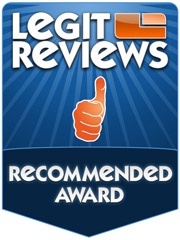 Legit Bottom Line: Fractal Design's Define XL R2 is simple looking, but gorgeous and well put together full tower case with very few flaws, which carries a price tag that should be plenty within reach of most PC enthusiasts / system builders.