Introducing the ASUS Xonar DGX and DSX
It's unfortunate that desktop sound cards are becoming less popular. Many years ago, sound cards with their dedicated audio processors could genuinely benefit gamers and their computers when CPUs were much slower. Nowadays, sound cards are being displaced by such factors as fast CPUs, increasing usage of software audio processing, and improved motherboard audio. Additionally, quality listening hardware is necessary to really hear the difference and the cost of good headphones or speakers is another cost burden many people don't want to deal with. Cheap audio solutions are acceptable to most people and that's fine, but a more recent to insult to high-end audio is the development of trendy headphone fashion currently led by Beats by Dr. Dre, though I digress.
Nevertheless, there will always users who demand the benefits sound cards can bring to the table. Audiophiles demand sound quality, home theater PC users can utilize the outputs and connectivity, and gamers can step up their game with accurate positional audio. ASUS has tackled these challenges with its Xonar sound card line-up. Today we're looking at the two budget Xonar cards, the DGX and the DSX, though ASUS has made an entire range of Xonar solutions. Among them are the Essence ST and STX which are targeted at home audio enthusiasts, the ROG Phoebus which complements the gamer's arsenal, and the Essence One DACs made for the most hardcore of audiophiles.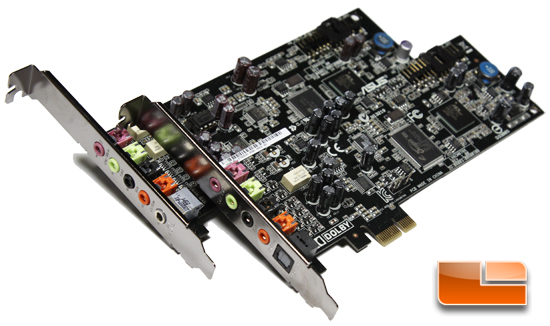 It's been a very long time Legit Reviews has looked at a desktop sound card. It's also quite special that ASUS sent two which allows us to make for a comparison. However, there was much to catch up on and it took me a considerable amount of research on community findings and hours of careful listening to make this review as informative as I can.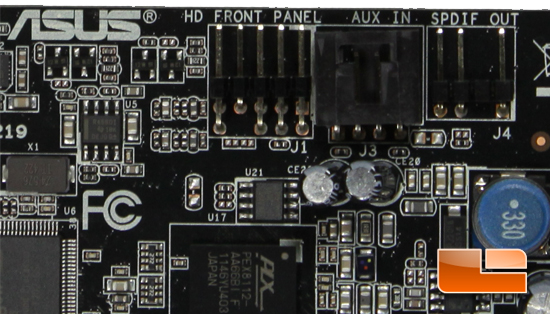 The Xonar DGX and DSX are PCI-E versions of the older Xonar DG and DS respectively, both which used the vanilla PCI interface. There are two clear advantages of using the newer PCI-E versions: these cards are compatible on motherboards that only have PCI-E slots and the PCI-E bus can provide all needed power thus eliminating the need for an additional power supply plug.
When it comes to online pricing you can find the ASUS Xonar DGX runs $39.57 shipped and the ASUS Xonar DSX costs $59.24 shipped. All ASUS Xonar cards carry a 3 year warranty.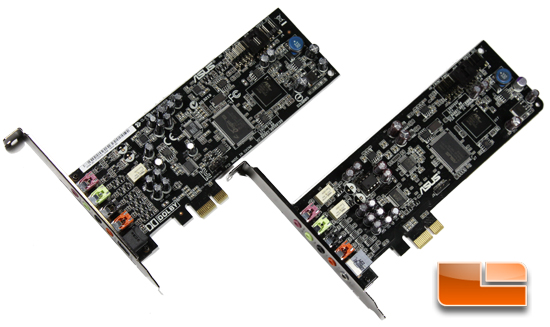 | | | |
| --- | --- | --- |
| | Xonar DGX | Xonar DSX |
| Channels | 6 | 8 |
| Output Signal-to-Noise Ratio (A-Weighted) (Front-out) | 105 dB | 107 dB |
| Input Signal-to-Noise Ratio (A-Weighted) | 103 dB | 100 dB |
| Output THD+N at 1kHz (Front-out) | Up to 0.0025% (-92 dB) | Up to 0.0017% (-95 dB) |
| Input THD+N at 1kHz | Up to 0.0022% (-93 dB) | Up to 0.0017% (-95 dB) |
| Frequency Response (-3dB, 24bit/96KHz input) | 10 Hz to 48 KHz | 10 Hz to 48 KHz |
| Interface | PCI-E | PCI-E |
| Audio Processor | C-Media Oxygen HD CMI8786 | ASUS AV66 |
| Digital-to-analog converter (DAC) | Cirrus Logic CS4361 | Wolfson WM8766G |
| Amplifier | Texas Instruments DRV601 | -N/A- |
| Op Amp | Japan Radio Corp. JRC5532 | Texas Instruments NE55329 (swappable) |
| Analog-to-Digital converter | Cirrus Logic CS4245 | Wolfson WM8776S |
| Maximum playback quality | 96KHz/24bit | 192KHz/24bit |
| Maximum recording quality | 96KHz/24bit | 192KHz/24bit |
| Base Price | $49.99 (MSRP) | $59.99 (MSRP) |
The technical specifications table above highly indicates a myriad of hardware differences between the DGX and the DSX. Predictably, there are differences in their audio characteristics which I will explain further on.
ASUS Xonar DGX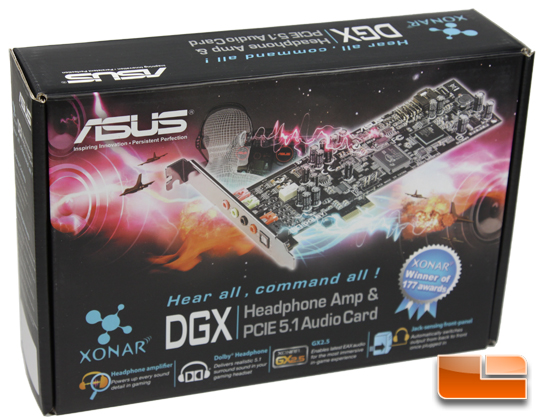 The DGX is the cheaper of the budget Xonar cards we have on hand today. Notable features are its dedicated headphone amplifier and Dolby Headphone for virtual surround sound.
Built-in Headphone AMP to power up every sound detail in gaming
3 headphone AMP gain modes for different usage scenarios - VOIP, pro-gaming, exciter
Dolby® Headphone technology for an immersive 5.1 surround experience
ASUS exclusive GX2.5 gaming audio engine for realistic 3D audio effects
Automatic jack-sensing front-panel output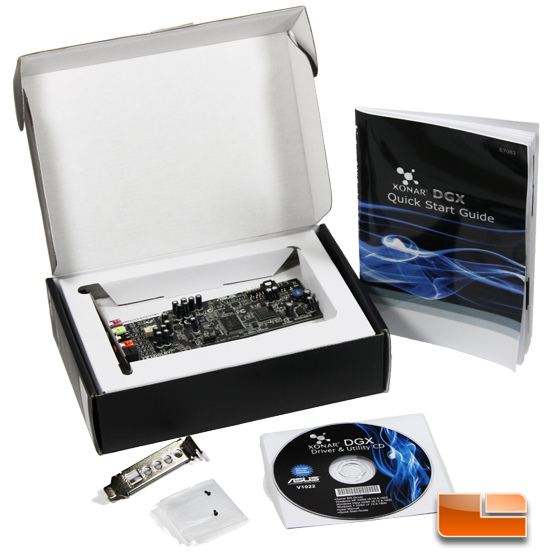 Included with the Xonar DGX comes with a low-profile bracket, screws for the replacement bracket, a driver CD, and a multi-language quick start guide.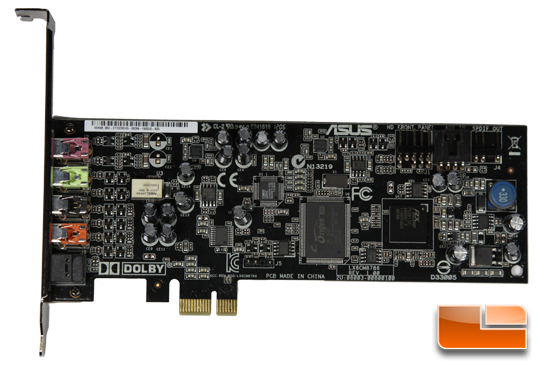 The DGX is a half-height card measuring 6.71 x 2.54 in (170.44 x 64.39 mm.) The included low-profile bracket makes this card a contender for a small home-theater PC.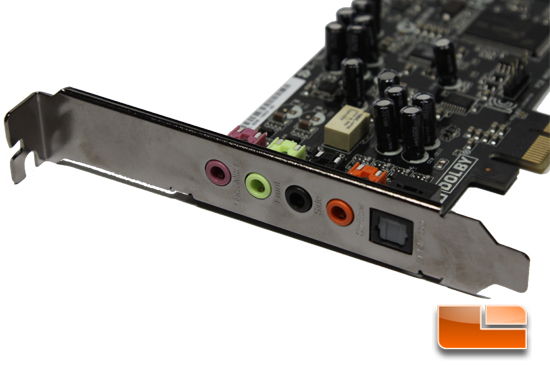 Looking at the outputs, we see a shared microphone-in/line-in, three analog outputs for 5.1 channels, and an optical digital output. Not seen are pins on the card for the front-panel and aux-in.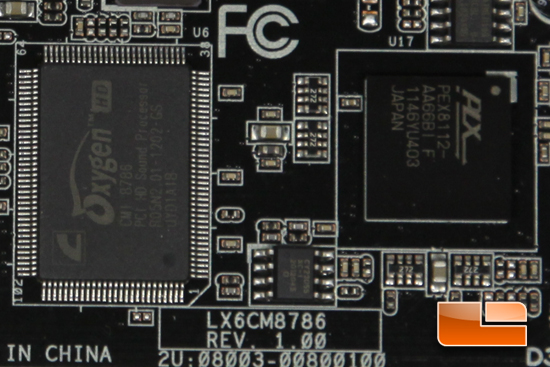 Here we take a look at the two biggest chips on the DGX. Seen to the left in the image above is the Xonar DGX's C-Media  CMI8786 audio processor also found in the Xonar DG. The CMI8786 is not PCI-E compatible and a PLX PEX8112 bridge chip which is seen to the right, is used to connect the audio processor across the PCI-E interface.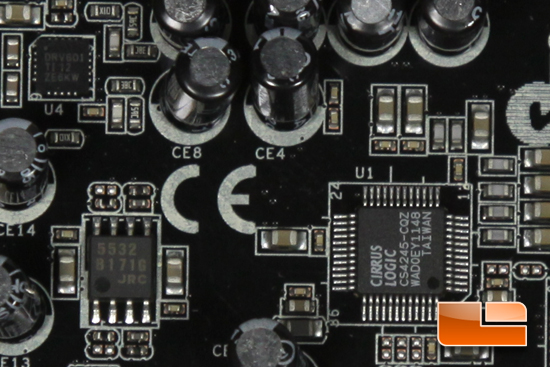 This photograph takes a closer look closer to the bracket panel. To the right is a Cirrus Logic CS4245 analog-to-digital converter, to the bottom left is a Japan Radio Corp. JRC5532 op-amp which cannot be swapped out, and at the top left is one of two Texas Instruments DRV601 amplifiers. The other amplifier is located closer to the front panel header.
ASUS Xonar DSX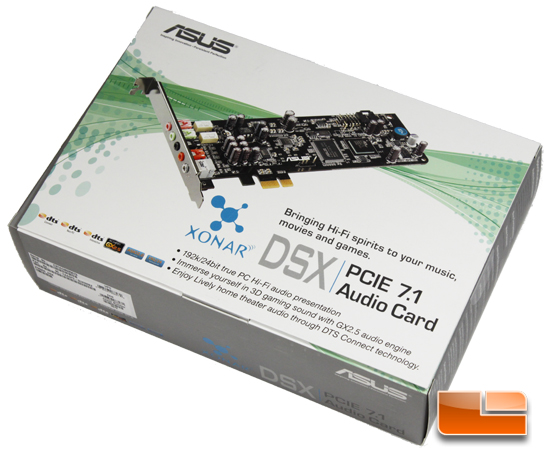 The DSX costs just $10 than the DGX and a number of specifications are scaled up. However unlike the DGX, this more expensive card lacks a headphone amplifier. Notable features of the Xonar DSX are DTS Connect for upmixing stereo channels to surround sound channels for home theater receivers, 192K/24 bit playback, and a swappable op-amp socket.
GX2.5 for realistic 3D gaming audio effects
DTS® Connect technology for an immersive 7.1 surround experience
192k/24bit True PC Hi-Fi Enjoyment
Swappable OPamp socket - Tune up your own sound with ease
Auto-detect front-panel - best flexibility and connectivity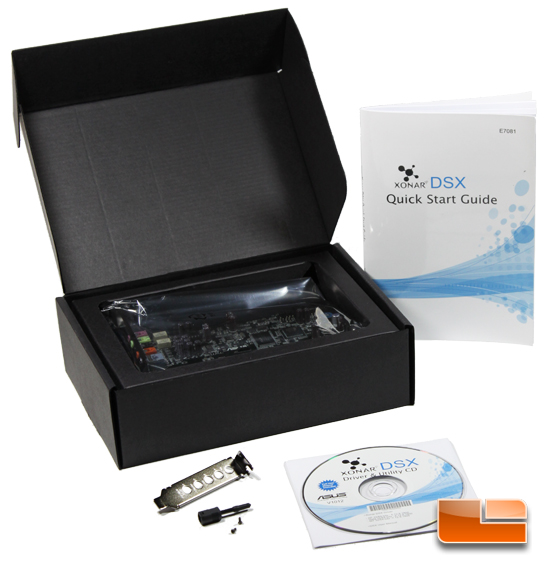 Included with the Xonar DSX comes with a low-profile bracket, screws for the replacement bracket, a cute screwdriver, a driver CD, and a multi-language quick start guide.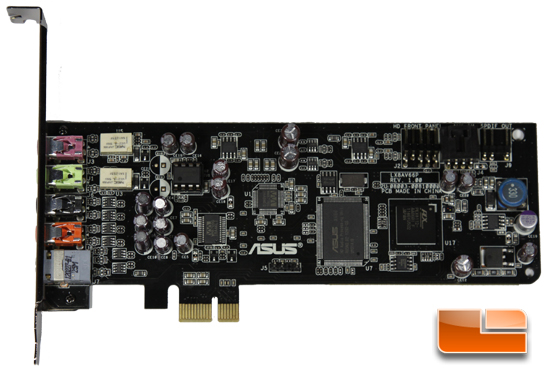 The DSX is a half-height card measuring 6.6 x 2.54 in (167.64 x 64.4 mm) and in all intents is roughly the same size as the DGX.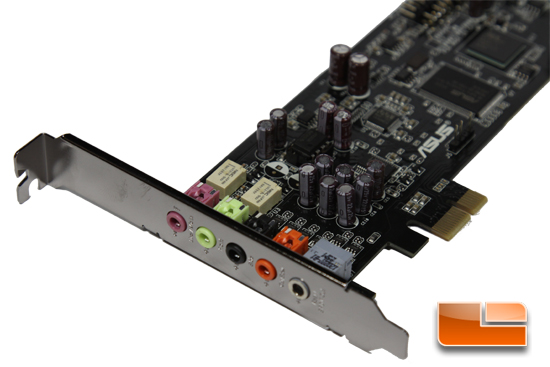 Unlike the DGX, the DSX can output 7.1 channel audio. In keeping with the card's half-height size, one of the 3.5 mm analog output jacks is combo'd with the S/PDIF and optical TOSLINK output. Also visible on the card are four pins for aux-in.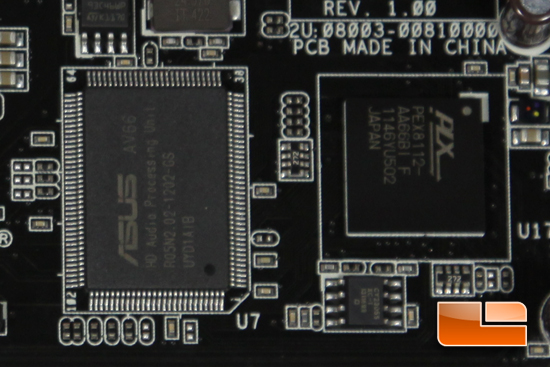 Like its PCI predecessor the Xonar DS, the Xonar DSX has the same ASUS AV66 audio processor, which is actually a rebranded C-Media Oxygen CMI8788 audio processor. Like the DGX, a PLX PEX8112 bridge chip is used to permit PCI-E compatibility with the PCI native C-Media audio processor.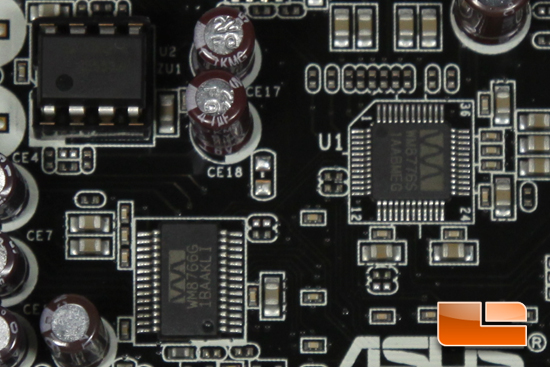 In this detail photograph, the swappable Texas Instruments NE55329 op amp can be seen to the top left. Along the bottom is a Wolfson WM8766G digital-to-analog converter and to the right is a Wolfson WM8766S analog-to-digital converter.
Test setup and some words on hardware requirements
The Xonar DGX and DSX sound cards were tested under both controlled and normal situations in a gaming desktop that can be considered typical. Sound cards are not system resource intensive and thus there were no performance issues seen on the humble Z68 test platform. The more important hardware was the listening devices used. The primary headphone used for testing was the Grado SR80i, though some listening was done with an Audio Technica ATH-A900X. Compared to speakers and a home theater, these audiophile headphones make it easier to detect musical detail and flaws. The preferred music player was foobar2000.
Grado SR80i and Audio-Technica ATH-A900X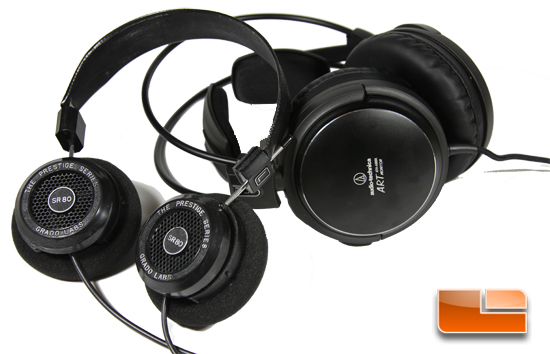 Grado SR80i impedence: 32 ohms
Audio Technica ATH-A900X impedence: 42 ohms
Intel Z68 Platform
 

Intel Z68 Audio Test Platform

Processor

Intel Core i5-2400

Motherboard

ASUS P8Z68-V LE

Memory

8 GB G. Skill Sniper 1333 MHz

Video Card

XFX Radeon HD 6950 1 GB

Power Supply

XFX Black Edition 850 Watt

Operating System

Windows 7 Professional 64-bit

Audio

Realtek ALC892 (integrated on motherboard)

ASUS Xonar DGX

ASUS Xonar DSX
We were informed by ASUS that power consumption for each sound card is fairly small at less than 10 watts.
Preliminary testing also showed that there was no effect on raw computer performance. Using FRAPs, there were no obvious impacts to gaming performance.
Driver Software
Both Xonar cards come included with a driver installation CD. The newest version provides compatibility with Windows 8 and is available at ASUS's product website.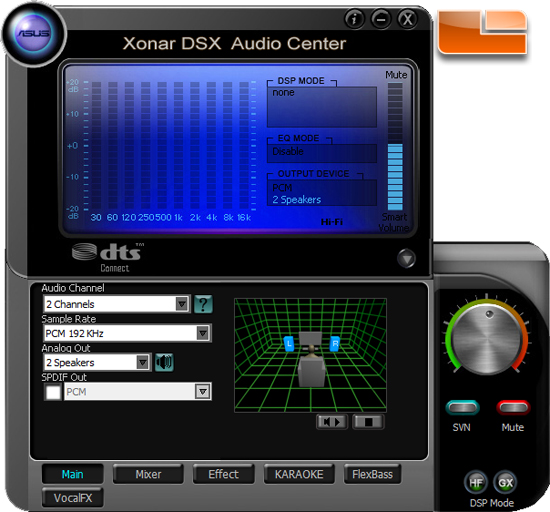 The Xonar Audio Center control software for both the DGX and DSX are very similar. The DSX has one fewer tab and is missing the option to enable AEC (acoustics echo cancellation.) The Main page tab is also different as the DSX has options to enable DTS on the S/DPIF output whereas the DGX has options to enable Dolby Headphone. The rest of the screenshots of the Xonar Audio Center will use the DGX's version.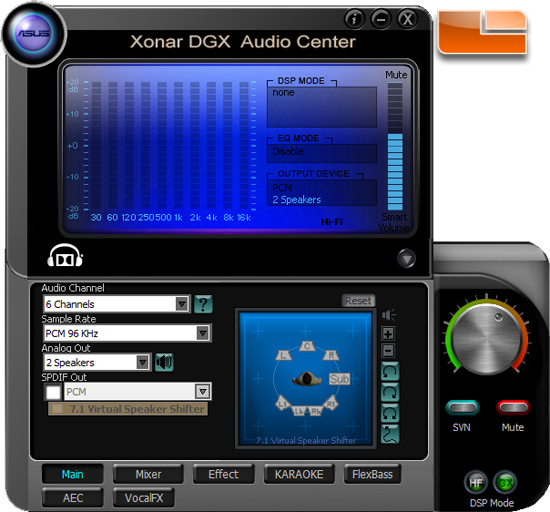 The Main page has drop-downs to change the number of audio channels, sample rate, and number of speakers. The last dropdown is activated by a checkbox and functions to enable Dolby Headphone for the DGX or DTS for the DSX.
To the right is a knob that controls the Windows master sound volume, a SVN "Smart Volume" toggle to prevent audio clipping, and a mute toggle. Beneath are two green buttons for toggling "Hi-Fi" and the GX2.5 engine.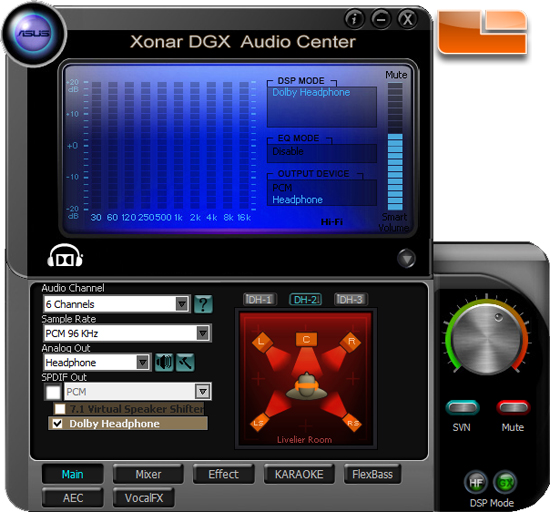 The DGX has the option to toggle Dolby Headphone, which is not available on the DSX. Dolby Headphone is a virtually simulated home theater. Audio is modified to sound farther away at "distances" set by the DH-1, DH-2, and DH-3 buttons. We'll a few more words about this feature later.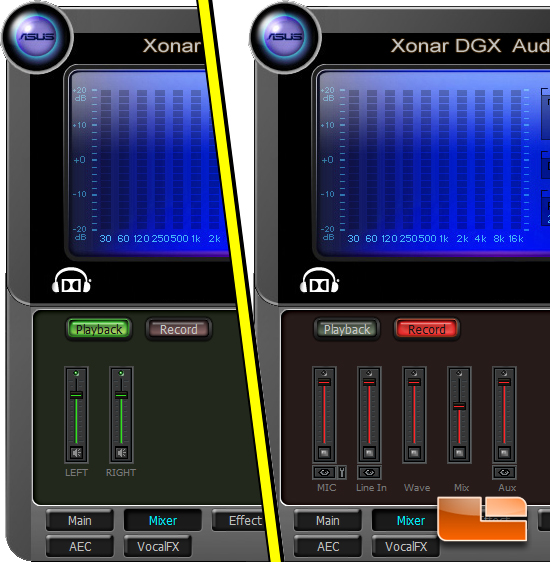 The mixer has two sub tabs for playback and recording. Playback controls the level of each speaker for a maximum of eight. Record controls the level of the different recording inputs which are MIC for microphone, Line In, Wave, Aux, and Mix.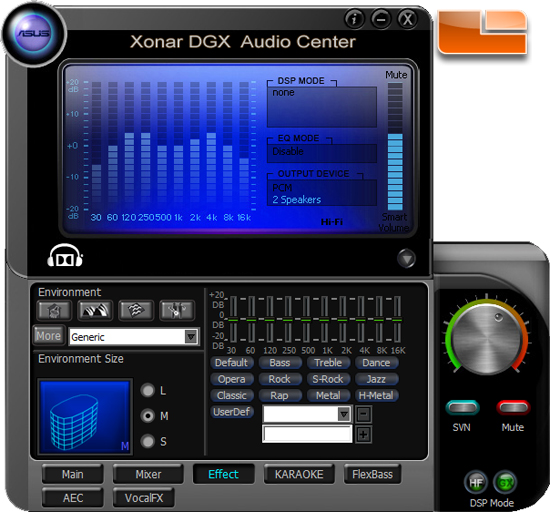 The Effect tab consists of two parts. The left half has presets that simulate different environments. The right half is an equalizer with presets. Equalizer settings can also be saved.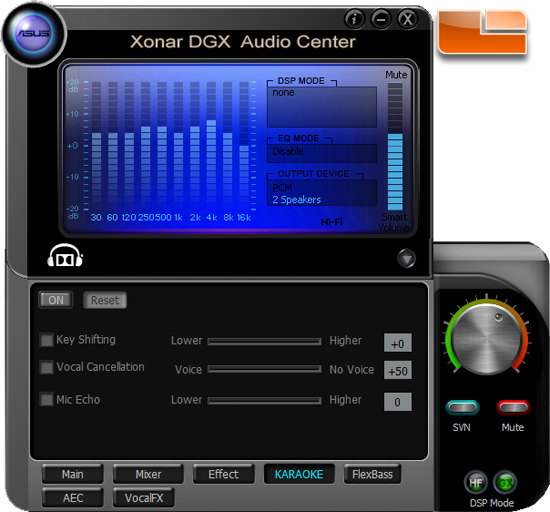 The KARAOKE tab has settings for as its name would suggest. Settings are available for Key Shifting, Vocal Cancellation, and Mic Echo. Note that these changes affect the karaoke playback from a microphone.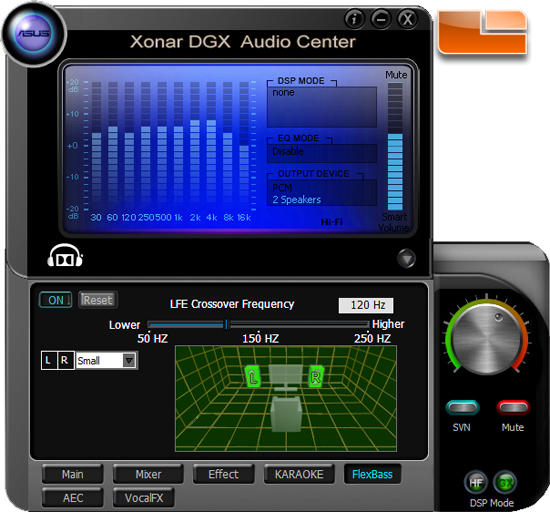 FlexBass permits adjustment to the crossover frequency for those using a subwoofer and multiple speakers.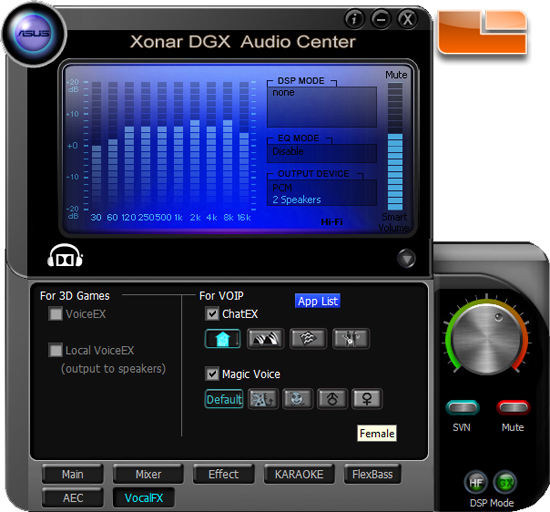 VocalFX has a set of options to "enhance" online chatting.  A voice masking suite is included which can either simulate an environment such as a concert hall or change the pitch of your voice in-case you need to sound like a monster.
Listening Test: Music
Unlike video cards, it's much harder to demonstrate the benefits of sounds cards in a written and visual review. Words only convey so much and unfortunately there's no reliable objective test for sound cards. Blind and unbiased subjective listening tests are in my opinion, the best way to gauge audio quality.
The first set of listening tests revolves around music. In general, the DSX sounded better because of its more neutral sounding characteristic and stronger bass. The DGX was occasionally indistinguishable from motherboard audio due to its weaker bass, though it did surprise me when playing hard rock.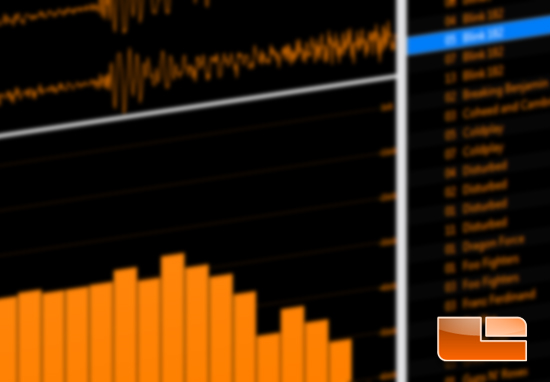 Top 40, Pop, Hip Hop, and Rap
The DSX's stronger bass without a doubt gives it the edge over the DGX when playing pop songs. The punchier bass really brings out the backbeat and is immediately the most noticeable improvement over hollow sounding motherboard audio. Even poorly encoded songs with lots of bass still benefit from the DSX.
Generally, this genre of music doesn't really make the DGX's emphasized treble distinguishable from motherboard audio. There's simply more interest in the bass department, something the DGX isn't very good at doing. There were times even the DGX and DSX both sounded muddled, likely due to poor encoding or recording of the song. For example, careful listening with P!nk's Just Give Me a Reason was inconclusive.
Rock, Hard Rock & Heavy Metal
It's unfortunate that a number of hard rock and heavy metal tracks are poorly encoded. For one, I had a particularly hard time discerning differences across the sound cards with Avenged Sevenfold tracks. When it did matter, the results were rather surprising.
The DGX's strong emphasis on mid-tones and treble allows it to shine particularly well for songs that make use of the guitar. Remastered Led Zeppelin songs were crisp and lively – vocals sprung to life, guitars were upfront, and the snare drums were distinct.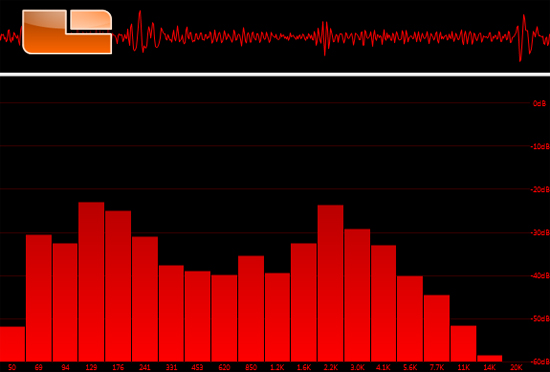 I can actually pass time just watching foobar2000's spectrum visualization in real time. Here's a shot taken from Metallica's "Master of Puppets."
While the DSX's stronger bass was still fun to hear, it did at times muddle the mid tones. Some of you may think that rock percussion would benefit from stronger bass, but the reality is that rock percussions also have presence in the mid-range. Without equalization, the DSX can make the bass frequencies too sloppy.
Otherwise, it's a matter of preference between the DGX and bassier DSX.
Alternative & Modern Rock
While I disagree with the direction rock is taking these days, I still listen to the latest releases on the radio of which a number I still add to my music collection. What I've at least observed is that there is a greater demand for bass-heavy backbeats, something the DSX handles better than the DGX.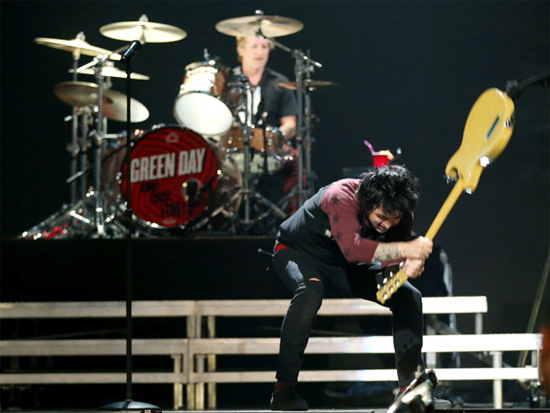 Despite the seemingly smaller involvement of the guitar these days, there are some songs I like because they are catchy such as The Black Key's Black Submarines and Youngblood Hawke's We Come Running. On a semi-related note, I completely abhor and feel is an insult to rock is AWOLNATION's Sail, a song that without a doubt sounds better on the DSX only because the instruments are seemingly a drum machine and synthesizer.
The DGX does at least pair well with those rock released that make stick closer to older rock styles. Songs that make more use of vocals and guitar than the backbeat do well with the DGX, though listeners wanting stronger bass out of preference will be fine with the DSX. Bands such as Silversun Pickups, Muse and Linkin Park are some examples that I feel that personal preferences will drive the decision between either the livelier DGX or more basshead DSX.
Electronic
There is no question that electronic dance music and house benefit from the more bass heavy card. I don't have to explain this further than by noting that the DSX does drop the bass harder.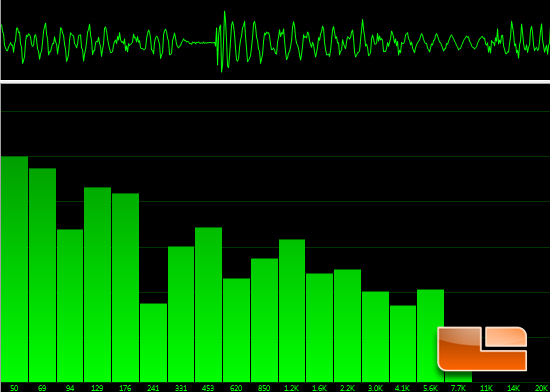 Floors shaking. Walls rattling. An audio visualization of "One" by Swedish House Mafia shows just how much bass is pumping.

Classical music & soundtracks
Results were somewhat mixed, though mostly favor of the DSX. The DGX is a real loser here because it almost always sounded the same as motherboard audio.
It really depends on the song. For example, the entire Vivaldi's The Four Seasons was inconclusive because it's lots of violin and lots of strings. Scale up the variety of instruments and it's the DSX that sounds better.
Listening Test: 3D Audio, Games, and Movies
We're not only interested in the sound quality, but also the surround features of both Xonar sound cards we have on hand. All of the gaming was done by me, but I've done as much as I can to remain honest and fair.
The Xonar DGX's Dolby Headphone
A feature not found on the DSX, but on the DGX is Dolby Headphone, software-driven virtually simulated home theater. Audio is modified to sound farther away at "distances" that can be set in the control panel software. Some of the testers liked the virtual distance Dolby Headphone gave to music and movies. It was described by them as sitting in front of a real home theater. Others including myself didn't warm up as well to Dolby Headphone and the virtual surround environment sounded hollow and artificial. At least for me, audio quality also sounded worse for everything though I still found it fun to use for some movies because of the simulated audio distance Dolby Headphone gave.
Gaming
Both sound cards' feature ASUS's EAX compatible virtual surround sound feature called the GX2.5 gaming audio engine. This can be toggled on and off in the Control Panel Software by pressing the GX button.  However, almost all new games run their own software processed audio, which undercuts the necessity for hardware processed audio.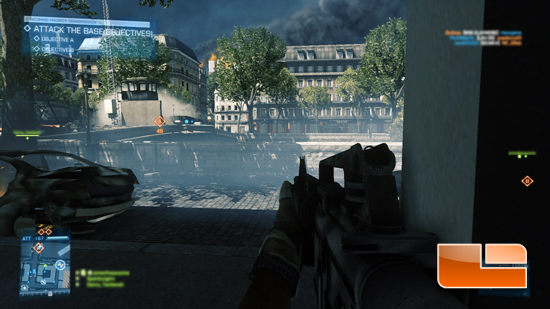 Battlefield 3's audio isn't noticeably different across the sound cards on hand, though explosions and gunshots were more forceful and punchy on the DSX. Activating and deactivating the driver controlled hardware 3D audio processing did nothing to change the experience. Furthermore, Battlefield 3's software processed positional audio is terrible. DICE and EA have talked about the game's spectacular graphics and immersive audio, but for those of you who never experienced or haven't really noticed, Battlefield 3 audio is a mess. When you are receiving fire and taking damage, you hear yourself being hit with bullets, but you can't hear from where you are being attacked. Another shooter, Counter-Strike: Global Offensive has audible footsteps and is a strategic consideration when playing.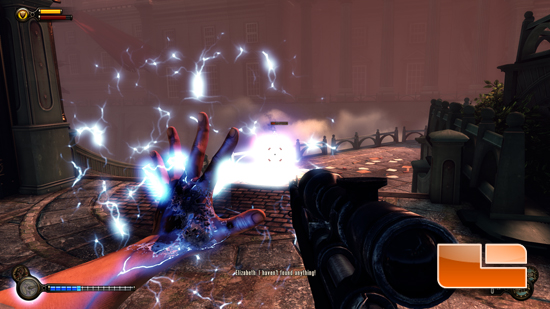 The game audio that really did for me while testing the Xonar cards was BioShock Infinite; there's much to hear and it's been implemented effectively. Results were great while we used either of the two Xonar cards we have, but it's the DSX, with its wider soundstage, that does it better. Stinger tracks add to the action, weapons and abilities have distinct sounds, and the voice acting is terrific. BioShock Infinite depends on software processed audio thus rendering hardware processed surround sound unnecessary. Despite this, the game's positional audio is incredible even on 2-channel virtual surround. Game enemies make their own combat cries making it easy to pin-point their locations and ambush them around obstacles and corners. Lately,  I've been mostly playing real-time strategy games which bank more on stereo audio and given Battlefield 3's poor implementation of surround audio, I wasn't used to hearing such clean positional audio. I took special notice of BioShock Infinite's well-designed virtual surround sound environments; dialogue, combat noise, and ambient sounds could not only be distinguished from left and right, but also in-front or behind. Despite the Xonar cards playing no role in Bioshock Infinite's audio processing, the Xonar cards' audio fidelity lended themselves to crisper sounds and adds wholly to the immersion.
Movies and TV shows
This is where I talk about home theaters and if a sound card should matter to you. If you're running a digital output to your home receiver, whether that is optical or S/PDIF, then a dedicated sound card may not be of benefit to you. Passing a digital signal through a sound card bypasses any analogue processing and it is the receiver that receives the binary data for processing. If all you wanted to know how the Xonar's digital outputs sounded, I'll tell you that motherboard audio solutions with digital outputs sound just as good. The most compelling reason I feel to buy the Xonar DSX for a home theater would be to use DTS Connect for a compatible receiver or DAC.
Users sticking to headphones and PC speakers should read on since the Xonar cards' analogue processing returns to importance. Both cards sound good, though like our findings with music, listeners wanting a bit more bass kick should opt for the DSX. Otherwise, the DGX and its Dolby Headphone home theater simulation should lend quite the experience.
Final thoughts and Conclusion
It was a nightmare trying to test these cards as scientifically as possible. Not only were the available objective tests difficult to control, the results were mostly useless and pointless to interpret. For one, a flat frequency response from both the DGX and DSX is meaningless when the cards' audio characteristics sound different. While I've elected to review these cards' "performance" based entirely on opinion, do realize that the real world's only real benchmark for the hardware we use to listen to our music, movies, and games is with our own ears.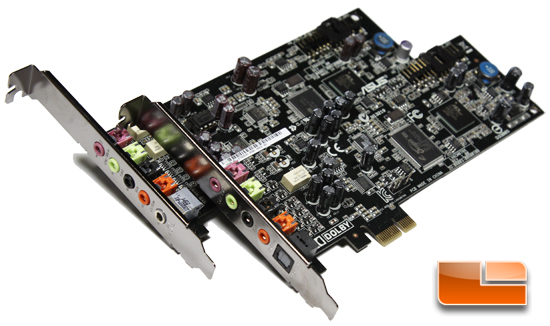 Both of these Xonar cards sounded better than motherboard audio. Even though the Realtek ALC892 I had on hand is decently high-end as far as onboard audio goes, it sounds hollow compared to what is capable with both Xonar cards. Between the two budget Xonar cards, it is the DSX that sounded better in almost all our listening tests; it has a more neutral sounding response and a punchier bass. That said, the ASUS Xonar DSX costs $20 more than the Xonar DGX, so it should sound better right?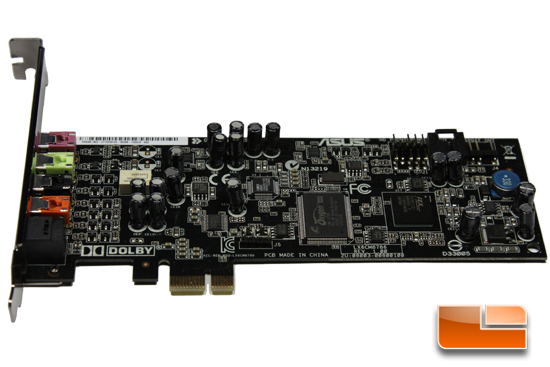 However, I shouldn't entirely discredit the DGX. It has a headphone amplifier unlike the DSX. It has Dolby Headphone. I talk about the DSX having better sound quality not necessarily because it is more detailed – it's not – but because the DGX has anemic bass response and emphasizes mid-range and treble sounds much like motherboard audio.
The 3-year warranty is a testament to the inherent longevity of sound cards. They don't consume much electricity and they barely produce damaging heat. Given such a long warranty period for ASUS's audio products, we're to assume there's confidence in their reliability. Despite user reports of driver issues, our review samples had no problems running the latest official drivers. I also know there are unofficial drivers out there and I've tested one highly recommended unified driver in particular and it works, but you'd be missing out on the features the official driver includes such as microphone voice masking, surround sound settings, and Dolby Headphone for the DGX.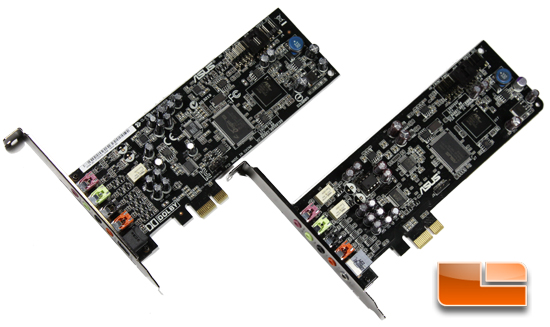 So should you buy a sound card? That's partly how much you care about sound quality particularly in regards to music. It also depends on what listening hardware you have. For those using the analogue outputs, either good headphones or speakers are a requirement to using a dedicated sound card. In any of these cases, both the Xonar DGX and the DSX are fairly inexpensive at $39.57 and  $59.24 respectively, but also deliver impressive results for how much they cost. Given how much I enjoyed listening with both these cards, they are both worthy of our Editor's Choice Award.
ASUS Xonar DGX & Xonar DSX
Legit Bottom Line: Both the ASUS Xonar DGX and Xonar DSX don't try to beat the best, but they accomplish a surprising amount for how little they cost.