ADATA AE400 Introduction
With smartphones, tablets, and laptops being in more and more hands every day, comes the need for gadgets to make your life even more convenient when using these devices. Everyone wants to share pictures, videos, and other media with their friends, but there isn't really a very convenient way to do this, outside of social networking websites. Not only that, but a lot of people are unable to get through the day without having to charge their phones. ADATA has come up with the DashDrive Air AE400 to help make media sharing easier between these devices, and also provide an extra charge to your smartphone or tablet.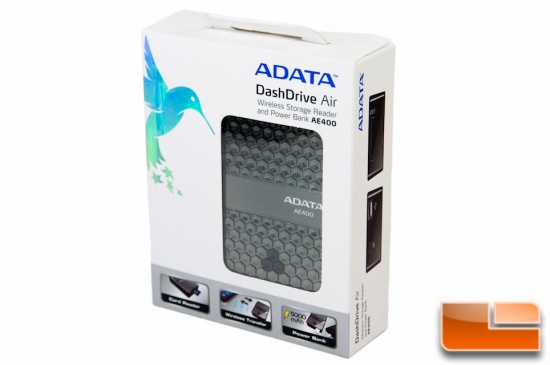 You can have the AE400, right now, for $79.99 shipped on Newegg, which feels like a fairly reasonable price for what it does. It would be cool if they gave you a small SD card to go with it, though.
There isn't really much to look at when you look at the box of the AE400, other than a few stats, so let's open it up and look inside!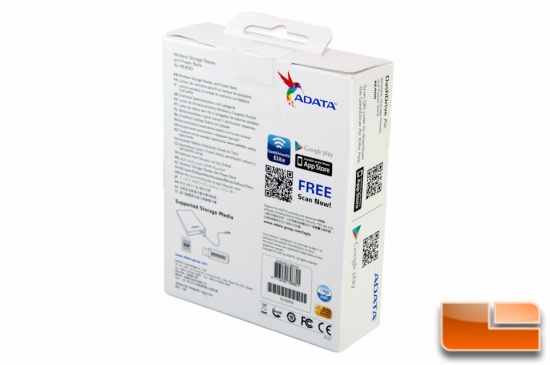 Inside the box, you get the AE400, a 2-foot USB cable with a Micro USB end, and a thick instruction manual in 11 languages. Unfortunately iDevice users are left to supply their own cable to charge their iPhone or iPad. One thing to note on the manual, is ADATA recommends you charge the AE400 for at least 8 hours prior to using it the first time. Out of the box, my unit took approximately 6 hours to full charge, while connected to a USB port on my PC.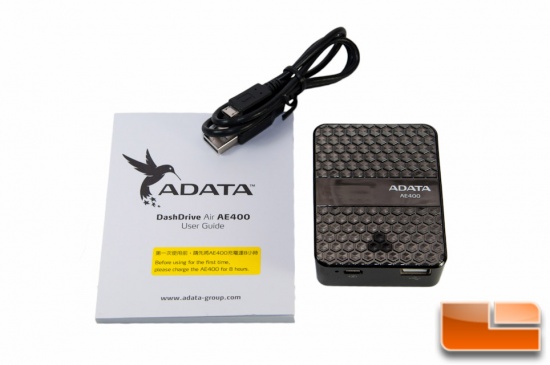 Technical Specifications
Battery Type: Li-Polymer rechargable
Battery Capacity: 5,000 mAh
Dimensions (L x W x H): 80 x 59 x 21mm (3.1 x 2.3 x 0.8in)
Weight: 128g
Wireless Standard: IEEE 802.11b/g/n
Warranty: 1 year
ADATA does really feel that this product should hold up with time, but should you experience any problems with your AE400, it is backed by a one (1) year warranty.
Read on to see if the ADATA DashDrive Air AE400 is that must-have gadget and how it performs!
Looking Closer At The DashDrive Air AE400
Looking at the AE400 unit itself, the face and rear feature a hexagonal lattice design, with the front being quite flashy. All four sides are a glossy black plastic, which unfortunately means it will scratch up easily. Our unit did come protected from the factory, on the sides and bottom, and it looked pristine! If you are one to keep your gadgets looking tip top perfect, this finish may be a disappointment, because if you put this in your pocket it will get scuffed very easily. Throw some coins or keys into your pocket and you can definitely kiss the glossy finish goodbye! Mine got scratched up pretty quick.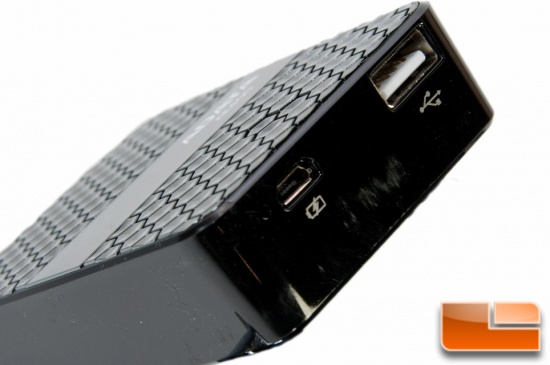 At 128 grams, and 3.1 x 2.3 x 0.8 inches, the AE400 is not at all heavy to carry around in your pocket, but it is rather bulky on the thickness side. This would be best kept in a backpack, purse, a cup holder in your car, or just somewhere with a lot of room. For me, putting this in my front pocket was nothing short of uncomfortable.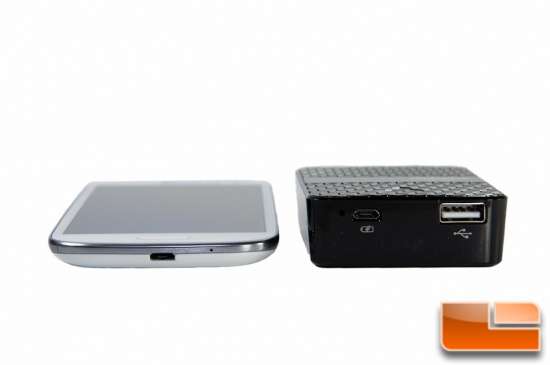 Starting at the bottom, looking left to right, you'll see a reset button hole, a Micro USB port, and finally a standard USB 2.0 port. The Micro USB port will be utilized for either charging the AE400 or if you want to use the unit as a wired SD card reader. The standard USB port will be used to charge your mobile gadget, to insert a flash drive, or to hook up a 2.5" HDD.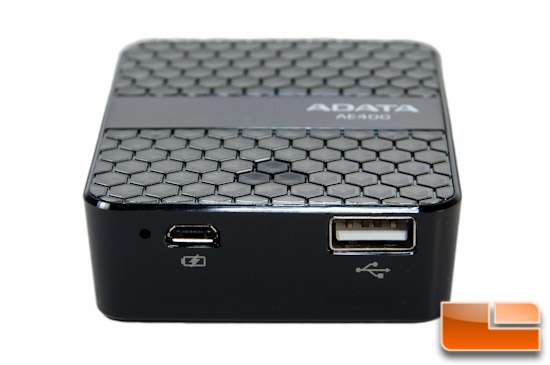 Moving up to the top, we're presented with the SD card reader. This card reader supports SD, SDHC, and SDXC cards, so you'll be able to have plenty of storage hooked up to this wonderful gadget!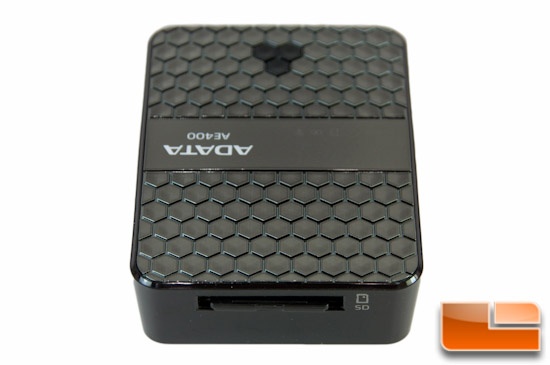 Finally the face is where all the "bling" is. Here, you'll see the AE400's eye-catching hexagonal lattice design. Light will really reflect off of this baby! You'll also see a series of LED's, which indicate battery charge level or what mode you're in. Just below that, you'll have the main power button, which also serves as your means of changing the modes.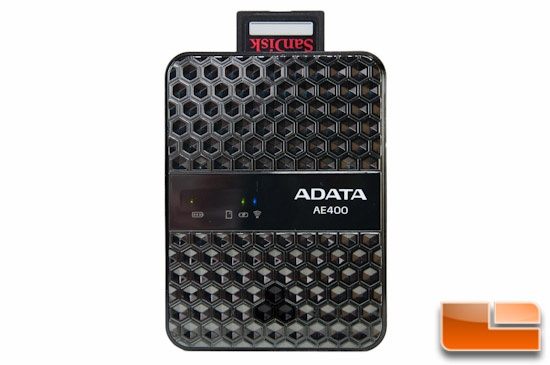 Looking at the LED's, the power section on the far left has three different LED's, which indicate the charge level. You'll see a green LED when the power level is above 50%, an orange LED when it's between 25-50%, and finally you will see red when you're below 25%. I kind of wish the increments were different, because 25% for the red is a rather large percentage and tough to guess with. Moving to the right, the other LED's indicate which mode you're in. There is the USB / card reader indicator, power bank indicator, and finally the wireless indicator. The wireless light will turn blue when you have the internet pass thru mode enabled and a device is connected.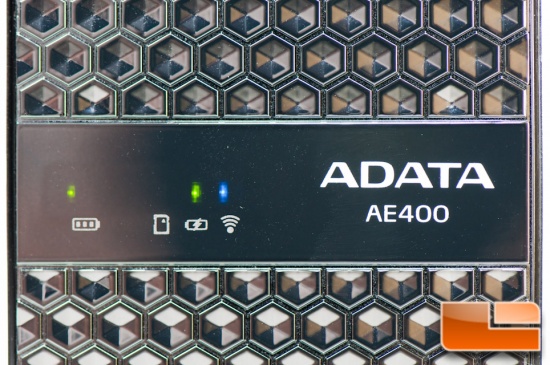 And a really quick look at the back side of the AE400, you'll see the FCC sticker with the product's serial number. That's it!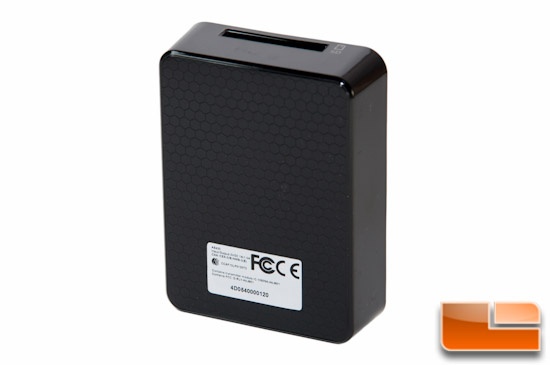 Next up, we'll take a look at what these features are, how to use them, and how the system performs.
AE400's Features
As previously mentioned, the ADATA DashDrive Air AE400 is capable of allowing you to share media across its wireless interface, plus it can provide some extra juice for your thirsty smartphone or tablet. You'll be able to choose which mode you're in, by short pressing the main power button, while the unit is already on. In contrast, to power it on or off, you'll long press the power button. The long press for powering the AE400 on or off is a nice feature to have, just because if you were to put this in your pocket, backpack, or purse, you wouldn't want to mistakenly shut the unit off.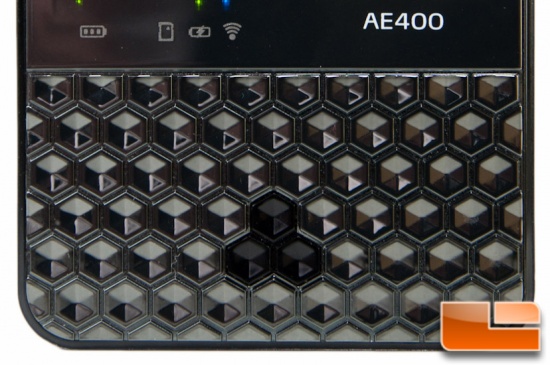 Since the AE400 is all about wireless media sharing, we'll take a look at that first.
It utilizes the 802.11b/g/n standards, which is capable of up to 150 Mbps of wireless throughput. That should be plenty of room to move files over quickly or just in general view photos or videos directly from the AE400.
Speaking of viewing content directly from the AE400, ADATA has claimed that up to 3 users can stream 1080p content at the same time, or up to 5 users can stream 720p content. I must say, those are some pretty impressive numbers for the number of people that can stream HD content simultaneously.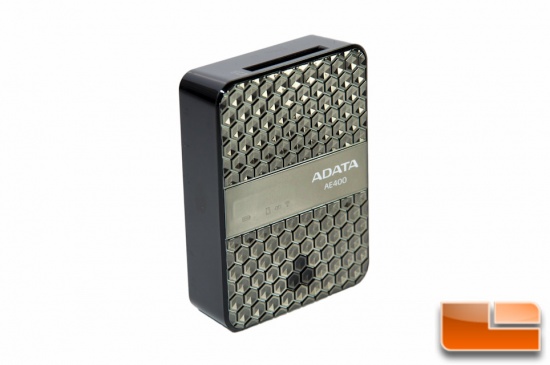 Because the AE400 uses standard wireless to allow you to stream, download, or upload content, you end up losing your data connection to your device. This is very unfortunate, but ADATA does have a solution for this, so long as you're within range of another wireless internet source. Their solution is to allow internet to pass through the device, making the AE400 act like a hot spot. It just simply bridges the wireless connection, in which you connect to the AE400's GUI and connect to a wireless access point. With the access point feature, you will be able to have 10 devices connected at once, to either strictly share media or to have the ability to surf the internet. I think this should be more than enough for personal use. The unfortunate part of this all is, if you don't have access to a wireless network for the AE400, you lose internet connectivity until you disconnect from its wireless network.
The other main function of the AE400 is its charging capability. It has a generously sized 5,000mAh battery, which is enough to provide nearly two full charges to a standard smartphone. When you get into the powerhouse phones, such as the Samsung Galaxy S3 or S4, which have a massive 2,100mAh or 2,600mAh battery, this definitely won't be the case.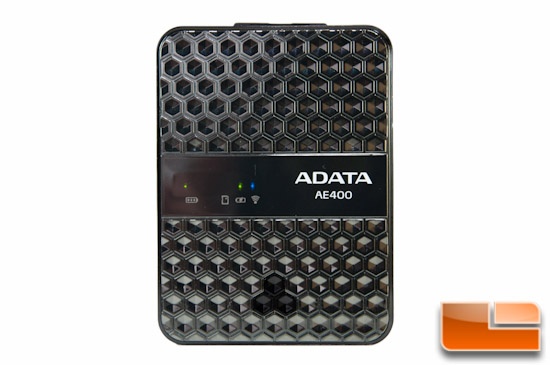 If you wish to use both the wireless mode and battery mode at the same time, you can definitely do just that, or you can use each mode individually. This will help preserve the battery when just trying to charge your device.
Next up, I will take a brief look at the software for Android and iOS, and just after we'll get into the section you really want to see: performance.
ADATA's DashDrive Air Elite Software and Interface
In order to share your files from your smart phone or tablet, ADATA offers a free download of the software called: DashDrive Air Elite. This software is available for both Android and iOS. I did have the ability to test out both versions; one test being on my Samsung Galaxy S3, another on my ASUS Transformer Prime, and finally on my wife's iPhone 4S.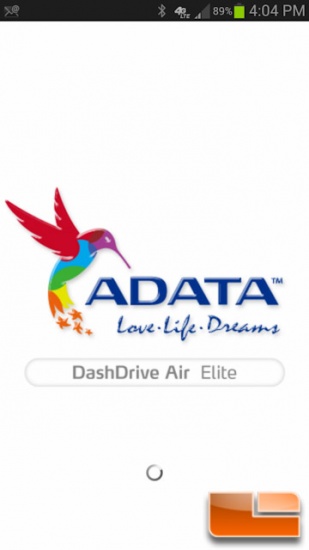 When you have the software downloaded, all that you need to do is connect to the wireless network at your AE400 transmits. By default, it will be ADATA_AE400_XXX, with the default password being 12345678. When inside the software, you can easily change the password to your liking, or disable security altogether.
You will also see the plethora of options for seeing various content types that may be on the storage device, upload your own content to the attached storage, or just modify the settings.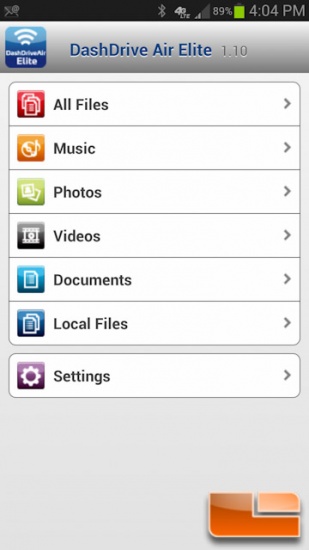 In the settings section, you can change anything from the network name, to the date and time. Should there be a firmware update for the AE400, there's a section for that, too! Most importantly, you'll see your internet pass-thru mode here. This again will allow you to connect the AE400 to a wireless network, and in turn connect up to 10 devices to it, while still being able to surf the internet. If you do not have this feature turned on, none of the 10 devices connected will be able to use internet functions until they disconnect from the AE400.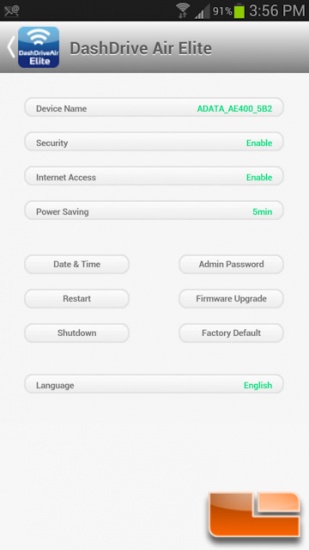 When it came to using the Android software, I had some troubles, but I had a fairly decent experience. Uploading multiple pictures was a breeze. All you have to do is tap the upload icon on the right hand side of the screen, and then tap away at other pictures. I uploaded about fifteen 1 to 1.5MB pictures in seconds, and multiple pictures uploaded simultaneously. Thumbnails are initially slow to build, but it does appear to cache them on your card. No thumbnails built for my videos, which is a bummer when it came to generic Android video titles.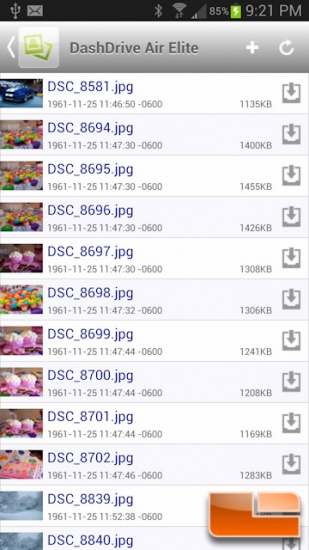 Sticking on the Android side of things, when I downloaded the pictures from the AE400, I could not find them easily. I had to dig around the file system, as they did not recognize in my gallery. I half expected Android to recognize them, but it didn't, even after a reboot. I ended up using the phone's file manager to search for the content, only to find it in /storage/sdcard0/Android/data/com.adata.DashDriveAirElite. One other thing that I thought was extremely weird, is when I went to try and download content via the "All Files" section, you have a slightly different interface. There is an arrow on the right hand side, instead of an icon that represents downloading. You'll get a menu that lets you copy, delete, download, etc. Whenever I would try and download content, it would actually delete it from my card. I thought this was a fluke, but I tried with 5 different files, re-uploaded them, and tried again, to get the same results.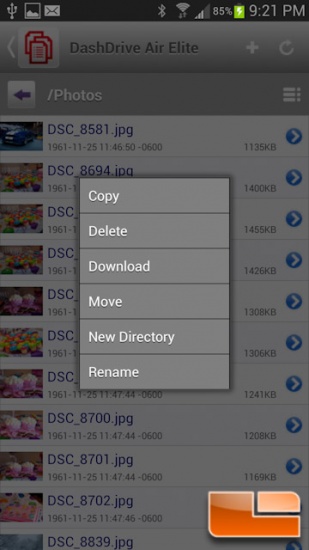 The iOS software was a breeze to use. It actually responded quickly and files actually transferred without issue, and thumbnails loaded quickly. When I downloaded photo or video content, it was easy to find right in the photo gallery. I can't say I had any problems with the iOS version of this software, so I hope the build quality of this can move over to the Android platform. Wishful thinking!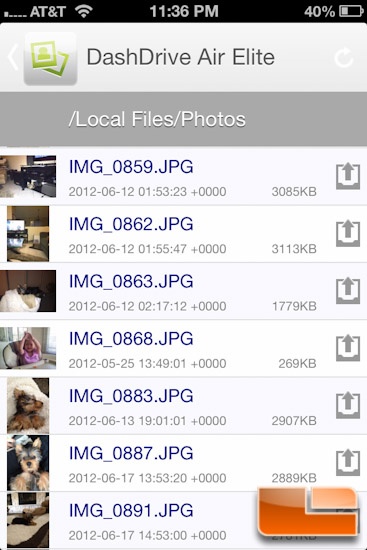 Let's get into the best part of this review, the performance numbers! Continue on to see what we've found!
AE400's Performance
Here's the section that many of you are probably looking forward to. I will take a closer look at the performance of AE400, in terms of the wireless transfer rate when using it as an internet bridge, uploading and downloading files via the wireless interfaces, and also how quickly it will grab that same data from the unit when plugged in via USB. You also cannot forget the battery charging performance, which I will touch on a bit.
I have 18Mbps AT&T U-verse DSL internet that I am going to use to test my devices on, as well as checking out the numbers I get when connected to the AE400. All of my tests were performed with the AE400 sitting approximately 1 foot away from my router, and my devices were no more than 2 feet away from the AE400.
I started off by benching each of my devices on speedtest.net. I have my Samsung Galaxy S3, ASUS Transformer Prime, Apple iPhone 4S, and a Windows 7 Professional laptop, each connected to my AT&T U-verse router. Each test was consistent at around 17.5Mbps.
Now here's where the interesting part comes in. When I connected each of these devices to the ADATA AE400 and ran the same test, the numbers changed a fair amount. I received approximately 11.5Mbps on each device, which is still a far cry from my 18Mbps connection. This yielded approximately a 33% reduction in bandwidth from my initial test without the AE400.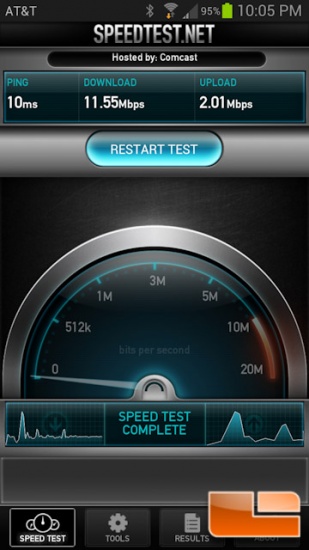 Moving over to wireless uploading, streaming, and downloading, I saw some interesting things here. I uploaded several different sized videos to my SDHC card via the built-in card reader, and a card reader plugged into the USB port.
My first test, I tested out the SD card reader with my SanDisk Extreme Class 10 45Mbps 32GB card.
I tested out three different files sizes: 1136KB, 10MB, and 209MB.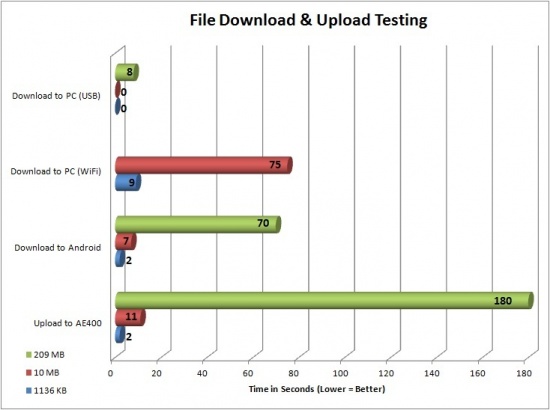 The files for downloading to my PC were transferring at approximately 150KB/s, which is awfully slow. My laptop has a b/g wireless card in it, and it was connected at a solid 54Mbps the entire time. I purposely had to leave off the 209MB file because it took well over 22 minutes to download. I'm not quite sure what the deal is there, but it was rather frustrating.
Everything else was pretty reasonable. Using the AE400 as a regular card reader yielded speedy results, which is exactly what I expected. Downloading the files to my mobile devices was pretty snappy, though I know I wish it were even quicker yet.
Video Playback
Video playback may not what it was all up to be, but it does have potential. Remember that ADATA says 3 users can simultaneously stream 1080p videos, while you can have 5 users streaming 720p content. I couldn't even stream a 568x320 video that was shot on my phone without it stuttering. They seem to play fine for a brief moment – read: buffer – but when that buffer was run through, the video would either stutter or pause and try to rebuffer again. If I were to stream a trailer from Apple's website or a video that I created on my computer, all using MP4 containers, they would stream just fine. During my testing, I did not have any 1080p content handy, since I do not have multiple devices with 1080p capable screens. When I had 3 users test out 720p streaming with content that my phone did not create, it worked absolutely flawlessly.
Battery Recharging
Finally, the battery charge rate was a fairly pleasant experience. With the AE400 fully charged and never turned on, I was able to charge my fully depleted Galaxy S3 battery, which is rated at 2,100mAh, in 2 hours and 35 minutes. The battery LED indicator turned orange (meaning 25-50% power left) after my phone was only 20% charged the first time. Thinking this was a fluke, I tried it again on a fully depleted Galaxy S3 battery, and the next time around my phone got to 39% before the orange LED came on. When the S3 was finished charging, I then went ahead and charged my original Galaxy S (Captivate), which has a 1500mAh battery, and that got to 49% before the AE400 shut down. All in all, I have to say this was not bad!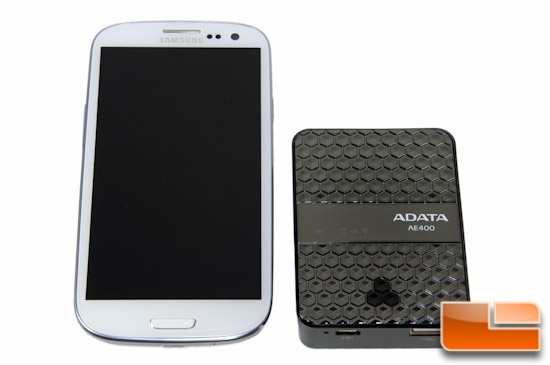 Just to retouch on charging the AE400, it took approximately 6 hours out of the box to a full charge, when charged via my PC's USB port. It took over 7 hours from fully depleted to fully charged, when using my Galaxy S3 charger, which is rated at 1 amp output. These are crazy recharge times for the AE400 unit, but you do have to remember that it is a huge 5,000mAh battery.
ADATA DashDrive Air AE400 Final Thoughts and Conclusion
The ADATA DashDrive Air AE400 is meant to fill a gap for mobile file sharing and also provide some extra juice to your devices. I did have a fairly pleasant experience with using the AE400 as a charging station. I was able to get a full charge out of my Galaxy S3, with a 2,100mAh battery, and almost half of a charge out of my original Galaxy S, which has a 1,500mAh battery. I was hoping I'd be able to squeeze a bit more out of it, in all honesty, but I was still happy with the results.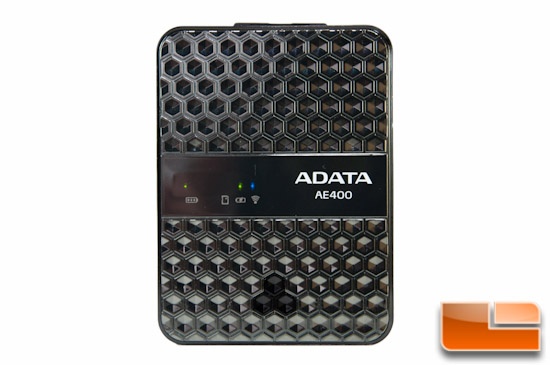 I think it is a little bulky to walk around with in your pocket, but it should fit nice in a backpack or purse. It isn't overly heavy either, weighing in at 128 grams.
I had a fairly pleasant experience using this gadget. With wireless being the way of the future, this sure helps fill the file sharing section. It does have its own flaws, such as if you're not by a wireless access point to connect the AE400 to, you just lost all internet functionality on your mobile device that is connected to it. That means this device is best used in short periods when you don't need alerts from Facebook or Twitter, or even nagging emails from your husband/wife, but rather it may be best used at home, Starbucks, McDonalds, or anywhere you can get free WiFi access and not lose that functionality. I do really wish ADATA would have coughed up a starter SD card to include with this, because with the DashDrive Air AE400 running you $79.99 on NewEgg, that would add just that much more value.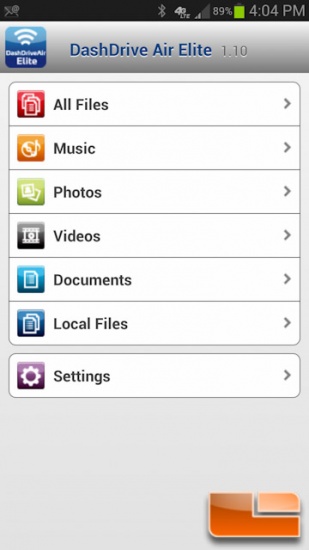 The GUI is rather simple and easy to work with. There are plenty of options available for you to make sure you can find the proper content that you want, without having to dig through potentially hundreds of various files. When it came to accessing your files via the iOS or Android app, I had a great experience with the iOS app and a decent experience on the Android app. My biggest gripe with the Android app was the fact that it deleted your files, instead of downloading them, when you go in through All Files. Also trying to find content that you downloaded is difficult, since it puts the downloads in a strange place that the Android gallery cannot see. I did not have any problems like this with the iOS software.
The ADATA DashDrive Air AE400 does have a lot of serious potential, so hopefully the problems that I experienced with this unit can be fixed with a simple firmware or software update.
Legit Bottom Line: The AE400 is a great little gadget for file sharing between all of your mobile devices, while providing plenty of extra juice for your phone or tablet during the day.