Introduction
Over the last month we have looked at some very nice cases from Antec's 2005 line. The TX1050B and Titan 550 both showed to be some great products in their respective fields featuring good looks and incredible durability.
Today we'll look at the next enclosure in Antec's 2005 line, the TX640B, a mini ATX case that simply looks like a shrunk down TX1050B. Those of you working with limited space or wanting a small enclosure will want to check out this article.
"When Antec's original Performance Series was launched in 1998 it started the do-it-yourself high performance computing revolution. Now we proudly introduce the third generation, Performance TX, redesigned and updated for the latest technologies. All models are designed to meet Intel's Thermally Advanced Chassis (TAC) design guide and come with ATX12V v2.0 power supplies."- Antec's website.
Let's take a look at some specs before we move on to a more in-depth look into Antec's TX640B.
Case Type

Mini Tower

Case Dimensions

17.25" (H) x 8.1" (W) x 18.6" (D) 440 x 206 x 472 mm

Drive Bays
- Front Accessible
- Internal

8
3 x 5.25", 2 x 3.5"
3 x 3.5"

Expansion Slots

7

Cooling System
- Rear
- Front

Up to 4

1x 120mm TriCool

1 x 80mm (Optional)

1 x 92mm (Optional) CPU duct

1 x 80mm (Optional) VGA

Power Supply

400W
SmartPower 2.0
ATX12V V2.0
SP-400

Material

1.0mm SECC

Net Weight
Gross Weight

25 lbs.
27 lbs.

Motherboards

Fits micro ATX and standard ATX
Up to 12" (W) x 9.6" (L)/305 (W) x 300 (L) mm

Special Features

Fits micro ATX and standard ATX
Up to 12" (W) x 9.6" (L)/305 (W) x 300 (L) mm

2 Front USB port, 1 Front IEEE 1394 (Firewire) port,
audio in/out

Swing-out side panel with handle

Washable air filter

Quick-release drive bays with release lever

Snap-in fan mounts

Large front panel vent

Package Includes

1 400 Watt Smart Power 2.0 SP400 installed
1 Power cord
1 case fan
1 set of screws and motherboard standoffs
1 completeset of drive rails ( 6 rails )
1 Installation manual
External Impression
My first impression of the TX640B was very positive. I have been a big fan of Antec's 2005 line so far, and this case should be no exception. The TX640 should look familiar to those of you who read out TX1050B article, although noticeably shorter and missing the front door, the two cases are very similar in appearance.
The TX640B is a short and stout case measuring in at 17.25" (H) x 8.1" (W) x 18.6" (D). But don't let its size fool you; the TX640B is plenty heavy, weighing in at 25lbs! The weight and feel of this case can be attributed to the 1.0mm steel Antec uses to build their cases.
While some may be fans of clear side doors, colored cases, or different shapes, I appreciate Antec's simple approach. By keeping the shape, style, and colors of their cases simple, Antec cases easily fit into any environment.
The front of the TX640B features a doorless design, thereby removing my biggest gripe with Antec's 2005 line so far. In my opinion, no door means one less thing that can be broken. With no door, your external drive bays are exposed, and to me at least this is no problem, though it may be to others. The drive bays themselves are actually slightly recessed from the rest of the front panel, giving the case a really nice look.
Moving down to the grill, Antec includes the front I/O port in its usual spot, a personal favorite of mine as I like the I/O port in a position that I can reach it without much effort (Hey, call me lazy). While some companies us top mounted I/Os or simply place them too low on the front panel, I think Antec's placed theirs perfectly. Surrounding the I/O ports is a plastic grill that hides two 80mm fan holders and a washable air filter for air intake.
Looking at the side door, Antec has focused a lot of their attention on cooling today's hotter interior components. Using the now familiar 92mm fan housing for CPU cooling and the additional 80mm video card cooler, the TX640B should provide adequate cooling for your systems interior without much fuss.
I like the look and quality of Antec's cooling solution, the CPU cooler can be adjusted to work with any cooling solution, and the Video card cooler blew directly where it was supposed to on both boards I mounted in this case.
Aside from the cooling, the side door is something I have really gotten to appreciate. Instead of simply sliding into place and being secured by a pair of thumb screws, Antec used a locking system. Simply line up the front of the case door with the enclosure, and then snap the rear into place. In the end I didn't even end up using the included thumb screws as the locking system was more than adequate and allowed me to easily switch components in and out.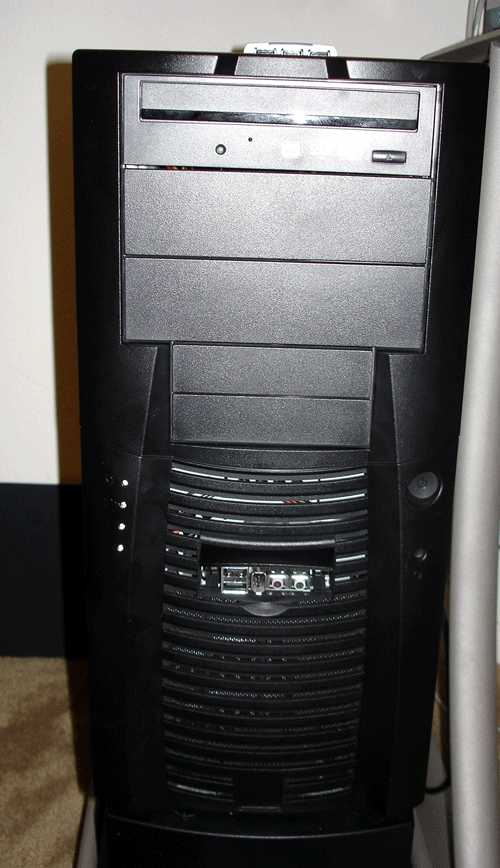 Though some people may be bothered by a plastic front, they shouldn't be. Antec clearly designed this enclosure with durability in mind. I tried bending the grill, and breaking the grills by pitting pressure on it and by hitting it, without any effect at all. I'm not recommending you to do the same, but being a review sample, I wanted to really put the case to the test. Needless to say, the TX640B is an incredibly solid case. Externally I was very happy with the TX640B, it is incredible durable, and small enough to fit in any computer desk without issue.;
Internal Impression
Moving on to the interior I was a little worried from the start. The TX640B looks to be a little cramped for a standard ATX board. Something I'd like to see, yet don't see enough of anymore are removable motherboard trays. With a removable tray, you can set up your entire system externally then simply slide it into the enclosure, hook up your wiring and move on.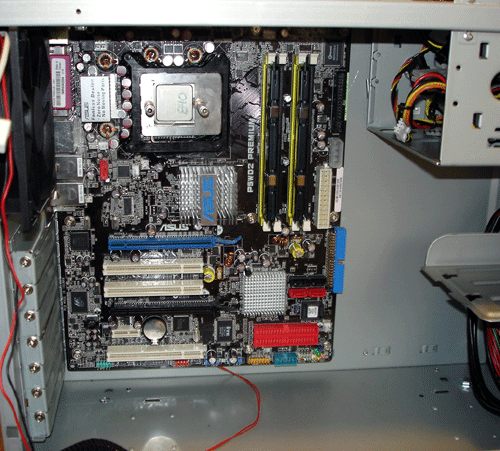 The TX640B supports micro ATX as well as standard ATX motherboard by way of a variety of motherboard standoffs. My only problem with Antec's Titan 550 was the lack of standoff options (which has since been corrected), the Tx640B suffers no such issue. Setting up the motherboard was not hard, to my surprise.
Though it was a little cramped I had no problem installing my motherboard. Users might have some issues with larger HSF and securing the board to standoffs becuase of space, but as always, a well thought out installation plan is all that is needed to avoid problems. Remember, any time you put together a system, lay out your components and make sure you look at every possible configuration.
The TX640B features basically the same internal layout as its bigger brother the TX1050B. The only real difference is the Tx640B has three external 5.25 and two 3.5 drive bays. To me these are more than enough as I never use a fan controller, and more often than not use a single Optical drive and FDD. Installation of the optical drives uses the now familiar rail system. I like Antec's system over most others in that they use screws to secure the rails to the drive as opposed to plastic pegs, which tend to break easily.
Moving further down, the TX640 includes a single removable 3.5 drive bay cage which houses up to three HDD. I really like Antec's system here. The HDD has a 80mm fan housing mounted to the front of the removable cage to provide cooling to your HDD, an often overlooked component when it comes to cooling.
Below the single 3.5 drive bay cage is an open area with yet another 80mm fan mount for drawing air into the case. Antec didn't go overboard trying to include an additional HDD cage, and instead left users some room to work or stow wiring here.
Something I would have liked to see was the ability to mount the cage in either its normal spot or in the bottom for reasons we'll cover shortly.
The TX640B PCI slot area is extremely solid. Something i think that a lot of people take for granted is this area. With some cases, the manufacturer uses plastic clips to hold your cards in place, which sometimes makes putting in and taking out cards easier, but also makes for a hassle when a clip breaks. I like Antec's simple yet sturdy design, Another aspect i like is the solid design of the PCI slot area. Where most cases use a flimsy tin, Antec didn't skimp; using the same 1.0mm steel used everywhere else on the case. I feel much better that the area doesn't flex and distort whenever I am working with it.
The TX640B uses Antec's newest cooling fan, the Tri-Cool 1200mm. I really like these fans and have covered them in both my review of the TX1050B and Titan 550 cases. I don't care for the control design, and in the TX640B, the controller itself dangled in the way until I secured it to the side of the case, but on its own merits, the Tri-Cool is a very good fan that does a great job.
My first problem with the Tx640 was the lack of room when it came to case wiring. There was very little space to stow the wires from the PSU as well as component wiring, which in turn affect the case air flow and cooling. Needless to say, I wish Antec had included one of their outstanding modular PSUs with this case, it would have been an outstanding topper to a nice design.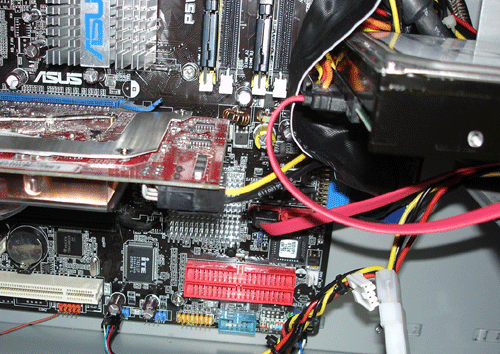 My second problem came with room in regards to my HDD placement and my video card. When setting up my HDD cage, I placed an 80mm fan in front as to cool my HDD and draw air into the case, however doing so requires the HDD to be mounted further back in the cage, which just didn't work for my system. With a fan mounted, the HDD simply would not fit along with my video card. After removing the fan and sliding the HDD to the front of the cage, the components were still a fairly tight fit.
Again, a good plan is essential to any system build, and the TX640B is no exception. Before installing any of your components, make sure you have adequate clearance to work with, and make sure you keep air flow and wiring in mind when putting things together, just because they do fit does not mean everything will be fine.
In the end, everything worked out well. The TX640B has a very solid design and more than adequate air flow. I would not recommend this case for something like an internal water cooling kit only because of the lack of room. But an externally mounted kit would be perfect here. My feeling is the TX640B is geared more toward the person who simply is looking for a solid case to build an average system in, not the hard core enthusiast.....but then again, I had something else in mind.
The Power Supply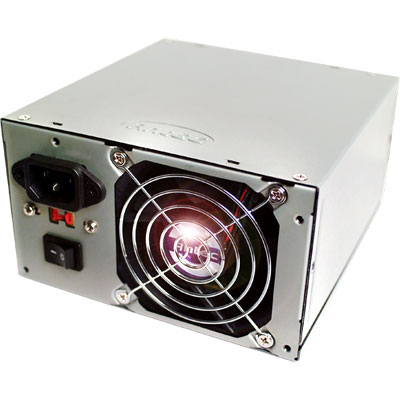 As usual, Antec packages one of their high quality power supplies with their cases. In the case of the TX640B, Antec uses their SmartPower 2.0 SP400, a 400W power supply that adheres to the ATX 2.0 standards. I've already touched on this, but with such a limited internal space, I would have rather seen a modular PSU used, but the 400W SP400 is a good PSU none the less.
"The NEW SmartPower 2.0 is ATX12V v2.0 compliant, with dual+12V rails, 4 serial ATA connectors, and Antec's Unique Dual Fans Design for virtually silent operation. All SmartPower 2.0 power supplies carry UL, CUL, TV, CB, FCC Class B, CE and CCC certified safety approvals."- Antec's website.
I'm not going to go too far in depth into the PSU, as I don't have the means to really test it extensively, but let me say I have never had a problem with an Antec power supply and have no problem recommending them to anyone.
Lets look at some of the features of the SP400:
Dual 12V output circuitry provides added system stability and meets 240VA UL requirements and safety purpose: 12V1 for Motherboard and peripherals; 12V2 for processor.
ATX12V v2.0 compliance allows SmartPower 2.0 to consume up to 25% less power than standard power supplies, saving you money on your electric bill. 24-pin power connector with detachable 4-pin section for backwards compatibility with ATX 20-pin motherboards.
4 SATA Connectors support Serial ATA optical drives, one PCI-E graphics connector.
Flow-through dual 80mm fans (one intake and one exhaust)
Unique Dual Fans Technology: exhaust fan starts to spin when the power supply reaches certain temperatures to ensure proper airflow, the second fan spins on power up
Industrial grade protection prevents damage resulting from short circuits, power overloads, excessive current, low voltages and excessive voltages
Increased 12V output capability for system components that consume more power from 12V rail
Checking out the specs here you can see the SP400 is a decent offering that should have no problem powering a moderate system. While my preference would have been for a modular PSU like the NEOPower 480 or the Smartpower 2.0, a decent 400W PSU included in the package is nothing to complain about as I have never come across an Antec PSU I was unhappy with..
Final Thoughts
On the positive side, I love the look and feel of this case. Much like its bigger brother the TX 1050B, the TX640B has a thick outer shell which should stand up well to any abuse. The aesthetics of the case are simple, but should have no problem fitting into any environment.
The front panel features the same plastic construction of Antec's other cases to date, but the lack of a front door means your external drive bays are exposed, which isn't a problem in my eyes as I'm constantly switching out disks and fiddling with my system. The lack of a door also means there is one less moving part that can be broken.
I also very much like the circulation of the TX640B, the two front fans, coupled with an additional two fans on the side panel should provide adequate cooling for your internal components. Using this case with my Prometheia was a snap after a few modifications, and the case fit my needs perfectly.
On the negative side, the case was just a little too cramped. When installing an X850 XT video card with stock cooling there was very little clearance when a HDD was placed in the HDD cage. Additionally, to get both components to fit, I was unable to use the 80mm fan mounted on the front of the HDD cage. With a smaller case like this, I'd like to see the manufacturer use a removable motherboard tray. Installation wasn't really a problem, but the ability to work freely and easily when setting up your system is a big bonus. As with the TX1050B I wish Antec had used 120mm fans instead of the 80mm fans and single 92mm CPU directed fan.
In terms of pricing, the Antec TX640B was found to be reasonably priced at just below $95 with free shipping via our shopping site. For a solid name brand case with an ATX 2.01 power supply we feel that the price goes along nicely with the overall quality of the case.
While the TX640B had some shortcomings, and is not a good candidate for an internal water cooling system, this case worked incredibly well for my project I'll be writing about next week, and if used with an external watercooling kit such as the Exos-2 or Hydro Cool would provide an excellent enclosure for your system.
Legit Bottom Line
With Antec's typical solid design and some good looks the TX640B is a great choice for a first time builder or casual computer user working with limited space.