2012 starts with a Cosmos II Ultra Tower
Back in 2007 Cooler Master released the Cosmos case to rave reviews around the globe.  It was such a revered case that Maximum PC used it for their dream machine that year.  Cooler Master knew they had a hit and released several revisions on this original case such as the Cosmos S, Cosmos 1000, Cosmos Black Label, and Cosmos ESA.  However five years later Cooler Master decided it was time to do a ground up redesign and release the next evolution in the series, the Cooler Master Cosmos II Ultra Tower (P/N:RC-1200-KKN1).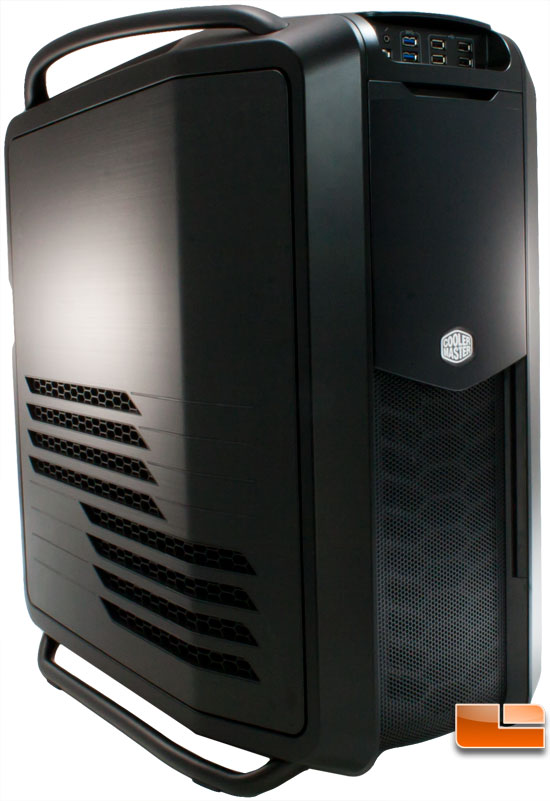 At first glance the COSMOS II looks very similar to the original case as it has the top and bottom rails still, but beyond that it is very different.  For one thing it is bigger in all dimensions with the original Cosmos at 10.47"(W) x 23.54"(H) x 24.72" (D) but  the new and improved Cosmos II Ultra Tower stands a whopping 13.5"(W) x 27.7"(H) x 26.1"(D).  This is larger than most cases classified as a Full Tower which is why Cooler Master came up with the Ultra Tower category.  The Cosmos II also has 13 overall HDD / SSD spaces vs the originals 6 but it does give up two 5.25" bays going from 5 down to 3 in this version.  The reason the Cosmos II gives up these bays is for what Cooler Master refers to as X-Docs which are front access hot swap bays with SATA and Power built into the back.   The cooling has gone from 2x 120mm to 3x 120mm or 2x 140mm or 1x 200mm in the top with an optional 240mm radiator bottom mounted with included hardware.  Finally Cooler Master added a muli fan controller and LED switch panel in addition to the normal I/O ports making this a pretty feature rich case for most users.
The Cooler Master Cosmos II Ultra Tower will be available in early January with a planned MSRP of $349.99 at the retailer of choice with an expected warranty of 2 years as of this writing.  The Cosmos II only comes in the black reviewed here and without any window options at this time.
Cooler Master Cosmos II Highlights
Rich I/O support (USB 3.0 x2 , USB 2.0 x 4, e-SATA); Intelligent LED fan speed control panel on the top
Supports high-end hardware such as XL-ATX motherboards, 4-Way SLI or Crossfire (10+1 expansion slots)
Room for future upgrades with support for up to 13 HDD or SSD
Dust filters on every intake are removable to allow easy cleaning
Support for a mix of 360mm or 240mm radiator(s)
Easy transport with handles
Easy cable management and routing
Individual airflow chambers for system components; improving thermal management
Supports large 140mm case exhaust fan
Aluminum sliding front door protects 5.25" bay drives and devices
Majority of the construction is aluminum with steel and mesh used for style and strength
Specifications
Available Colors: Black
Part Number:  RC-1200-KKN1
Exterior: Aluminum, Mesh, Plastic
Case body: Black painted Steel
Dimensions (W / H / D) 344mm(W) x 704mm (H) x 664 mm(D) / 13.5(W) x 27.7(H) x 26.1(D) inches
Net Weight 21.5kg / 47.3 lb
M/B Type Micro-ATX, ATX, E-ATX, XL-ATX, SSI CEB, SSI EEB
5.25" Drive Bays: 3
3.5" Drive Bays: 13 (2 from X-docking, Mid.cage for 5 HDDs, Bottom cage for 6 HDDs)
2.5"/3.5" Drive Bay 11 (converted from 3.5" bay)
I/O Panel USB 3.0 x 2, USB 2.0 x 4, E-SATA x 1, Audio In and Out
Expansion Slots 10+1
Power Supply ATX PS2 / EPS 12V
Maximum Compatibility
Maximum CPU cooler height: 190mm/ 7.48 inch
Maximum GPU card length: 385mm/ 15.10 inch
Included Cooling System:
Front: 200mm LED fan x 1 included.  Can be replaced with 120/140mm x 1
Top: 120mm black fan x 1 included.  Can be replaced with 200mm fan x 1,  140mm fan x 2, or 120mm fan x 3
Rear: 140mm fan x 1
Side over GPU area: 120mm fan x 2 (optional)
HDD: 120mm fan x 3 (2 fans for bottom HDD / 1 fan for Mid. HDDs)
Unboxing the Cooler Master Cosmos II Ultra Tower
This case came to us via Hong Kong and was wrapped tightly with many layers of cellophane and cardboard edge protectors but the shipping companies were still able to get a few good licks in on the side in route to us.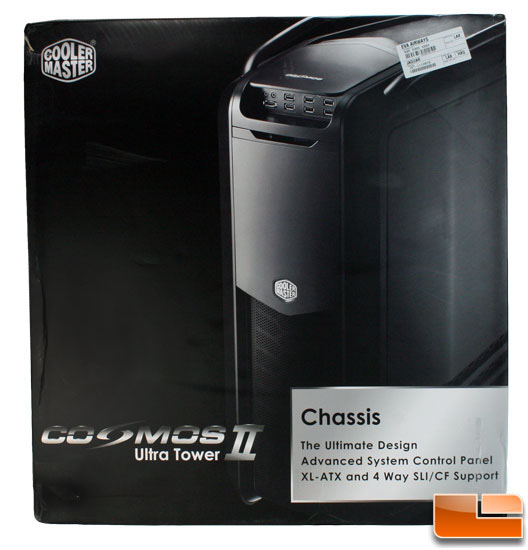 The front of the box has a nice dark angle shot of the case and a little marketing text to let you know this is the "Ultimate Design" supporting XL-ATX and 4-way SLI / Crossfire.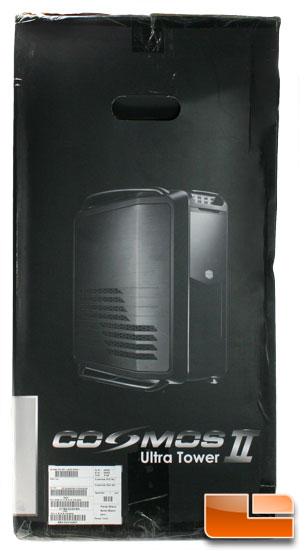 The right side of the box has another image of the case and the bar codes for part number, model number, etc.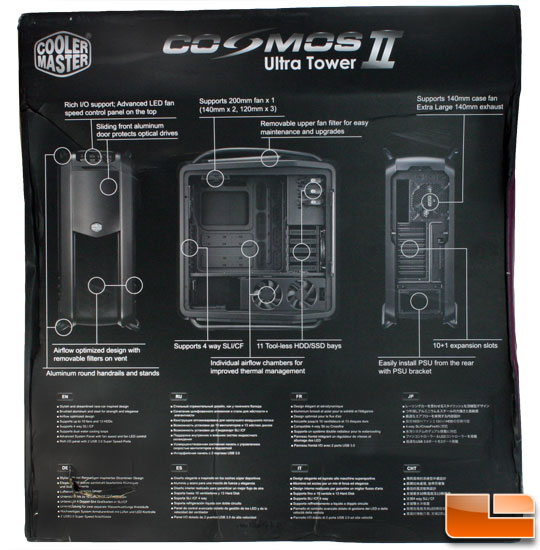 Moving around back you can see the shipping damage.  It isn't obvious from this flush image but the back was knocked in by about 1 1/2" and even pierced in the lower left corner of this shot.  Shipping woes aside the back has detailed marketing images highlighting all the key features of the Cosmos II in multiple languages on the bottom.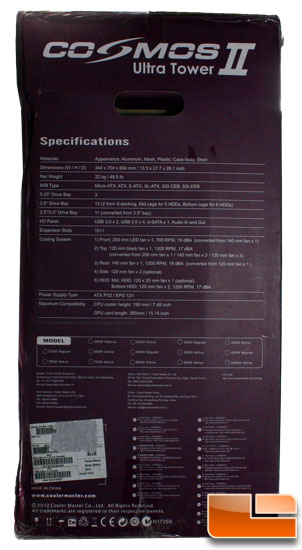 Finally, the left side of the box provide copious information about the specifications of the Cooler Master Cosmos II Ultra Tower.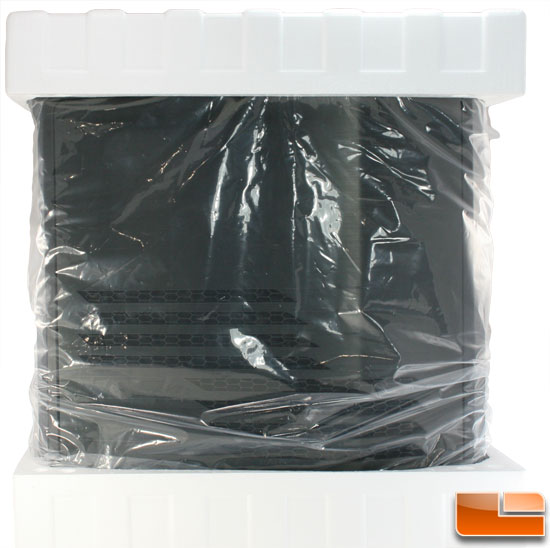 Lucky for us Cooler Master used thick foam and plastic wrap inside the box to protect the Cosmos II from damage as best as possible.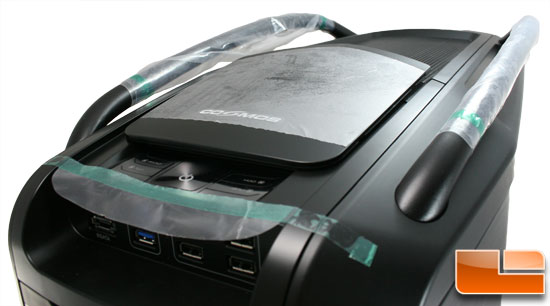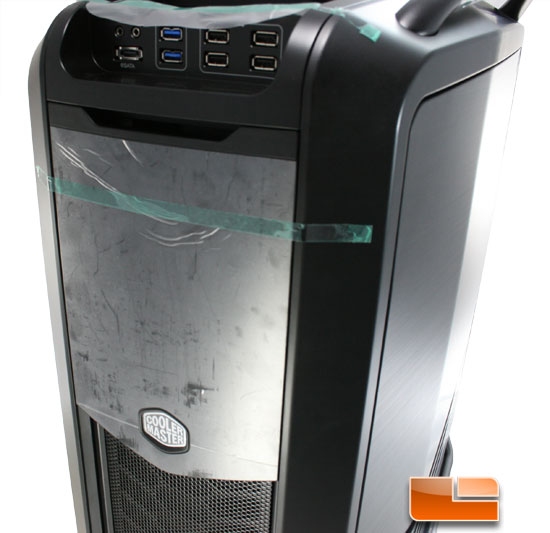 In addition to the foam and plastic bag they also covered the metal surfaces with tacky plastic to prevent scratches and smudges.  They also taped down panels that moved to prevent shifting.
Outside the Cooler Master Cosmos II Ultra Tower
The Cosmos II is a mix of materials with the outside being a combination of brushed aluminum, plastic, and steel mesh panels.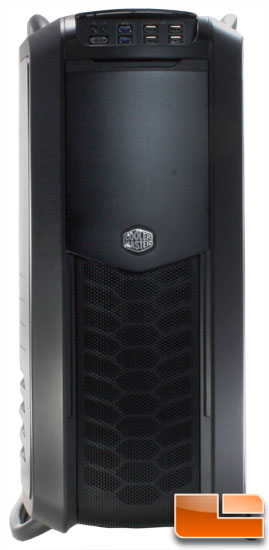 The front of the case is very different than the original full mesh Cosmos case with large angled vent holes behind a fine steel mesh grill.  Like the original the I/O ports are exposed and below them is an aluminum covered plastic door that slides down.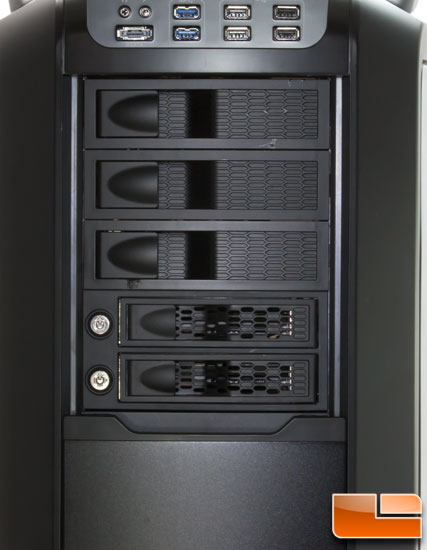 If you slide down this cover you expose the three 5.25" bays and dual locking 3.5" hot swap HDD bays.  There are two small magnets that hold this door up to cover these bays which makes it very easy to just slide down.  However this front plate does cover a significant amount of the front intake when it is in the down position.  There appears to be enough space between the front and the intake fan that this might be a non-issue but something to watch for if you plan on leaving this down most of the time.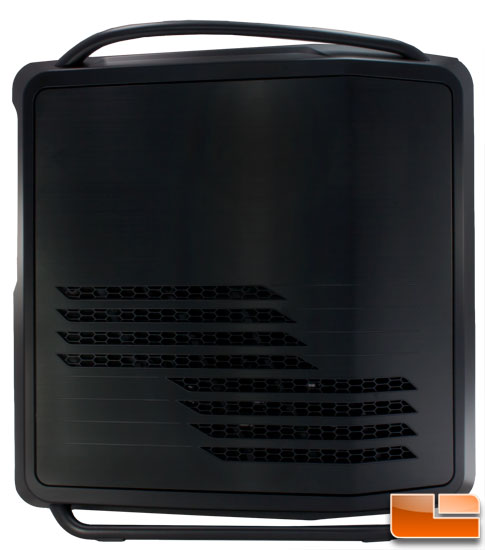 On the left motherboard side of the case is a very stylized vent that almost appears as if a tiger took a swipe at the case.  The entire side is a door that hinges from the front and is again plastic and steel with a brushed aluminum cover.   Currently there is no side window available for the the Cooler Master Cosmos II but we heard from Cooler Master that they are considering one as an additional option in the future.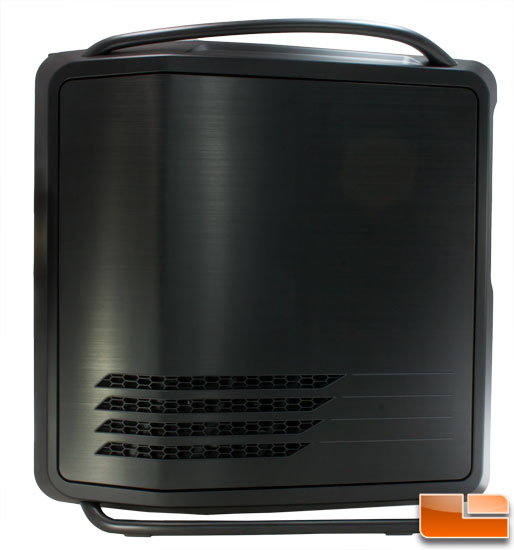 The right side behind the motherboard has similar styling as the right with a tiger scratch vent port low.  This port will make more sense when you look at the inside of the case.  It is also a large aluminum sheet over a plastic and steel door.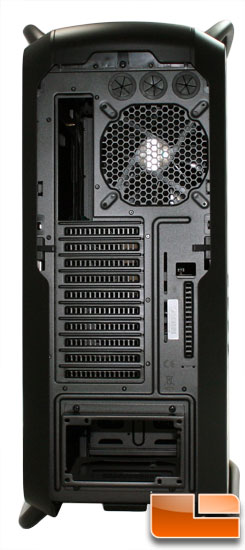 Going to the back and starting at the top there is a thumb screw to remove the top panel with three water cooling ports below that.  This is followed by a 140mm installed fan venting the CPU area on the motherboard.  Cooler Master includes 10 ports on the Ultra Tower to give you plenty of room for 4-way SLI or Crossfire assuming your motherboard support it.  They also included a +1 port above the 10 for you to mount a rear fan control, light control, or additional ports that come with so many motherboards these days.  On the bottom is a removable PSU bracket to make it easier to install your PSU.  Notice how it protrudes from the back about 1 inch, we suspect this is to give you a bit more space inside but the value isn't entirely clear.  The hole pattern is reversible allowing you to mount your PSU face up or face down.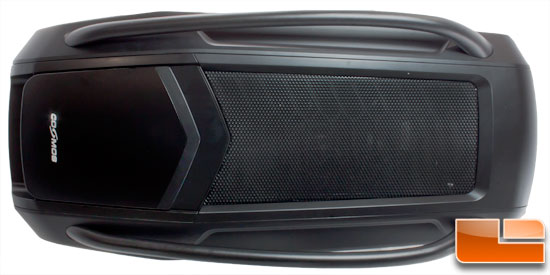 The top of the case has the Cosmos signature aluminum tube handles and a large steel mesh for top ventilation.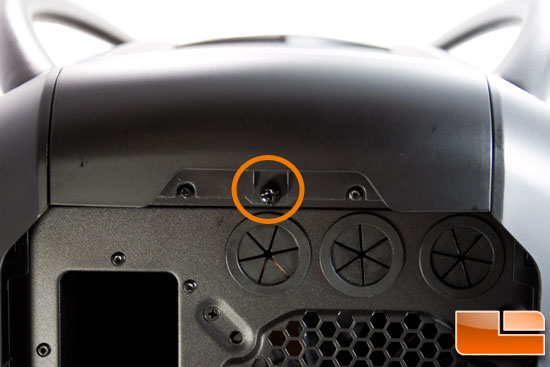 To gain access to the top compartment you have to first go to the back and unscrew this thumb screw that holds down the steel mesh cover.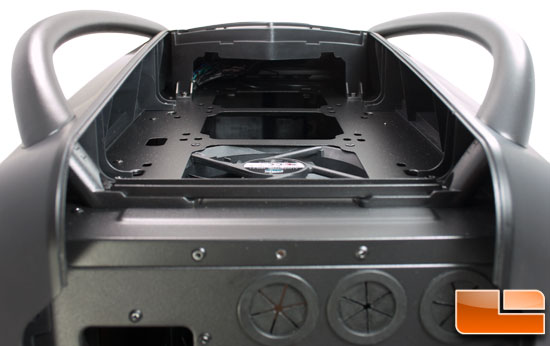 Once the thumb screw is removed you can pull the mesh off and gain access to the three 120mm ports. The Cosmos II has hole patterns for either 1x 200mm fan, 2x 140mm fans, or 3x 120mm fans.  Cooler Master highlights that this area at the top of the Cosmos II can house a 360mm radiator for water cooling but the space would only be able to handle the thinner rads on the market today such as MCR-320 from Swiftech or the EX series from XSPC.  There is no way you are fitting a XSPC RX360 up here without some serious mods.  Still it is a great option and having it all hidden under that mesh top keeps it looking clean and polished.  If nothing else you can mount your fans up here and the radiator below.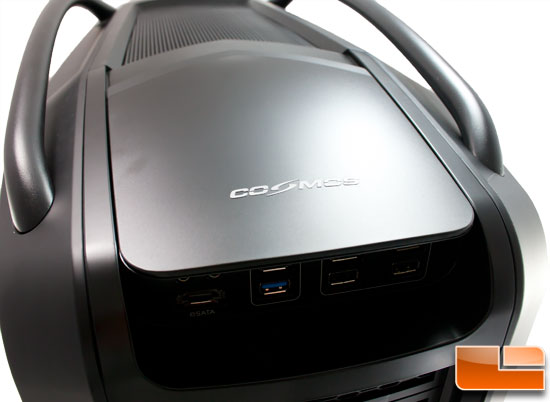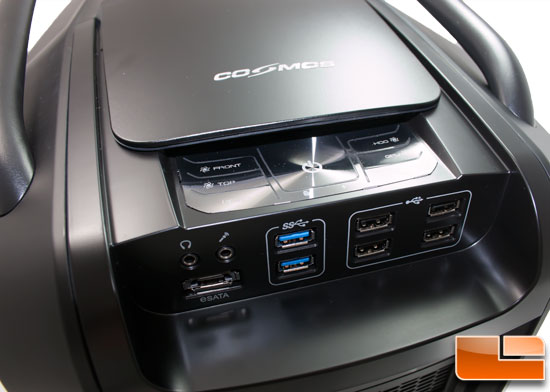 One of the design decisions was to at least partially hide the top buttons with this sliding panel.  By pushing it back it reveals a silver pad of back lit buttons and the power & hard drive activity lights.  This shot also gives you a good view of the I/O ports consisting of headphone and mic, eSATA, dual USB 3.0, and quad USB 2.0.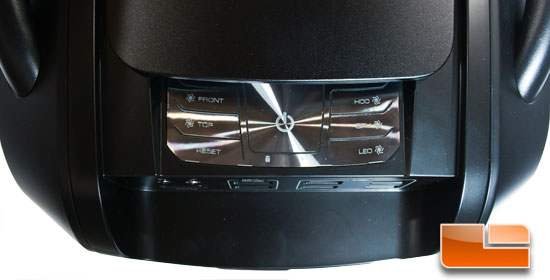 These buttons are actually fan controllers that allow you to change the speed of the fans by pressing the Front, Top, HDD, or GPU buttons until you hear them beep and then they cycle again.  There is also a LED button to switch the blue LED's on and off.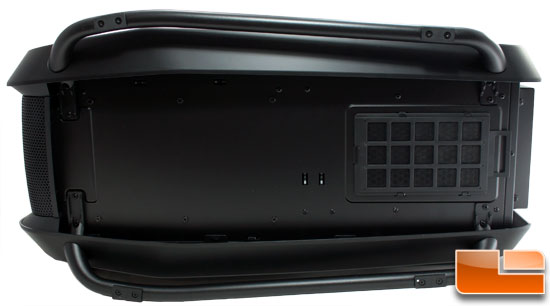 The bottom of the case is fairly bland with only a smallish intake filtered intake port for your PSU.  This seems rather small given most side fan mounted PSU's are 140mm these days but is should provide decent airflow.  The bottom rails have four rubber feet mounted on them and Cooler Master clearly states the case is not meant to be slid on the bottom rails or you risk damage to these feet.
Behind door #1 inside the Cosmos II Ultra Tower
The outside of the Cooler Master Cosmos II is all new but keeps enough in common with the original that you know where this case started.  The inside of this case, however, is all together different.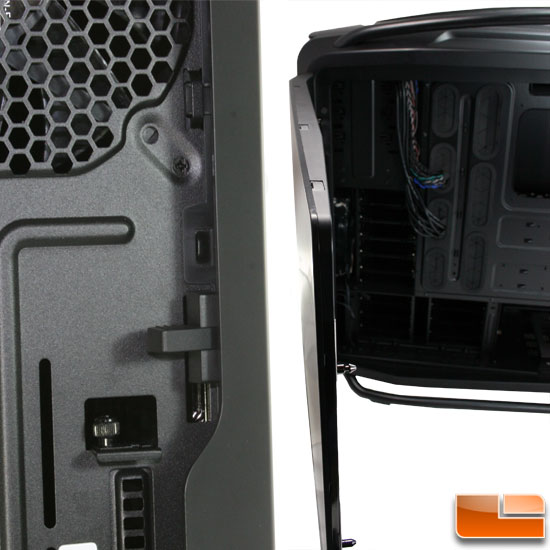 First, to get into the Cooler Master Cosmos II you have to reach around back and push down on the bar that corresponds to the side you want to open (pictured on the left).  That releases the door (pictured on the right) for that side which swings smoothly open and hinged toward the front of the case instead of pivoting at the bottom a la Cosmos.  This door is surprisingly thick at a bit over 1" in the middle.  We could not tell if there was any sound dampening, like used on the original Cosmos, inside the doors but it should make for very good sound insulation regardless.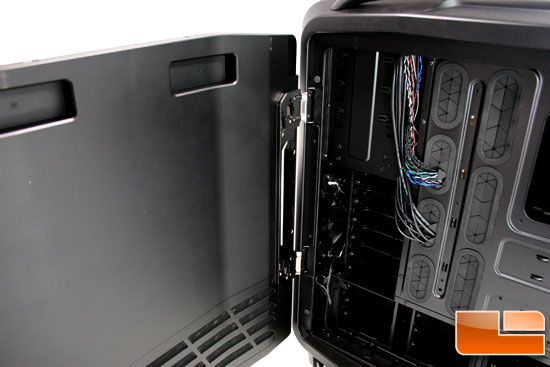 The two side doors are attached to the steel frame with heavy hinges as the doors feel like they have a bit of heft to them.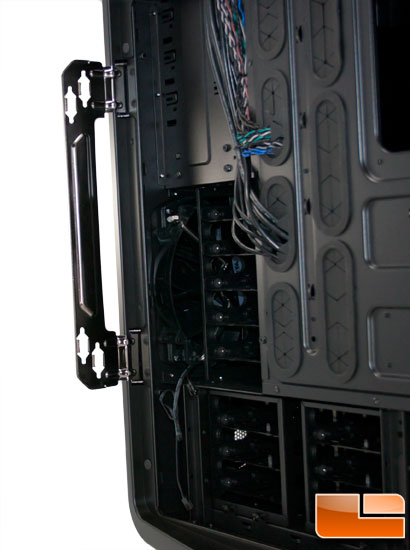 The doors simply lift up and off these hinges leaving this metal bracket but makes it much easier to access the internals of the Cosmos II.
Now that we have shown you how to access this case lets look inside.  On the motherboard side there is plenty of space similar to a Corsair 800D, with double grommets along the side of where the motherboard will reside.  Next to the tray area are the three 5.25 bays and two 3.5" hot swap HDD bays below that.  Under that area is the first of three hard drive cages with 5 trays.  In the bottom zone is the PSU area and dual fans blowing over the other hard drive cages.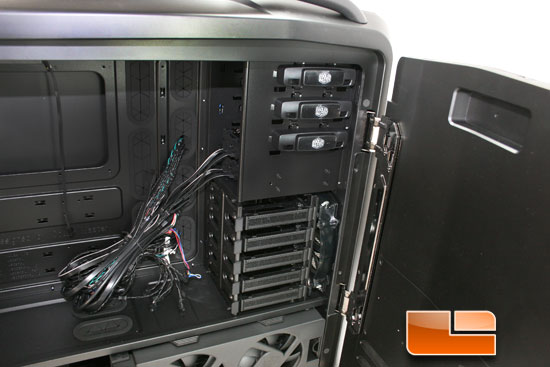 Another angle of the 5.25" bays and the top hard drive cage which is riveted in place but the Cosmos II Ultra Tower can still hold GPU's up to 15.1 inches long.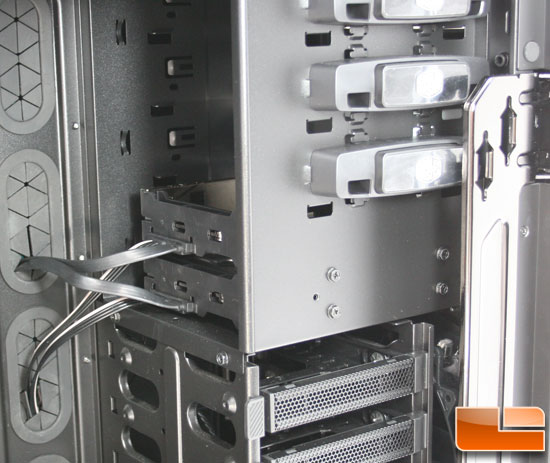 Back of the Cosmos II X-Docks showing the SATA and power connections.  Note these use standard 4-pin molex power not SATA power connectors.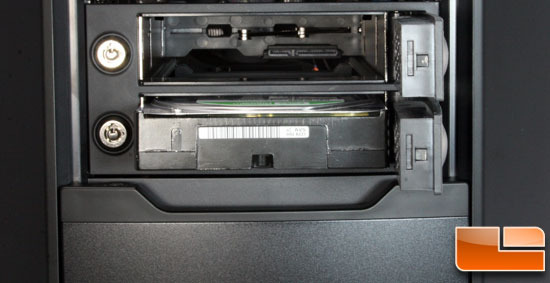 Looking at the Cosmos II X-Dock from the front you can see we slid a drive in the bottom and it is locked in place with the front door.  When you open the door it ejects the drive so make sure you are using AHCI and hot swap or you might crash your drive if it isn't powered off.  You can see the combo SATA power and data ports in the back of the top bay.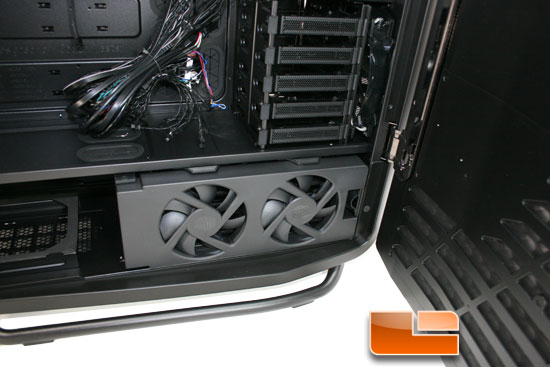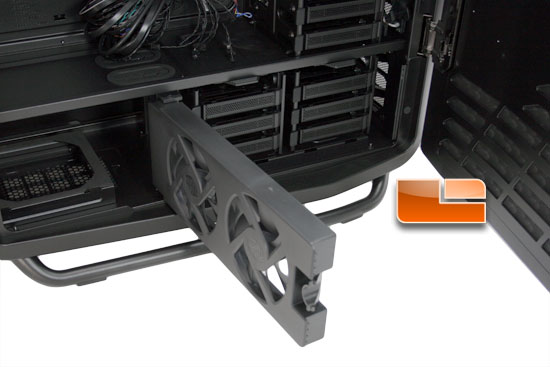 The bottom dual fan cooler covers the bottom six hard drive trays and with a simple pull on the front edge tab swings out to expose the trays.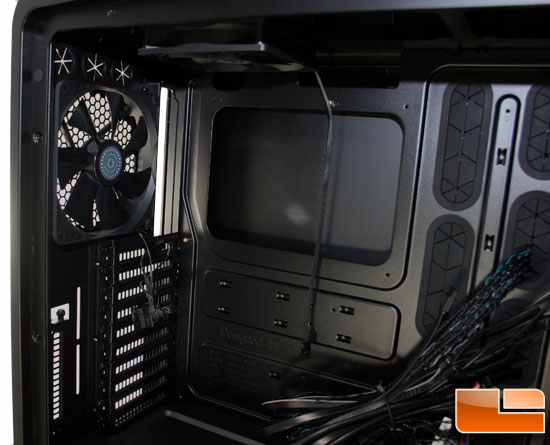 The Cosmos II comes with a 140mm rear exhaust fan and top mounted 120mm fan installed at the factory.  You can add two more 120mm fans in the top as we showed you on the external photos.  You could also mount a all-in-one water cooling solution on this 140mm mount or even something like the H100 in the roof.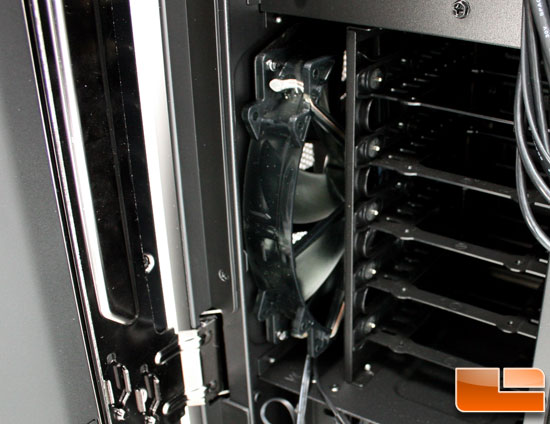 Here is an internal shot of that front mounted 200mm fan blowing across the top hard drive bays.
Going to the other side we can see behind this door gives you access to those dual bottom hard drive cages and the very large tray cut out for CPU cooling mount access.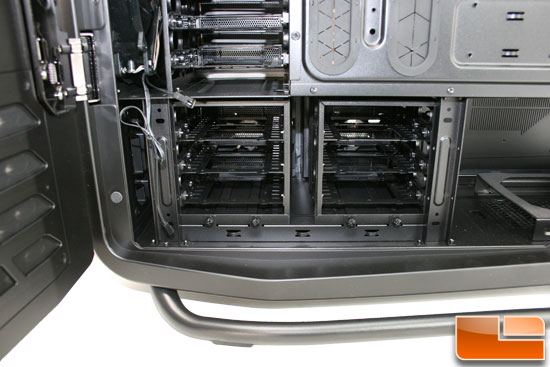 This is the rear of those bottom dive cages and if notice the four thumb screws which can be removed to take these cages out.  This allows you to edge mount a 240mm radiator using the included brackets with those dual fans blowing air right through and out the back case vent giving you the coolest air possible.  If you used the top 360mm, the rear 120/140mm port and this bottom 240mm space you should have enough cooling for even the most extreme builds all kept internal for a clean look.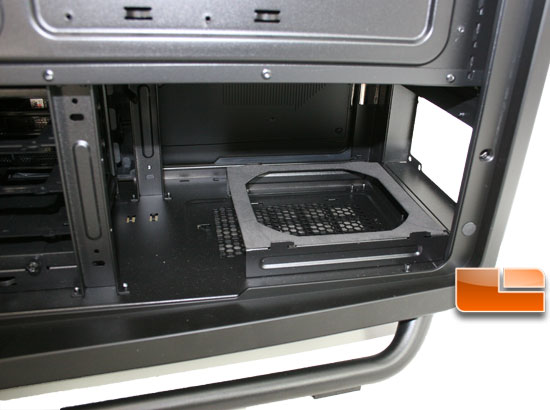 Next to these cages is the PSU area that is covered with a thin gasket to minimize vibration.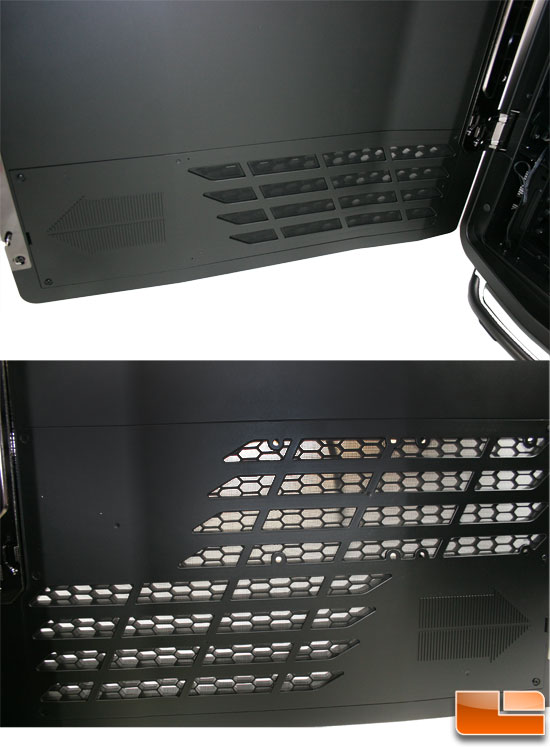 We also thought it was nice how Cooler Master included filters on the side ports that you access from the inside panels of the doors by removing a few screws.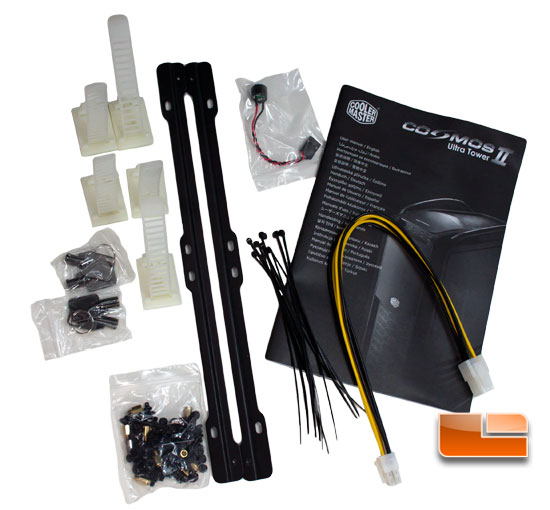 Finally the box inside the case contains the following parts.  You get two sets of keys for those front 3.5" bays, 5x adhesive cable straps, bunch of small black zip ties, motherboard standoff's and assorted screws, a speaker, ATX power extension, manual, and radiator mounting brackets for the bottom HDD area.
Building in the Ultra Tower Cosmos II
Given how massive this ultra tower is we figured we would not have much problem doing our build and we were right.  Cooler Master really put some good thought into the layout of the grommets and cable management options in the Cosmos II Ultra Tower.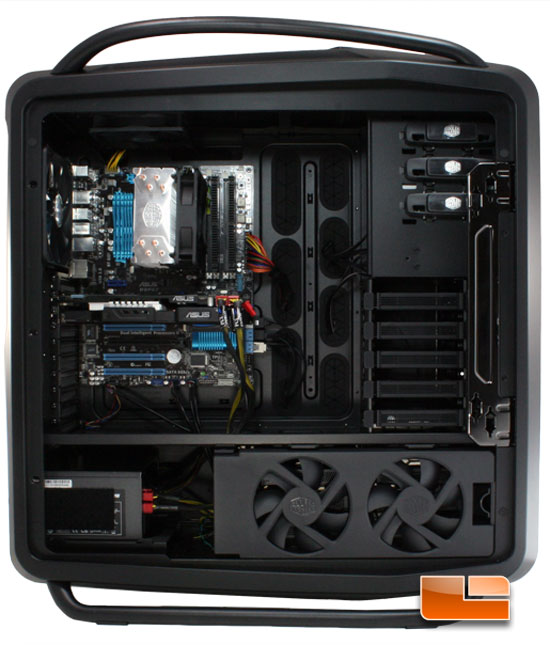 If you couldn't tell how massive this case was by the dimensions take a look at this P67 ATX motherboard and how it looks like a micro-ATX mounted on the motherboard tray.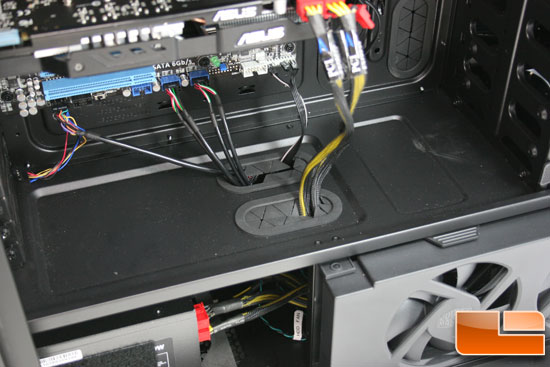 A feature we really liked was these grommets between the PSU zone and the motherboard area.  One issue we have had with some of the cases lately is the ability to run the GPU power cables in a clean way without resorting to extensions and these grommets address it nicely.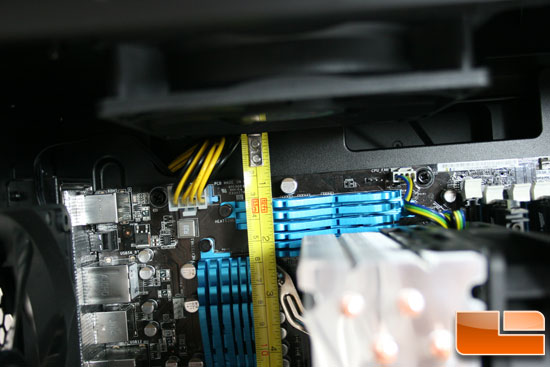 This view shows you that you have about 25mm between the edge of the motherboard and the bottom of the 25mm thick fan.  So you should be able to mount a thin radiator and 25mm fan inside and then add fans in the roof compartment for full push / pull configuration if so desired.  It might make adding and removing memory sticks a bit tight depending on your motherboard but awesome that you can do that and keep it all internal.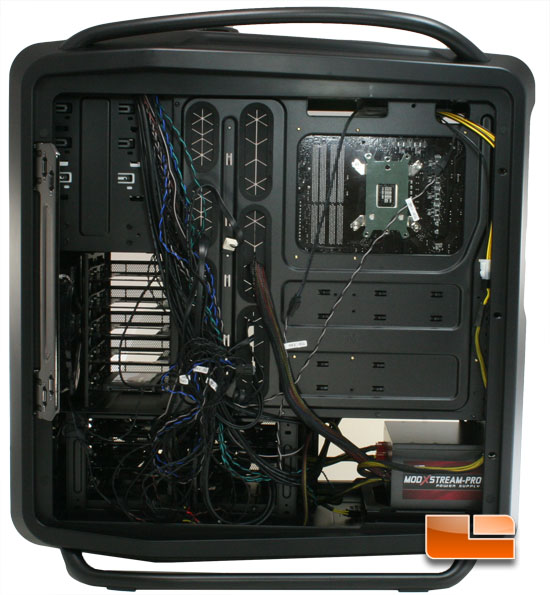 Moving around to the back side it is obvious we did not take the time to utilized all of those zip anchor points or the included adhesive cable wraps but you can see that the large open space next to the PSU makes running power cables a piece of cake.  If we spent a bit of time zip tying all these wires it would make for a nicer looking build but the door still closed even with this wad back there.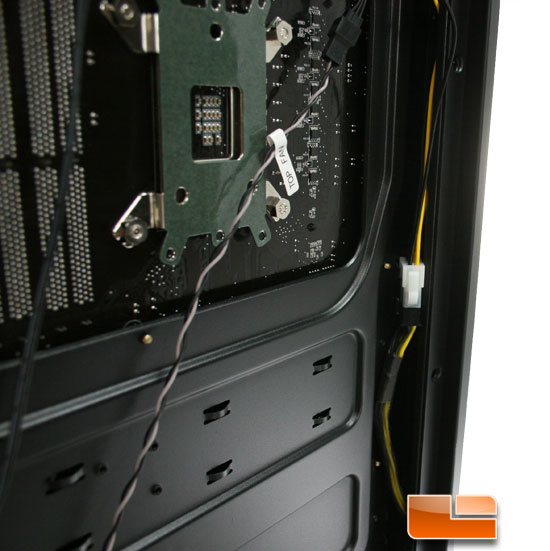 Thank you Cooler Master for including an ATX power extender with the Cosmos II case because it was the only way to make it all the way to the top of this Ultra Tower.  This gives you another view of the amount of room behind the motherboard tray.  For such a large case and wide case we were a bit surprised it wasn't more space but it was enough for our build.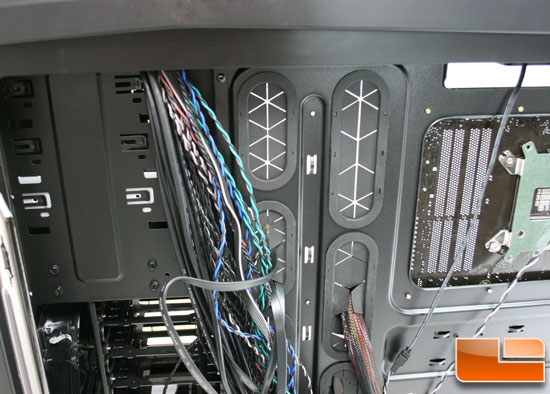 Not sure about you but when we broke apart the bundle of wires coming out of the top of the Cosmos II we were thinking WOW that's a lot of wires.  The reason for this is the top mounted fan controller and LED switch.  The Cosmos II can run as many as 9 fans off this controller broken out as 3 top, 3 HDD, 2 GPU, and 1 Front and has 9 LED two pin cables for fans that separate the LEDs from the fan power.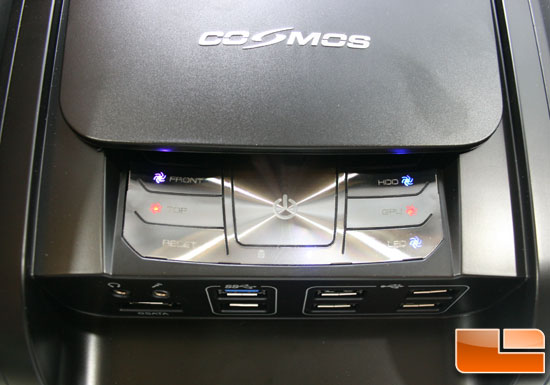 Now that we have the system powered up you can see the LEDs  for each of the fans.  Unfortunatly since this is a silver plate it was hard to control the reflections and the power light below the power button is washed out.  The LEDs for each of the fan zones change color and beep depending if the fans are set to low, medium, or high.  Low is red like the top button on the left middle, medium is blue like the HDD top right, and high is a purple like the front in the top left.  The button on the bottom right turns the LEDs on and off for any fans that have this which by default is only the front fan.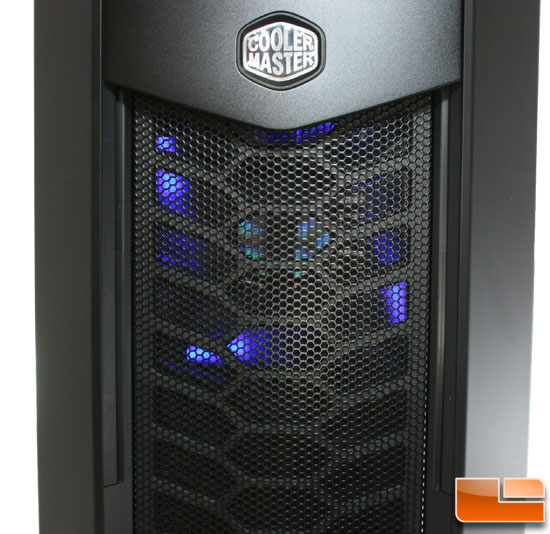 Here is a shot of the front fan with the blue LEDs turned on to give the front of the Cosmos II a little bling factor.  Given that this case does not currently have a window option this is about as blingy as you get so an on / off switch for the lights is a nice feature.
Noise and Cooling:  The included fans are all low RPM variety and even on the high setting made almost no noise with both doors off.  Putting the side doors on made this case extremely silent so we do suspect there must be some sound abatement material in those thick doors.  We would say the airflow is a bit on the light side which is to be expected with low RPM fans but something to consider if you are doing an air cooled rig.  If you pop a water loop, these case fans should be plenty for your DRAM and motherboard chip sets.
Final Thoughts working with the Cosmos II
Cooler Master made some big design changes between the original Cosmos and its iterations to the Cosmos II Ultra Tower.  There is enough of the originals design cues to make it obvious it is a Cosmos series but they significantly improved the looks in this reviewers opinion.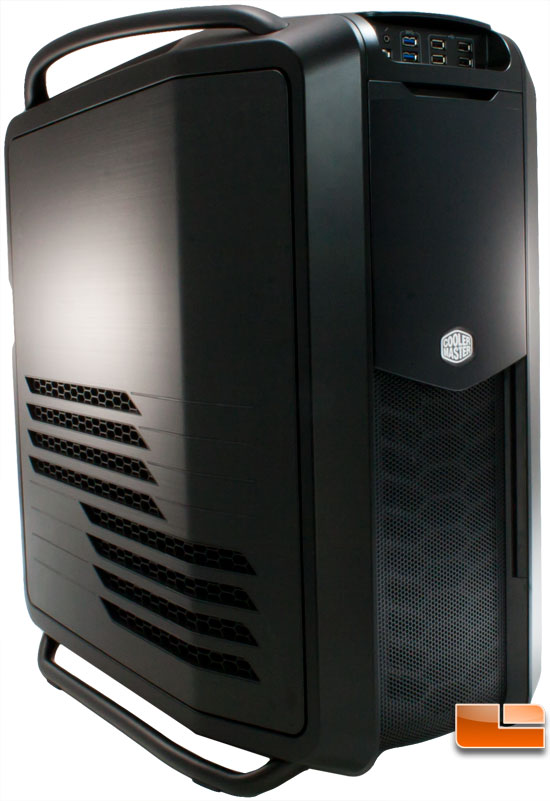 We were taken back a bit by the overall dimensions of this beast but it really does prevent a lot of cracked knuckles.  With 3TB and 4TB hard drives and more cloud based storage coming out, 13 hard drive spaces is probably a bit of overkill but it is great to have if you do want a massive RAID array all in one big rig.  The X-Docks are really slick and we wished they made some of the internal drives with the same setup and possibly minimize some cable clutter.  We loved the thinking and included hardware to change the bottom hard drive space to a 240mm radiator area, something that is a hot topic for modders for other full tower models (looking at you, Corsair 800D).  The sheer amount of zip tie mount points in conjunction with the included cable ties should make even the most compulsive cable manager happy.  The grommet placement is very thoughtful and helps keep things clean and tidy.  The door panels are a breeze to use and feel more like a car door than a PC case with their solid feel and closure.  Finally, the space for 4-way SLI / X-fire and the longest cards as well as space for extra long PSU's makes this a case for people looking to do an ultimate build.
Cooler Master did a great job on the redesign of the Cosmos series but there were a few things that we think they could have done a bit better.  Plastic hard drive trays with holes for SSD's seem to be the norm these days but given the originals aluminum trays we were a bit disappointed they went plastic on a $350.00 case.  As someone who had to lug this monster around to install gear and try to snap photos I have one word for Cooler Master: "Casters".  The rubber feet on the bottom rails prevent any type of sliding or pivoting which is reccomended against anyway, but an option for some wheels would really make this case a bit more livable.  Once you place it and load it with water cooling gear and your 13 hard drives, good luck moving it without help. We also are not sure we like the top sliding panel since it doesn't fully cover all the I/O ports but that is purely subjective.  Lastly we were hopeful that the new version of the Cosmos would have some type of window option to show off your monster build but as of this writing it was only a consideration but not a commitment.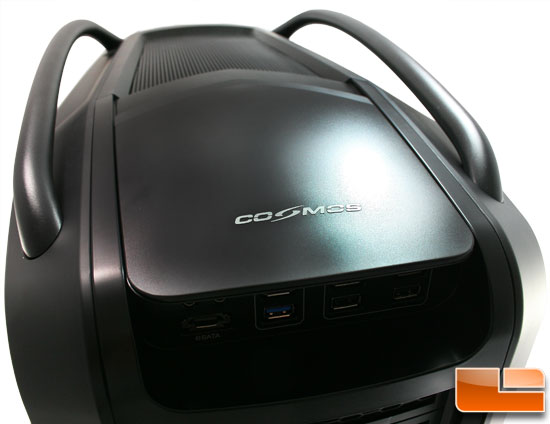 It is impressive that case manufacturers continue to release cases in the $300.00 plus category which tells us there is significant demand at this upper end.   The Cooler Master Cosmos II Ultra Tower is clearly targeting this enthusiast builder but it has some stiff competition as well.  The recently reviewed
Case Labs M8
 has many more options and is all aluminum construction but many of those options are for charge items but as a hard core water cooler the M8 is probably the better way to go.  Still with a two year warranty and a MSRP of $349.99 the Cosmos II is a great case with tons of space and plenty of options to statisfy most people which is why we are giving it one of our recommended awards.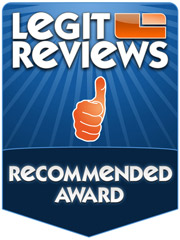 Legit Bottom Line: The Cooler Master Cosmos II is a massive case with room for tons of hard drives and extreme water cooling with a rich option set that makes it a great choice for enthusiasts that are not put off by the $349.99 price tag or the weight.