Meet the Case Labs Magnum M8
Every time we think the market is fully saturated with every possible computer component anyone could possibly need, a new manufacturer comes on the scene to surprise us. Case Labs has a fast growing underground following on several of the extreme enthusiast forums so we asked if we could see what all the buzz was about. They sent us over what is currently their most popular model, the Case Labs MAGNUM M8.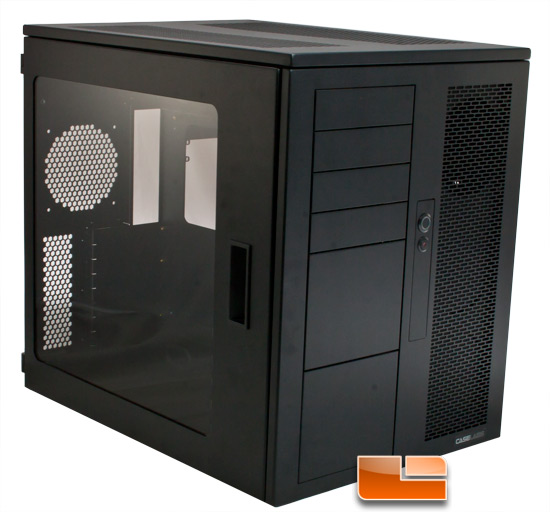 Case Labs, based in Canoga Park California, was started about a year ago by Jim Keating after frustration with the quality and features available from cases on the market. Jim's father, an aerospace engineer during the space program, started a custom enclosure making business back in 1971 for electronic, military, medical, and industrial applications. So when they needed to build a new workstation for engineering design and image rendering, finding an appropriate case proved to be the most challenging part of the project. The overwhelming majority of cases on the market impose strict design constraints; the choices for mounting hardware and cooling systems are very limited and they wanted a design where the user was able to have almost unlimited modularity and flexibility. While they had the facility to make custom parts on the fly they realized most PC enthusiast do not and figured they could put their talents to use making the ultimate PC case. The goal was to make probably the last case you would ever need to buy.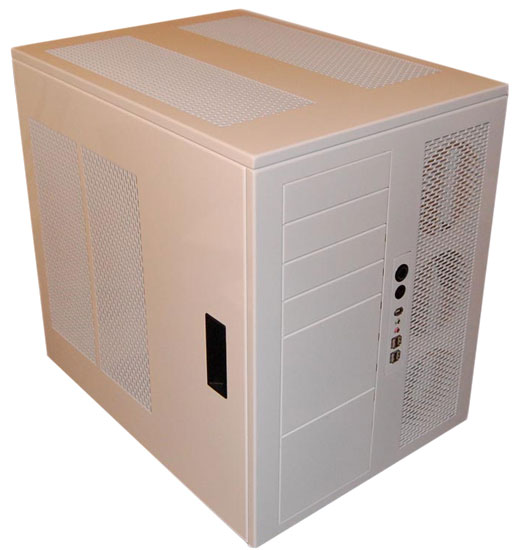 Building on the success with the M8, Case Labs added to their line up based on user feedback from the enthusiast community. The M10 has the same dimensions as the M8 on the outside but supports a larger mATX - XL-ATX (13.60" x 10.75") (346mm x 273mm) motherboards where the Magnum M8 supports the more common mATX - ATX/EATX (12.0" x 10.75") size. The MH10 is deeper than the M8 by 6" where the T10 is taller by 6". Finally the TH10 is both taller and deeper by 6" in each direction. All of these cases are available in powder coated black matte or white gloss inside and out. For more color options Case Labs has teamed up with
FTW PC
to offer custom powder coated colors for an additional fee of $274.00 for an M8 Case.
Currently you can only purchase the Case Labs MAGNUM cases directly from Case Labs (www.caselabs.net) or from FTW PC.
Case Labs current line up of MAGNUM cases:
There are a few other cases that are in the prototype phase including a more traditional 9" wide single bay case and the "Godzilla" dual motherboard four PSU TX10.
Magnum M8 Features (standard equipment)
All aluminum construction - .090" (2.3mm) chassis .063"(1.6mm) doors/covers
Choice of ventilated or solid doors and covers (on a panel by panel basis).
Slide out MB tray.
Choice of one HDD cage assembly (4 drive capacity): either standard or Flex-Bay mount. Note that the flex-bay mount deletes one of the 3U bay covers.
Choice of hex mesh or 40mm fan holes on MB back plate.
Dual PSU mounts (Support bracket available: MAC-123)
Integrated radiator/fan mount
Four single bay filler plates and two triple bay cover plates.

Filler plates for top and bottom radiator openings, 40mm fan openings on MB tray (if selected), PCI slots, and one PSU.
Four sets of mounting brackets for 5.25" devices (MAC-125)
Lamptron anti-vandal style switches (power & reset) and wiring harnesses: blue ring for power and red dot for HDD activity. They are standard switches that can be easily swapped out for custom color combinations.
Four rubber feet with screws (casters are available: MAC-107).
Misc. hardware: Thumbscrews, MB standoffs, Tie-wraps, etc.
Available in black matte or white gloss
Warranty: 1 year on electronics, 5 Years on the case itself
Case Configuration Options:


ATX Layout: Standard (N/C), Reverse ($20.00)
MB Door: Ventilated (N/C), Solid (N/C), Std. Window ($15.00), XL Window ($20.00)
PSU Door: Ventilated (N/C), Solid (N/C), Std. Window ($15.00), XL Window ($20.00)
Top Cover: Ventilated (N/C), Solid (N/C), Tall Ventilated 64mm ($25.00), Tall Solid 64mm ($25.00), Tall Ventilated 85mm ($35.00), Tall Solid 85mm ($35.00)
MB Back Plate: Fan Holes (N/C), Hex Mesh (N/C)
HDD Cage Assy: Standard (N/C), Flex-Bay (N/C)
Specifications:
Size: 15"W x 19.06"H x 20.06"D (381mm x 484mm x 510mm)
PCI Slots: 8
Form Factor: mATX - ATX/EATX (12.0" x 10.75") (305mm x 273mm)
Max Radiator Size: 120.3
Radiator Clearance Above the MB Tray: 100mm
Radiator Clearance Below the MB Tray: 52mm
Cooling Tower Clearance: 180mm
Flex-Bays (5.25" Bays): 10
HDD Capacity: 12 (24 using Flex-Bays)
Weight: 19 lbs.
Note: Sizes shown are for the case only. Rubber feet add .75" (19mm) to height, optional casters add 2.63" (67mm).
Unboxing the Case Labs MAGNUM M8
When you break the $350.00 mark for a computer case you make some assumptions such as the packaging will be first class allowing the case to show up looking as good as it did when it came off the line.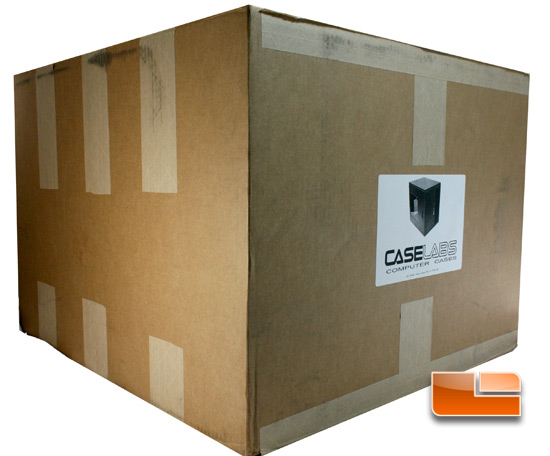 Since this case is not on retail shelves, Case Labs does not need to waste money on fancy graphics for the outside of their box. Fine with us as this just hits the recycle bin after the photo shoot.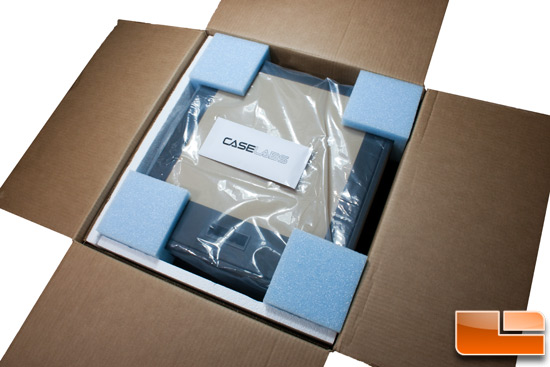 Our sample showed up with dense foam corner blocks and 1" foam panels. We have seen customer build logs overseas where they use as much as 2" of foam depending on the destination. It appears they pack the case based on how rough the shipping is from California to your destination.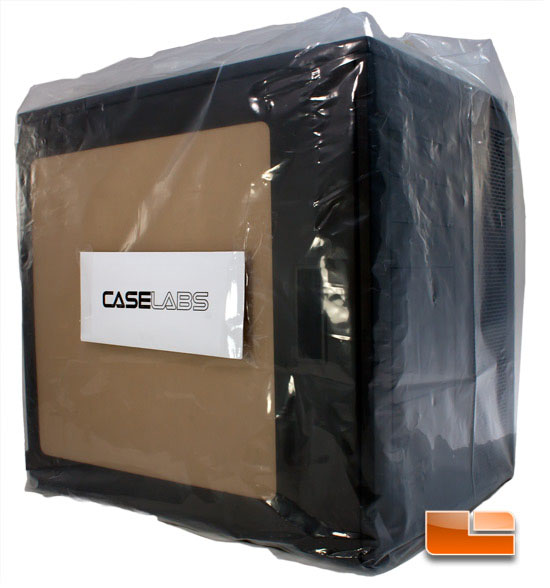 The case comes wrapped in heavy plastic to protect the finish from any scratches during packing.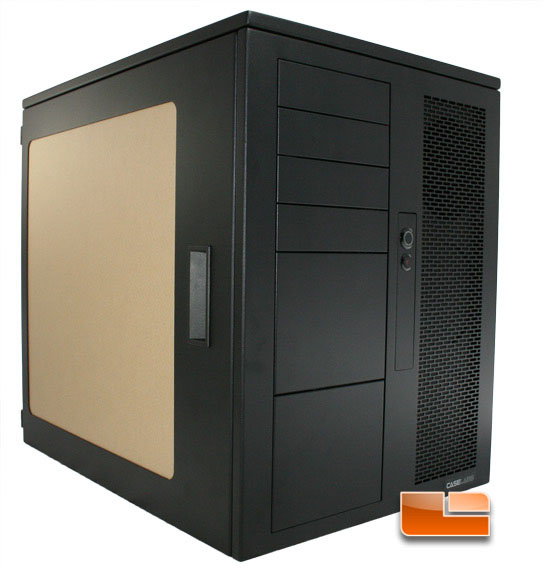 After pulling off the plastic you can see the sample Case Labs sent us had the optional side window which they left the brown protective paper covering both inside and out. That lexan looks great but can scratch easily so we were happy to see this.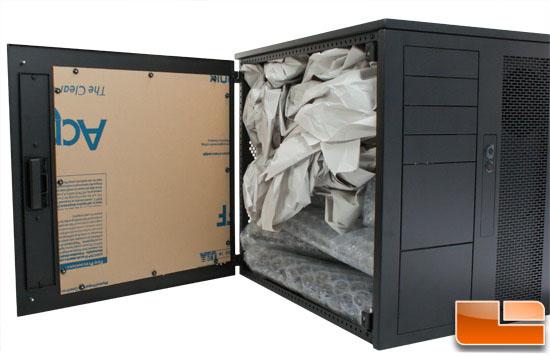 Behind the left door we found several optional components nicely wrapped in heavy bubble wrap and then a large wad of news print to keep everything from shifting around.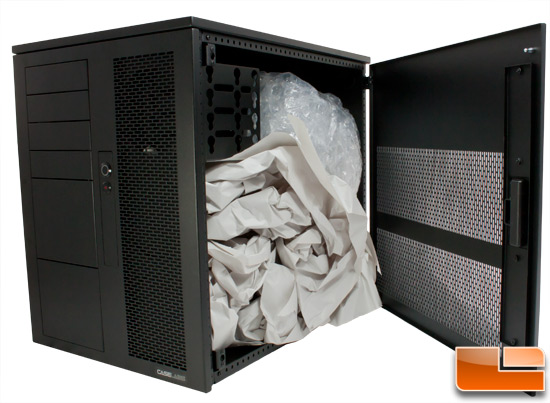 Behind the door on the right side was another large zip lock bag full of additional parts, screws, and panels again wrapped in a thick layer of bubble wrap and stuffed with news print to prevent shifting.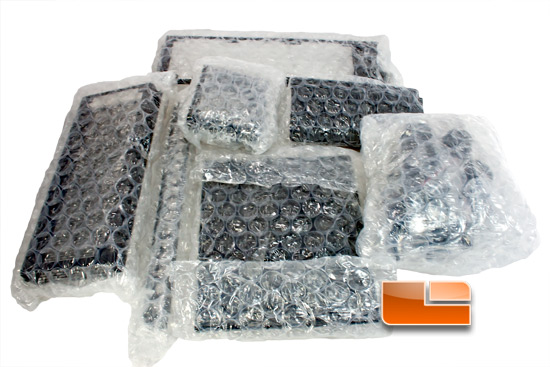 This is the pile of accessories that they included for our review sample that we pulled out of the Case Labs MAGNUM M8 all nicely wrapped.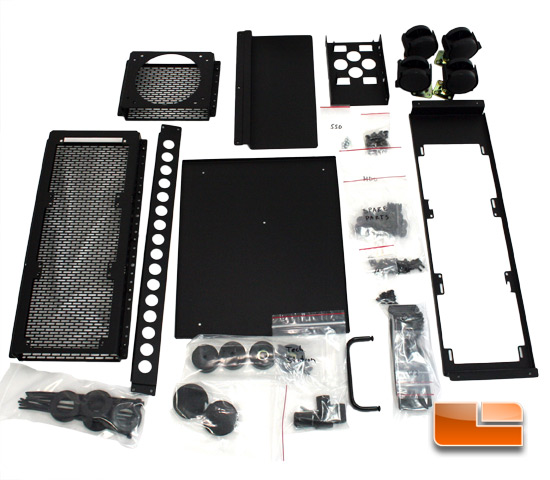 Unwrapped you can start to sense the magnitude of options considering this is only a small selection. In addition to the extra parts Jim threw in there is a standard pack of screws in both 6/32 and 3mm as well as a spare parts bag with extra thumb screws and mounting clips for the front panel, top panel, and doors in case they wear out.
Outside of the MAGNUM M8 Case
All of the Case Labs Magnum series cases come standard with either matte black or gloss white powder coat. The benefit of powder coating over normal paint is the durability. Powder coat is much harder to scratch than liquid coating since it is a melted polymer. The MAGNUM M8 height and depth is similar to a mid-tower case but it is the unique width of 15" that opens up the possibilities for all the options.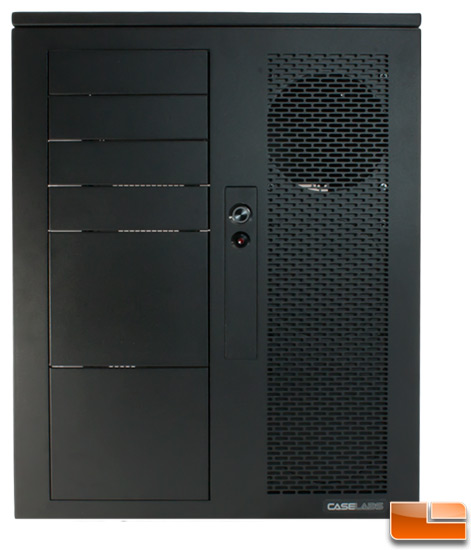 The front of the case is split with the left side being slightly larger making the button panel offset from dead center. The left side is what is called the "Flex Bay" area and supports up to 10x 5.25" devices. By default the MAGNUM M8 has two 3 bay panels and four single bay panels installed. However if you do order some of the Flex Bay options they will be pre-installed at the factory replacing the blank panels. We will cover this in more detail on the options page. The right side has a single 120mm fan port and plates covering two more 120mm ports. The center by default has a power and reset button that glow blue and red, respectively when the power is on or there is drive activity. These are standard black Lamptron momentary vandal switches at 22mm top and 16mm bottom so you can replace them with other colors if you choose.
Unfortunately if you want the more common front I/O ports you find on other cases today it is a $20.00 option. That option adds a firewire port, headphone & mic audio ports, and 4x USB 2.0 ports below the power and rest buttons. Note that USB 3.0 ports are being investigated with their parts vendors.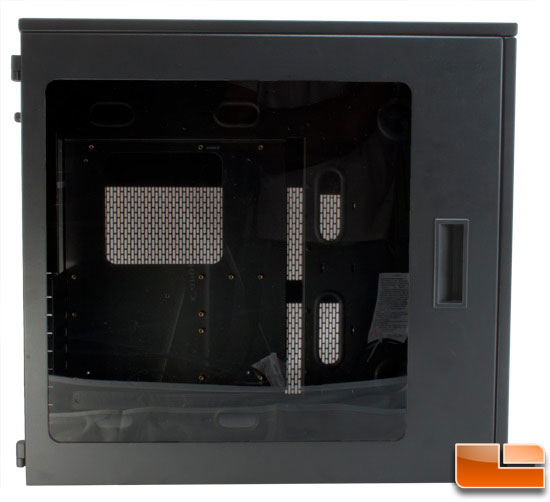 Our sample came with an upgraded left (MB side) side with the XL window upgrade in Clear, a $20.00 option. There are several other options we will cover on the options page.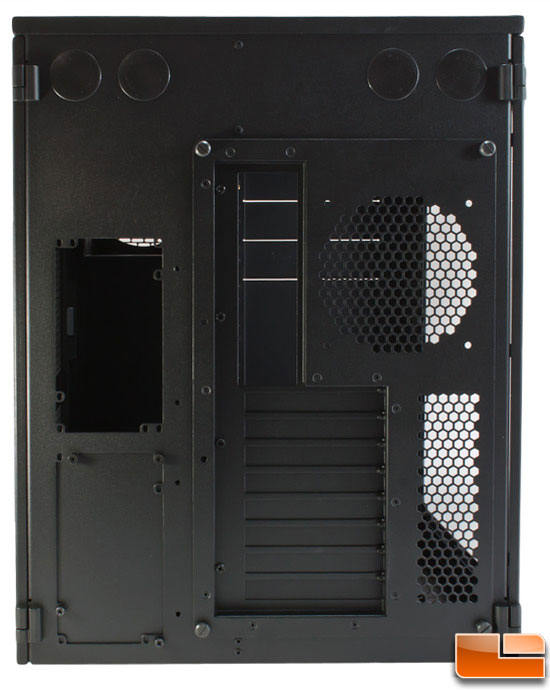 The back of the case reveals more options on the Case Labs MAGNUM M8. Starting from the left there is the option for dual power supplies if redundancy is important or you simply put that much cooling, lighting, hard drives, or graphics cards in the case requiring more than what a single PSU can handle. We are not sure how often this would be required but nice if you ever needed it. This also gives you the option to move the PSU higher up or lower down depending on how you want to run cables or install options. Also note the reversible screw patterns allowing you to mount your PSU bottom facing out or top facing out.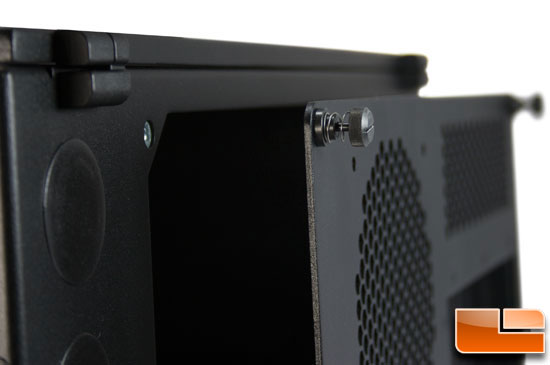 The motherboard tray is removable by simply undoing these spring screws. Case Labs includes a robust handle with mounting screws you can mount to the tray to make sliding it in and out easier or leave it off for a clean look.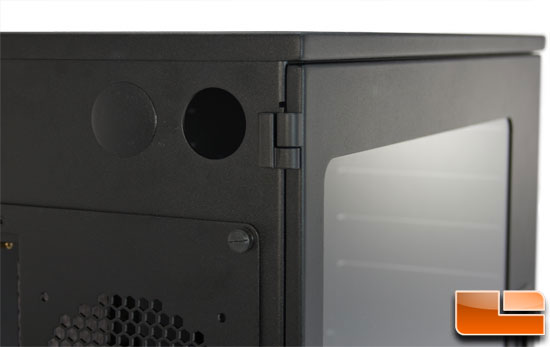 If you simply cannot fit all your water cooling components inside this massive case, Case Labs provides four ports covered with a plastic plug out of the back of the case. If you do decide to use these ports Case Labs provides rubber grommets to insert in these holes to protect whatever is passing through them.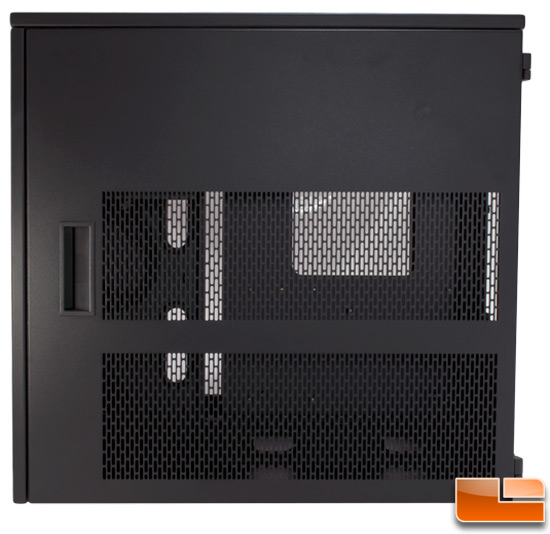 The right panel comes standard with a dual horizontal striped ventilated door. If you mount one or two PSU's with top mounted fans, they would pull in air through one of these vents. This side has the same options as the left side. We wish there was some type of filter on these ports considering they will be used for intake but being side mounted should help reduce the dust levels somewhat.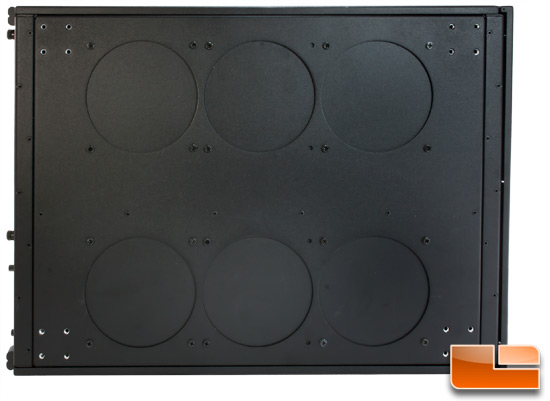 The bottom of the case reveals six more 120mm ports covered by panels that are spaced for 360mm radiators. and four threaded holes in each corner we will cover on the options page.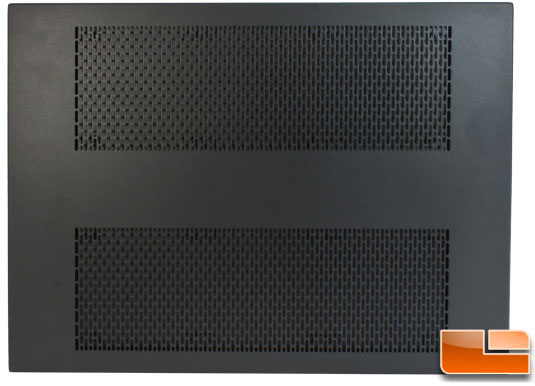 On top of the case are two more ventilated panels with plates below them covering the top ports for fans or additional 360mm radiators.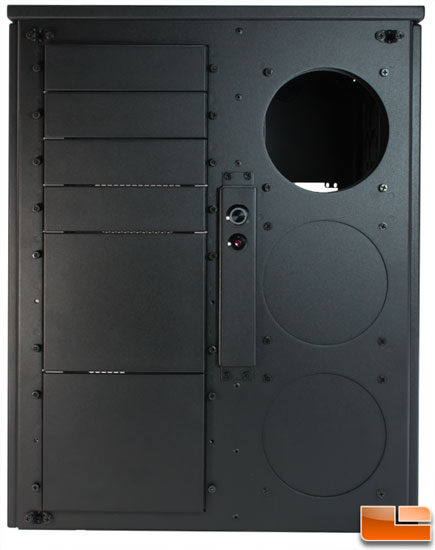 Front panel off reveals the thumb screws for the Flex Bay ports on the left, the mounting screws for the switch panel and the three 120mm holes for optional fans.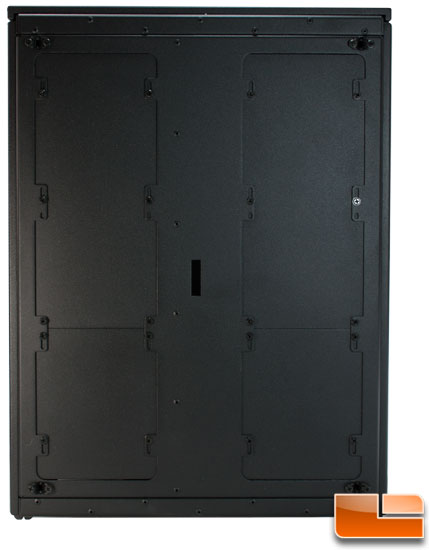 The top cover off shows the plates covering the mounting spaces for fans or radiators up to 360mm. While most radiators have standardized on 15mm spacing the slotted screw holes allows for different spacing if needed.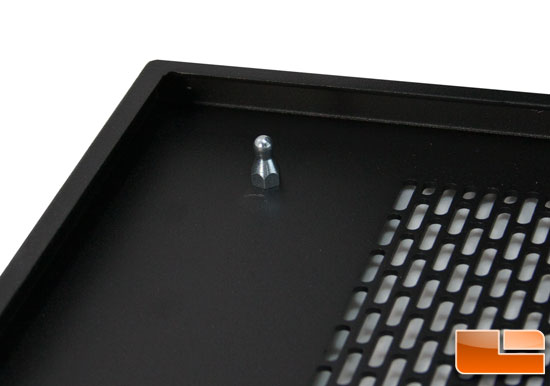 Pin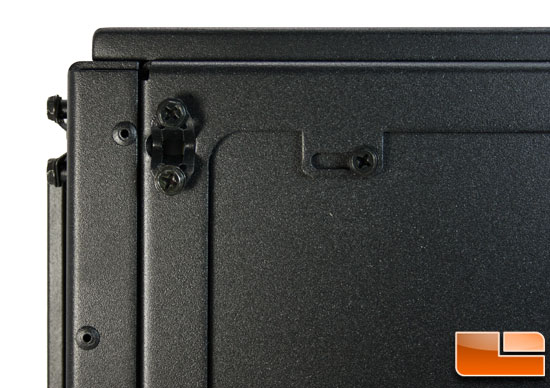 Attachment Point
The front and top panels just pop off and on with the pictured aluminum pins that snap into attachment points at the four corners. No plastic pegs to snap or screws to undo. This makes for a totally stealth appearance that has the durability to be removed many, many times over the life of the case.
Inside the MAGNUM M8 Case
The Case Labs MAGNUM M8 is split internally with a larger left side measuring 7 3/4" (196.85mm) and smaller right side measuring 6 1/8" (155mm). Opening the swing out doors on the Case Labs Magnum M8 is as simple as grabbing the handle and pulling. The same pin latch mechinism used for the top and front panels securely holds the doors closed. After we stopped drooling over all the space inside this case we noticed that there were no fans included anywhere in this case unlike the vast majority of manufacturers. Since this case is targeting extreme builders that typically throw away included fans and replace them with their preference this dose not really surprise us.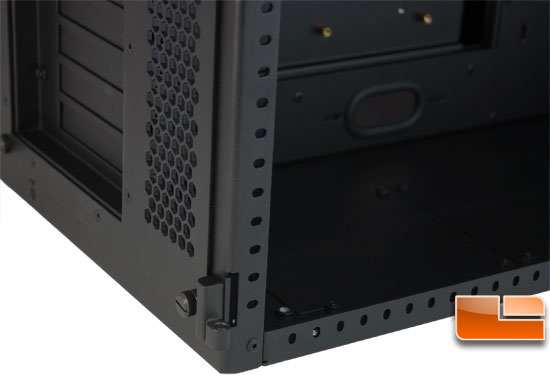 Case Labs really did design this case from the builders point of view. The doors not only swing open but once they are open you can gently lift and they come right up out of their hinges to be removed and go back on just as easy.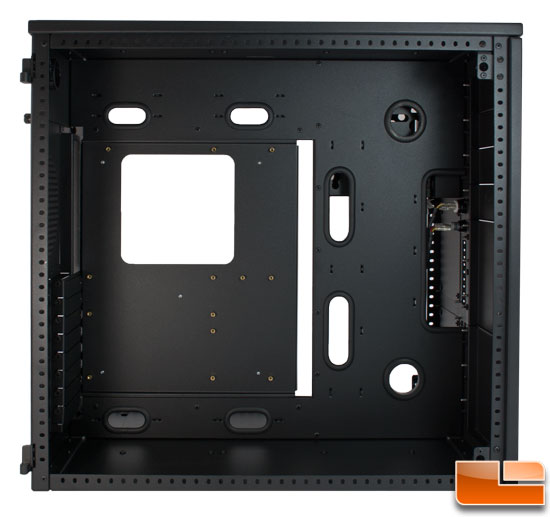 Pulling the left door off reveals the motherboard side of the M8. This is their smallest case to date and it has a ton of room with large openings with rubber grommets all around the removable motherboard tray. Given that this is a two sided case it is nice that they provide all of these access ports between the sides to give you plenty of options for routing. In case you do not want to use either of the large round opening at the front of the case, Case Labs provides you with two plastic plugs like the ones on the back to block these ports.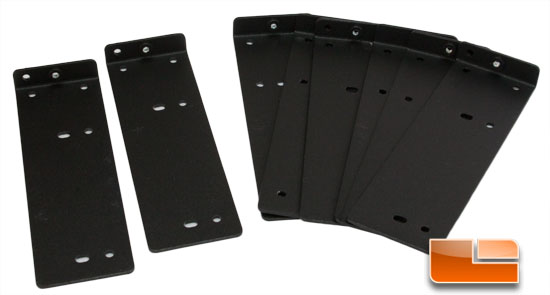 You might have noticed there were no 5.25" mounting points on the inside. Being a highly modular case they supply you with 8 of these brackets to attach to 4 devices instead of having a pre-mounted drive space.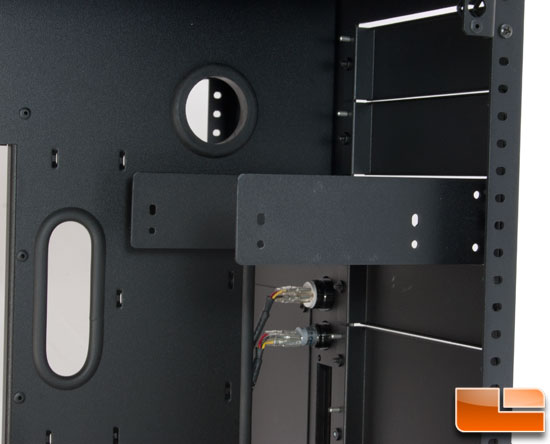 You simply would mount the brackets to your 5.25" devices and then use the pins and thumb screws behind the front plate to mount to any of the 10 slots. This is clearly not a tool-free design but since you can mount the plates to the device outside of the case it is really easy to use.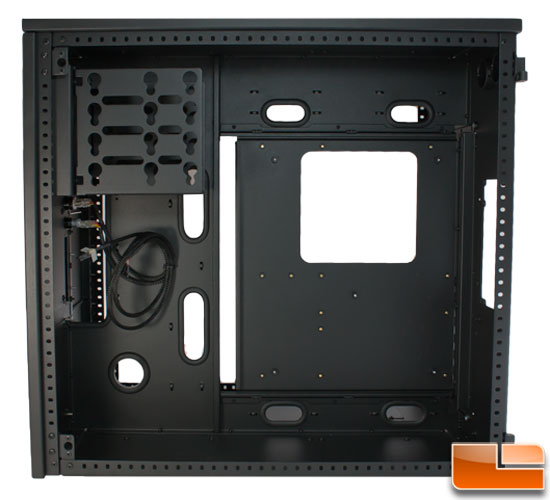 If you were wondering where you mount your hard drives we have to flip to the PSU side of the case. By default, Case Labs provides a single four drive mount that is directly connected to a 120mm fan mount. You can have up to three of these HDD cages on the PSU side alone for a total of 12 hard disk drives. Also note the vast number of zip tie anchor points all over the middle panel for superb cable management options.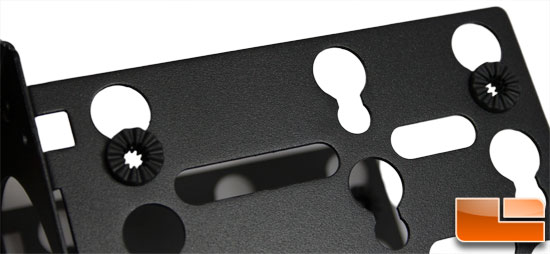 Case Labs supplies 16 heavy rubber grommets and the stand off screws to provide vibration dampened mounting four hard drives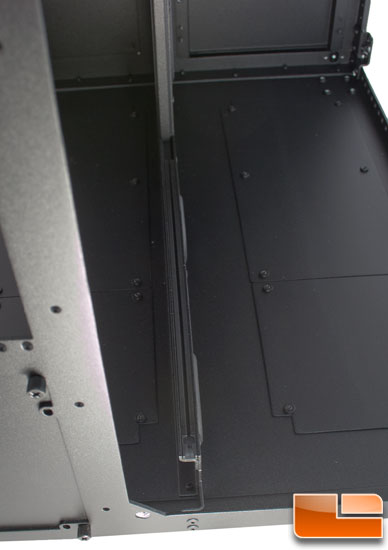 Plastic Motherboard slot and guide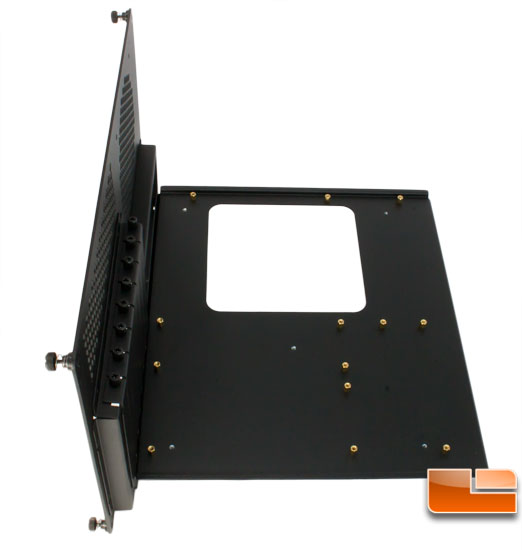 If being able to take the doors off the case is not good enough, the motherboard tray easily slides out making installation a breeze. This tray has the vented top with a vented 120mm rear fan port as default that Case Labs named Hex Mesh but you can also select a no charge optional fan tray instead with four 40mm fan ports above the PCI ports and a 120mm fan port.
Options, options, options
As we said in the introduction the Case Labs MAGNUM M8 was built to have options and in fact has so many this is the first case review that required a separate page just to try and cover some of them. As crazy as it sound you could spend more time trying to figure out how you want to configure your case than actually picking out components to put in it! We STRONGLY encourage you to
contact Case Labs
before selecting your options because there are several that block a part of the case or are not compatible with other ones. While we are going to highlight a few of these options this list is by no means all inclusive, for the complete list visit
Case Labs
directly.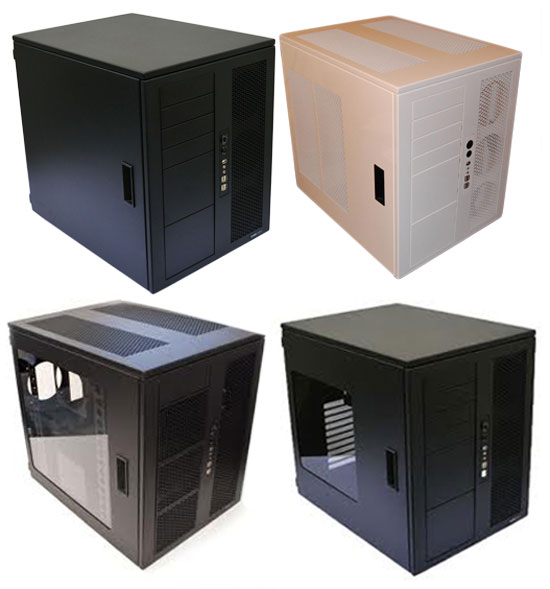 This image shows several of the options for the MAGNUM M8 exterior. Starting with the door the default is the double vented vertical panel shown on the white case top right, but you can choose a solid door (top Left) as a no charge option or pick the standard (bottom right, $15.00) or XL (bottom left, $20.00) window option. If you choose a windowed door you also can pick one of six colors for the window including clear.
The top of the case comes with the standard dual ventilated top (bottom left) or you can select a solid top for no additional charge. If you want even more room on the top of your case you can select a 64mm high ($25.00) or 85mm high ($35.00) extended top in either ventilated or solid versions. The extended top gives you enough room for a monster radiator, like a XSPC RX360 at 60mm, while using push / pull fans and still keep everything inside the case for a really clean look.
The front left side of the MAGNUM M8, or the Flex Bay as Case Labs calls it, comes with solid panels standard or you can order ventilated single or triple panels. The triple slot panels support mounting of a 120mm fan and are further upgradeable by mounting a 4 drive hard drive cage onto the bracket if you want your disks on that side of the case. When ordering the case you can actually select the default HDD cage location on the right or pick a Flex Bay mount for no additional charge. If you utilized all of the Flex Bay mounts and PSU side mounts for drive cages you would be able to install an amazing 24 hard drives.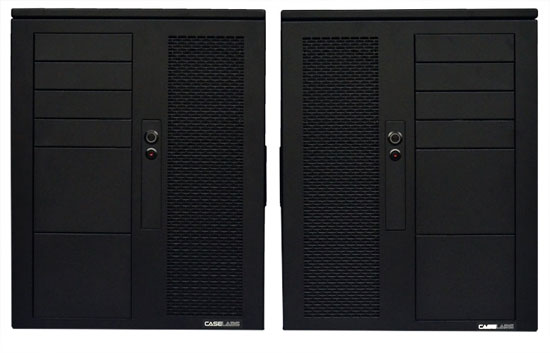 Another interesting option is the ability to order the case reversed ($20.00) for those that want the motherboard on the right side with the GPU's at the top of the case. This also switches the Flex Bay to the other side of the case.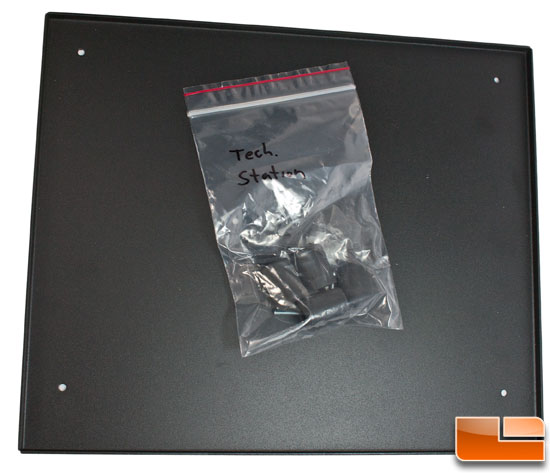 Case Labs included this optional tray and long rubber feet that you can attach to the back of the removable motherboard tray to turn it into a tech station. This is a standard feature on the TH10 and MH10 but can be added to the other cases when you order. If you are looking to build your system and test it before you install everything into your case this is pretty cool. If you do not want to use the feet you can just mount the plate on the back of the tray to cover up the processor hole for a cleaner PSU side look.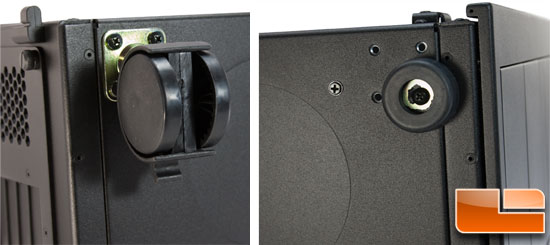 Moving back to the bottom of the case and those four screw holes provides you with two options. You can either use the standard rubber feet that come with the M8 or you can opt for the heavy duty caster kit ($12.95) like we received on our sample. If you are going to place the MAGNUM M8 on the ground full of heavy water cooling gear and dual PSU's, these very smooth casters sure make it easy to move your case around. This is one option that we think is a must have!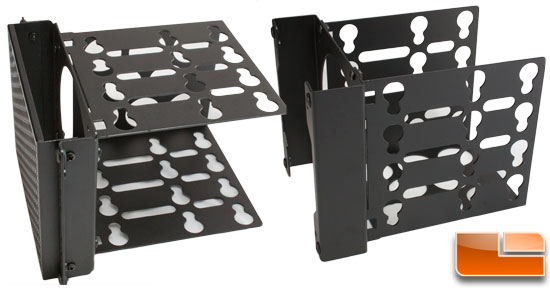 The cage on the left is the optional Flex Bay HDD cage with the one on the right the default version that mounts on the PSU side of the case . Due to the size difference between the two sides of the MAGNUM M8 the cage orientation changes from vertical on the PSU side to horizontal for the Flex Bay mounted on the motherboard side. Both support a 120mm fan mounted between the case and the HDD's.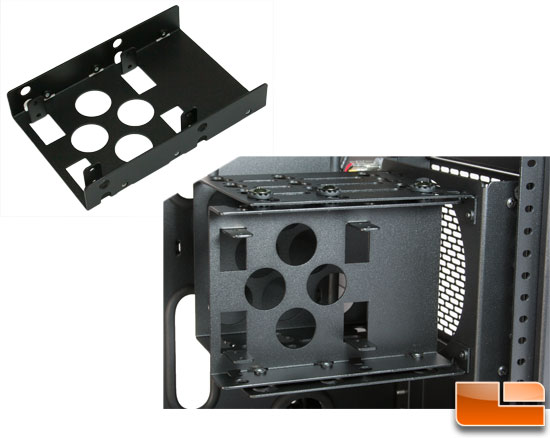 For those that would rather go the SSD route, Case Labs offers the optional SSD tray ($7.95). This tray supports a pair of SSD's stacked and simply mounts in one of the four slots of a HDD cage. This gives each HDD cage the ability to hold 8 SSD's for a potential total of 48 SSD's if you are so inclined to fill the case.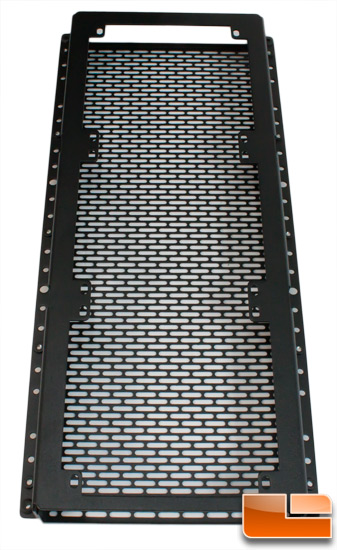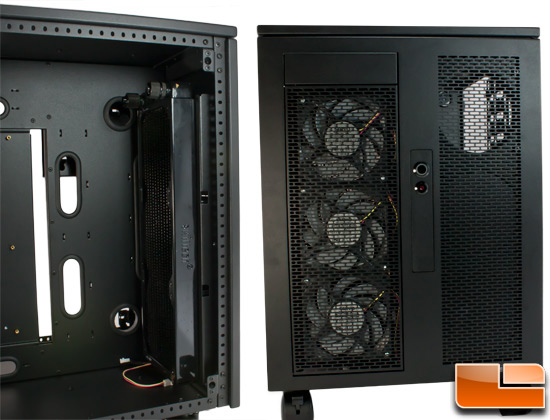 What do you do if your MAGNUM M8 is under a desk and you want to have a front mounted radiator on the intake? Case Labs thought of that too by creating a 360mm Flex Bay Radiator Mount ($34.95) that allows you to mount a vertical 360mm radiator in the front of the case. These also come in 120mm and 240mm versions so you don't chew up all your 5.25" bays as you can see from the shot above that the radiator ends block the top 5.25" port from being used.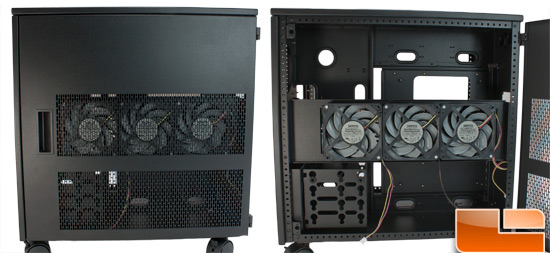 If you find there still isn't enough places to mount your 360 radiator (or just 3 fans for increased airflow), you can add on the 360 Radiator Side Mount ($19.95). Be aware you can only use one of these on the MAGNUM M8 as the bottom door latch and the single PSU you would install blocks the lower vent. One improvement we thought of for this door might be for the vent mesh to just run from top to bottom the size of the XL window so you can position the bracket where it works best instead of trying to line it up with one of these horizontal slots.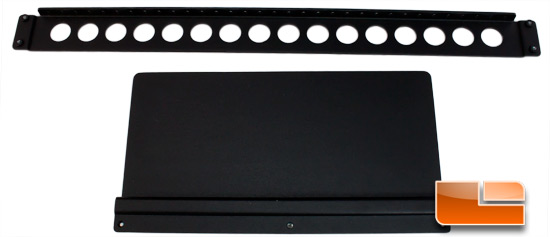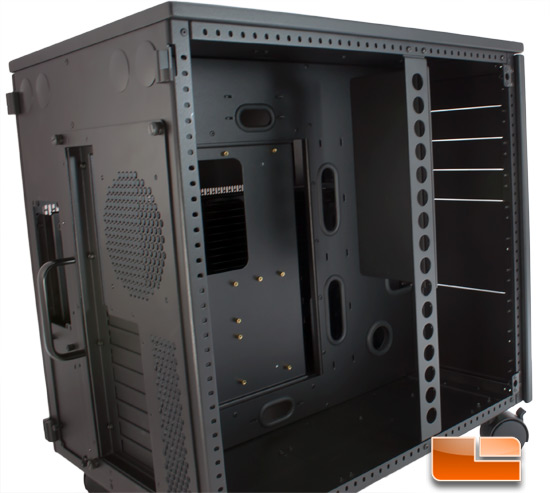 The last option Jim included with our Case Labs MAGNUM M8 sample was a Vertical Accessory Mount ($12.95) and a Large Attachment Plate with .75" offset ($11.95). These do not have to be used together but to highlight how modular the Case Labs MAGNUM M8 is we combined them and mounted them on the motherboard side as a possible place to mount a tube reservoir, multi-fan power distribution block, or a few additional SSD drives as possible options. The Attachment plate comes in both small and large sizes with or without the .75" offset. They also have plates with a 120mm hole to place additional fans just about anywhere in this case. While we are showing the vertical mount in this configuration, they also have a horizontal but they both cannot be used on the same side at the same time for obvious reasons.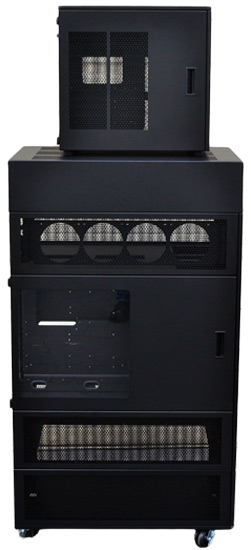 If you need more space for your MAGNUM M8 or any of their other cases they do have optional pedestal base in addition to the optional 85mm top. If that still doesn't meet your needs you can grab a TX10 fully loaded, pictured here with the M8 on top. We would love to know what you are building if you need to go that extreme.
Building inside the MAGNUM M8
This case is obviously targeted at the higher end of the enthusiast market with a focus on maximum options. The trade off for this modularity is that the build will take a bit longer and requires a screwdriver. We gladly will give up the more common tool free designs to gain the optional features the Case Labs MAGNUM M8 provides.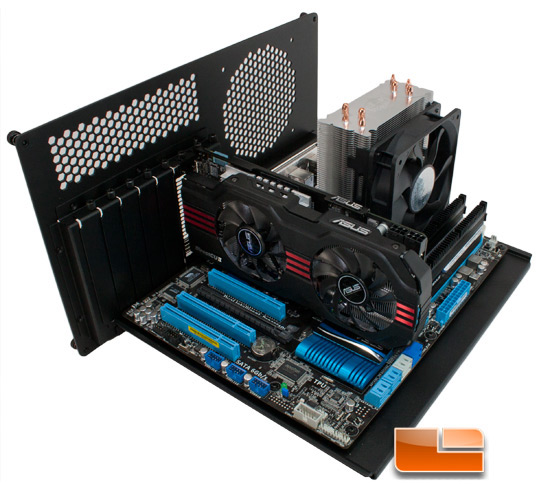 Installing the motherboard, processor, cooler, and GPU could not be any easier since you simply assemble all this on the removable tray and slide it back into the case.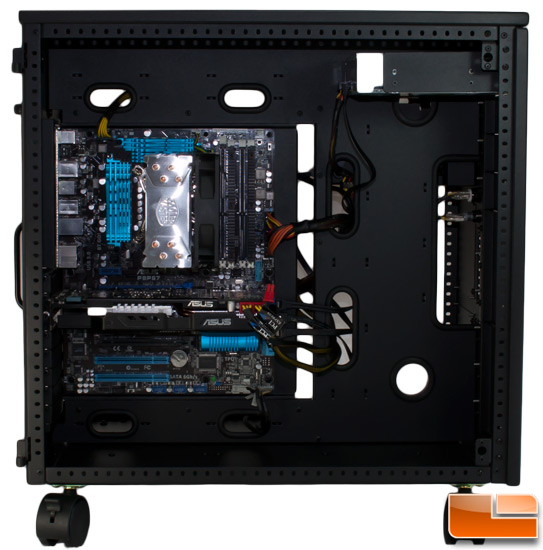 This is a full ATX motherboard but you can see how the M8 makes it look like a micro board. This case has plenty of room for the majority of enthusiasts today. We installed two of the included brackets on our DVD drive and using the thumb screws attached it to the top 5.25" slot of our MAGNUM M8.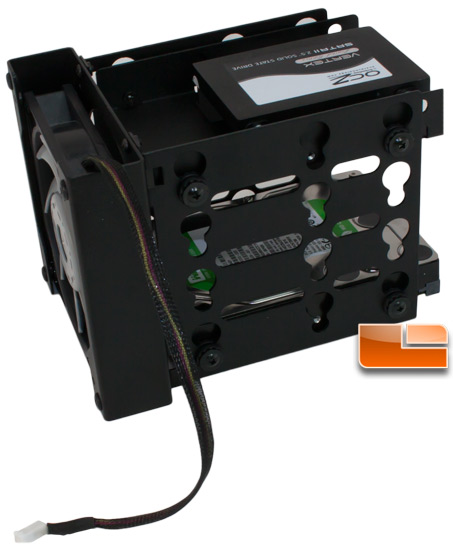 Next we mounted our SSD in the SSD tray and installed both that and our 2TB drive in the rubber isolation mounts. Then we installed the entire cage on the PSU side of the case.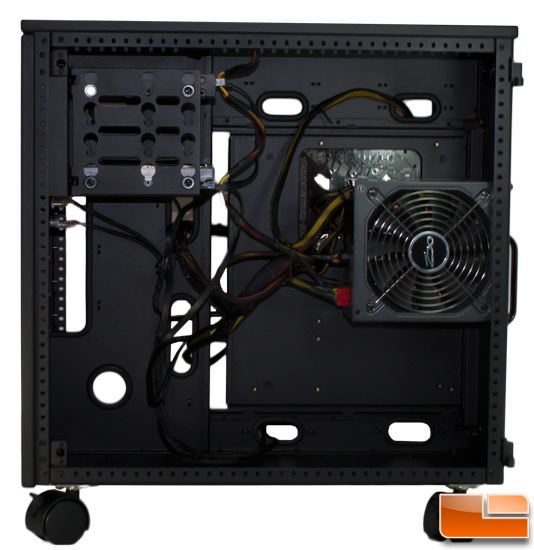 The final step in our Case Labs MAGNUM M8 install was to mount the PSU with another four thumb screws through the thick back of the case. Jim said the aluminum is more than thick enough to support the weight of even the larges PSU's on the market today but he is not sure about the strength of the threads in the side of the PSU. If you are concerned about the weight and strength of your PSU threads there is yet another option, a
PSU Support Bracket ($10.95)
.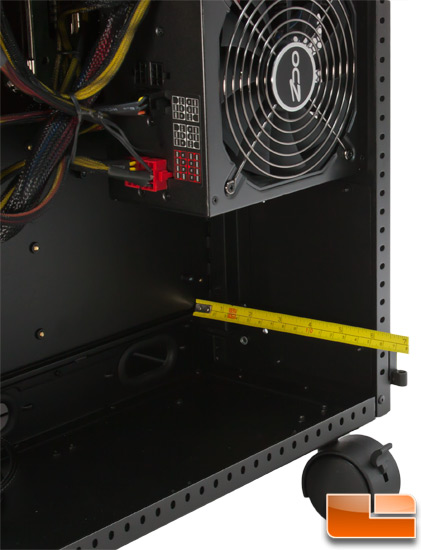 Unlike most cases that provide 1/2" to 2" of space behind the motherboard, the M8 gives you just a hair more than 6" (155mm).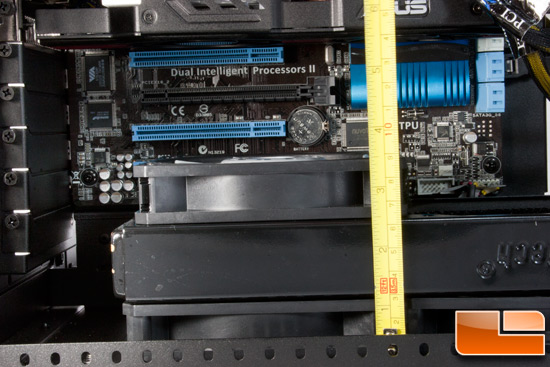 This case is a breeze to install in with TONS of room. While we did not have the time in our schedule to do a full water cooling installation in this case we did use a spare Swiftech MCR320-QP radiator we had laying around to explore a few options. Between the floor and edge of the motherboard is about 3" (80mm). This radiator is 34mm high with two 25mm AP-15 fans for push pull and you can see we are just about 25mm above the bottom of the motherboard.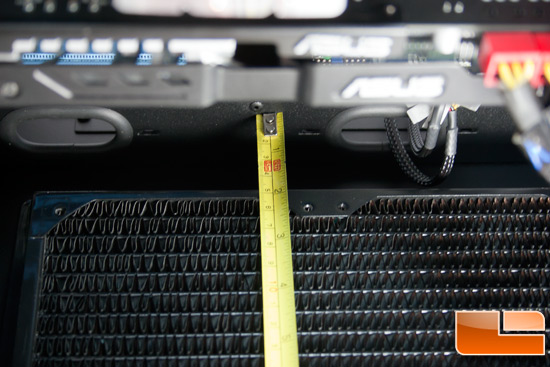 While that sounds bad, we still had 1 3/4" (45mm) between the motherboard and the edge of the radiator. If you wanted to place this radiator / fan combination in front of the bottom edge you could pull it off. Or with the casters on you could simply place the bottom fans on the outside of the case assuming you are not on carpet.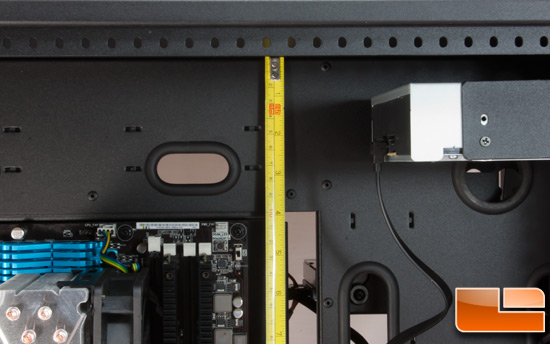 The top has just shy of 4" (100mm) of space which gives you plenty of room for either push or pull configuration if you are planning a thick radiator such as the XSPC RX360 or push / pull with something like the Swiftech pictured. If you use both top 360mm ports and both bottom 360mm ports along with the optional side horizontal 360mm radiator mount this case can hold a whopping five 360mm radiators and keep them all internal for 1800mm worth of cooling surface.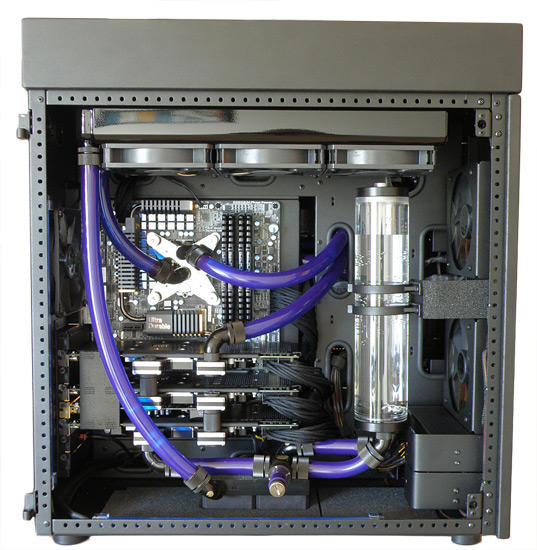 Tri-SLI GTX580's, i7-2600k, and dual pumps and radiators.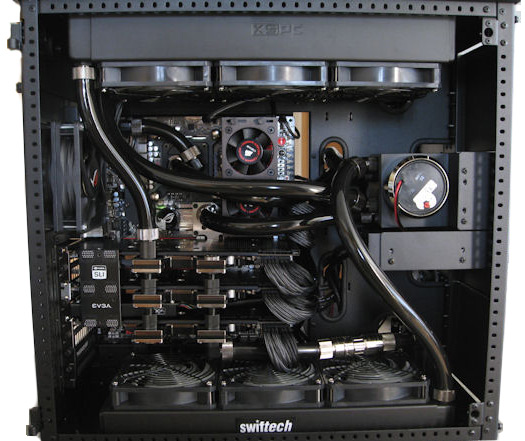 Tri-SLI GTX580's, i7-2600k, and dual pumps and quad radiators.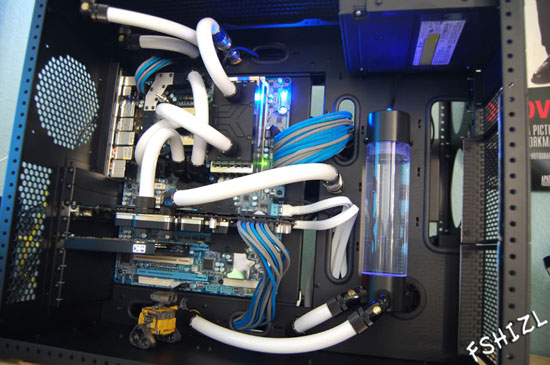 To show you the real potential of what can be done with this amazing case given enough time we grabbed a few community build pictures from
OverClock.net
. The top MAGNUM M8 has the extended top while the other two images are standard M8 cases.
Final Thoughts & Conclusions
This case as been awe inspiring since it hit our dock given the number of options and the sheer size of the MAGNUM M8. Case Labs obviously put a lot of time into the design and listened to a lot of customer feedback and then combined that with the skill and tools to make this work of art.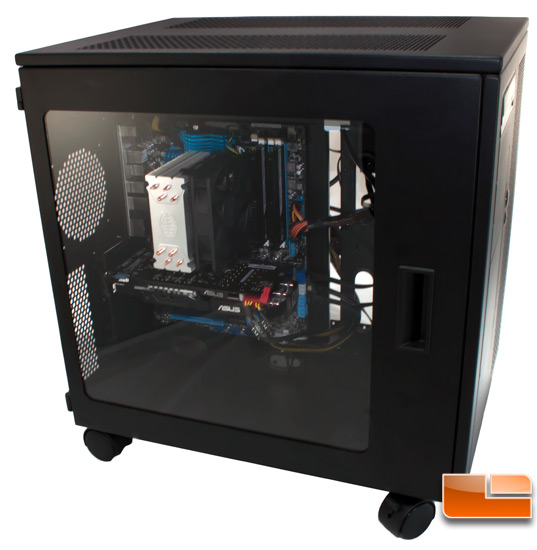 If you made us pick the thing we liked most about the MAGNUM M8 it would simply be options. We have never seen a case that gives you this level of flexibility both for your current build and most likely for many after. The fit and finish are extremely good and what you would expect from a boutique builder case at this price. Finally the amount of room you have to work with and the cable management options makes building inside this case an absolute dream.
While it is hard to improve on such an amazing case, we do have a few areas we think could use a little tweaking. First, the fact the front I/O port is a $20.00 option seems a bit steep for something standard on $50.00 cases. A $350.00 plus dollar case should have this standard or at least a couple of USB 2.0 ports. Second, there is no option for intake filters anywhere on the case. It would seem you could use some of those thumb screws to mount a few z brackets on at least the bottom of the case and slide in a 360mm filter. Finally, and certainly minor, a vented door option for the ventilated area to be the same size as the XL window to provide more options for mounting fans or radiators instead of just two stripes.
All in all these are very minor issues and the fantastic modularity of the Case Labs MAGNUM M8 make them very trivial. While
$359.95 Plus Shipping
starts at the upper end of enthusiast cases price range and only climbs from there as you add options, we feel that Case Labs has lived up to what they claim in that this is probably the last case you will ever buy. They believe in it so much they back it with a 5 year warranty on the M8 (1 year on electronics if you buy the I/O panel) If you're willing to spend thousands of dollars on high end components and swap them every few years for new increasingly expensive components, why not invest in an amazing case to house it all! This is why we are giving the Case Labs Magnum M8 the editor choice award.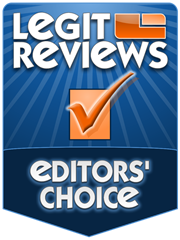 Legit Bottom Line: While it is pricey, you get what you pay for and this will probably be the last case you will ever buy with more options than you can imagine. This is one of the nicest cases we have had the pleasure of reviewing and our hats are off to the Case Lab team.