Introduction - Lamptron Fan-Atic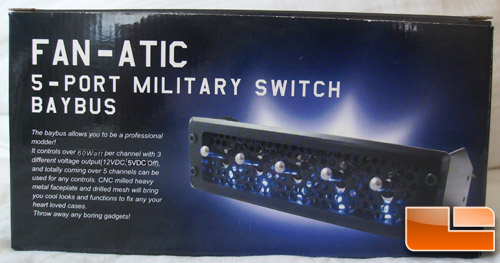 A little while back Legit Reviews had a look at the
Lamptron FC-8
, a brand new 8 channel controller from Lamptron that did well to color me impressed enough to earn itself the innovation award. Lamptron has another product for us to look at today which has been out longer. The Lamptron Fan-Atic is a controller with more than enough power to tackle any job you could throw at it. Offering an impressive 60watts of power per channel, you will most likely run out of Y cables before you run out of fans to hook up to this guy.
The version of the Fan-Atic controller we are looking at today is a revised model offering 60w per channel and has 3 modes per switch: 12v, 5v, & 0ff. 5v is your "low speed" or "silent mode" for the channel. 12v is your "full on" or "high speed" option, letting the fan run at its rated specifications at its max speed. Right now, at the price of
$26
, no other controller offers this much power and DIY methods do not come with the 1 Year Warranty this controller does.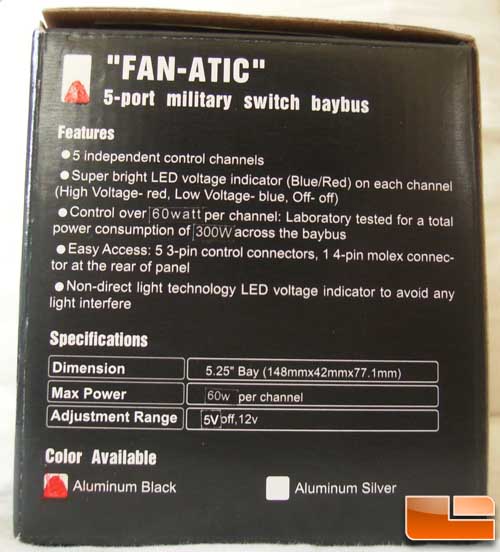 The back of the box here gives us a bit of info on the controller itself. You'll notice some edits to the specifications on the box. They appear to be using the old boxes and simply updating them for the new revision.
Everything back here is easy to read and pretty basic, though I do have a small concern. The FC-8 wanted me to use 3 Molex Connectors to push 240w across the controller; this one only wants me to use 1 Molex Connector to push 300w across the whole controller. Though most users, even with high end water cooling setups will not draw that much power from this controller, it is still possibly unsafe and thus something I think Lamptron should address if they revise this controller.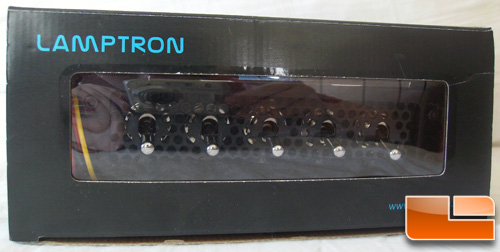 Here's the top of the box for this fan controller. Inside we can already see the military switches, what looks like to be a cable, and the Lamptron logo up top. The "ww" in the bottom corner is the URL to the
Lamptron Website
.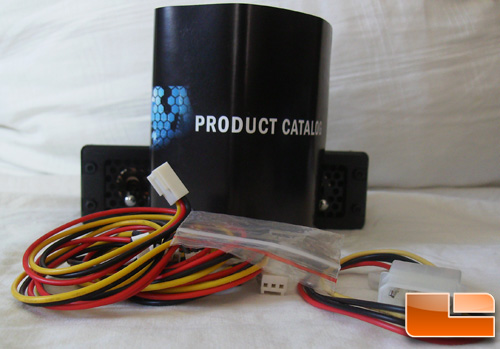 Here are the accessories of the box: a Bag with 4 mounting screws, five 20" fan extension cables and 1 molex connector for hooking this controller up to your PSU. A product catalog is also included.
We'll move onto the next page to see some action shots of this controller working.
Lamptron Fan-Atic in Action

Here's the front face of the Fan-Atic; like the FC-8 we looked at before, this controller uses a brushed aluminum front with all aluminum construction. The difference between the black version and the silver version of this controller is that the black version is anodized in with the black color, while the silver version is just raw aluminum on the outside. It is very scratch resistant and does not show finger prints.
The Military Switches in the front are made from solid stainless steel construction; they are very well built and have a nice audible click when you flip them into position.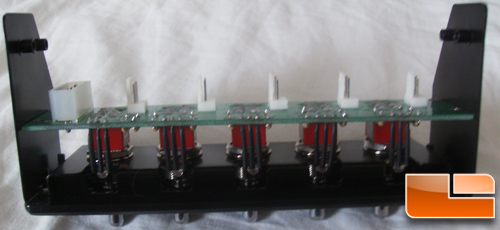 Here's the bottom of the Fan-Atic; those 3 leads you see extending from each channel are the 2 color LEDs of this controller. Each lead is covered in a heat-shrink to help prevent damage to the lead.
A subtle difference I noticed between this controller and other ones is the molex connector is soldered on and they give you an included extension if you need it. I like this method a bit more as it can make cable routing easier.

Here's the back side of the controller; as we can see, there are 6 connectors in total: 1 power input (4 Pin Molex Connection) and 5 Fan Headers. The soldering on this controller is pretty good. The overall design may be basic, but they did not skimp on build quality.

Here are the LED's of the Fan-Atic controller in an alternating pattern to show you what they look like. Like the box says, when the switches are flipped down and the Red LED is on, this means whatever is connected to the channel is getting 12v of power and operating at full speed if it is a 12v device. Blue LEDs on with the switch toggled up means they are getting 5v of power and running a little bit below half speed.

Here we have each channel on the 5v setting making all the LED's blue.

Here is the controller on the 12v setting making all the LEDs red.
Let's move onto testing so we can see what the Fan-Atic can do.
Testing Methodology & Results
Testing Methodology
Being a bit of a
fan

-atic
myself, I've tested fans in the past and I easily have a small collection of them. Though for this review I ran into a bit of a problem; how am I going to load up every channel to 60w? Well, I just so happen to have a box of Yate Loon fans (64 to be exact) that are all from servers that I used.
Testing Equipment:
7 Yate Loon D14SM-12s per channel
Fluke 62 Mini Digital Infrared Thermometer

Fluke 114 True RMS Digital Multimeter

Sinometer MS2138R AC/DC Clamp Meter

Testing Parameters
Output at least 58.8w per channel

Keep 12v output voltage a close to the nominal value supplied by the PSU used.

Compatibility with a variety of fans tested
Compatibility with cases

Ease of use for included functions
There are the tools I will be using for the job. The Fluke 114 & Sinometer MS2138R are going to be used in tangent to get my power measurements. Volts x Amps = Watts, and since this controller has each channel rated by watts I need to take actual voltage measurements and amperage measurements to get an accurate result of how much stress I am adding onto the controller's channel. This controller also advertises low heat output; because of the design, the MOSFETs on the back of the controller should be the part producing the most heat as that is where the fans are drawing their current from. I will use the Fluke 62 to measure the temperature in Degrees Celsius (#
°
C) to gauge on a rise above ambient how warm these MOSFETs are getting.
To gather my measurements I will be using Seven Yate Loon D14SM-12 fans per channel over a 24 hour period to see if this controller can sustain its rated output in a continuous operating environment. The ambient testing temperature is 35*C and is artificially kept at that temperature. My Silverstone Strider Plus 750w will be providing voltage and amperage to the controller. All voltage and amperage measurements will be taken periodically, every 6 hours, and averaged together. The Yate Loons will provide a current draw of 0.7 Amps each, for a total of 8.4 Amps (58.8w if the 12v rail holds steady at 12v). This controller is rated for 60w (which divided by 12 is 5 Amps), so it will be pushed to its limits as closely as possible by me.
Now let's move on to the actual testing.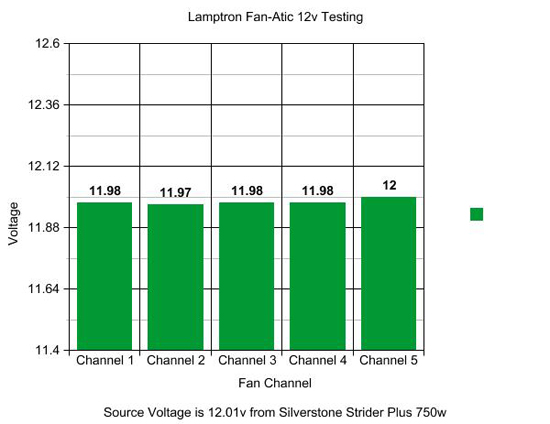 Here we start off with the 12v testing and with a slight droop in the line; things are pretty rock steady and well within defined ATX parameters of what a 12v output should be (+/-5% of 12v).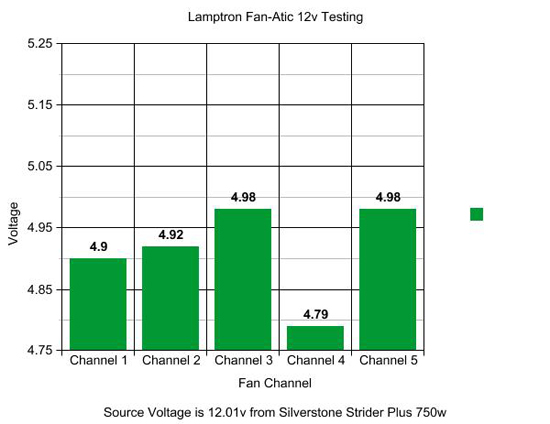 Here we have the 5v testing and channel 4 is really worrying me; it's entering the bottom range of the ATX Specification for 5v output (+/-5% of 5v). This may have been a fluke in my unit, and it may still be in spec, a word of caution is that some fans and pumps may not turn on with the input voltage being this low. If you do buy this product it is something to consider.
With that said, let's wrap up this review.
Conclusion & Final Thoughts on the Lamptron Fan-Atic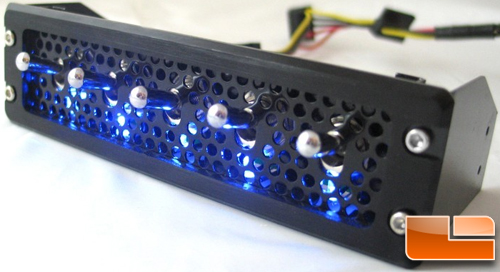 Being the third controller tested by Legit Reviews, we are getting familiar with Lamptron Products. This controller came in with some big promises of plenty of power. While it did not claim rock steady voltages, with previous offerings you would have considered this product to have a more stable output voltage.
The Fan-Atic uses a traditional resistor based method of stepping voltage down to 5v from 12v and, because of this, there is a larger droop on some of the channels. This is sad to see but it is what helps this controller sell for only $26 instead of the higher prices that their PWM based controllers sell for.
My best advice right now to Lamptron is to work on a tweak design that can improve the output voltage stability. At
$26
with a 1 Year Warranty it is a very attractive offering as it does not limit you on what you can connect to it.
I would like to digress for a moment and say that this is not a bad controller, and after contact with Lamptron I was told that if a controller had output voltage as low as what was seen on channel 4 they would be happy to RMA the product for the customer as they know that's too low to operate most fans. This is our third look at Lamptron products after the
Lamptron Hummer
&
Lamptron FC-8
; we hope to see more Lamptron controllers in the future as the exterior design is nice and overall the build quality is very well executed.
Legit Bottom Line
:
The Lamptron Fan-Atic is a well built controller with a minor flaw, but a well placed price in the market to make it an attractive offer for most buyers.