ATI's CATALYST 10.2 Driver Released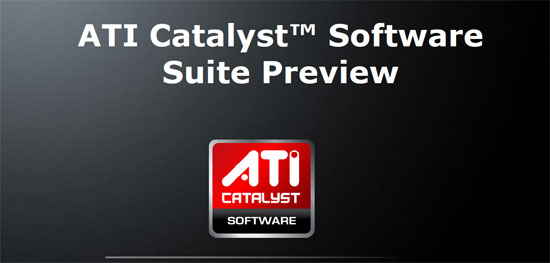 Releasing new drivers is nothing new for AMD. AMD has been releasing new ATI CATALYST video card drivers every month since ATI released the CATALYST Control Center back in 2004. February and March 2010 are going to be no different in that respect. However, February and March are going to be exciting times for ATI and their drivers. Today, ATI is releasing Catalyst Software Suite 10.2, which has some new features that are bound to blow you away.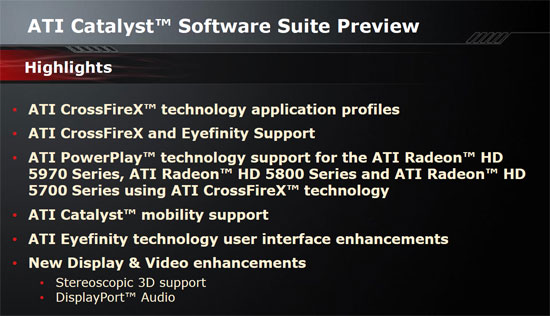 The new Catalyst driver is ATI's biggest and most feature packed driver release in the last few years. With features like application profiles and CrossfireX support for EyeFinity there's bound to be something for everyone.
Catalyst Driver 10.2 Features
ATI CrossFireX Technology application profiles
ATI CrossFireX and Eyefinity Support
ATI PowerPlay technology support
ATI CrossFireX technology re-architecture
DisplayPort Audio for DisplayPort panels
As if the February release of the Catalyst Control Center wasn't enough, come March, ATI is going to release another Suite that is just as packed full of features.
Catalyst Driver 10.3 Features:
3D Stereoscopic support
Display Bezel Compensation
Per-Display Color Adjustment
Multiple ATI Eyefinity Groups
Improved Display Configuration Switching
ATI Mobility Radeon Premium graphics Catalyst 10.3 Software Suite
As you can see in the bullets above there is no shortage of features. With all these features coming to reality in the next two Catalyst Driver Suites, I think it is safe to say ATI has been busy bringing these features to life.
ATI CATALYST 10.2 Driver features
ATI has started to break down the drivers for the Radeon series into multiple parts. While this may seem a strange thing to do, it does offer increased capabilities. By doing this they can leave the core driver intact month to month while updating features with a much smaller download. The application profile is a stand alone executable which contains a .xml file with the latest application profiles. This allows ATI to update this quickly and easily as often as needed. What this means for the end user is best shown by example. Let's use the Unigine "Heaven" benchmark as an example shall we. If this benchmark were to be released mid month between drivers, you would be in a bit of a bind. Either you don't play/use it to the full potential that your CrossfireX set-up would normally allow, or you have to wait until the next driver or a hot-fix is released. With the new system of updating the application profiles it can be done much quicker and much more often. Now you may be asking yourself do these application profiles make a difference in the performance of a game. Well the easiest way for me to answer this is to show you some results.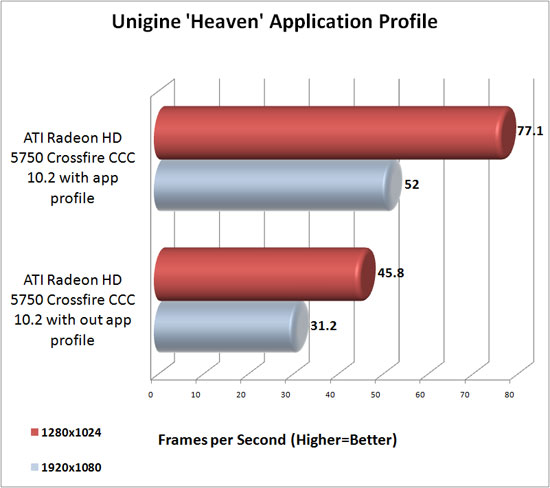 Using the application profile for the Unigine "Heaven" benchmark provided us with significant gains. Gaining a 66.7% increase in frame rates is no small feat. Updates like this one will available much more frequently than new drivers will be.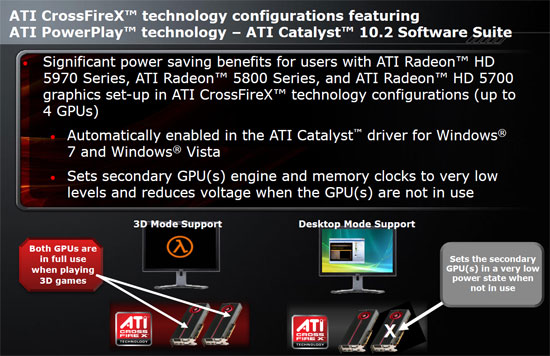 Another of the key features of the new ATI Catalyst 10.2 PowerPlay. As I am in no doubt that you know that more power equates to more heat, and more heat equals some bad mojo. ATI has further reduced the power consumption of a CrossfireX set-up. Well at least during idle and low power usage like web browsing and word processing. What they did to achieve this, is once you exit a 3D application such as a game the second GPU essentially goes into a hibernate mode. Fire up into your next gaming session and it wakes up seamlessly. ATI tested a pair of ATI Radeon HD 5870's and saw a reduction of 12Watts.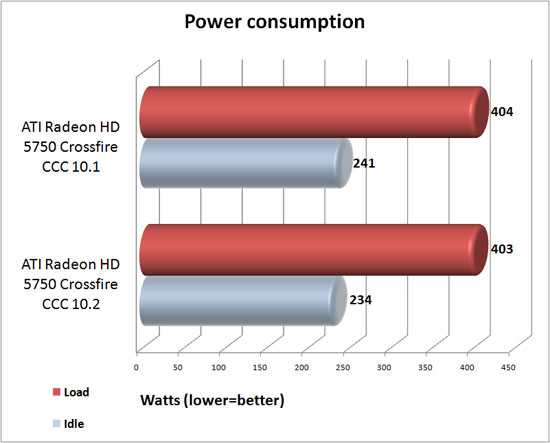 My own testing with a pair of ATI Radeon HD 5750's did show a little bit different result. Using Catalyst 10.1 my total power consumption of 241 Watts, with the new Catalyst 10.2 idle consumption dropped to 234 Watts. That's a drop of 7 Watts which is a far cry from the 12 Watts that was shown by ATI. A difference here was somewhat expected. The Radeon 5750 has roughly half the architecture of a Radeon HD 5870. Having half the architecture could definately translate to half the power savings like seen above. When I tested the power consumption of a Radeon HD 5870 here it did have a higher draw at idle. Which would mean a larger difference when you bring a second one to the Ultra Low Power state.
ATI CATALYST 10.2 Driver Features Cont'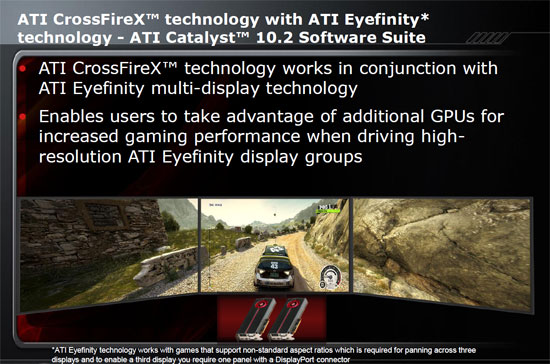 For those of you that are lucky enough to be running EyeFinity this next part is for you. Starting with Catalyst 10.2 ATI's EyeFinity will now support the use of multiple gpu's. Previously only the Radeon HD 5970 was supported and that was only in a very limited capacity.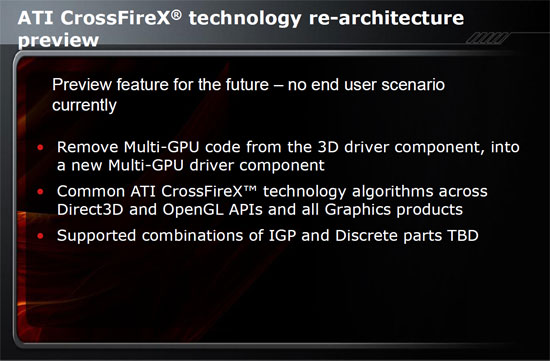 Above you can see that ATI is breaking the driver down further yet. The way that this was explained to me in part was the ability to Crossfire completely different cards. The example that was given to me was the potential to crossfire a Radeon HD 5970 and an ATI 9700. They also said that it wasn't very likely that they would, but they could. Unfortunately there is currently no real end user scenario at this point. The re-architecture will allow for some significant future changes though.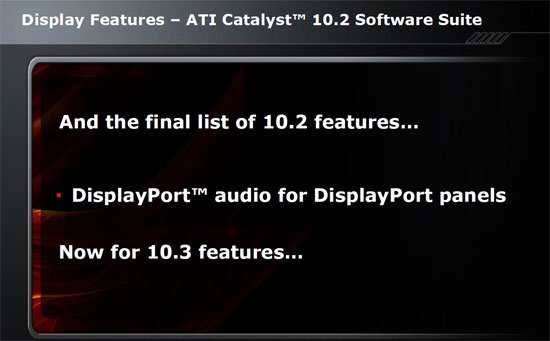 Last but not least the new Catalyst 10.2 software suite offer up some audio features. The capability to run your display's speaker through the Displayport is now a reality.
Now that we have taken a look at the new features of Catalyst 10.2, Software Suite let's take a look at some of the things to come in March with the 10.3 suite.
ATI CATALYST 10.3 Driver Features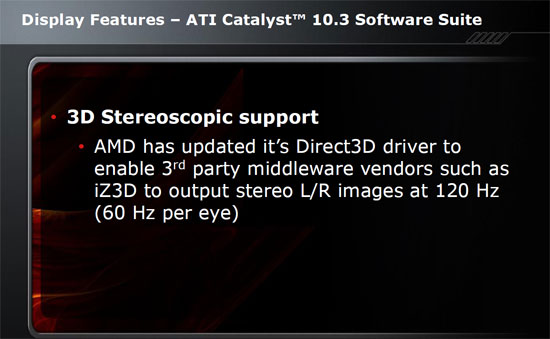 For those of you ATI loyalists that have been envious of a certain companies 3D Vision. The wait for your turn is nearly over! Coming in March with Catalyst 10.3 ATI has enabled their Direct3D driver to allow third party vendors to output a 120Hz L/R stereo image. Utilizing the frame buffer on the gpu it will support Quad buffering. Quad-buffering is the ability to render into left and right front and back buffers independently. The front left and front right buffers displaying the stereo images can be swapped in sync with shutterglasses while the back left and back right buffers are being updated - giving a smooth stereoscopic display. The frame buffer will store 2 frames per eye at any given time for a total of 4 frames.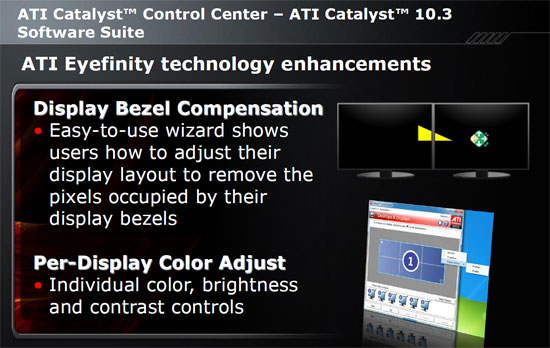 Catalyst 10.3 software suite now allows you to change the color configuration of just one of the panels in an Eyefinity display. Also new in Catalyst 10.3 is the ability to compensate for the display bezel. This will allow the images to appear much more fluid. You will no longer see a mismatch in certain images.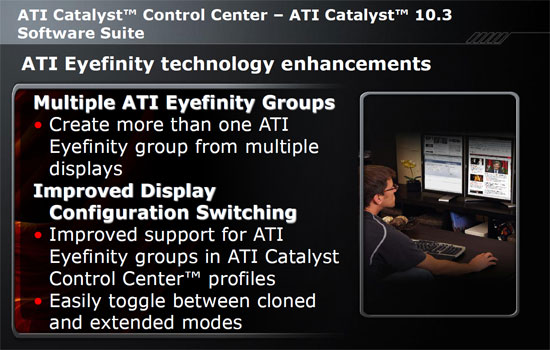 Now you will be able to configure multiple Eyefinity display groups. Setting up configurations of 3 groups of 2 panels each or 2 groups of 3 panels each is now possible. It will also become easier to switch between the configurations from within the new Catalyst Control Center.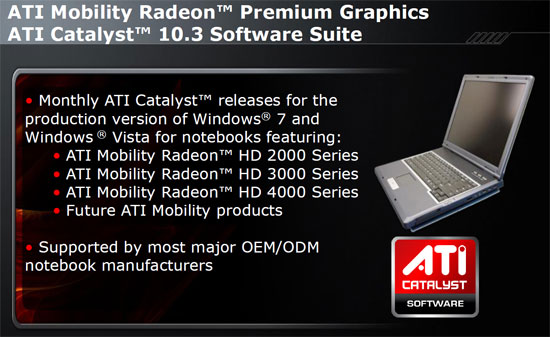 As the above slide states that the Catalyst 10.3 software suite will begin to support the Radeon Mobility chipsets. This isn't the first time ATI is doing this. Several years ago ATI gave OEM manufacturers the opportunity to opt in to the program. Now it is being done a little different, OEM manufacturers have to opt out of the program if they don't want Catalyst 10.3 to be run on their systems. Currently (at the time of this writing) only three companies have opted out of the program, Sony, Toshiba, and Panasonic.
The Test system
All testing was done on a fresh install of Windows 7 Ultimate 64-bit with all the latest updates installed. All benchmarks were completed on the desktop with no other software programs running. The Corsair DOMINATOR memory modules were run in triple-channel mode at 1440MHz with 8-8-8-24 timings. The ATI Radeon HD graphics cards were tested with 10.1 CATALYST suite drivers and the latest 10.2/10.3. The EVGA X58 motherboard was running the latest BIOS. The processor has been overclocked to 3.6GHz (180x20).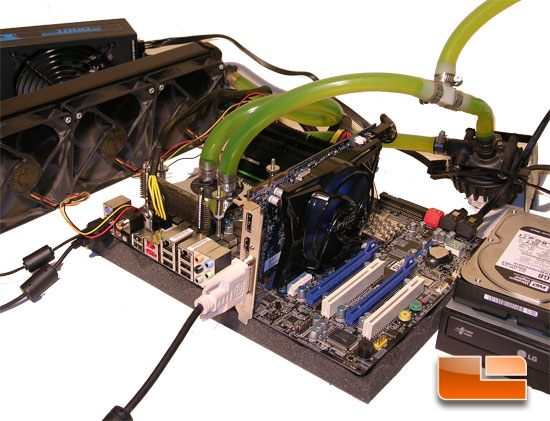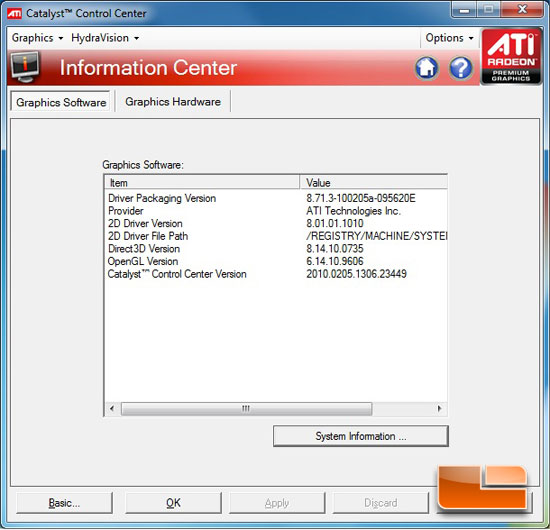 Intel Test Rig

Processor
Intel Core I7 920
Live Pricing
Motherboard
EVGA X58 Tri Sli
Live Pricing
Memory
6gb Corsair Dominator 1600
Live Pricing
Hard Drive
Western Digital Black 640gb
Live Pricing
Video Card
HIS Radeon HD5750
CPU cooler

XSPC Delta V3 Universal CPU Waterblock

Radiator
Swiftech MCR320 QP
Live Pricing
Pump
Swiftech MCP655
Live Pricing
Chassis
None - Open Bench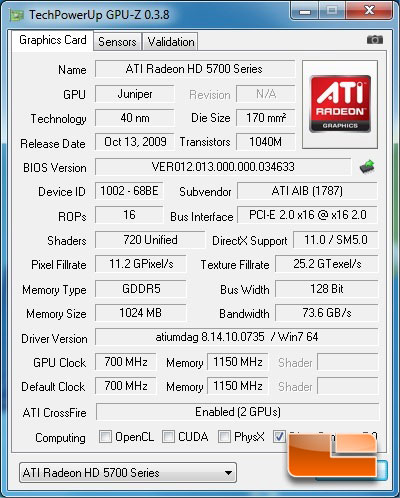 Colin McRae: DiRT2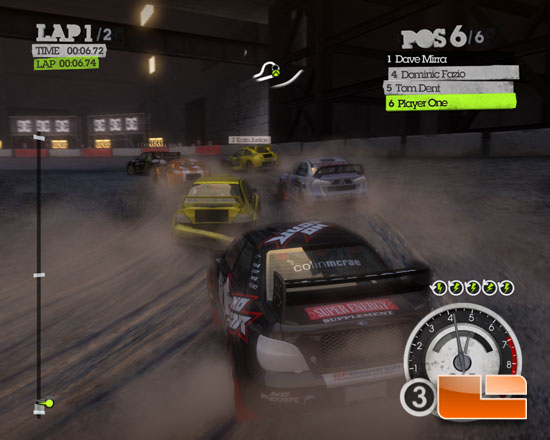 Colin McRae: DiRT 2 is one of the most anticipated racing games of the year and will take full advantage of DirectX 11, adding realism to the racing environment. The game also will have hardware tessellation that is said to improve the appearance of water and other surfaces, as well as crowd animations. Utilizing the EGO Engine, DiRT 2 should raise the bar for PC gaming and is a definite must-have for PC gamers as it will have cars and tracks twice as detailed as those seen in Race Driver: GRID. All settings were set to high with 8x AA.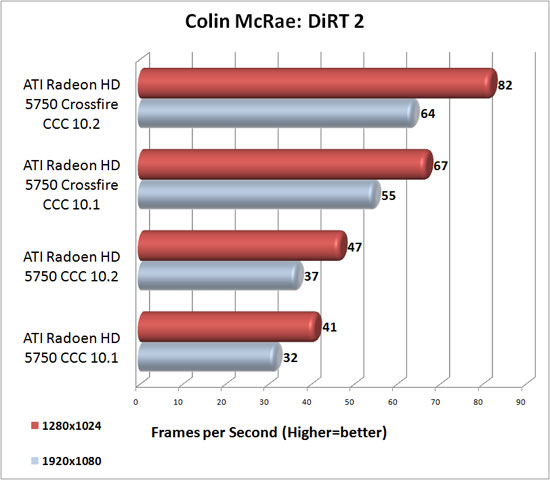 Benchmark Results: Colin McRae: DiRT 2 is a game that requires a hefty system to run at these settings. Installing the new Catalyst 10.2/10.3 drivers gave us a solid boost in performance. Not only did I see a gain in FPS at single card performance and Crossfire performance. There was also a boost in the Crossfire Scaling. Using CCC 10.1 Crossfire scaled to x1.63/x1.71(1280x1024/1920x1080), with the CCC 10.2/103 it scaled to x1.74/x1.73. Take into consideration a 15% performance boost in a single card set up and ~21% in crossfire over the previous CCC 10.1 I think ATI did something right with this driver.
Tom Clancy's H.A.W.X.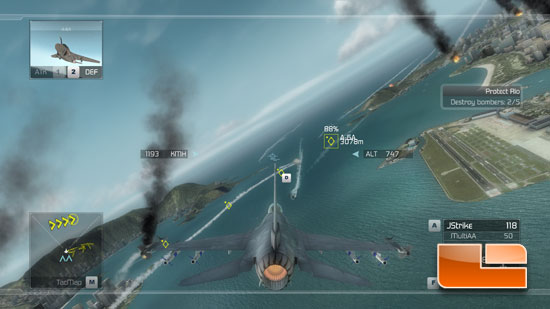 Tom Clancy's H.A.W.X. (High Altitude Warfare eXperimental squadron) is an aerial warfare video game developed by Ubisoft Romania and published by Ubisoft for Microsoft Windows. It was released in United States on March 6, 2009 and features Microsoft DirectX 10.1 game play.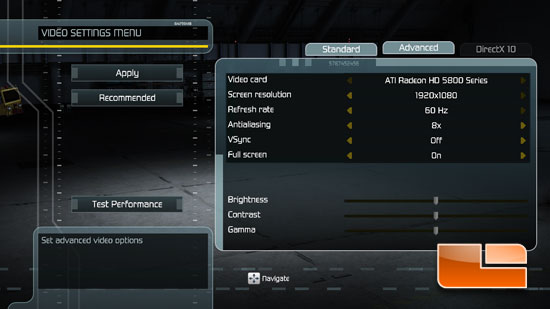 All testing was done at the highest settings with 8xAA for both 1920x1080 and 1280x1024 resolutions.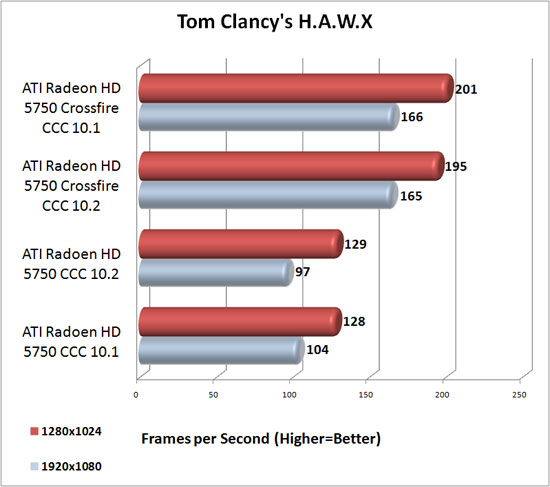 Benchmark Results: Comparable frame rates between the two Catalyst Drivers. Catalyst suite 10.1 had an ever so slight lead in crossfire.
Batman Arkham Asylum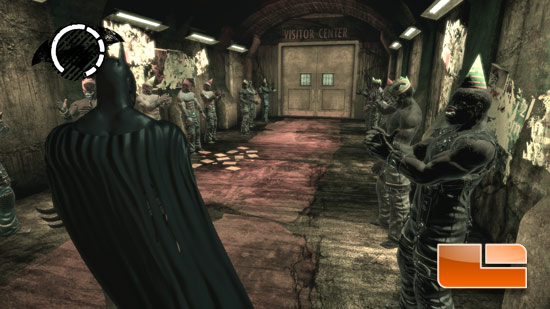 Batman: Arkham Asylum is an action-adventure stealth video game based on DC Comics' Batman for PlayStation 3, Xbox 360 and Microsoft Windows. It was developed by Rocksteady Studios and published by Eidos Interactive in conjunction with Warner Bros.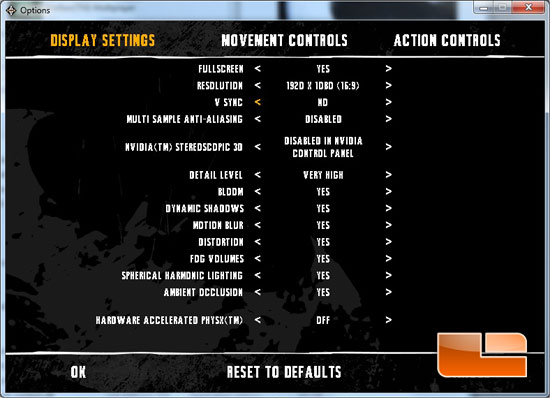 For our testing we set everything as high as it would go, except for PhysX and NVIDIA Multi Sample Anti-Aliasing, which were both disabled.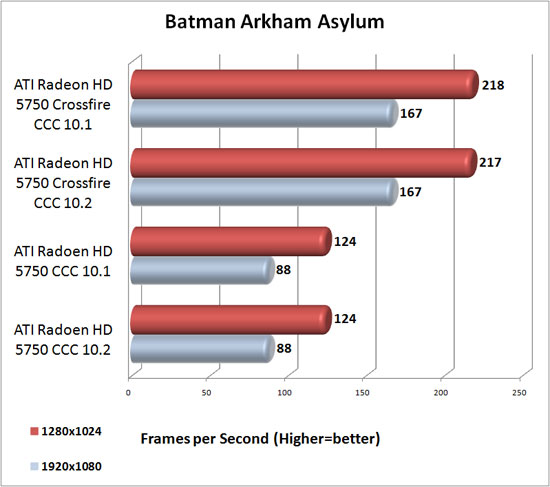 Benchmark results: The Catalyst 10.2/10.3 drivers had virtually no effect on the system performance in Batman Arkham Asylum.
Resident Evil 5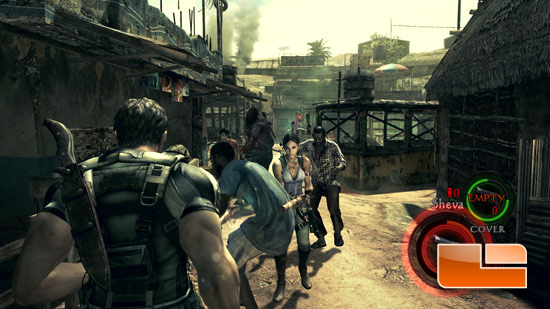 Resident Evil 5 is a survival horror video game developed and published by Capcom. Resident Evil 5 features similar game play to Resident Evil 4, with context-sensitive controls and dynamic cut scenes also making a return. The player can control Chris Redfield or Sheva Alomar in a similar fashion to Leon S. Kennedy in Resident Evil 4 with the same over-the-shoulder perspective.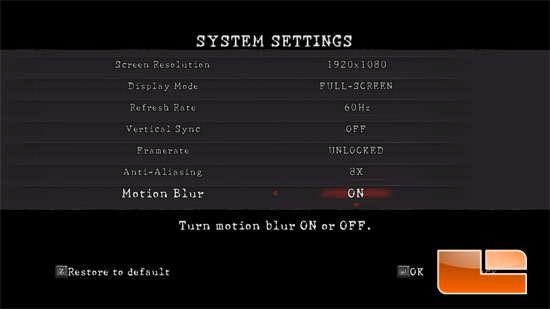 All in game settings were set to their maximum. We used 8xAA for all of our performance tests in Resident Evil 5.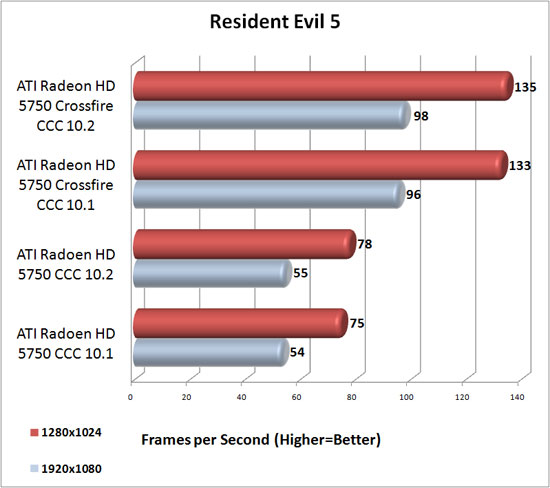 Benchmark Results:In Resident Evil 5 we see a slight 1-2% performance gain with the new drivers, though not anything to write home about.
FurMark 1.8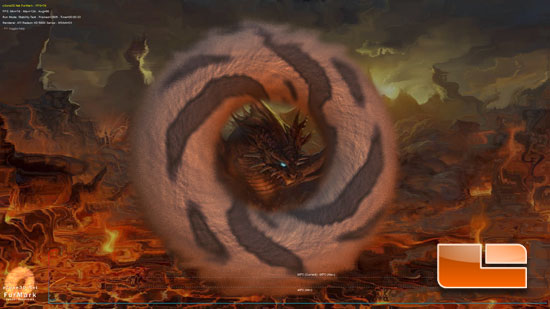 FurMark is a very intensive OpenGL benchmark that uses fur rendering algorithms to measure the performance of the graphics card. Fur rendering is especially adapted to overheat the GPU and that's why FurMark is also a perfect stability and stress test tool (also called GPU burner) for the graphics card.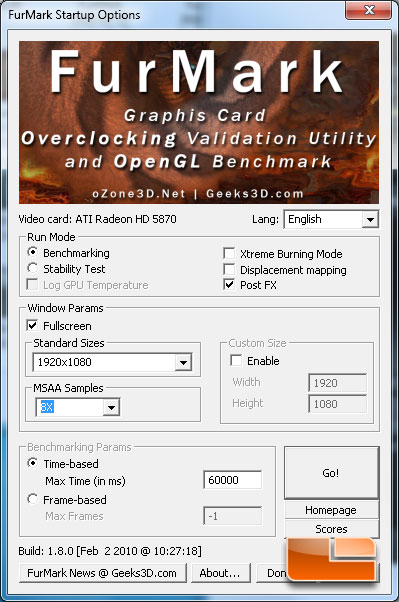 All testing was done in full screen with 8xAA.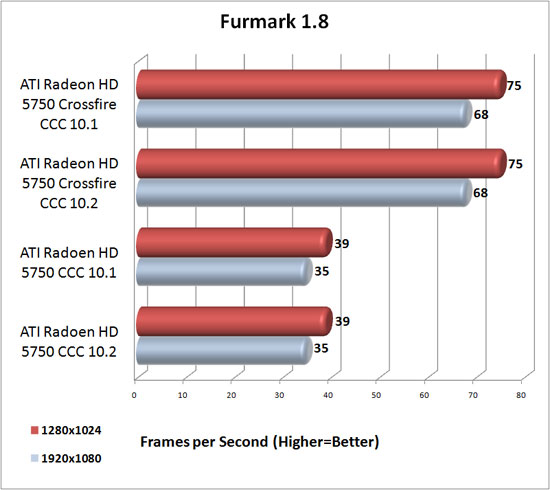 Benchmark Results: Both Catalyst Driver Suites performed identically.
3DMark Vantage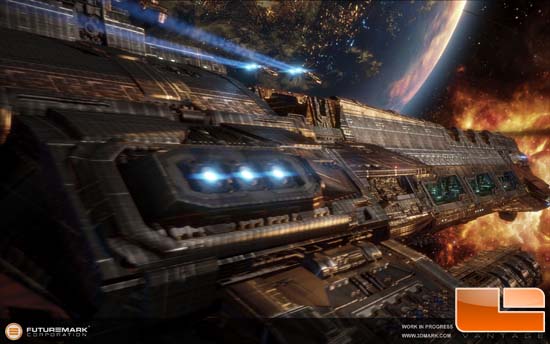 3DMark Vantage is the new industry standard PC gaming performance benchmark from Futuremark, newly designed for Windows Vista and DirectX10. It includes two new graphics tests, two new CPU tests, several new feature tests, and support for the latest hardware. 3DMark Vantage is based on a completely new rendering engine, developed specifically to take full advantage of DirectX10, the new graphics API from Microsoft.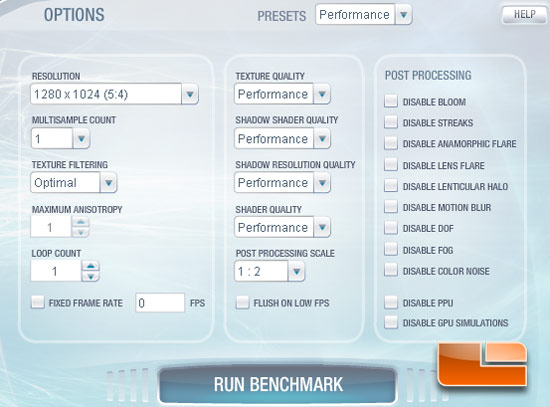 Performance settings were used, so a 1280x1024 resolution was used.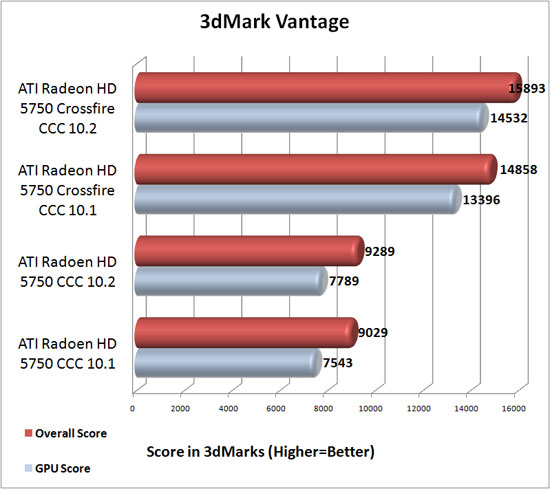 Benchmark Results: Using only one ATI Radeon HD 5750 we gained a few hundred 3dMarks with the new Catalyst 10.2 driver. Our gains improved dramatically when combined with a pair of Radeon HD 5750's. We saw a 7% increase overall and a 8.5% gain in the GPU score!

Final Thoughts and Conclusion
ATI's Catalyst 10.3 software suite beta has proven itself to be a winner. The features alone are a worthy enough reason to update. Take into account some of the performance increases we have seen here builds an even stronger case to to update.
The only feature I have an issue with is the application profiles. It's not so much an issue with the feature itself, since it will help performance. I would like to see an auto update feature for it though. It would make it simpler if it would update itself much the way an anti-virus does. Even if they provided a link in the Catalyst Suite that would take you to the download page. Granted firing up your web browser and navigating to the appropriate page isn't a difficult process, I think providing a link would make it a more user friendly process. To be honest that is such a minor concern it is hardly worth mentioning.
By far the Application Profiles feature is the coolest feature in Catalyst 10.2. I think it will revolutionize the way drivers will be updated. If it works as well as it looks like it will, we will see performance gains much sooner for newly released game titles. Despite not having as much of a cool factor as the application profiles does, let's not forget about the ATI PowerPlay. By downloading and updating to CATALYST 10.2 video card drivers, it means that consumers can save money on your electric bill, which is fantastic. Reducing your systems power draw by 7-12 Watts may not seem like a whole lot, but over time it does add up. If you are like me and leave your computer on pretty much 24/7 it will save you money in the long run. It's not every day that you get new features, improved performance and a reduction in power. This is by far one of the greatest updates in CATALYST history!

As for the Catalyst 10.3 drivers, I have to say that I am looking forward to the 3D capabilities of it. I personally think that a nice 3-monitor Eyefinity configuration running in 3D will completely change the face of gaming! I may have to start saving my pennies for that.
Legit Bottom Line: With as much as a 22% performance gain as seen in Colin McRae: DiRT 2. Plus all the new features that make the Catalyst Suite 10.2/10.3 what it is, this Suite is a must have especially considering the cost of FREE!