Zalman Previews GS1200 PC Case – Fits E-ATX Motherboards!
Thu, Dec 16, 2010 - 6:51 PM
Zalman plans to launch a PC chassis aimed at enthusiasts next year called the GS1200, that is worth a closer look. The chassis will be the successor to Zalman's GS1000 and is able to fit E-ATX motherboards! The GS1200 features a top-mounted HDD docking station and sports an all-black interior and exterior. It also is loaded up with USB 3.0 ports, USB 2.0 ports and one eSATA port to keep you connected to all your removable devices. The case will first be shown at CES 2011, so be sure to check back during the show for some detailed pictures on this case! We asked Zalman about pricing and since the case isn't released yet they haven't set a price, but from the sounds of it $269.99 is being kicked around.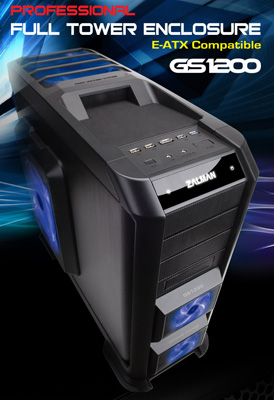 We are pleased to inform you that Zalman is launching GS1200. Its mesh design with two large 200mm fan provided delivers powerful cooling and excellent air flow at once. On top, to maximize user's convenience and faster data transfer, front USB3.0 port is adopted. Top cover HDD Docking deck which makes convenient addition of the HDDs possible is another ideal feature of this new generation case to satisfy enthusiast's requirement. Please go thru key features below for further understanding of this luxurious enclosure. Last, we will display GS1200 at CES in January, 2011.