WD TV Live HD Media Player Firmware Update 1.01.12 Bricking Players
Fri, Dec 04, 2009 - 10:39 AM
On Thursday Western Digital released a firmware update for their popular WD TV Live HD media player, but it seems something isn't quite right with the update. According to the WD site firmware version 1.01.12 improves the reliability and performance of the WD TV Live product update manager, but consumers are saying that their devices won't work after they try to install the firmware update. Western Digital tech support is saying that it is due to firmware update application is timing out because large capacity drives cannot build the media directory fast enough to allow the installation to continue. They suggest installing the update from a USB key with no files on it, but that doesn't seem to be working either. Just minutes ago WD pulled the firmware from their site, so we don't suggest updating your player.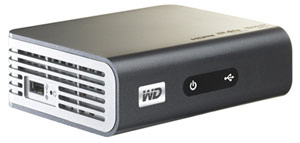 These release notes provide information on the latest posting of firmware
for the WD TV Live HD Media Player. This particular firmware updates
the user interface as well as improves your media player's functionality
and capabilities. This firmware update will further enhance the
performance, reliability, and stability of the product.