WD Red 3TB NAS Hard Drive Review
Tue, Dec 11, 2012 - 12:00 AM
Hard Drives Designed For NAS Servers
Earlier this year Western Digital (WD) announced the WD Red NAS hard drives that are a line of SATA III 6Gbps hard drives specifically designed for home and small office NAS (network attached storage) systems. Anyone that has ever built a NAS before knows that buying hard drives and running them in RAID can be tricky, so WD has been working with NAS box manufacturers to make sure the WD Red series is compatible and that they are optimized for both power and performance. The WD Red hard drives are available in 3.5-inch 1 TB, 2 TB and 3 TB capacities and are designed from the ground up to work best in NAS servers that have up to five drive bays. Anything over five drive bays they suggest moving up to the WD RE Enterprise hard drive series as they are a bit more robust.
WD Drive Models:
WD Blue (solid performance and reliability for everyday computing)
WD Green (cool, quiet, eco-friendly)
WD Black (maximum performance for power computing)
WD Red (home and small office NAS)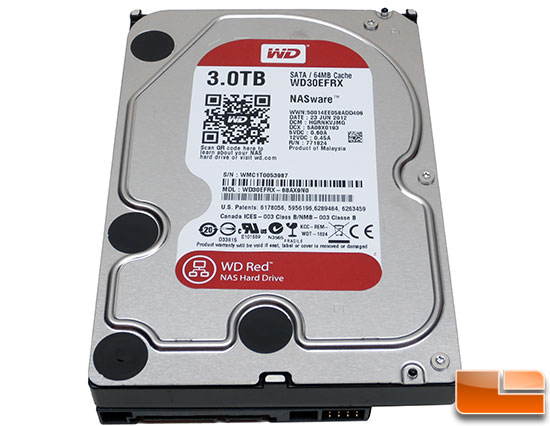 For years many bought WD Caviar Green series drives since they were the lowest cost drives available, but they often found that these energy friendly drives often didn't run properly in a NAS environment with RAID arrays. The WD Red series costs a bit more, but has a number of firmware and hardware features that make it different from a traditional desktop hard drive. For example, you have less aggressive head parking (no IntelliPark), a configurable Time Limited Error Recovery (TLER), with a default of 7 seconds, optimized IntelliPower disk rotation speeds, and a vibration reduction mechanism. On top of all that you get a 3-Yr. warranty with free 24×7 phone support if you need it. WD even has a dedicated support line for WD Red customers (1-855-55-WDRED), which is pretty impressive.
WD Red Hard Drive Models & Pricing:
The WD Red WD30EFRX 3TB drive costs $157.90 and the WD Green WD30EZRX 3TB drive costs $129.99, so you are looking at about $30 or an extra 23% to get a true NAS hard drive. Obviously, the WD Red series costs a bit more, but you get a drive with TLER and that can really help you out if you ever get a couple bad sectors on a drive.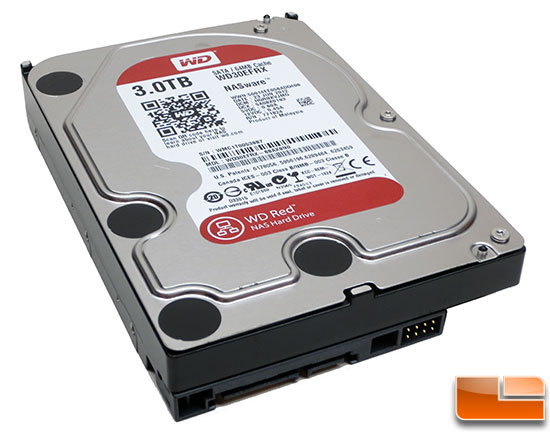 The WD Red series uses the standard 3.5″ desktop form factor, so you have your usual SATA power and data ports along one end of the drive. You have the ability to download a copy of Acronis True Image software from the WD website after you register the drive if you need data migration software.
WD Red Specifications:
Capacities

1TB: WD10EFRX

Host to/from buffer: 150MB/s

2TB: WD20ERFX

Host to/from buffer: 145MB/s

3TB: WD30ERFX

Host to/from buffer: 145MB/s

SATA 6Gb/s interface
64MB DDR2 Cache
Intellipower low-power spindle
1TB drive platters
Operating Temperature: 0-70C
Non-Operating Temperature: -40-70C
MTBF: 1,000,000 hours
Non-recoverable read errors per bits read: 14
TLER Enabled
Power

2TB/3TB: read/write 4.4W, idle 4.1W, standy/sleep .6W
1TB: read/write 3.7W, idle 3.2W, standby/sleep .6W

Acoustics:

2TB/3TB: idle 23 dBA, seek 24bBA
1TB: idle 21 dBA, seek 22dBA

3 year warranty with phone support
The WD Red 3TB is fairly quiet with an average noise rating of 23 dBA at idle and 24 dBA during seek mode 0. When it comes to power use the WD30EFRZ uses 0.60 Watts when at sleep, 4.10 Watts at idle and 4.40 Watts during read/write operation.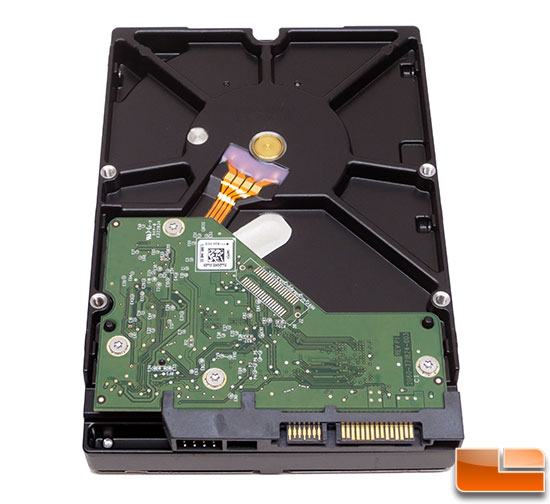 The back of the WD Red 3TB NAS hard drive has a simple green PCB on the back that is held down by four T9 Torx screws.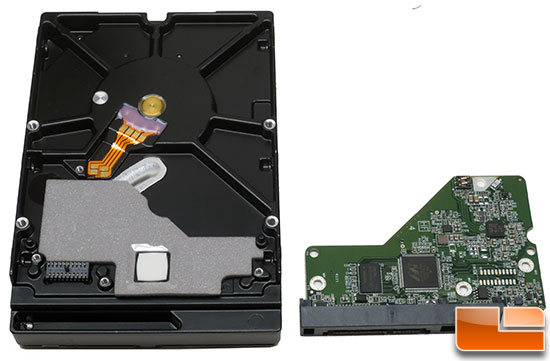 We removed the screws and took off the PCB in order to show you what controller and memory chip WD is using on this particular hard drive.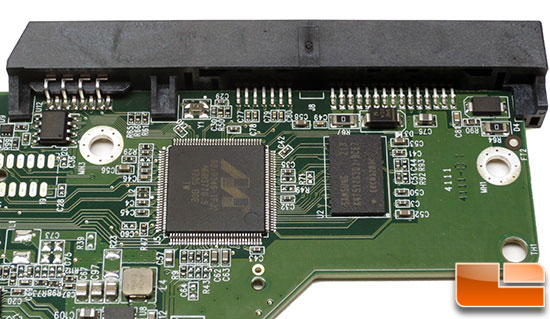 A Marvell 88819346-TFj2 SATA III controller is what gives this hard drive its 6Gbps speeds and just to the right of that is a Samsung 64MB DDR2 memory chip that makes up the drives cache. Most hard drives use DDR1 memory, so WD is using faster DDR2 memory for this drive series.
Now that you know the basics of this hard drive designed for NAS use, we can take a look at the test system and jump to the benchmarks!