Tt eSPORTS Level 10 M Gaming Mouse Review
Fri, Jan 04, 2013 - 12:00 AM
Tt eSPORTS Level 10 M Gaming Mouse
The Level 10 M appeared many months ago at various trade shows up until its official release. Ever since, there have been interesting community discussions regarding its over-the-top appearance.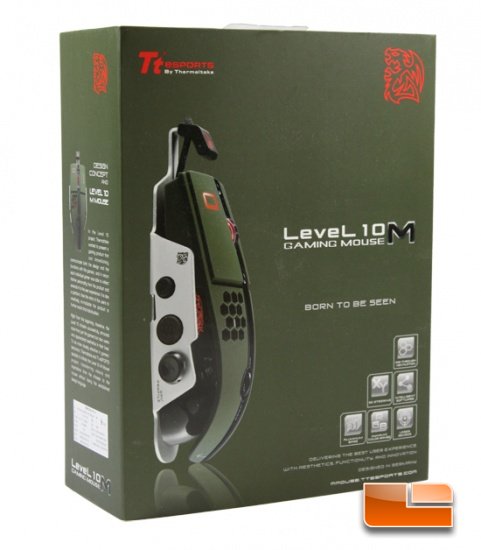 Thermaltake and DesignWorksUSA, a BMW owned design consultancy, have returned to develop a new Level 10 product that isn't a computer case. The Level 10 M joins the Tt eSPORTS branding as an ambitious gaming mouse with an aluminum base, an 8200 DPI laser sensor, five side buttons, and custom lighting zones. This is a large mouse at 5.8 x 2.7 x 1.5 inches (LxWxH) and 6.5 ounces. Despite the official specifications, the palm piece is 4.75 inches long.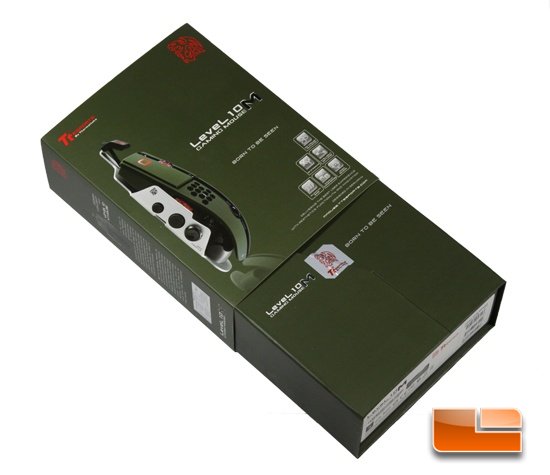 The review sample we have is the Military Green color, though there are three other colors to choose from: Diamond Black, Iron White, and Blazing Red. It should be noted that Blazing Red does not appear to be available to North American retailers at this time. The Tt eSPORTS Level 10 M has an MSRP of $99.99, but you can find it through Newegg at this time for $74.99 shipped after a $10 rebate.
Tt eSPORTS Level 10 M Features and Specifications:
Air-through ventilation: This ventilation solution strengthens the possibility of a better air and temperature exchange as a means of passive ventilation. Through the perforated surface, issues such as heavy use of the Level 10 M Mouse and the rise of temperatures of the hand are significantly reduced.
3D Steering: Level 10 M Mouse is designed to adjust the height and angle via steering axis, greatly enhance user comfort and convenience as well.
Laser Sensor: Level 10 M Mouse is equipped with 8200 DPI, adjustable from 800, 1600, 3200 to 5000 (default setting), and customizable by software application up to 8200 DPI.
Dynamic Color Range: Up to 7 colors to choose from.
Up to 11 programmable macro keys
2-year warranty
Thermaltake seems particularly excited about the mouse's construction and passive cooling. Before we look at the mouse itself, let's examine the contents of the package.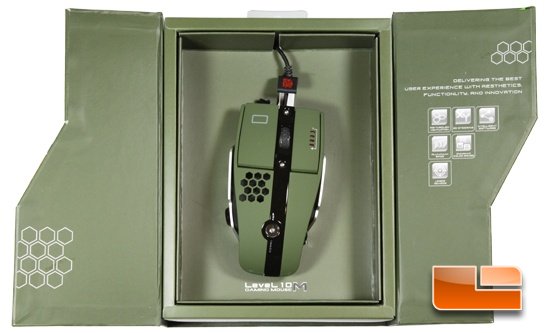 The Tt eSPORTS Level 10 M is contained in a box which itself is contained in a cardstock sleeve. The sleeve has images of the mouse on all sides from various angles. The rear summarizes the mouse's defining features in pictures while suggesting in fine print that more information can be found at mmouse.ttesports.com.
The box opens from the front and the two flaps are held together by a sticker. The mouse is not far underneath the sticker so be careful if using a cutting tool.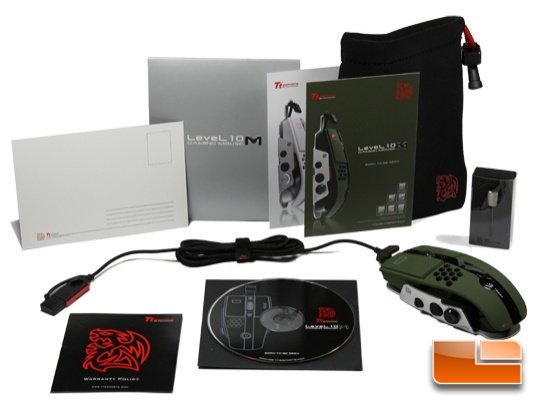 The rest of the package's contents are found underneath the mouse. Included is a neoprene foam carrying bag, three postal cards with a Level 10 M mouse displayed on the front, a small screwdriver for adjusting the mouse's tilt, a warranty booklet with a Tt eSPORTS Dragon sticker on the last page, and the mouse software CD.
Next, let's take a closer look at the mouse.