Toshiba Expands Canvio Basics 3.0 Product Line w/ 2TB Drive!
Mon, Jan 28, 2013 - 8:40 AM
Toshiba today announced the addition of new two terabyte offerings to its Canvio Basics 3.0 storage lineup, including a 2TB Canvio Basics 3.0 portable hard drive and a 2TB Canvio Special Edition portable hard drive. The 2TB Toshiba Canvio Basics 3.0 portable hard drive is available for purchase for $189.99. For $219.99 you can get Toshiba's Canvio Special Edition Portable Hard Drive which includes NTI Backup Now EZ software that makes backing up systems fast and simple. This software costs $29.99 if you buy it yourself. This means there no real cost savings to get the special edition drive other than saving you the extra step of buying and downloading the software on your own.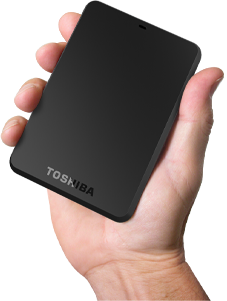 "We understand that consumers have varying capacity needs and we strive to provide solutions that match differing requirements," said Maciek Brzeski, vice president of product marketing and development of branded storage products, Toshiba America Information Systems, Inc., Digital Products Division. "Our new 2TB solutions now provide our customers that are looking for basic functionality with an increased storage capacity, as the most basic users are continuing to grow an expansive digital library."