Sapphire 2GB Radeon HD 5870 TOXIC Video Card Released – 925MHz Core Clock!
Thu, Apr 15, 2010 - 6:37 PM
SAPPHIRE Technology has just announced 2GB TOXIC and 2GB Vapor-X Editions in its award winning SAPPHIRE HD 5870 series. The SAPPHIRE HD 5870 2G TOXIC Edition is factory overclocked to industry leading speeds of 925MHz core and 1225MHz (4.9GHz effective) memory and the larger 2GB frame buffer gives extra advantage in some demanding applications. Fitted with SAPPHIRE's Vapor-X cooler technology, the TOXIC Edition achieves its world-beating performance whilst working at lower operating temperatures and significantly more quietly than other solutions, and still giving enthusiasts headroom for further performance tuning. The SAPPHIRE HD 5870 2G Vapor-X Edition uses the same core technology, but ships with the clocks defaulting to 850MHz engine and 1200MHz (4.8GHz effective).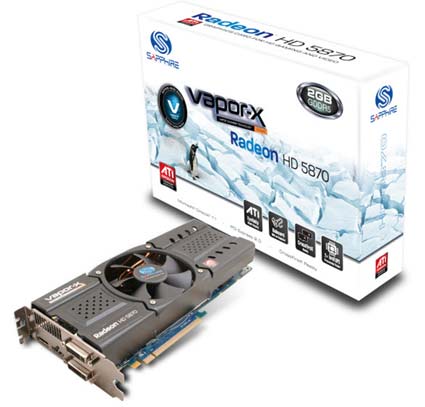 With a total of 1600 stream processors and 80 texture units and a new 150GB/s memory interface supporting fifth generation GDDR5 memory, the SAPPHIRE HD 5870 Vapor-X Series has twice the computing power of the previous generation. This series is lightning fast with DirectX10.1, DirectX 10 and DirectX 9.0 games and applications, as well as supporting stunning new levels of detail, transparency and lighting effects in new releases of software using DirectX 11. All of this comes with the modest active power consumption of less than 190W – and using Dynamic Power Management the cards have a new super low-power idle mode of 27W.