Samsung Introduces New Line of Home Theater Products at CES 2013
Sun, Jan 06, 2013 - 11:06 AM
Over night, Samsung announced a new new line of home theater products for 2013. Samsung is claiming to have the world's first soundbar utilizing vacuum tubes. The soundbar (model # HW-F750) also has bluetooth connectivity and a gyroscope to assist with calibrating it. The gyroscope sensor gauges height, rotation and slope to optimize sound quality, whether the soundbar is placed in a horizontal or vertical position, which is an extremely convenient feature.
As a quick overview of the other products that Samsung will have available, they have a new wireless bluetooth speaker, which offers NFC connectivity; a new 7.1 home theater system, which is said to be the perfect pair for Samung's 2013 Smart TV lineup; and a new premium Blu-Ray player, which features advanced upscaling capabilities.
Samsung's new line-up of home theater products will be on showcase at CES 2013.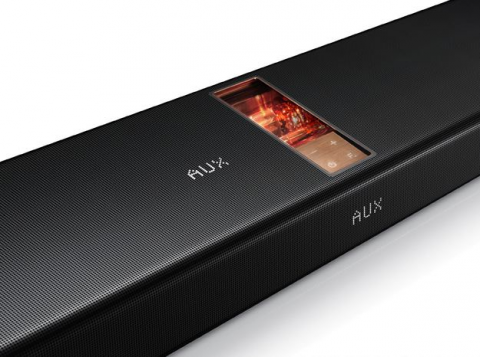 With the advances in picture displays, consumers also need to be able to complement their viewing experience with high quality home theater products," said Sunny Lee, Executive Vice President, Visual Display Business at Samsung Electronics. "Today's product introductions prove that consumers can enjoy premium sound and cutting-edge design without sacrificing convenience, simplicity or ease of use.