Running Folding@Home on ATI Graphics Cards
Mon, Oct 09, 2006 - 12:00 AM
Running F@H Faster on GPU's
If you've been folding the past week with the latest Folding 5.0.5 BETA GPU client you've likely been doing it at much lower speeds than what you could be. Running the stock clock speeds to fold is great for power consumption and lower heat output, but if you're serious about getting the most out of your setup and pump out the points faster you'll want to kick your X1900 up to full speed, as in 3D clocks.
In order to run 3D clocks while folding you're going to need to download ATI tool. Keep in mind this currently works for the X1900's only and not the X1950's.
After installing ATI Tool and starting it up you'll need to disable the service which controls 2d/3d clocks which you'll be prompted to do. After that's done click on the settings button at the bottom right, then click the drop down menu and go to voltage. Here you'll want to adjust "VGPU" up to 1.425v, which is the voltage the card runs at in normal 3D operation no other changes are needed here. A warning may pop up but can be safely ignored. Once you've adjusted the voltage click apply, then click the "back" button to return to the main screen where we can adjust clock speeds. Simply type over the core speed first and memory speed second. For X1900XTX owners you'll want to set your clock to 650MHz for the core and 775MHz for memory. Those with X1900XT cards will want to set it to 625MHz core and 750MHz memory. After typing in your desired clocks simply click "Set Clocks" and you're ready to get some serious folding done.
If you're wondering what this will do in terms of folding performance we some folding tests on Folding Project 2711 with our X1900XTX the day the client was released .
[01:07:15] Project: 2711 (Run 0, Clone 741, Gen 0)
[01:07:15]
[01:07:15] Assembly optimizations on if available.
[01:07:15] Entering M.D.
[01:07:26] Completed 0
[01:07:26] Starting GUI Server
[01:16:40] Completed 1
[01:25:29] Completed 2
[01:33:22] Completed 3
[01:41:17] Completed 4
[01:49:10] Completed 5
With our X1900XTX running 2D Clocks taking right around eight minutes to complete each step in the work unit.
[04:56:01] Project: 2711 (Run 0, Clone 741, Gen 0)
[04:56:01]
[04:56:01] Assembly optimizations on if available.
[04:56:01] Entering M.D.
[04:56:11] Completed 0
[04:56:12] Starting GUI Server
[05:03:30] Completed 1
[05:09:36] Completed 2
[05:15:41] Completed 3
[05:22:20] Completed 4
[05:28:26] Completed 5
When we used ATI Tool to run 3D Clocks at all times the folding client was able to run fine under the increased frequencies and was able to complete the steps faster. The steps were able to complete in six minutes versus the eight minutes that we were getting when the card was clocked at 2d speeds. By running 3D Clocks we noted a 25% increase in folding performance, which is significant if you are going for the most points possible.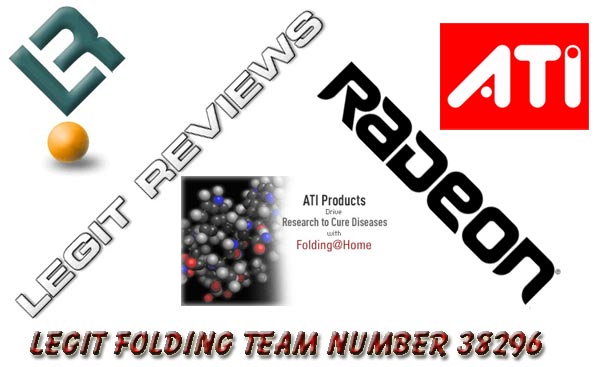 Folding For ATI GPU's:
Legit Reviews and ATI have teamed up and are giving away a few ATI Radeon graphics cards to those that would like to enter a Folding contest here on Legit Reviews. The fine folks up at ATI have donated a couple retail box graphics cards and we also threw in one of our test cards to add to the prize pool. The graphics cards that LR will be giving away are the ATI Radeon X1950XTX, Radeon X1900XT 256MB and a Radeon X1600 Pro.
The Grand Prize will be the ATI Radeon X1950XTX and will be given to the folder that has the highest points per CPU. First Prize will be the ATI Radeon X1900XT 256MB graphics card and will be given to the member who has the highest point total during the contest. The final prize will be a Radeon X1600 Pro and it will be a random drawing from all those that are actively folding on the team. This means that every one on the team has a chance of winning a graphics card no matter how fast their computer is. More information can be found in this thread. The contest begins Tuesday October 10th, so be sure to enter ASAP and read the forum thread for more information on the contest!